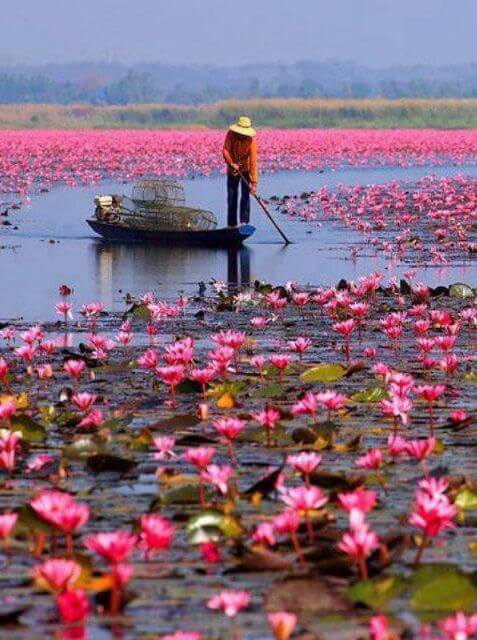 Imagine rowing your boat through a sea of floating lotus flowers that expand as far as the eye can see. Dreamy? Yes, but also completely possible if you visit to one of the world's strangest lakes (according to CNN) in Northeastern Thailand (Isan, Esan).
The Sea of Red Lotuses, or the Lake of Red Water Lilies or what local people call "Nong Han Kumphawapi Lake หนองหานกุมภวาปี" , often just "หนองหาน Nong Han" or "Talay Buadaeng ทะเลบัวแดง (the Red Lotus Sea)" occupies 20,000 rai (8,000 acre) and it is a significant source of water for the Nam Pao River, the lifeline of the Udonthani province.
The lake is very shallow, mostly not exceeding a depth of one meter, but the unique feature of this lake is thousands of red lotus flowers sprout and completely transform the surface of Lake Nong Harn into a romantic dreamlike lake.
(Photo credit: Pinterest)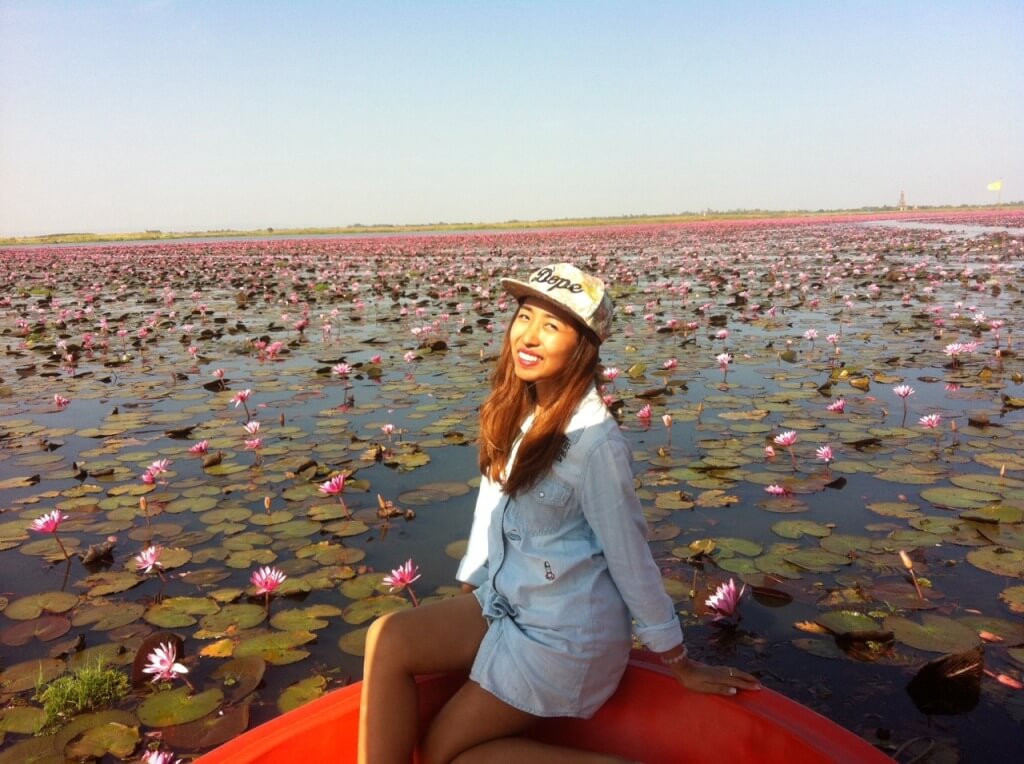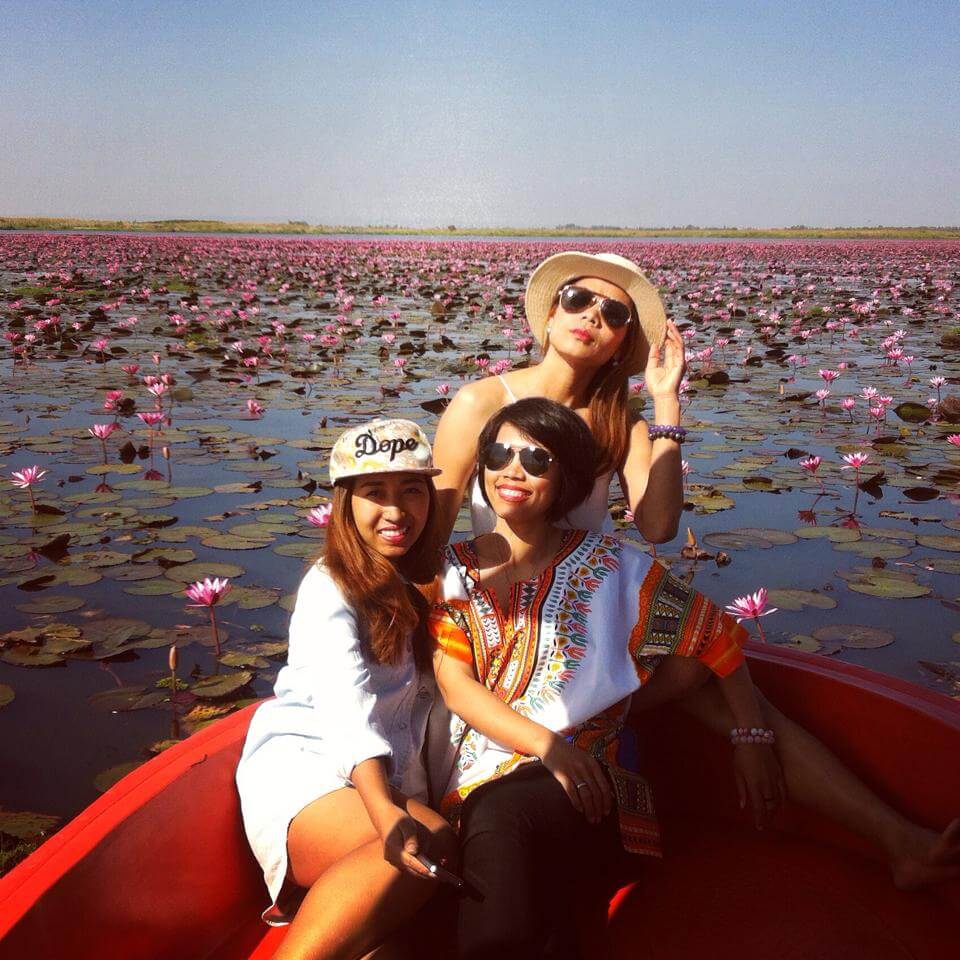 Folk tale of Phadaeng & Nang Ai – "Nang Ai was the beautiful daughter of King Kom who ruled the country of Chathida. Many wanted to marry her. Amongs those men was Prince Phadaeng, a man from another land, and Prince Pangkhii, who had wed Nang Ai in former lives but in this one was the son of Phaya Nak, the Grand Nāga who rules the Deeps. So many suitors desired to wed Nang Ai that her father staged a Rocket Festival competition, the winner to enjoy a royal wedding. But hopes were dashed when only rockets of her uncles make it aloft, and her father called the whole thing off. Naga Prince Pangkhii changed into a white squirrel to spy on Nang Ai but she saw him and had him killed by a royal hunter. Pangkhii's flesh magically transformed into 8,000 cartloads of meat. Nang Ai and many of her countrymen ate of this tainted flesh, and Phaya Nak vowed to allow no one to remain living who had eaten of the flesh of his son. Aroused from the Deeps, he and his watery myrmidons rise and turn the land into a vast swamp — of which this very Nong Han is a remnant" (Wikipedia)
When to visit:
The red lotus sea is best witnessed in the cool season from November to February, it reaches full bloom in December.
The perfect time to see the beautiful red lotuses in full booming is in the morning from 6am to 11am when the flowers are fully opened, revealing their vibrant, pink color (not red, despite the name), but tourists can take a boat tour for sightseeing around the lake all day.
The rest of the year, the Nong Han Kumphawapi Lake is certainly less interesting but still a fishy place with fishermen and a wide variety of birds and water plants.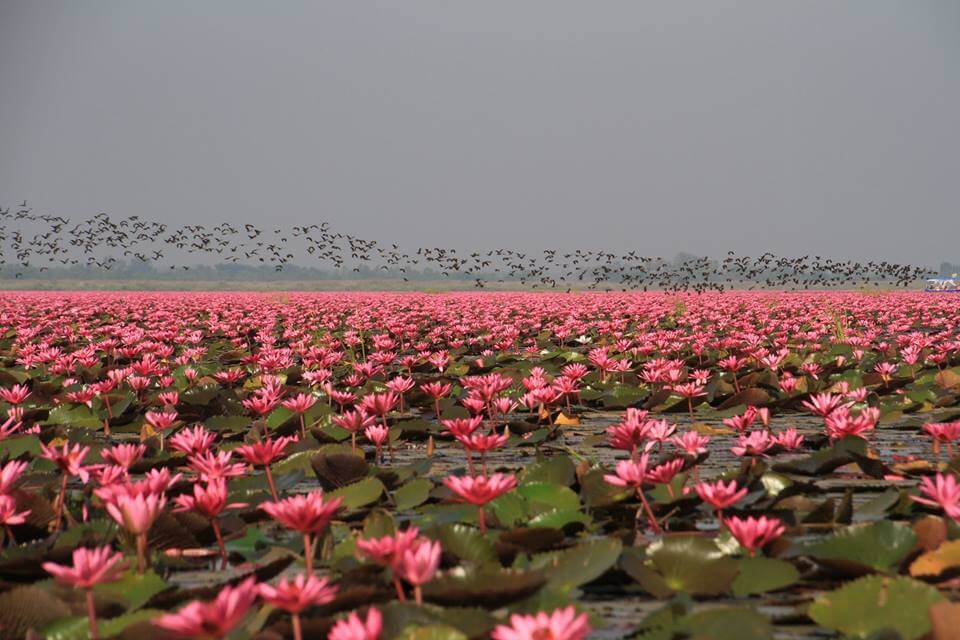 (Photo credit:facebook.com/RedLotusSea)
Location:
Nong Han Kumphawapi is located north of the town Kumphawapi, Kumphawapi district in Udon Thani Province.
The lake is about 50 kilometers away from Udon Thani. The access point to the lake is in a village Ban Diam, which is just south of PrajakSinlapakhom town. In Ban Diam village, the access to the lake is at the backside of the temple.
Getting Around:
You can rent boats on Nong Han Kumphawapi Lake;
– A small boat holds 2 -3 people for 100 Baht/person/trip
– A big boat holds 10-12 people for 300Baht/hour or 500Baht/2 hours.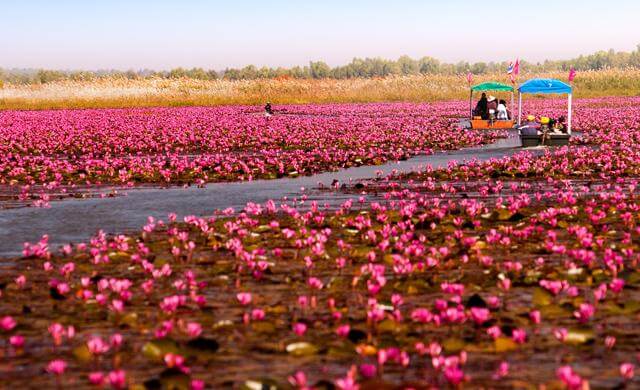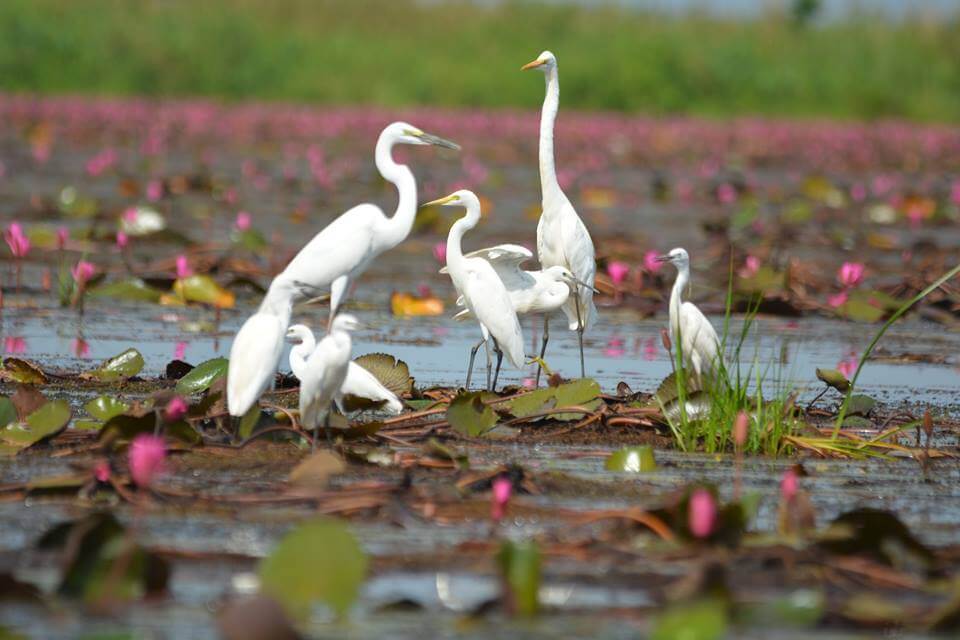 (Photo credit:facebook.com/RedLotusSea)
How to Get to Udon Thani
By air: Thai International Airways have several daily flights (50 minutes) from Bangkok on Airbus or Boeing aircraft, from both Don Muang and Suwannabhumi airports. Bangkok Air flys daily between Suwannabhumi and Udon Thani. Air Asia, Nok Air and Thai Lion Air have frequent low cost flights from Bangkok to Udon Thani.  Air Asia also operates several flights a week between Phuket and Udon Thani, and Nok Air also flies between Chiang Mai and Udon Thani.
By train: Several daily trains from Bangkok each with three classes (approximately 9 hours). A first class compartment for two can be a novel alternative to flying, although you will need to book in advance.
By road: From Bangkok, a fascinating fly-drive via Khao Yai National Park & Nakhon Ratchasima (Khorat). Alternatively, drive straight to Gecko Villa from Nong Khai if arriving from Vientiane, the capital of Laos.
How to Go to Nong Han Lake
By car: GPS Latitude: 17.3567 , Longitude: 103.109
From Udon Thani Bus Terminal number 1, you can take the bus to Wangsammo and get off at Kumphawapi. The trip takes about 1 hour for a price of thirty baht and a departure every hour. Otherwise, the nearest railway station is the tiny local station of Huay Sam Phat, about 30 km before Udon Thani. Only the slower local trains stop there and only for a few seconds.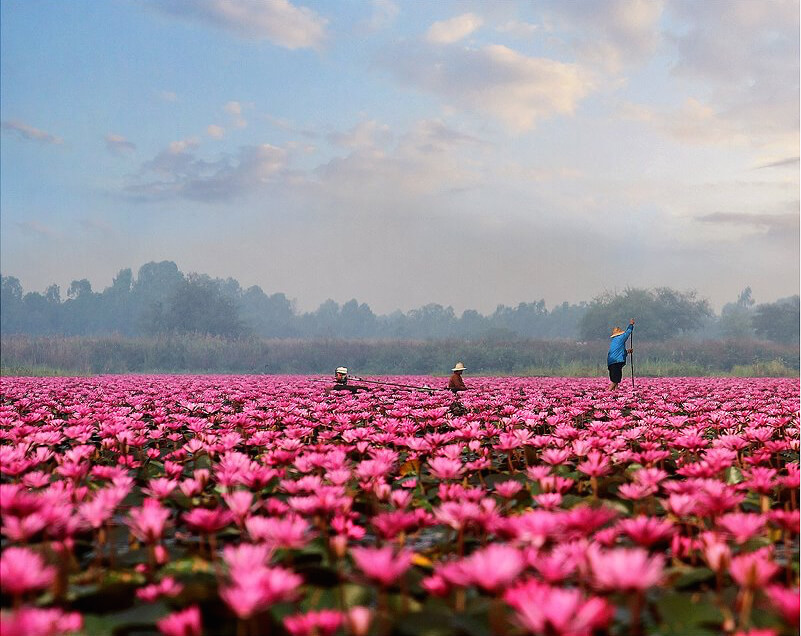 (Photo credit:facebook.com/RedLotusSea)
Tip: Don't copy the fishermen and swim in the lake: it's infested with liver flukes, which can cause a nasty infection known as opisthorchiasis.
Thai Language Corner:
หนอง /nŏng/ means swamp, bog or fen
ทะเล /tá-lay/ means sea
บัว /bua/ means lotus
แดง /daeng/ means red
YOU MIGHT ALSO LIKE: