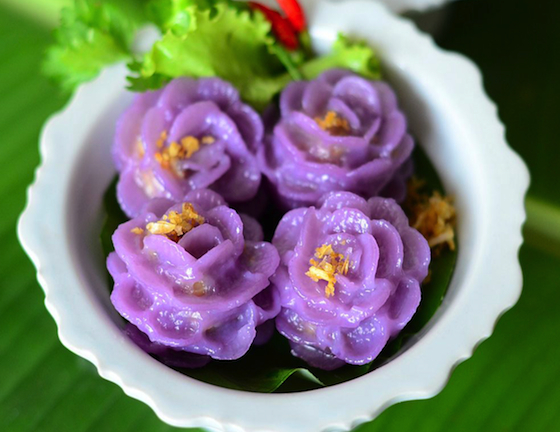 The traditional Thai delicacies, "ขนมช่อม่วง Khanom Chaw Muang" (Steamed Dumplings with Fish Meat Filling).  ช่อ /châw/ means 'bouquet or bunch' , ม่วง /mûang/ means 'purple'.
Each dumpling is handcrafted with perfection into a rose petal for the appearance, while the taste of this appetizer is not outdone by its exterior. The dough, sticky yet soft, is purple from the color of the butterfly pea flower, while the fish meat is perfectly balance and aromatic.
The filling can be made from pork, shrimp, crab meat or chicken stir-fried with coriander root, garlic and pepper.
Every time I have this beautiful snack, it reminds me of my childhood. I used to help my mom making Chaw Muang. I felt like I was a staff in the palace. ☺
This royal Thai Cuisine requires refinement. It shows the unique Thai art and deserves to be preserved.
Where to buy: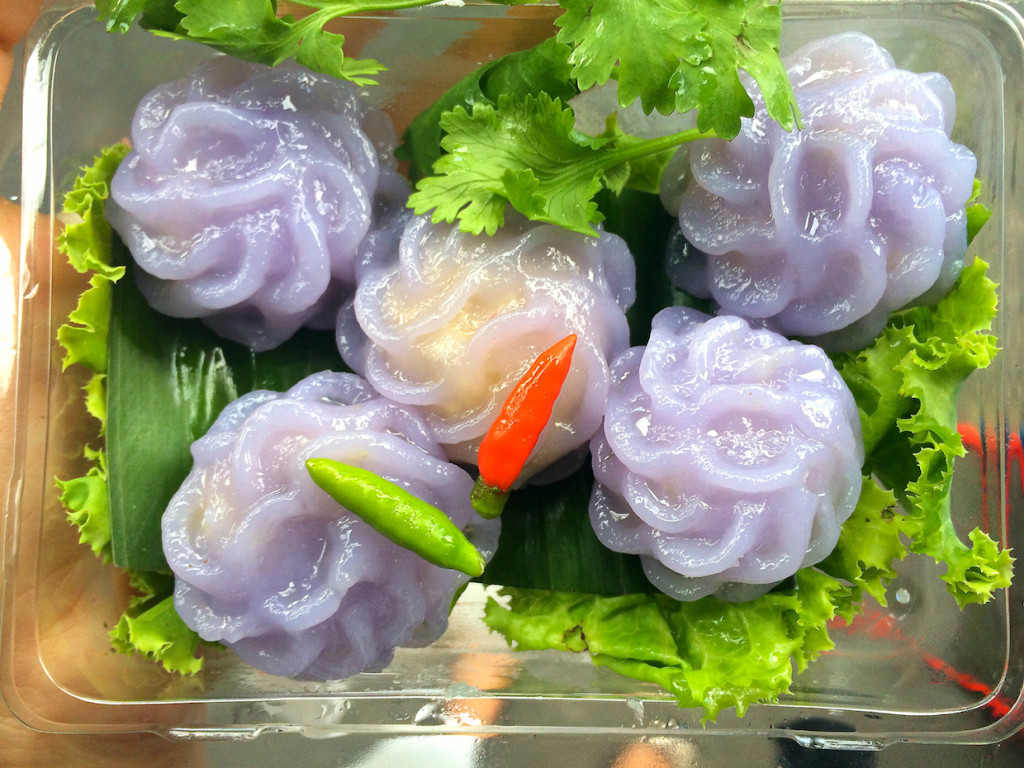 Chaw Muang is not commonly found on the street like other Thai sweets. I usually buy it from Emporium department store (Phrom Phong skytrin station). There is a stall selling all king of Thai dessert and appetizer. It is just opposite the super market on 5th floor. A box of five dumplings is only 45 Baht.
If you are near Chatuchak weekend market, you can get it at Or Tor Kor market. You can probably find it in a menu of a good Thai restaurant that serves authentic Thai dishes as well. 🙂
Ingredients
8 grams (½ tablespoon) soy bean oil
10 grams (1 tablespoon) garlic, finely chopped
5 grams (½ tablespoon) coriander roots, finely chopped
50 grams (½ cup) onion, chopped
85 grams (¾ cup) crab meat
5 grams (1 teaspoon) salt
8 grams (¾ tablespoon) granulated sugar
3 grams (¾ teaspoon) ground white pepper
100 grams (1 cup) rice flour
33 grams (1/3 cup) arrow root starch
3 grams (½ teaspoon) soybean oil
260 grams (11/3 cups) water
20 grams (2 tablespoons) butterfly pea flower juice
As needed tapioca starch
As needed crisp-fried garlic
As needed lettuce
As needed coriander
Preparation
1. Heat the oil in a wok, and sauté the garlic and coriander roots until aromatic. Add the onion and cook until tender, then add the meat. Keep stirring until the mixture becomes fairly dry. Following, season with salt, sugar and pepper. Stir well and remove from heat.
2. To make the dough, combine the rice flour, arrowroot starch, oil, water and butterfly pea flower juice in a saucepan. Place the saucepan over medium heat and keep stirring until the mixture binds together and dough is formed. Remove from the heat. Transfer to a mixing bowl, then dust with the tapioca starch and knead well.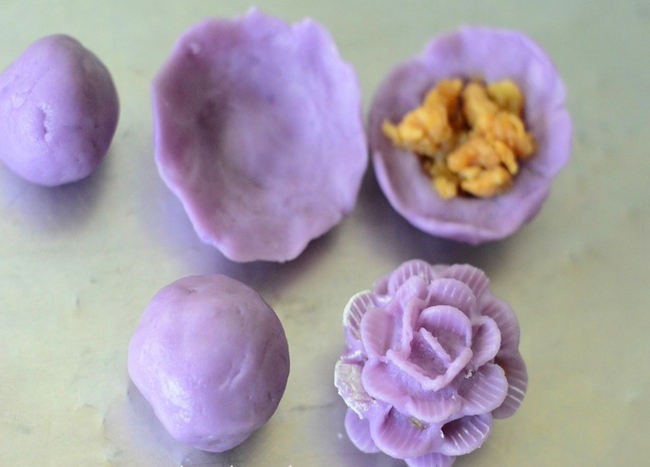 3. Take a small amount of dough and shape it into a small ball then flatten it. Spoon in a little of the crab filling, wrap well and shape the dough back into a ball. Use tweezers to pinch the dough into a petal. Continue until a flower is formed. Repeat this step until all the filling is used up.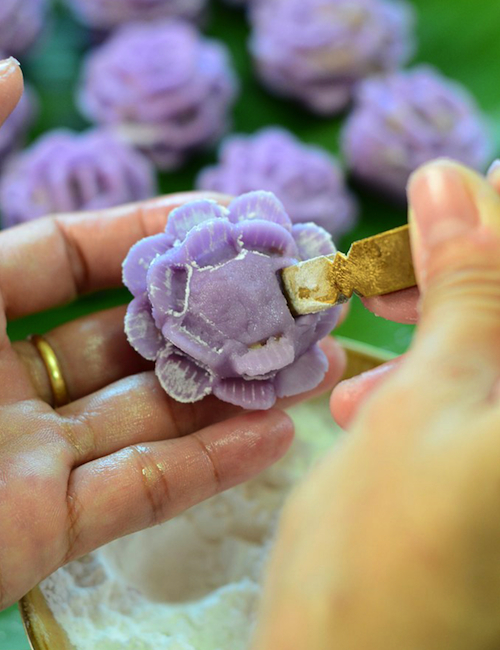 4. Steam for about 5 minutes. Sprinkle with crisp-fried garlic and serve with lettuce and coriander.
(Recipe Credit: The Oriental Thai Cooking School)
(Photo credit: home-baking.bloagang.com)