2 DAYS 1 NIGHT in Chaiyaphum
Every year in the early part of the rainy season from June to August in Chaiyaphum province, Siam Tulip, or Dok Krachiao ดอกกระเจียว, blossoms to full bloom. A good friend of mine asked me to join the trip to see the flowers during a long weekend, I also asked teacher Pear to join and here is our journey.
Chaiyaphum is a province in Northeastern of Thailand. It is next to Nakhon Ratchasima (Korat) and around 260-350km from Bangkok,depending on which district you are heading to.
It was a trip of four girls. We hired a minivan with a guide and left Bangkok at 11:30 PM on Thursday night.
 DAY 1: Phu Laenkha National Park
"Mor Hin Khao (มอหินขาว) aka the Stonehenge of Thaialnd"  is located in Phu Lan Kha National Park (อุทยานแห่งชาติภูลานคา) . It is a plateau of large rocks scattered in strange and rare shapes similar to mushrooms, boats, elephants, turtles and chedis. These rocks are assumed to be over a hundred million years old.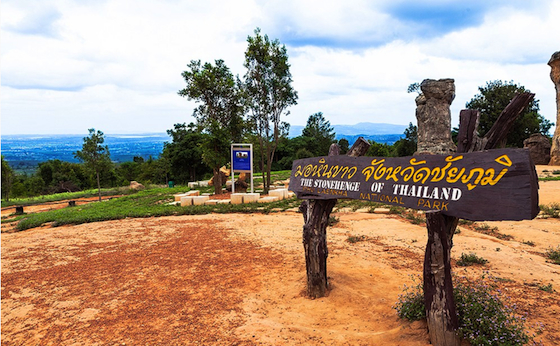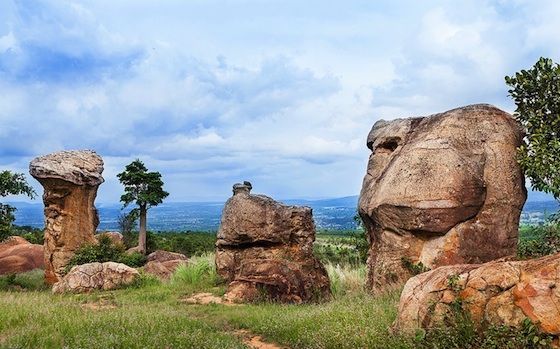 (Photo credit : Tripbackpacker)
We arrived here around 6 A.M. and we were the only group of visitors which I really enjoyed. It was a great opportunity to take a deep breath of clean air, enjoy the amazing scenery with nobody around, and listen to the sound of the nature. The weather was pretty cool, and a little bit windy. It was a welcome change coming from busy and hot Bangkok.
The highlight of the area is a group of giant rocks consisting of five stone columns standing 12 meters tall. According to the legend, every Buddhist holy night there is white light shining from these five stones so people call this place "Mor Hin Khao" translated as  'white stone hill'.
มอ /mor/ is Northeastern dialect meaning 'hill'
หิน /hǐn/ means 'rock, stone'
ขาว /kăao/ means 'white'
I was amazed; I didn't know we had such things in Thailand. I stood before those rocks and tried to imagine what it was like million years ago – it was simply stunning!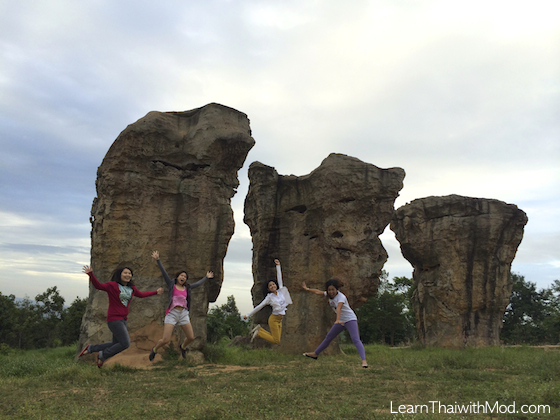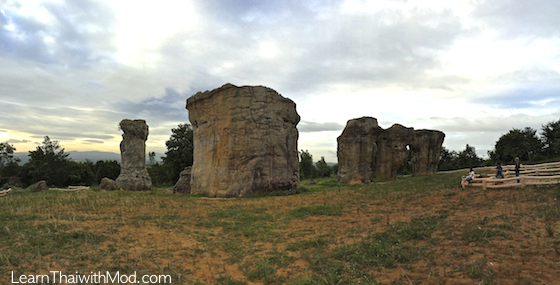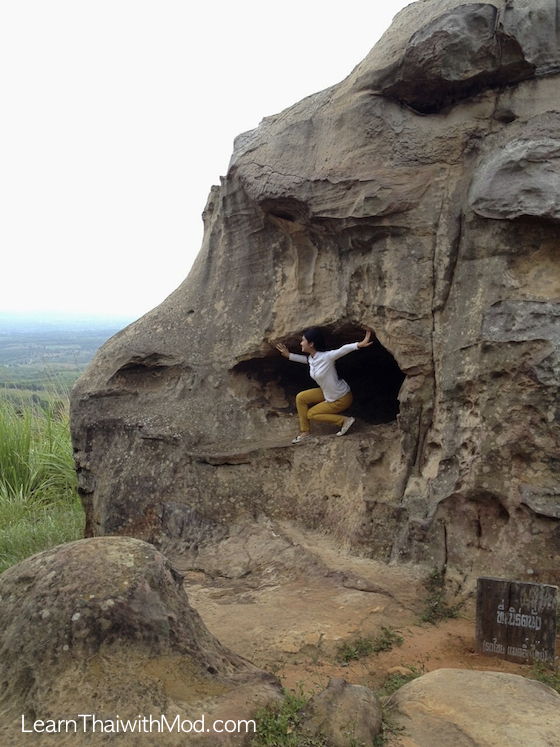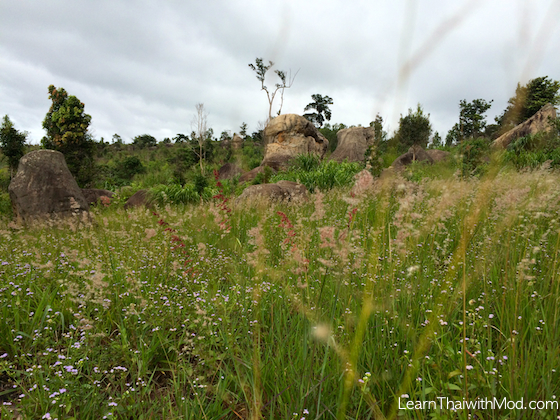 After having simple breakfast here, we continued to our next destination, waterfall.
Tad Tone Waterfall น้ำตกตาดโตน
Tat Tone National Park is located near Mor Hin Khao (about 20 km). The park covers the area around 217.18 sq. km. with the famous Tat Tone Waterfall, one of the most beautiful waterfalls in North Eastern region. The Waterfall is about six meters high and 50 meters wide. However, this year the water is less than usual due to a little rain.
You can swim in the cool water here, but we just chilled out and enjoy each other's company with some light snack before we headed to see the flower field.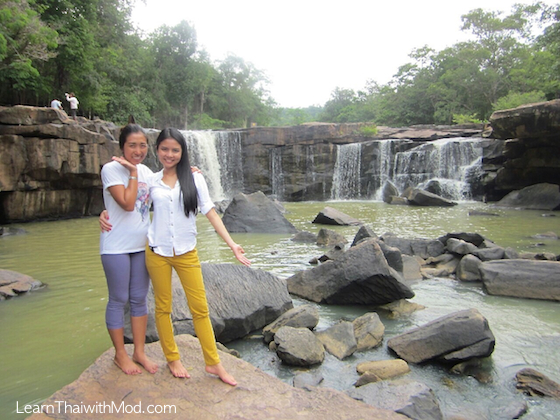 Sai Thong National Park
The Sai Thong National Park (อุทยานแห่งชาติไทรทอง) covers 340 square kilometers of Phang Hoei mountain range (เทือกเขาพังเหย). It is the source of many rivers and creeks which are tributaries of the Chi River alongside dry evergreen forests.
We couldn't take our minivan up to the top because of the twisted and narrow road, so we had to switch to the pickup truck. It was a fun ride with cool wind blasting our faces whilst traveling through the big forest.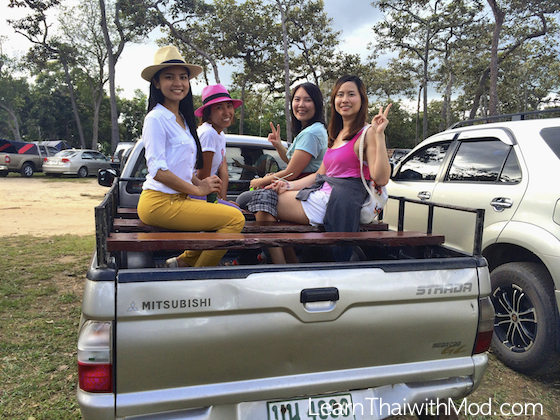 A highlight here is "Pa Hum Hod Cliff viewpoint (ผาหำหด) The Testicle Shrinking Cliff". It is the summit of the Phang Hoei mountain range, 864 metres above sea level.
The name 'Hum Hod หำหด' (หำ /hŭm/ is the Northeastern dialect meaning 'testicle', หด /hòt/ means 'shrink') The idea is if you stand on it – and have balls- fear will shrivel your manhood!!
There were few people queuing for photos on the cliff. Just looking at them sitting down on the edge gave me sweaty palms. I am sacred of heights, but since I was there I decided to conquer my fear and step on the cliff. Pear and I sat down together with our legs hanging down; I could feel the cool wind blowing my feet! It was an exciting experience and the view here was amazing!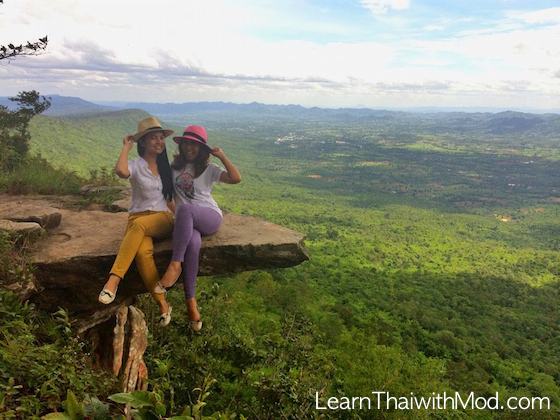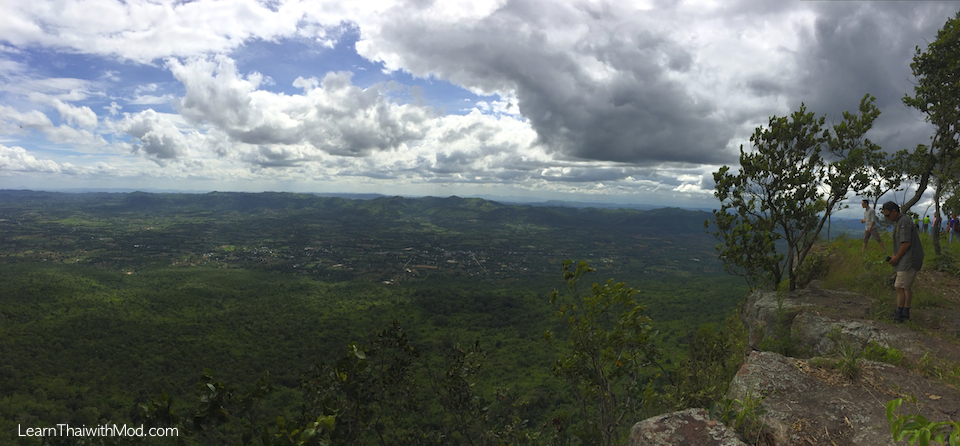 We then walked through the forest to the first spot where Siam Tulips grow; "ทุ่งบัวสวรรค์ Thung Bua Sawan" or "ทุ่งดอกกระเจียว Thung Dok Krachiao". There are five fields up here but the most visited are Thung Bua Sawan 1 and 2.  Two colors of flower (pink and white) are found here.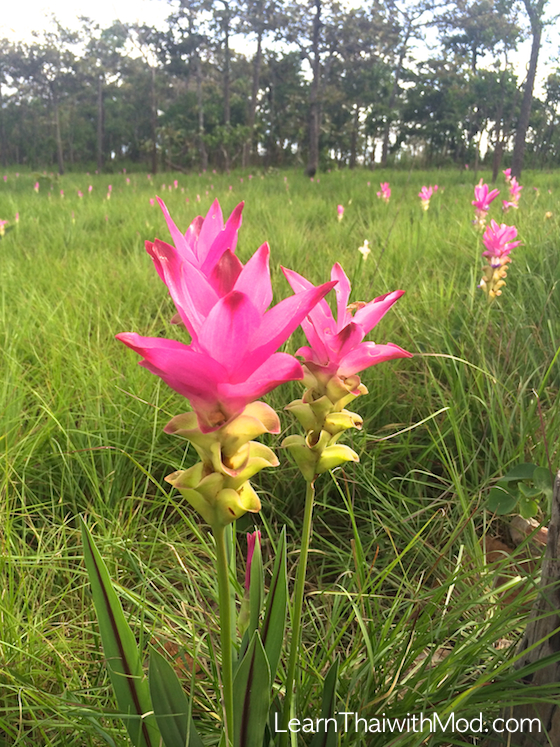 We were told that there was less rain this year, so the flowers in this field bloomed later than usual. Nevertheless, I enjoyed the walk and talk with my friends through the forest and spotted some wild mushrooms.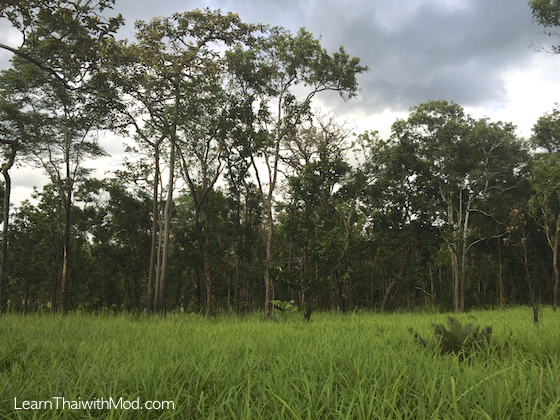 DAY 2: Pa Hin Ngam National Park อุทยานแห่งชาติป่าหินงาม
[1] Pa Sud Paen Din viewpoint ผาสุดแผ่นดิน
It is perched on a 846-meter-high cliff overlooking Petchabun province. It's called "สุดแผ่นดิน Sud Paen Din" (the end of the land) as this is the point where the Isaan plateau meets the central plains. The panorama view here is gorgeous.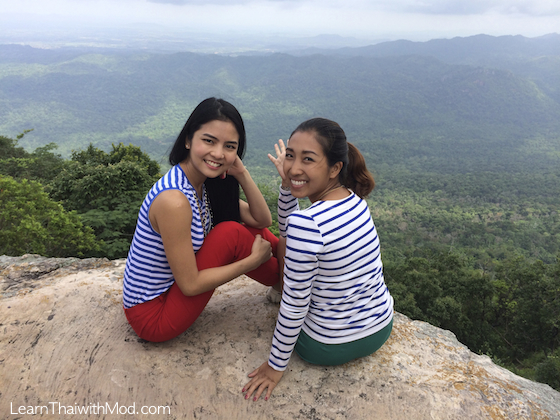 [2] Siam Tulip Flower field ทุ่งดอกกระเจียว
Just a few hundred meters from Sud Paen Din viewpoint, we reached a two-rai field of Siam Tulip flowers. There is a 1 km paved pathway going through the field which is blanketed with the exceptional beauty of these pinkish-purple flowers. It was so pretty that I imagined my friends and I were angels running around in heaven.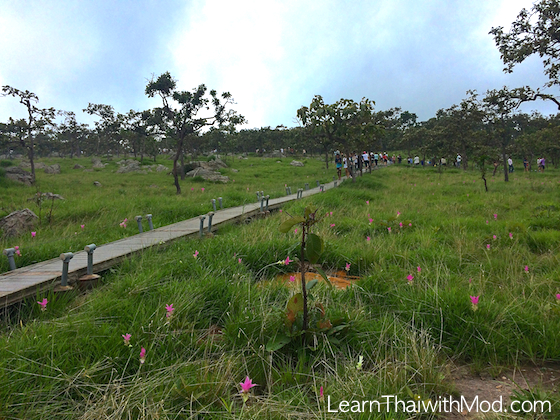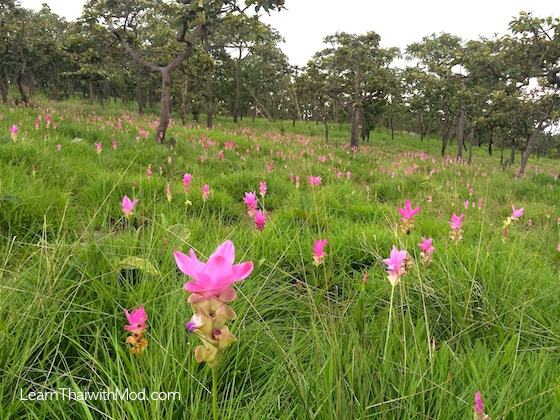 The entry into the ground is prohibited, we saw a couple of kids with their father walking in there and touching the flowers. Teacher Pear got a little bit upset about that.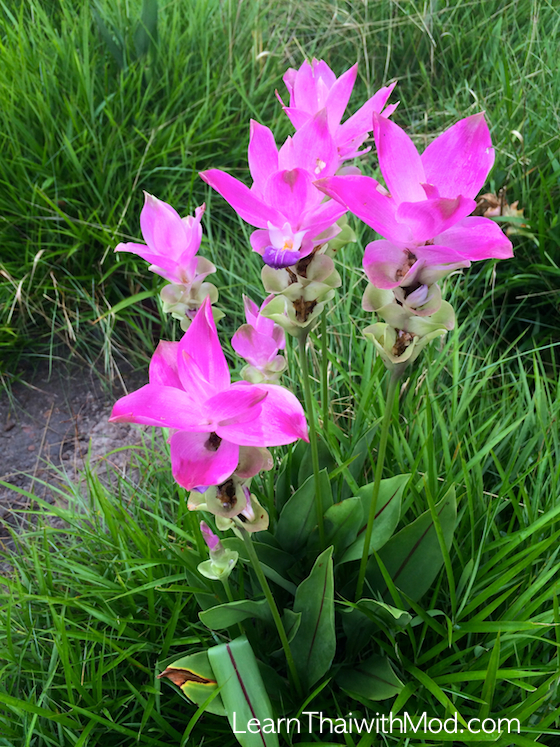 [3] Lan Hin Ngam
"ลานหินงาม Lan Hin Ngam" (translated as 'beautiful rock plain') is another important attraction of this national park. You can see the various sizes of stones eroded by wind and rain over millions of years. The shapes of these stones will give you plenty of room for your imagination.
The highlights of this plain are the FIFA World Cup look a like rock, radar rock, a serpent's head , Mor Hum Tang. We were told that anyone who is single and wants to find a partner should touch the 'มอหำตั้ง Mor Hum Tang' rock. When we first heard the name, we burst out laughing because 'หำ hum' is Norhteastern dialect meaning 'testicle, penis' and 'ตั้ง Tang' means 'erect'. And when we saw the real rock, we were amazed that it looks exactly as described. lol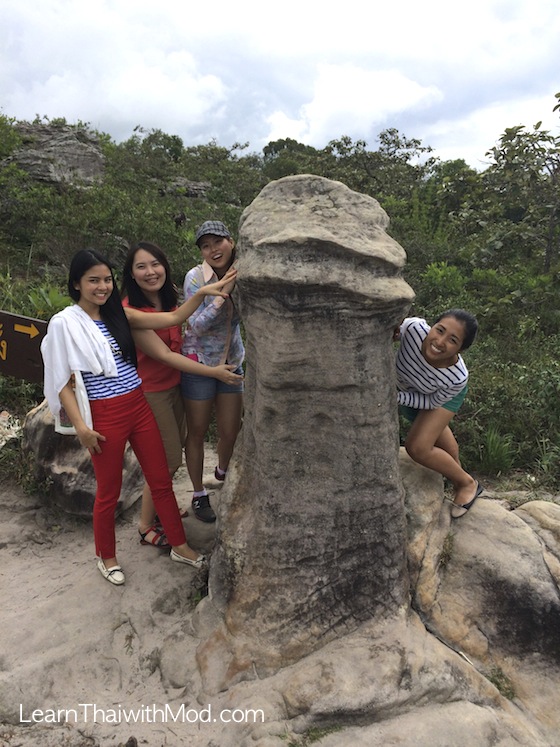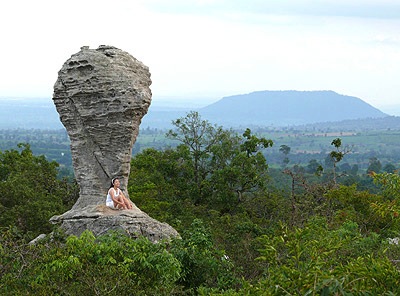 This trip was refreshing for me & my friends and I am grateful to have seen many amazing things created by nature – flowers, forest, cliffs, and rocks.  I look forward to exploring more cool places in Thailand and sharing the experience with you!
UPDATE: Siam Tulip Festival 2015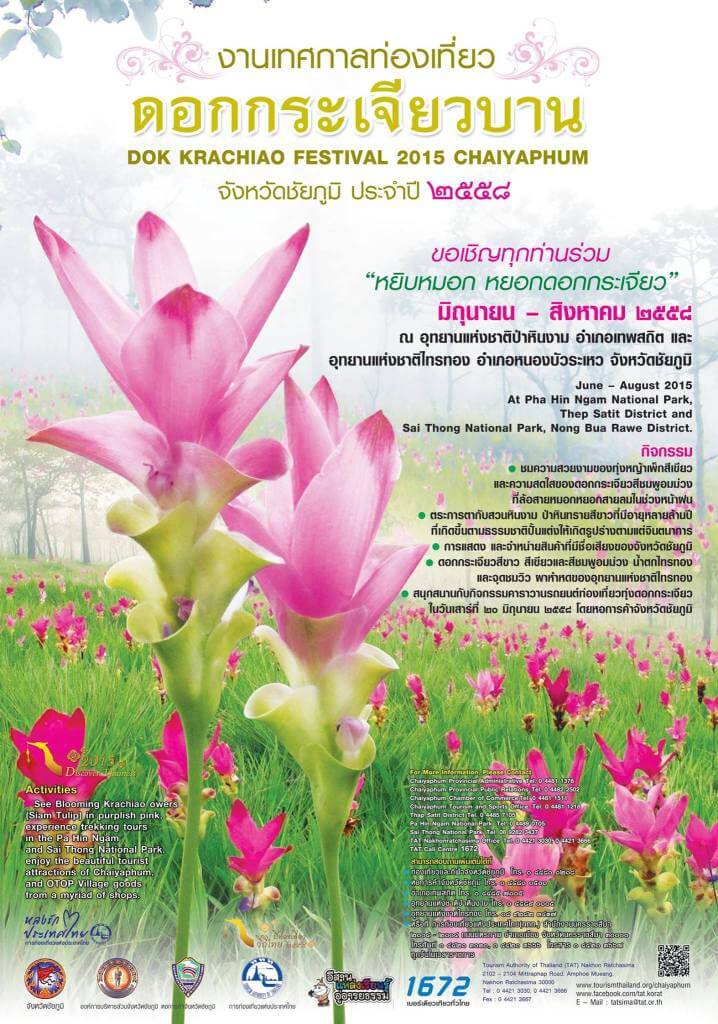 Learning Thai Key Point:
อุทยานแห่งชาติ /ùt-tá-yaan hàeng châat/ National park
หิน  /hǐn/ stone, rock
ผา /păa/ cliff
ทุ่ง /tûng/ field
ลาน /laan/ plain
น้ำตก /náam-dtòk/ waterfall
YOU MIGHT BE INTERESTED IN: