Sawatdee ka,
I would like to introduce you another nice destination to visit near Bangkok, Ayutthaya. I have been to Ayuttaya several times, and I never get bored of it. On a very recent day-trip to Ayutthaya, I visited Bang Pa-In Palace, located in Bang Pa-In District, about 20 kilometers away from the city of Ayutthaya.
I took a train from Hua Lam Pong station. The train tickets were free! (For Thai people only) It took me just over an hour to arrive at Bang Pa-In station. Then I took a Tuk-Tuk from in front of the station, it took only 10 minutes to the palace. The Tuk Tuk driver asked only 20 Baht per passenger.
The palace dates back to the seventeenth 17th century, although it did fall into disuse for a long period. The palace was revived by King Mongkut (Rama IV) in the nineteenth century. Today, the palace is only used infrequently by Their Majesties King Bhumibol Adulyadej (Rama IX) and Queen Sirikit for holding receptions and banquets.
The palace is very European in design. The buildings are laid out along an artificial ornamental pond. In what was formerly the public area of the palace, the lake is a long rectangular pool, lines with formal plantings and the odd folly.
The compound is divided into two sections, the Outer and the Inner palace. The Outer consists of buildings for public  and ceremonial uses. The Inner Palace was reserved for the King ans his immediate family.
The principle buildings in Palace are the following:
[1] พระที่นั่งไอศวรรย์ทิพยอาสน์ Aisawan-dhipaya-asana Pavilion (The Divine Seat of Personal Freedom) It is located in the middle of a pond on the palace grounds.
[2] พระที่นั่งเวหารจำรูญ Pra Tinang (Royal Residence) Wehart Chamrun (Heavenly light) was built in Chinese architecture and took 10 years to build. It was completed in 1889.
[3] หอวิฑูรทัศนา Ho (Tower) Withun Thasana (The sages look out) is a large colonial-style building located behind Wehart Chamrun Residential Hall. The observatory was built by King Chulalongkorn in 1881 as a lookout tower for viewing the surrounding countryside.
[4] พระที่นั่งอุทยานภูมิเสถียร Uthayan Phumisatian Residential Hall (Garden of the Secured Land) was the favourite residence of King Chulalomgkorn when he stayed at Bang Pa-In Palace. Built in 1877 of wood in style of a two-storey Swiss chalet.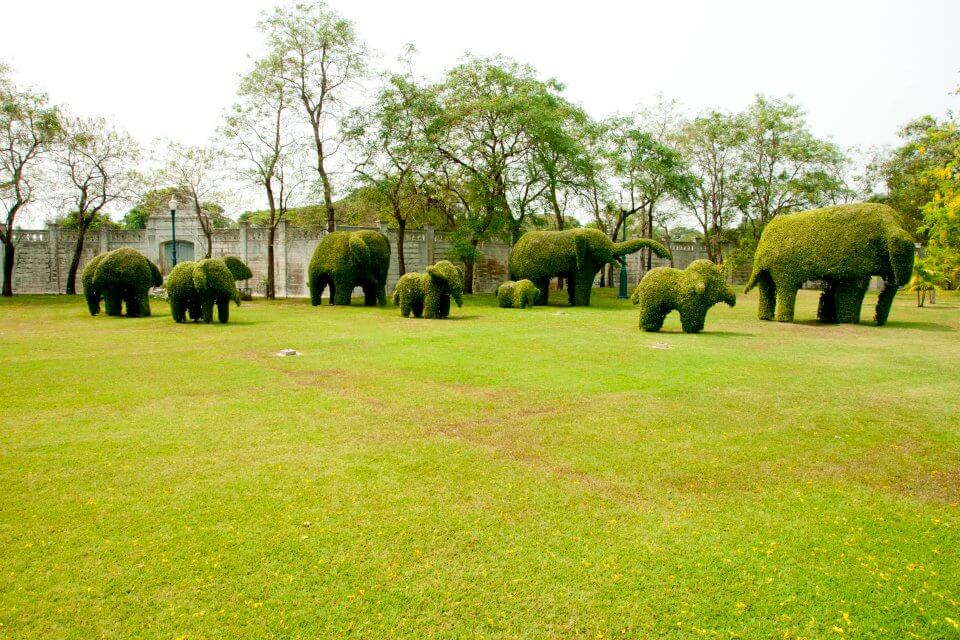 Getting There
The coolest and most comfortable way to get to Bang Pa In is via one of the many luxury cruises available from riverside hotels. The Chaophraya River Express Boat service also operates a special service on Sundays from the Prachan pier.
You can also reach Bang Pa In by train from Hualampong station like I did.
Admission Fee
There is a fee of 100 Baht (3.34 USD) to enter the palace grounds. Hours are from 8:30 am to 5:00 pm, but the ticket office closes at 3:30 pm. Also note that a similar dress code is applied as you visit temples.
Visitors are requested to be dressed properly and appropriately upon entering the ground of  Bang Pa-In Palace. Thus the following dress – code (applicable to both ladies and gentlemen) will be strictly enforced:
1. Shorts, mini-skirts, short skirts, tight fitting trousers, as well as tights can not be worn as outer garments.
2. See-through shirts and blouses, as well as culotters or quarter length trousers can not be worn.
3. Sleeveless shirts or vests can not be worn as outer garments.
4. Sandles (without ankle or heel straps) can not be worn.
5. All shirt sleeves, whether long or short, can not be rolled up.
6. Sweat shirts and sweat pants, wind-cheaters, pajamas and fisherman trousers can not be worn.
You can see more photos HERE.