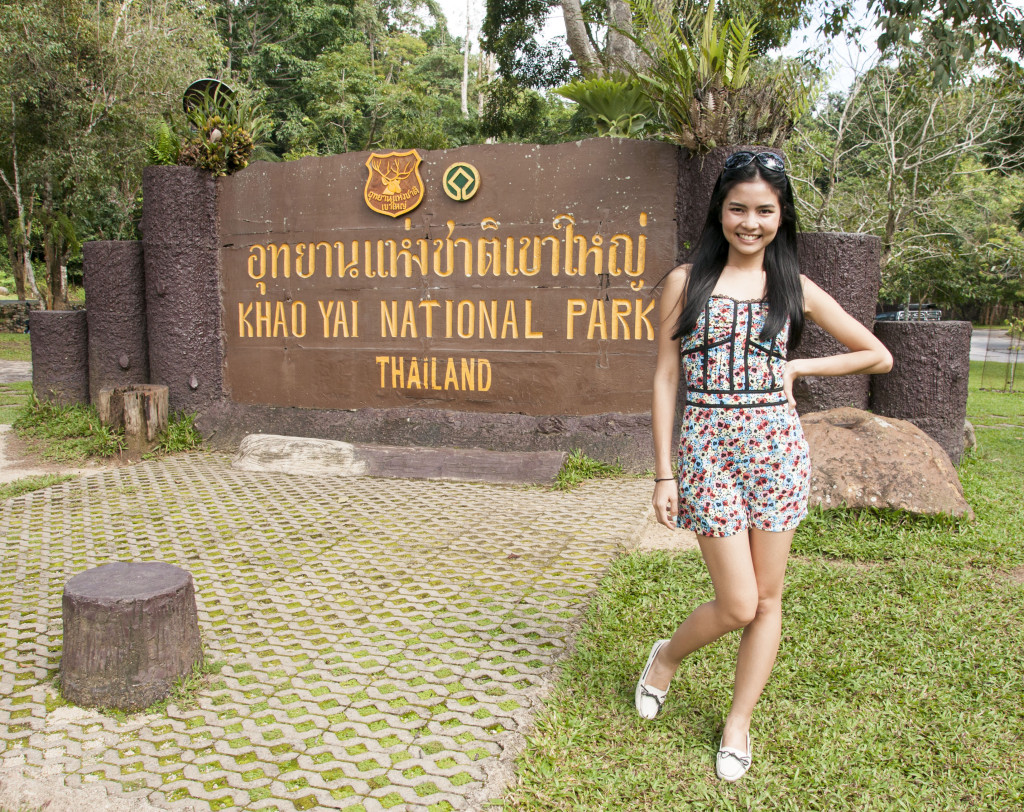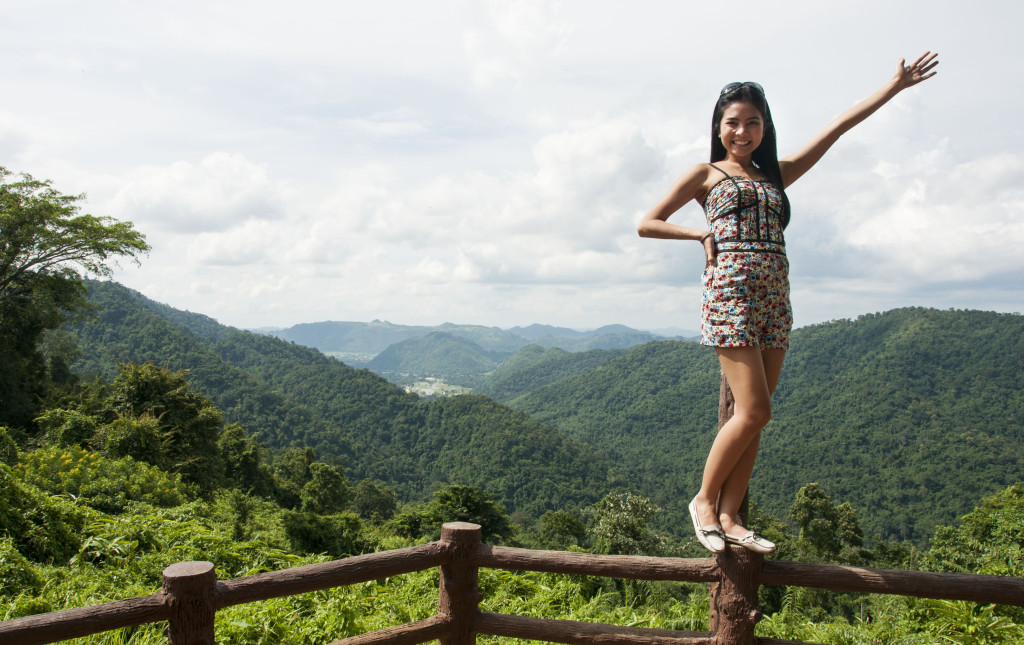 Khao Yai National park อุทยานแห่งชาติเขาใหญ่ is one of the popular destinations among Thai people for a short getaway including myself. It is just 3 hours drive by car from bustling Bangkok to a pristine rainforest, home to a huge array of interesting wildlife.
Khao Yai established in 1962, was Thailand's first national park covering 2,168 square kilometers including evergreen forests and grasslands. The park lies largely in Nakhon Ratchasima province but also includes part of Saraburi, Nakhon nayok and Prachin Buri provinces.
In 1984 the park was made an ASEAN Heritage Park, and on July 14, 2005 Khao Yai National park together with Tublan National Park อุทยานแห่งชาติทับลาน, Pang Sida National Park อุทยานแห่งชาติปาง สีดา ,Ta Phraya National Park อุทยานแห่งชาติตาพระยา and Dong Yai wildlife sanctuary และเขตรักษาพันธุ์สัตว์ป่าดงใหญ่ was inscribed as a UNESCO World Heritage Site under the name Dong Phayayen–Khao Yai Forest Complex (ผืนป่าดงพญาเย็น-เขาใหญ่).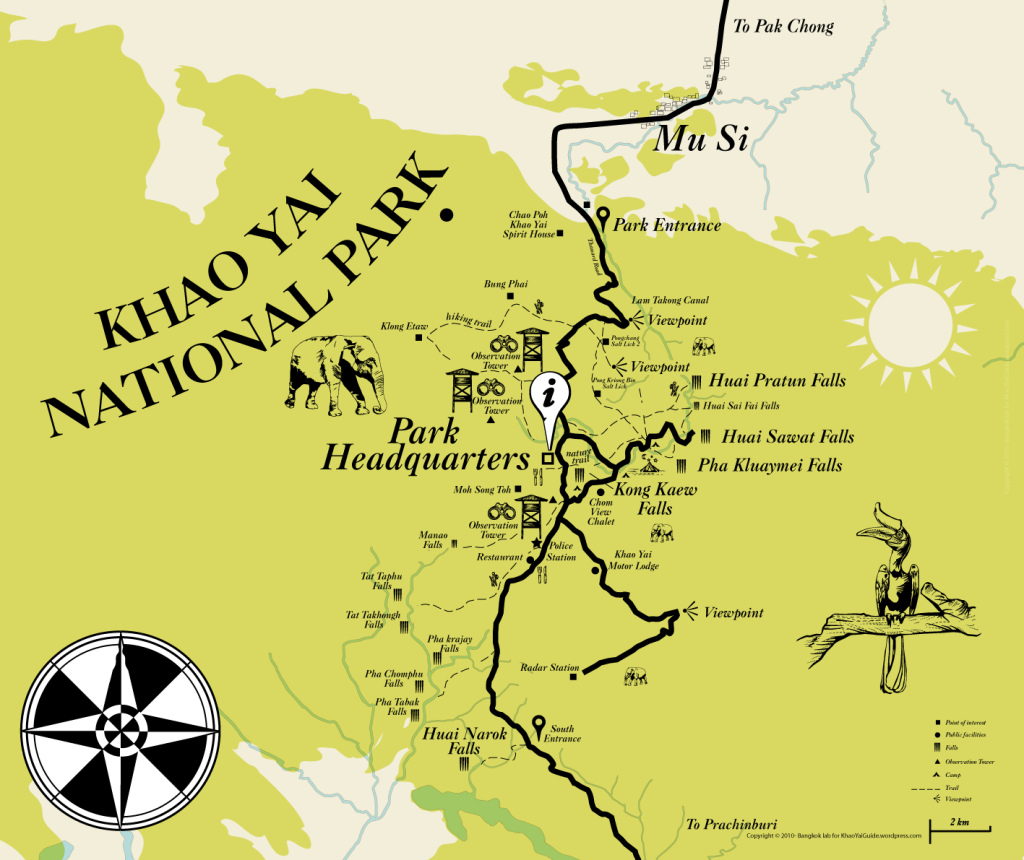 SEE AND DO:
 There are lots of camping grounds on the mountain and plenty of activities to do such as mount climbing, trekking (there are more than 20 routes), and spotting the animals at night. (I learned from the brochure I got from the visitor center that there are 3,000 species of plants, 320 species of birds and 66 species of mammals, including Asiatic black bear, Asian elephant, gaur, gibbon, Indian sambar deer, pig-tailed macaque, Indian muntjac, dhole, and wild pig.)
I drove from Bangkok myself and had only one day and a half and my intention coming here is just getting some fresh air and calmness into my system so I didn't hire a guide to do serious trekking in the jungle this time around. I decided to visit the main waterfalls but still was pretty excited to see if I would meet any wild animals. (First time I came here five years ago I didn't see many animals, just a lot of butterflies)
And my expectation was met; I was first welcomed by the big group of wild monkeys or macaques (I am not sure what the difference is) chilling out on the road to the visitor center. It was funny to see that they didn't want to make way for the car like they were thinking 'this is our neighbourhood, you are just a visitor so find your way in yourself'. lol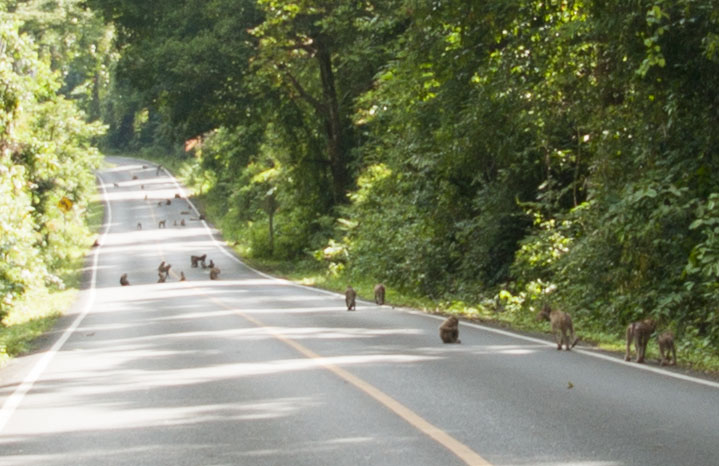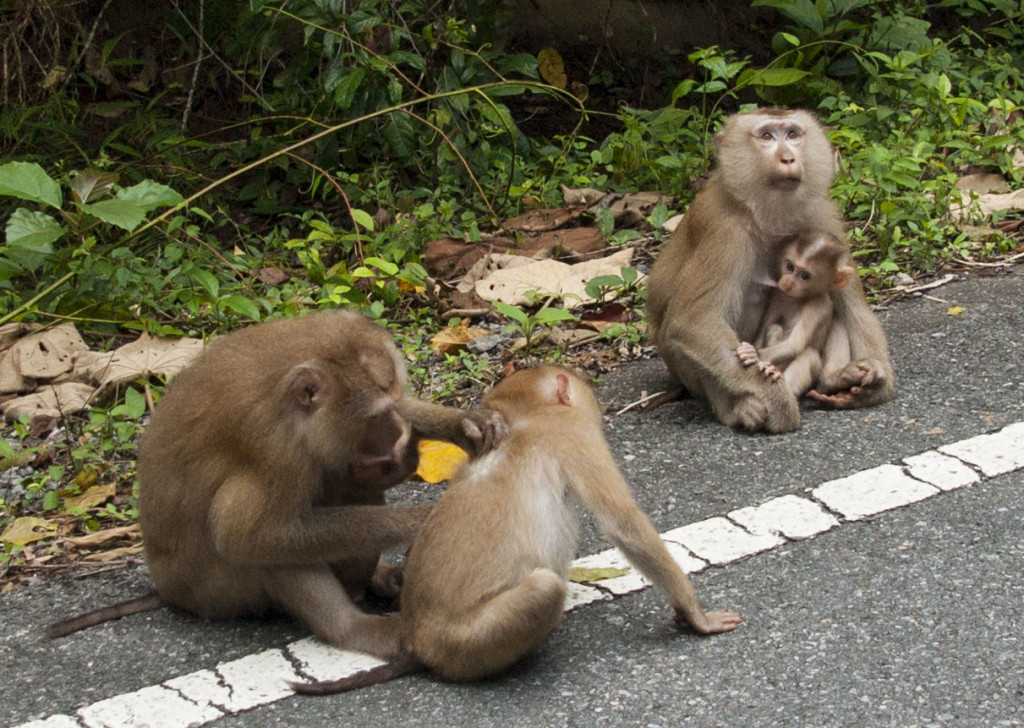 And when I arrived the visitor centre area, I got very excited even more to see three wild deers for the first time up close! They are not scared by human and just mind their own business having their lunch.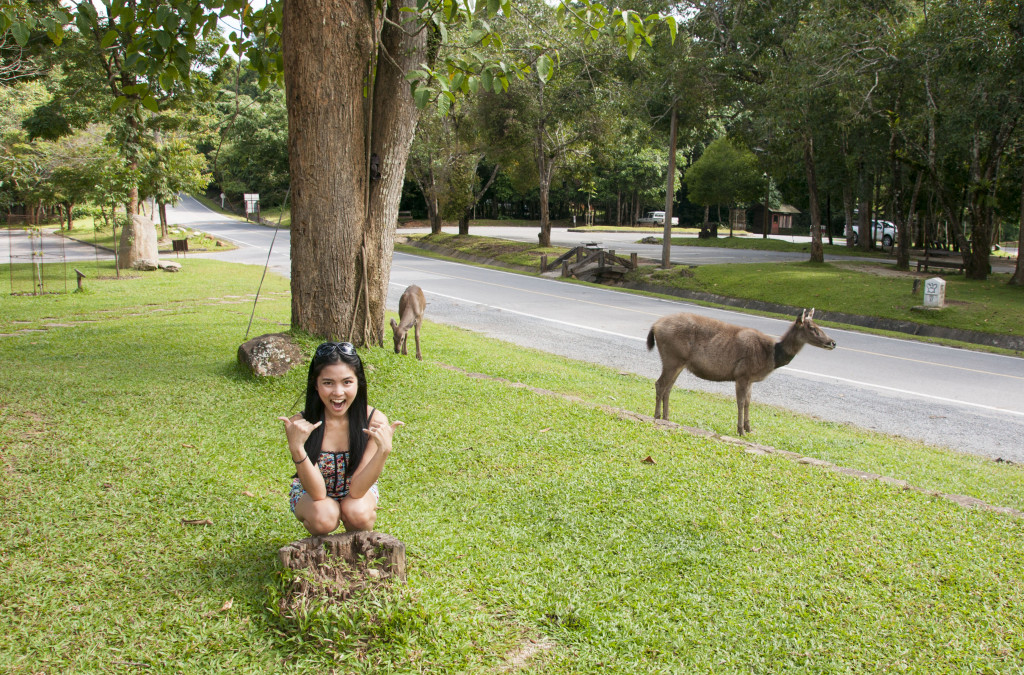 After admiring the lovely deers enough and got the map of the park from a friendly staff, I headed to the first waterfall in my list.
Khao Yai is famous for its many waterfalls; the most famous is the one that was appeared in Leonardo's film "The beach" which is called Haew Suwat Waterfalls น้ำตกเหวสุวัต – This waterfall runs over a 20-meter cliff into a large pool below. I drove 13 kilometers from the gate and walked about 200 meters and saw this beautiful waterfall in front of me as well as playing with many pretty butterflies in the area.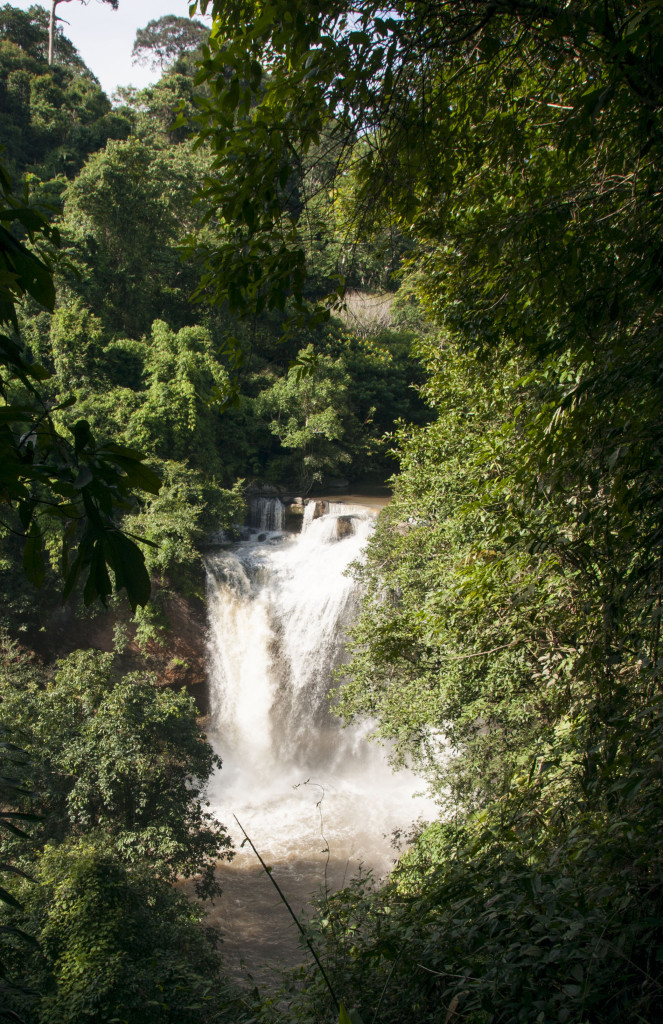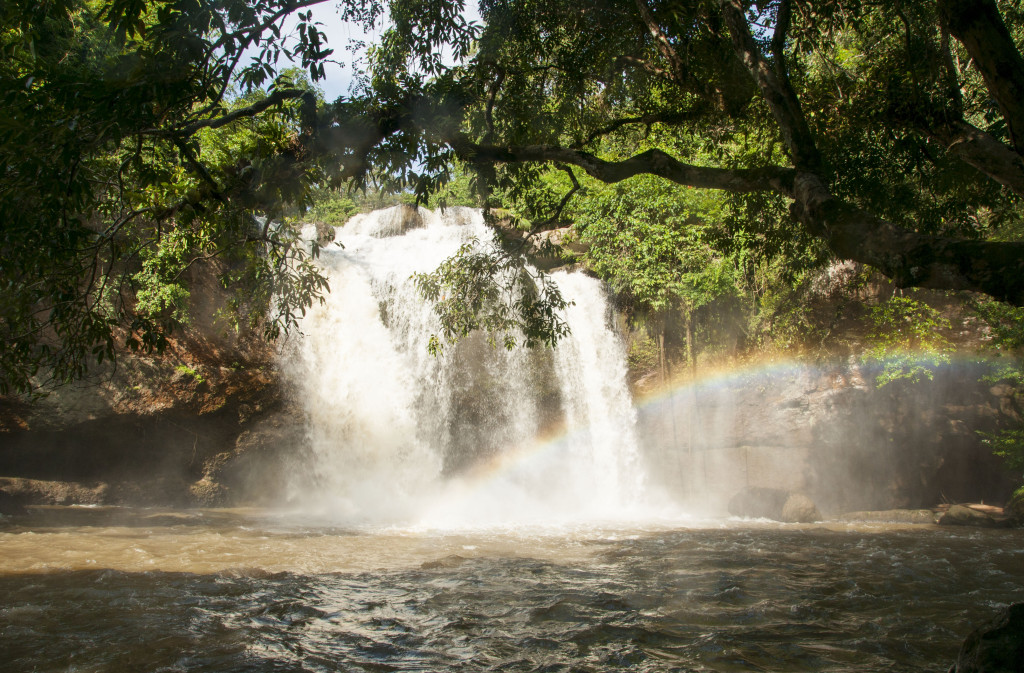 Tips:
–       Swimming is not allowed in this waterfall, the stream is very strong.
–       The best time of the year to visit the waterfall is during the rainy season (May till October).
While I was driving back to the resort pass a viewpoint, I saw something in a distance moving so I stopped and walked to see it closely. It was one of the most wonderful moments in my life, It was a herd of 20 wild deer! I wanted to get very close to them but they seemed scared and all of them put their heads up straight looking at me, so I just zoomed my camera and took a photo of them and left with joy in my heart. <3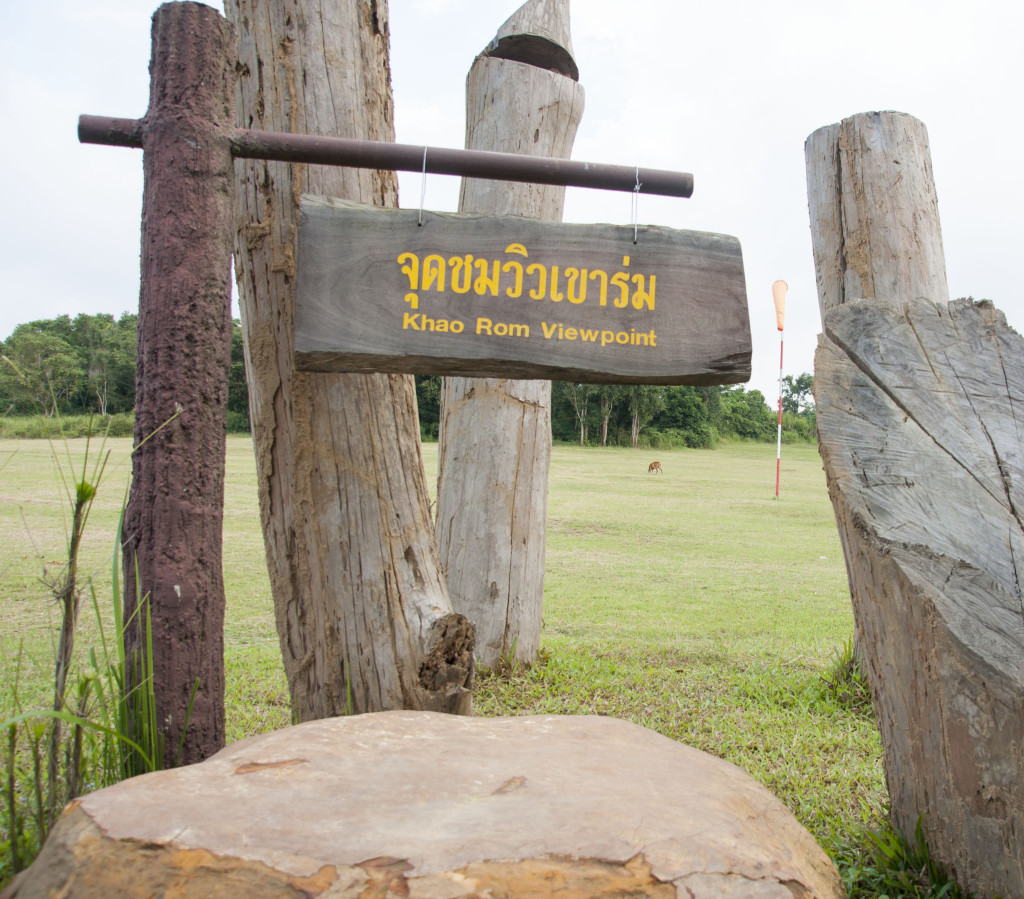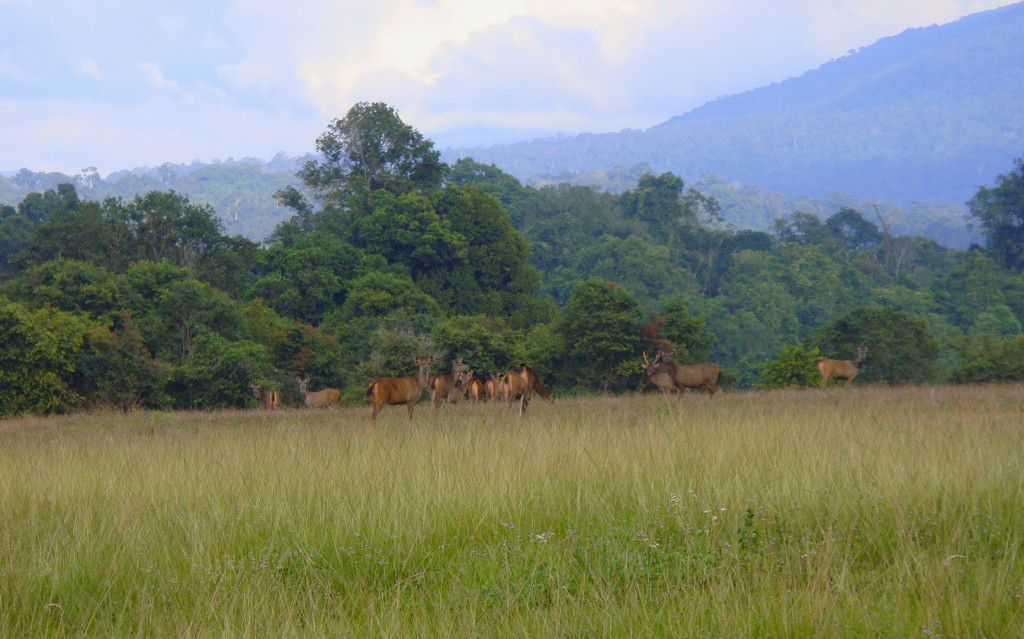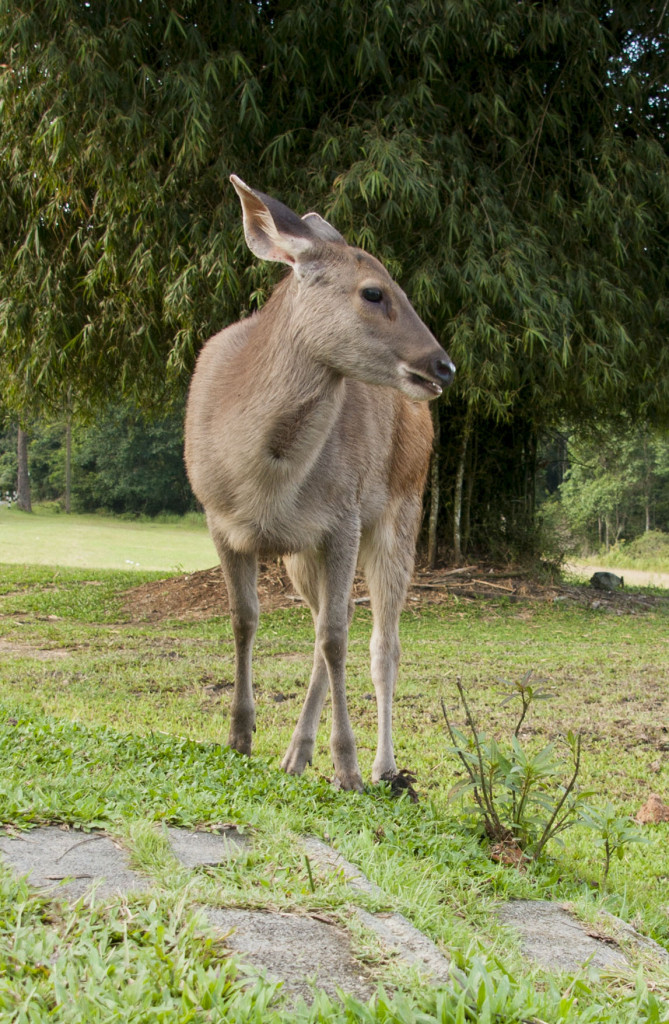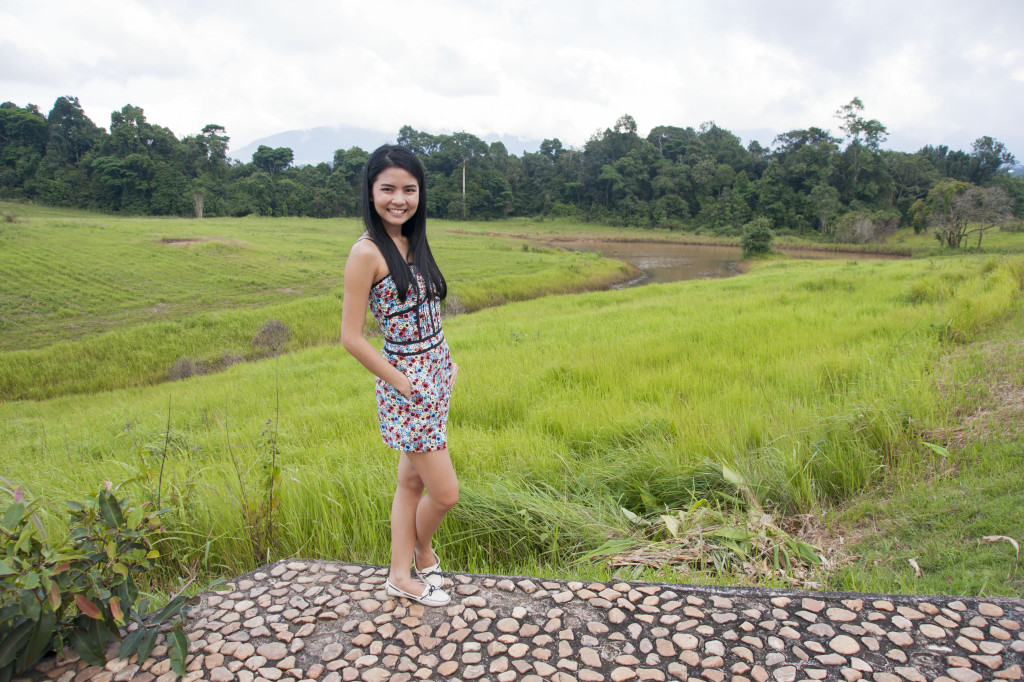 Second day, I visited Haew Narok Waterfall น้ำตกเหวนรก which is the largest and highest waterfalls in the park. It is a three-tiered structure that extends 150 meters from the top tier to the basal lake.
It is 23 kilometers from the gate on small road and lots of curves, but driving through the forest with the car window open feeling the fresh air and hearing the sound of nature was pleasant.
From the car park, we have to walk one kilometer further with 200 stairs. It was a nice walk observing forest and listen to the birds although I couldn't see them.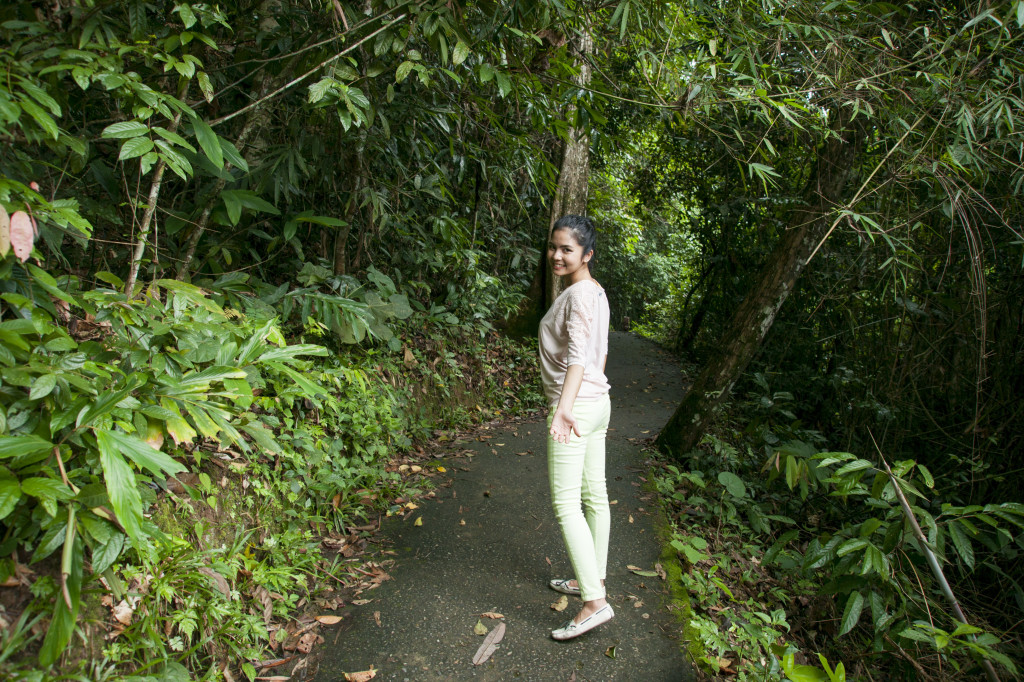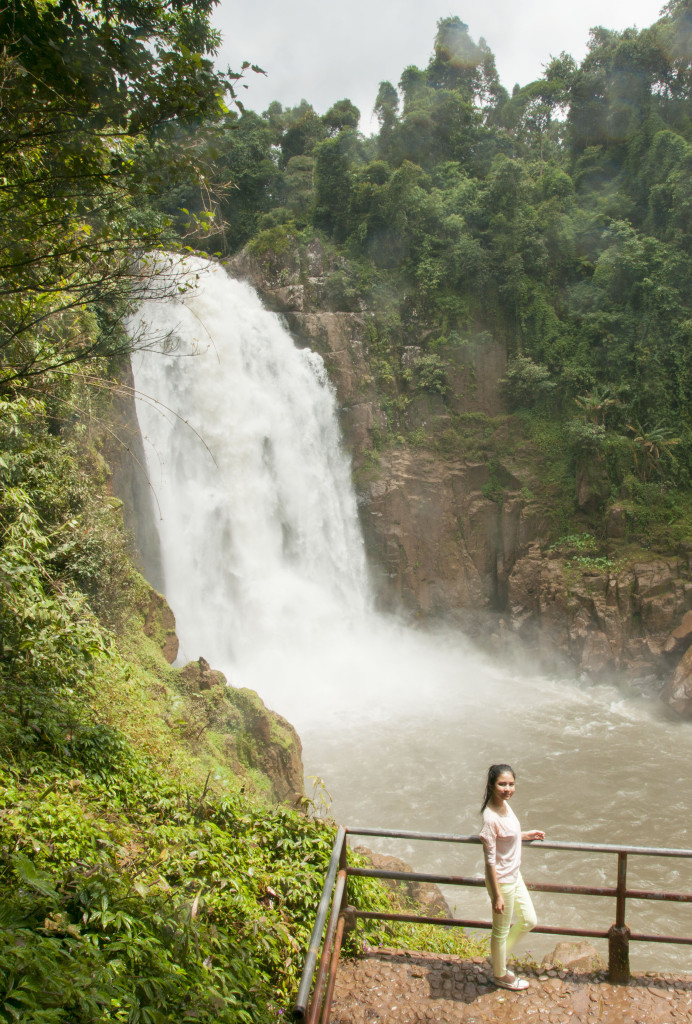 You can get a glimpse of the vastness, with short trails for gentle walks, but with trainers, suitable gear, and an organised guide who knows where to go and what to look for this is a trip I definitely plan to revisit.
ADMISSION FEES:
Thai: Adult 40 Baht , Kid 20 Baht
Foreigner : Adult 400 Baht, Kid 200 Baht (If you have work permit/visa or a proof that you work and live here in Thailand, you can pay Thai price).
If you bring in your own transportation, a small fee will be applied:
Bicycle 20 Baht
Motorcycle 30 Baht
Car 50 Baht
Mini van 100 Baht
STAY: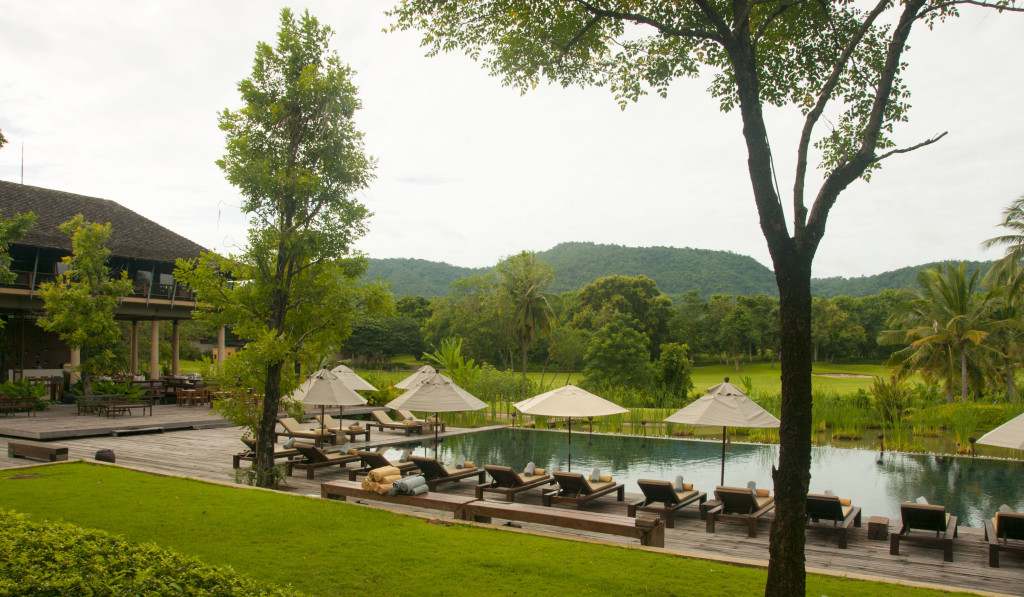 There are hundreds of accommodations near the park for budget travelers as well as high end resorts with spa services and restaurants. I would suggest you to stay near Thanarad Rd. so you don't need to travel too far to the park. (Five years ago I stayed at a resort situated one-hour away from the park without knowing, it was really tiring drive back and forth).
There are also various cabins and bungalows available in the park. My friends stayed there once during the cold season and they said it was very basic with no heating system so you need to come prepared for it
If you like camping, camps tents can be rented for 150 or 225 Baht (for 2 or 4 people respectively) along with pillows, sleeping pads and a few other things. Showers and electricity available.
GET IN:
Khao Yai has two entrances. By far the busiest is to the north in Nakhon Ratchasima Province, with most travellers passing through the town of Pak Chong. The southern entrance is in Prachinburi Province.
By Car
From Bangkok, Khao Yai is less than 3 hours by car. From Phahonyothin Road the quickest way [160 km] is to turn right at Rangsit Junction into Highway 305 [Rangsit to Nakhon Nayok]. Before arriving at Pranchinburi, switch left to Highway 33 at Naresuan Junction. Turn left on Highway 3077 that leads northwards another 41 km to the park headquarters.
By Bus
Take a bus from the Mo Chit bus station to Pak Chong which leave every20 minutes from 04.00am – 20.00pm. It takes about 2 hours and a half.
There are 3 companies as below:
– Ratchasima Tour Company – Tel. (Bangkok) 02-936-1615, (Nakhon Ratchasima) 044-245-443
– Air Korat Pattana Company – Tel. (Bangkok) 02-936-2252, (Nakhon Ratchasima) 044-252-999
– Suranaree Air Company
In front of the 7-11 in Pak Chong trucks shuttle visitors to the gates. The only way to get around the park in caseyou don't bring your own car is either to arrange a ride in advance from a tour agency, arrange for a park ranger to pick you up.
Return Trip: Due to Park Chong district is between Nakhon Racchasima and Bangkok. The return trip is needed to wait for a coach bus which drives from terminal at Nakhon Racchasima. On average, a coach bus will come in every 45 minutes. You can buy a ticket at 3 terminals as following:
1. The terminal in front of Handy Mart convenience store
2. The terminal next to Pak Chong Chareon Mit Cross hotel
3. The terminal (Transport Service) Behind Kakinang restaurant
By Minivan:
From Bangkok get on an affiliated van at the Victory Monument. Fees for each passenger is 250 THB per trip.
Aunt Jamnong Van
For seat booking,contact Aunt 'Nong' 089-9003097 Bangkok terminal: 089-844-8254, Pak Chong terminal: 089-616-1952
** 'Jamnong Van' has special service from Bangkok to your desired tourist attraction. You can hire a van.
Tay-War-Da Van
Tel. 08-1669-9658 (Bangkok), 08-999-3707 (Pakchong),
081-999-3606, 044-313-399
Return trip Pak Chong – Bangkok: The station is at The Home Tower building opposites with night market at Pak Chong intersection. The van will take off in every 1 hour during 05.00-19.00hrs.
By train
For a person who is not in a hurry and wish to take a classic view of Thai trains. There are trains from Hua Lampong train station to Pak Chong station every day. It takes around 5 hours.
Contact State Railway of Thailand Tel: 1690, 02-223-7010 or see additional details in www.railway.co.th
Language learning Key Point
เขา kăo  means mountain
ใหญ่ yài means big
เขาใหญ่  kăo yài means big mountain
อุทยานแห่งชาติ ùt-tá-yaan hàeng châad means national park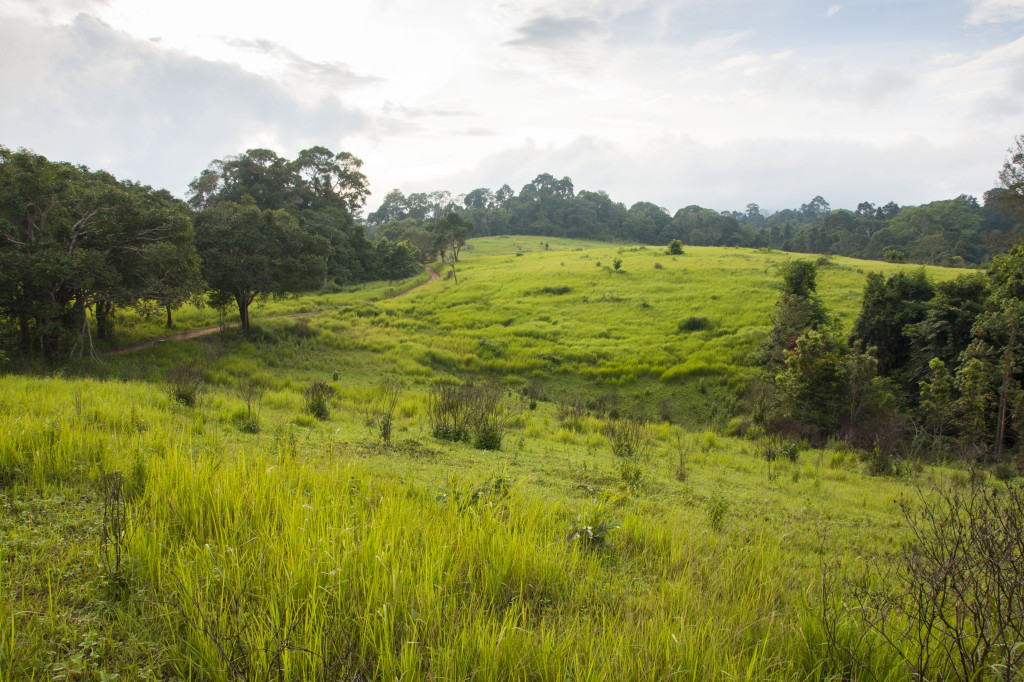 Have you visited Khao Yai National Park before? How did you enjoy it?
*****************************************************************************************************************************
Last weekend, Mink my brother and his friends from Thailand State Alumni Community went to The Thai Elephant Research and Conservation Fund (TERF) in Khao Yai. It is an NGO based in on Thanarad road in Mu Si.
The TERF work on different projects through Thailand, their main missions are:
-Conservation of Thai elephants through interdisciplinary research and use of traditional local knowledge
-Enabling public participation in elephant conservation through education, awareness raising and encouraging positive action.
-Working with others from Thailand and around the world for the benefit of Thai elephants.
In Thailand, wild elephants have suffered dramatic loss of forest habitat in the last century and are continuing to suffer from poaching, live capture and conflict with humans living on the edge of protected areas. In the past you might have seen elephants walking on the streets in some big cities mainly or the purposes of making money from tourists wanting to feed them, but thankfully this type of trade is disappearing now. You can do more by making a visit to the TERF in Khao Yai and enjoy an elephant ride, get informations about different conservation projects.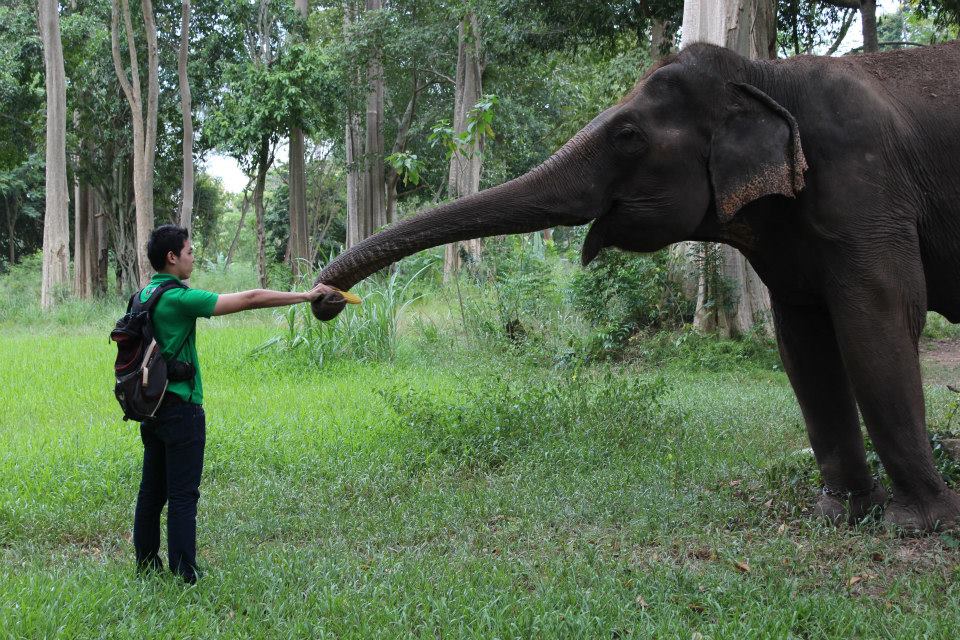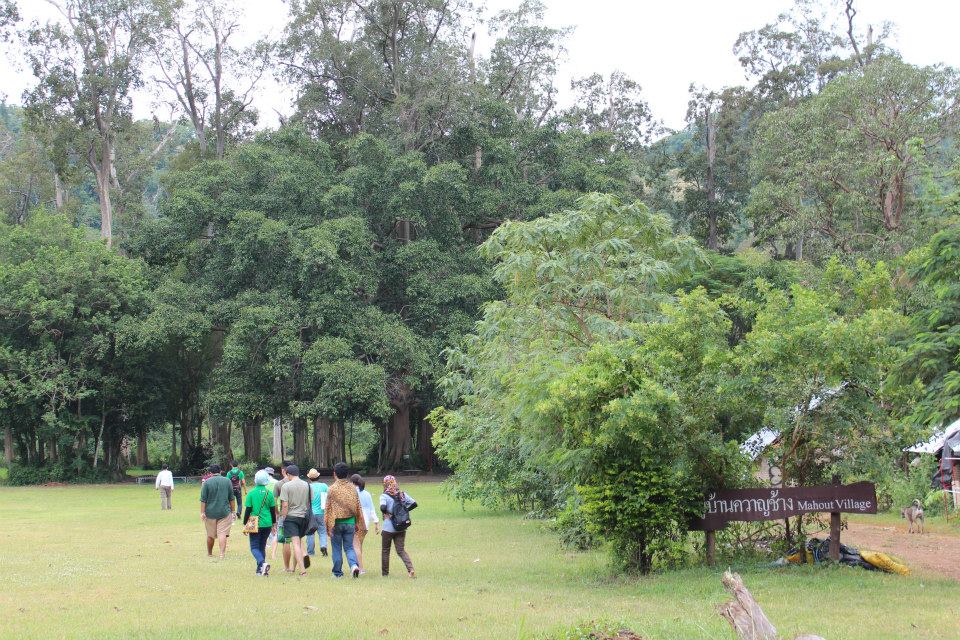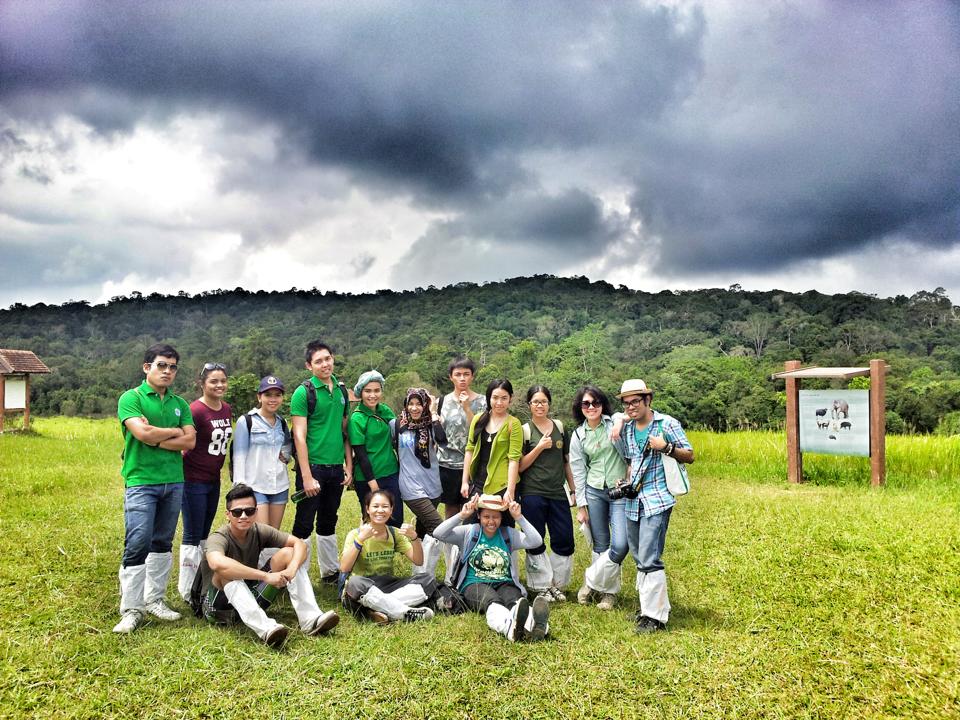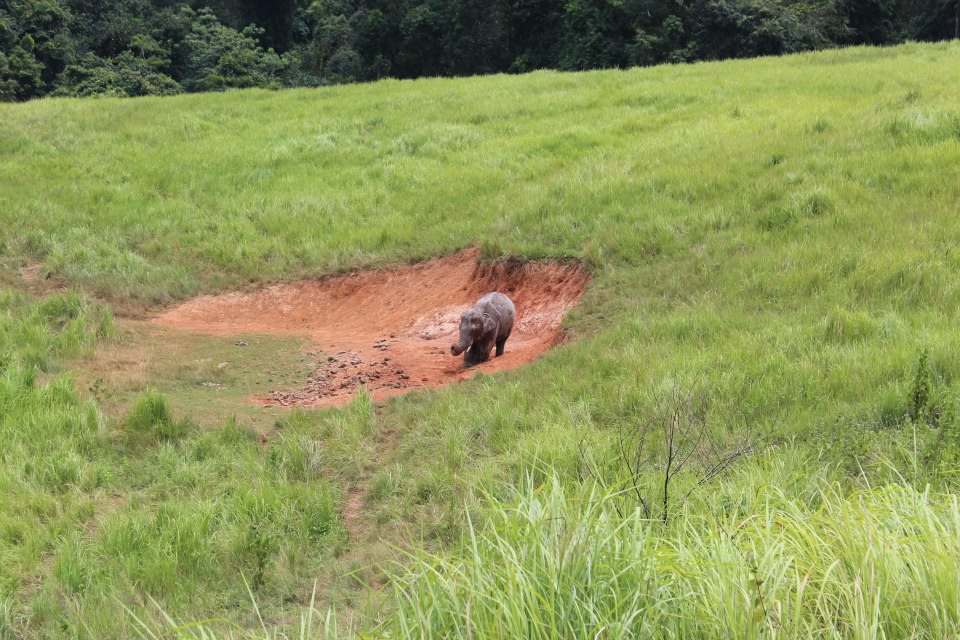 Thai Elephant Research and conservation center
99/9 Moo 4,Tambon Musee, Pak Chong, (opposite Fabb café), Nakon Ratchasima,Thailand. 30130
Web: TERF
Telephone : 044-297406 , 08-1799-8727
YOU MIGTH ALSO LIKE: