To speak Thai clearly and make local people understood, it is not only getting the tones right it is also pronouncing the vowels correctly.
There are in total 32 vowels in Thai language, 14 of them are long vowels and 18 are short vowels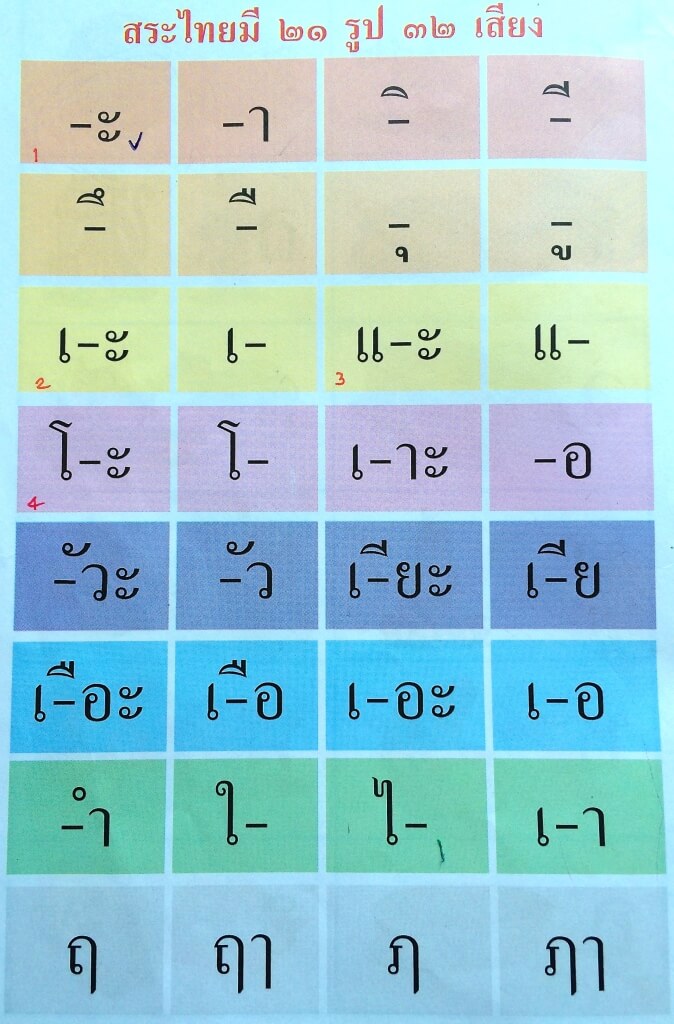 Similar to pronouncing Thai tones, when the vowel changes the meaning changes too. So you should make sure you are saying a word with a short or long vowel.
For example; ข้าว /kâao/ means 'rice' but when we change the pronunciation to a short sound เข้า /kâo/ means 'to go in'.
"Vowel" in Thai is สระ /sà-rà/. Long vowel is called สระเสียงยาว /sà-rà sǐang yaao/ and short vowel is called สระเสียงสั้น /sà-rà sǐang sân/.
I always suggest my students to start learning the long vowels first and then move on to the short vowels because the short vowels are just pronounced with half of the length of the long ones. So when you learn to pronounce the long vowel sounds properly,working on the short vowel sounds is just a piece of cake! 🙂
Alright, let's start with the long vowel sounds

1. อา /aa/  like a in sofa            มา  /maa/ means to come
2. อี /ee/   like ee in tree          มี   /mee/  means to have
3. อือ /ue/  there is no equivalent sound of this vowel in English
4. เอ /ay/ like ay in May          เจ /jay/ means vegetarian
5. แอ /ae/ like a in man           แกง /gaeng/ means curry
6. อู /uu/ like oo in zoo            ดู /duu/ means to watch
7. โอ /oe/ like o in go               โต /dtoe/ means grow up
8. ออ /aw/ like aw in law           รอ /raw/ means wait
9. เออ /er/ like er in perm        เจอ / jer/ means meet
10. อัว /ua/ like our in your      วัว /wua/means cow
11. เอีย /ia/ like eer in beer       เลีย /lia/ means lick
12. เอือ /uea/  there is no equivalent sound of this vowel in English
13. ฤา /rue/  there is no equivalent sound of this vowel in English
14. ฦา /lue/  there is no equivalent sound of this vowel in English
YOU MIGHT ALSO LIKE