Did you know that I am a Southern girl? Actually I am a mix – my mom is from Nakhon Si Thammarat and my dad is from Pichit, but I was born in Bangkok and grew up in my mom's hometown so I grew up with Southern Thai food.
Southern cooking tend to be intensely hot, pungent and spicy which I love so much. Here are my top five Southern dishes:
1. คั่วกลิ้ง [Kua Gling]  is a southern Thai dry curry (lemongrass, garlic, shallots, gingers, galangal, kaffir lime skin and dry chilies)  that is commonly made with pork, beef or chicken. The meat is fried together with the curry paste, more chilies and sprinkled with a handful of thinly sliced kaffir lime leaves. I could just eat this dish with a plate of hot steamed rice and that makes my day:)
2. แกงส้มปลา [Gang Som Bplaa] , or what Bangkokian call it แกงเหลือง [Gang Leuang]. I wrote a post about this sour curry which I think it goes nicely with Thai style omelet here.
3. แกงไตปลา [Gang dtai bplaa]
This dish is one of the South's best known specialties, my mom loves it! It is an acquired taste for most people from outside the region, even myself didn't like this intensely pungent curry fish when I was a kid. Two years ago my friend who is from Bangkok took me to lunch and ordered this curry which is her favorite Southern dish, I tried it again and since then I think this dish is a star of Southern Thailand – unique taste and flavourful.

The ingredients are a combination of fish viscera, grilled fish, fermented shrimp paste,  pumpkin, string beans and bamboo shoots.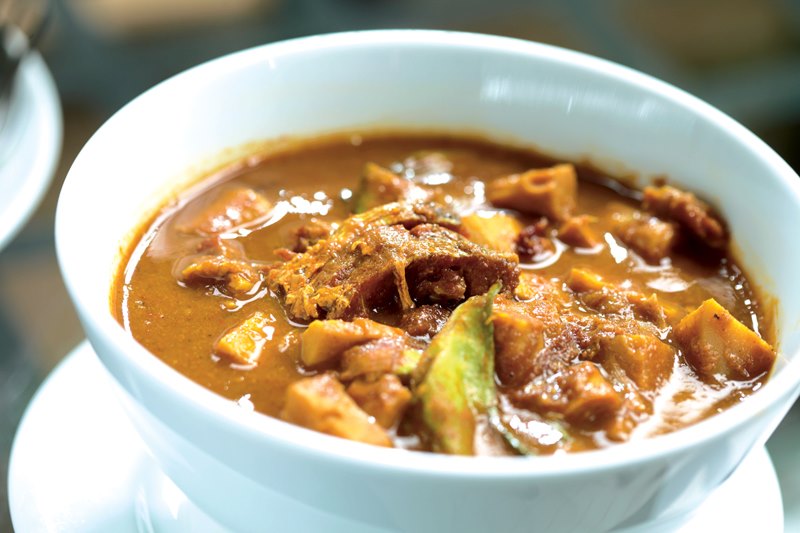 4. สะตอผัดกะปิกุ้งสด [Sa-dtaw Pad Gabpi Gung] 
สะตอ 'Sa dtaw' is a green, beanlike seed that comes in large, bright green and wavy 
seed pods. A favorite way to serve these seeds is in a very pungent and spicy stir-fry with shrimp and fermented shrimp paste (กะปิ Gabpi).
My tip for you is you might need to avoid talking to people after having this dish, it makes your breath stink badly. 555
5. ปลาทอดขมิ้น [bplaa tord Kamin] Southern Thai Style Deep Fried Fish with Fresh Turmeric
The magic of this dish is that it is simple to prepare, and it tastes heavenly good. The fish is marinated for couple of hours in a paste made from garlic, lemongrass, black peppercorns, fresh turmeric, salt and chili, then deep fried in hot oil. ฺBefore serving, shower a lot of deep fried garlic over the fish.
I love to pair this fish dish with Gang Som!
Where do I like to go for Southern food in Bangkok?
Some southern Thai food is served in Bangkok's local market stalls, but it can be difficult to find  authentic southern Thai restaurants in the city center.
Areas near Ramkamhaeng University are hotspots for Bangkok's southern food, but that is too far from my place. Here are three of my favorite restaurants:
คั่วกลิ้ง + ผักสด [Kua Kling Pak Sod]  The food here is authentic Chumporn, the hometown of the owner. They decorated the place with great classy items of her husband who passed away. It is like having a home-made meal at your friend's house here.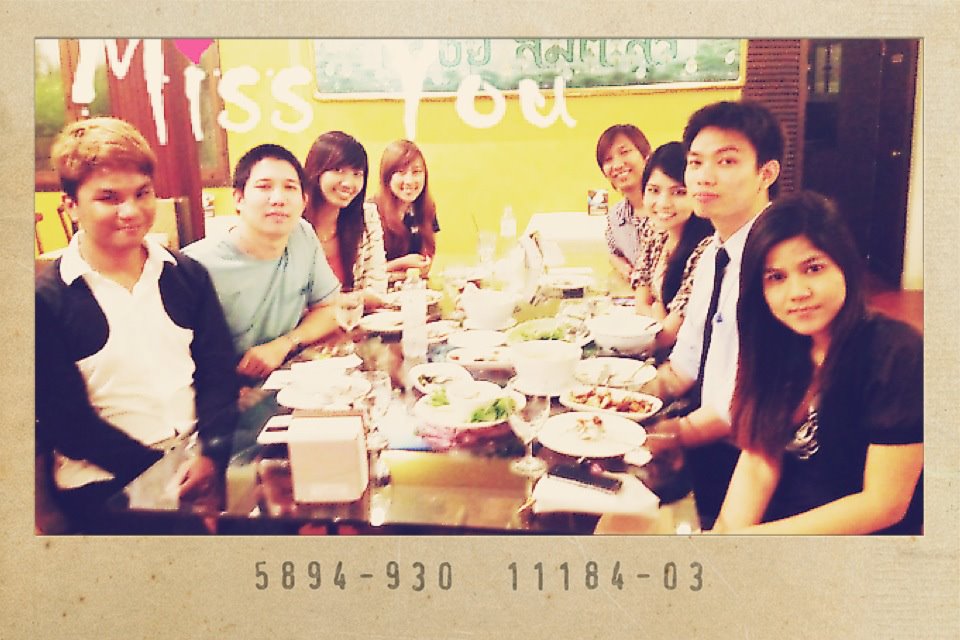 Location: 
Thonglor Branch: 98/1 Soi Thong Lor 5, Sukhumvit 55 Road
Get off BTS skytrain Thong Lor station, then walk or take a taxi or motorcycle to Thong Lor Soi 5, turn Right on the first Soi, Kua Kling Pak Sod is on the left, opposite of the Embassy of Kenya.
Opening hours: daily
Lunch 11:00 am – 14:30 pm
Dinner 17:30 – 21:30 pm
Prasarnmit Branch : Soi Sukhumvit 23
Rajchakru branch: Soi Paholyothin 5
Opening hours: daily 11:00 am – 21:30 pm
Tel : 0-2185-3977, 08-6053-7779
ภูเก็ตทาวน์ Phuket Town this tiny shophouse is not in Phuket! but on the corner of Thong Lor Soi 6. The restaurant is furbished to give atmosphere as though you are eating in Phuket – retro style wooden tables, chairs, floors, and wall painting of Phuket Town.
Don't miss out their ขนมจีนน้ำยาปู Kanom Jeen Nam Ya Poo (rice noodles with crab meat curry), it is so tasty!
Good news for those who don't like to travel through Bangkok traffic, they also have delivery service. : )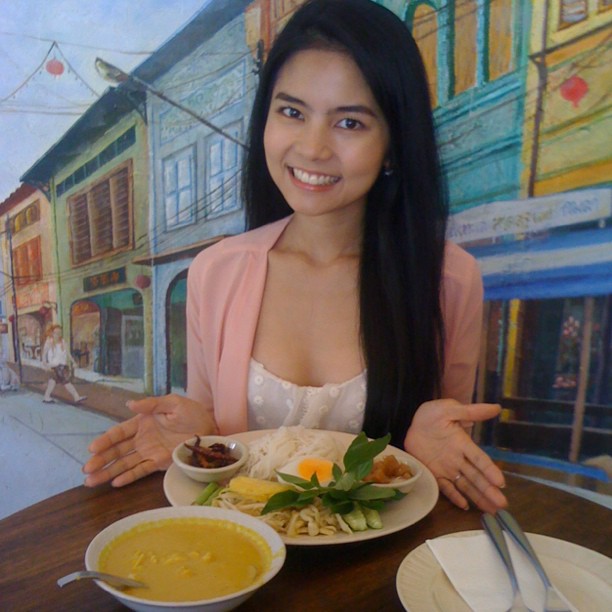 Location :  Soi Thong Lor 4,  Sukhumvit 55 Road
Opening Hours: daily 11:00 am – 22:30 pm
Tel: 02 714 9402
บ้านไอซ์ Baan Ice Restaurant The young owner named "Ice" brings his grandparents' Southern food recipes from Nakhon Si Thammarat province to metropolitan. He also brings the local ingredients from Nakorn Sri Tamarat daily e.g. chili paste, Sator (stinky beans) and bai liang leaves.
First thing I like about this place is the ambience, casual and relax but vibrant with high-ceiling and glass windows that allows natural light shining trough to give the pleasant feeling.
Their menu is full of Authentic classic Southern dishes. I was very happy to find some dishes that I used to eat often in my childhood and I couldn't find it anywhere else in Bangkok like Gai Kolae ไก่ย่างกอและ (Southern Curry-Basted Grilled Chicken).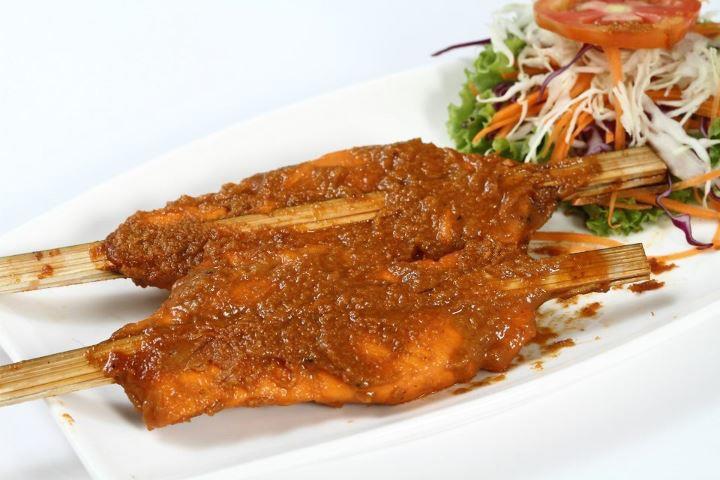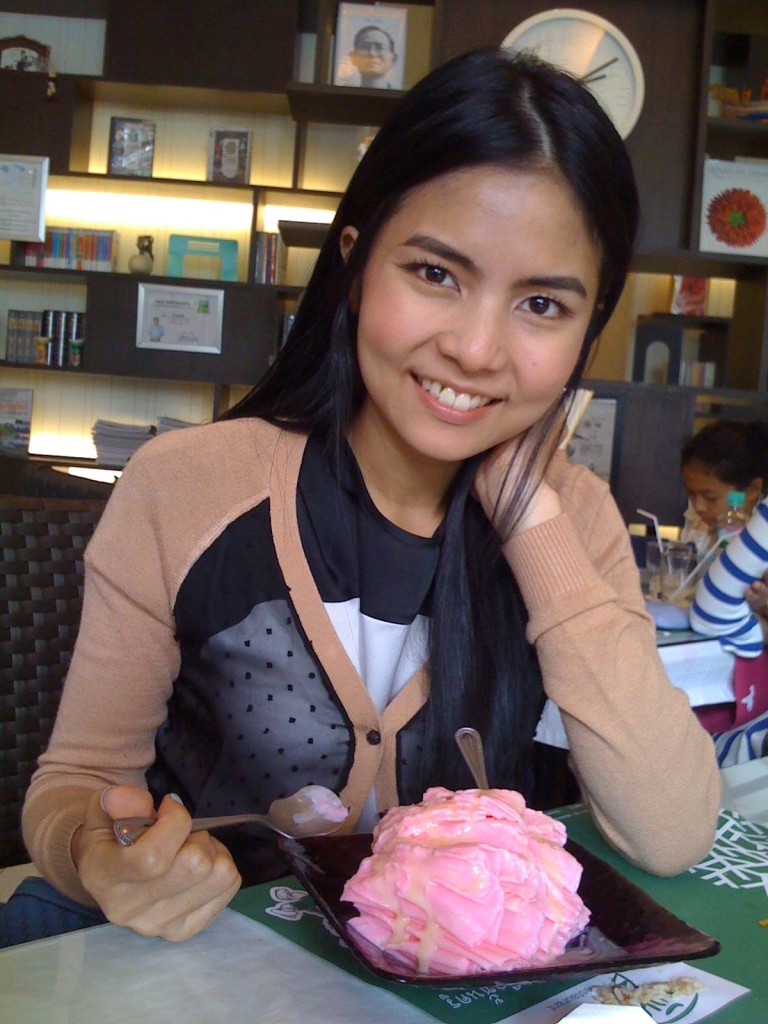 Location: Baan Ice @ Somerset Thonglor (between Thonglor Sois 5 and 7), Suhumvit 55 Road
Opening Hours: daily 11:00 am – 22:30 pm
Tel : 02-381-6441-2
ปรายระย้า Prai Raya Phuket Cuisine
Raya is well-regarded in Phuket as one of the island's best restaurants for Southern food, and it has been opened for over 20 years. Now we can also enjoy the same recipes in Bangkok. Prai Raya has just opened earlier this year (year 2015) in Sukhumvit 8.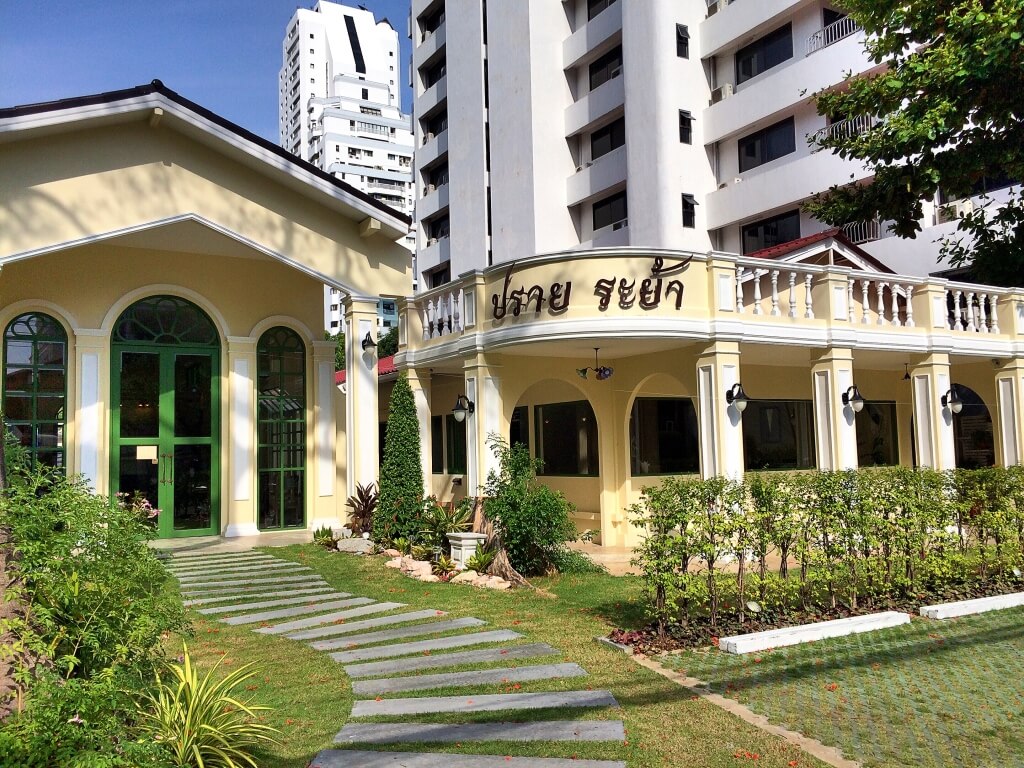 My favourite dish here is แกงเนื้อปูใบชะพลู Crab Meat Yellow Curry Served with Rice Vermicelli. This dish is in my list of the best Thai dishes you must try! and Prai Raya is the best place to get this dish. 🙂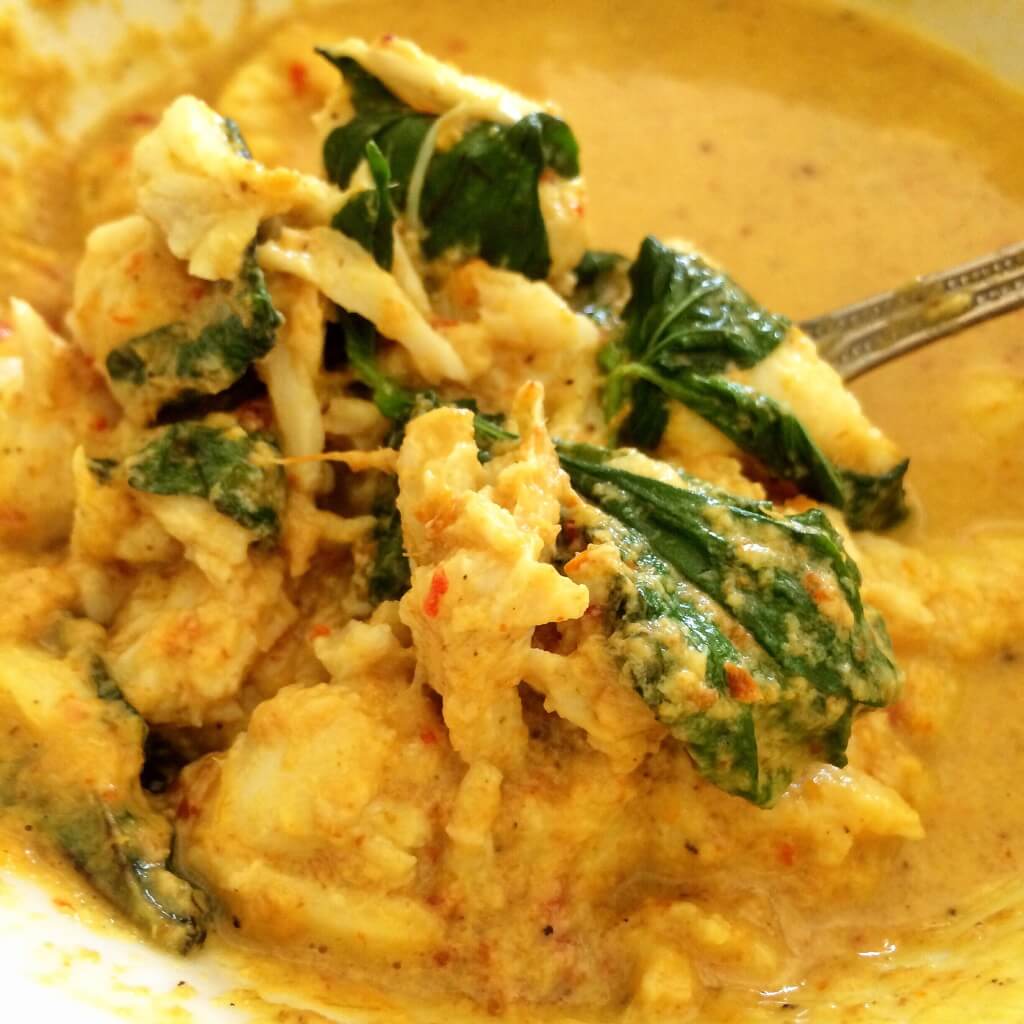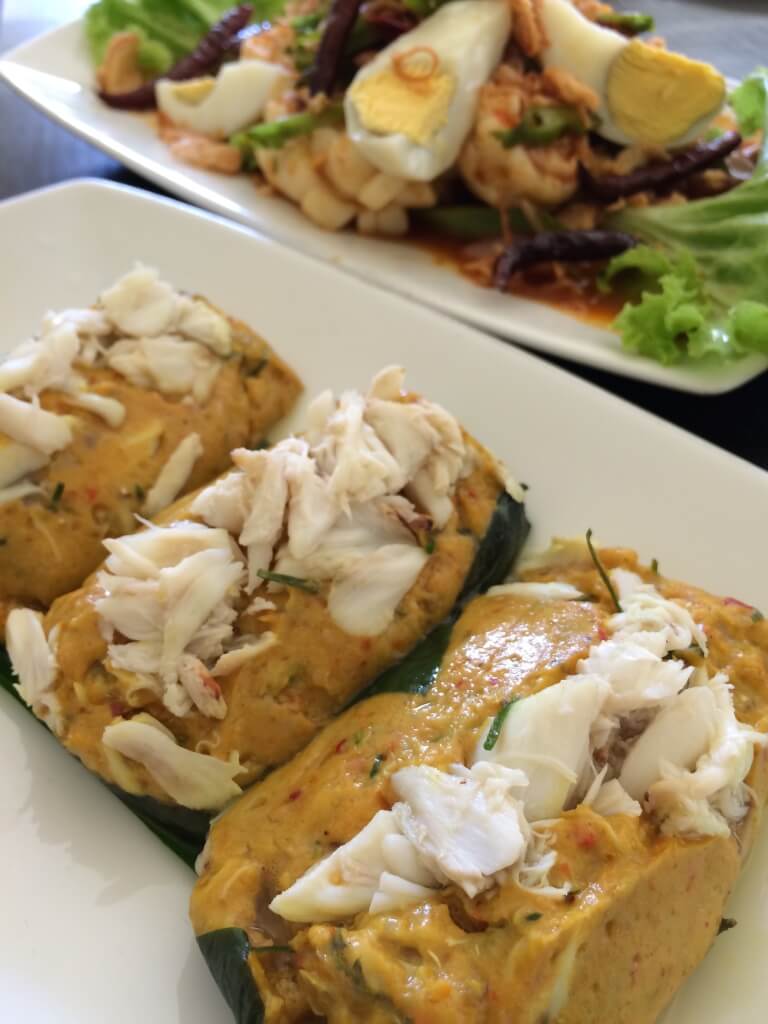 Location: 59 Sukhumvit Soi 8 (walking distance from Nana station) , almost to the end of the soi.
YOU might also LIKE: