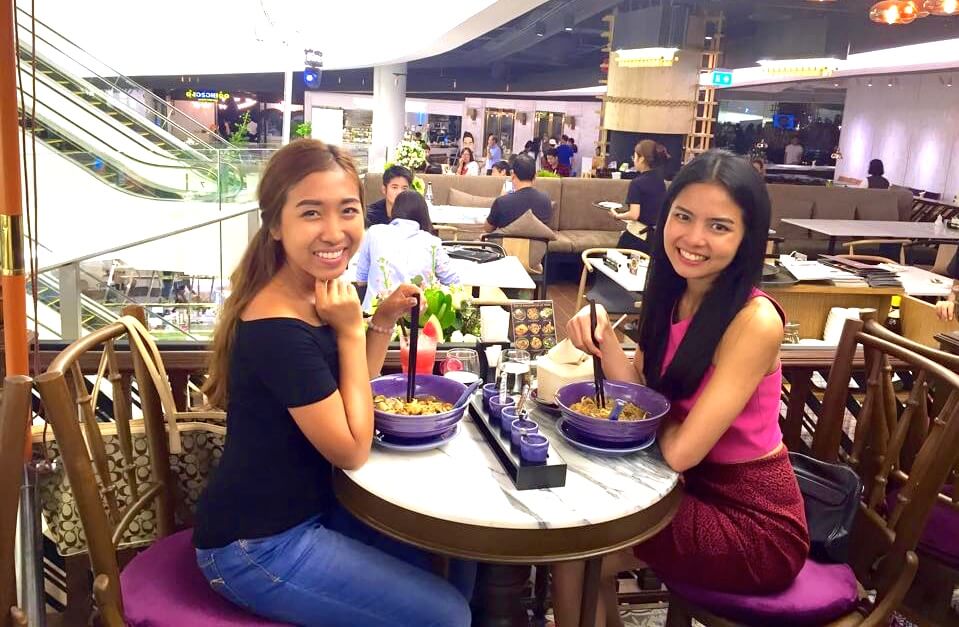 How to order noodles
There are a variety of noodle dishes available in Thailand ranging between dry dishes and soup dishes. They are widely available everywhere in the Kingdom. It can be considered the Fast Food of choice for the majority of Thai people. I want to talk about how to order noodle dishes in restaurants or street vendors given the few steps needed in the doing so. 🙂
Noodle soup in Thai is called "Kuai Tiao ก๋วยเตี๋ยว /gŭai-dtĭao/"
Step 1 : knowing what kind of noodle soup dish you want to go for.
Below is the list of most common soup noodle dishes found in Thailand:
1)    Kuai Tiao Nam Sai ก๋วยเตี๋ยวน้ำใส / gŭai-dtĭao náam săi/: this is the most basic noodle soup dish. "Nam Sai" (น้ำใส) means 'clear stock' usually made from pork, chicken or beef bones, flavored with salt, pepper, garlic, sugar, coriander.
The noodles are prepared with a variety of meats – pork หมู/mŭu/, beef เนื้อ /núea/, duck เป็ด /bpèd/, offal เครื่องใน /krûeang-nai/ , fishballs ลูกชิ้นปลา /lûuk-chín bplaa/, meatballs ลูกชิ้นเนื้อ / lûuk-chín núea/ porkballs ลูกชิ้นหมู / lûuk-chín mŭu/ being the most common, as well as vegetables and bean sprouts and then served with standard.
2)    Kuai Tiao Tom Yam ก๋วยเตี๋ยวต้มยำ / gŭai-dtĭao dtôm yam/: it is the same recipe as Kuai Tiao Nam Sai, but added chili paste (น้ำผริกเผา /náam prík păo/), crushed peanuts, lime juice, chili powder, sugar and fish sauce. It is usually sweeter than regular soup and available for pork, fish and seafood.
3)    Kuai Tiao Ruea ก๋วยเตี๋ยวเรือ / gŭai-dtĭao ruea/: Oh! This is my favorite noodle soup dish. เรือ /ruea/ means 'boat'. This type of noodle soup used to be served on boats where in the old times the sellers rowed the boat along the canal to the piers alongside their houses.
The base ingredient is the blood from pigs or cows which is called "Nam Tok" (น้ำตก /náam-dtòk/) which is poured into the soup right before serving giving the soup a distinct taste. Available for pork and pork balls, or beef and meatballs, liver pieces, bean sprouts, morning glory and parsley.
If you don't feel like eating this vampire-dish, you can order without the blood by saying "ไม่เอาน้ำตก /mâi ao náam-dtòk/ meaning I don't want the blood.'" However, I recommend you to give it a try, it doesn't taste bad but soooo good!
4)    Yen Ta Fo เย็นตาโฟ /yen data foe/ is a noodle pink soup. Served with different kinds of fish balls, shrimp balls, sliced fried tofu, squid, morning glory aka pak bung ผักบุ้ง /pàk bûng/, and deep-fried dumplings- Giaw ( เกี๊ยว/gíaw/). The pink color comes from the special sauce made from preserved red bean curd and/or tomato ketchup. The dish is mildly sweet, salty and sour.
Step 2: choose the types of noodles
Once you know what type of noodle soup you want to have and select the right place to eat, you can decide what kind of noodles you enjoy.
There are five main types of noodles:
Wide rice noodles "sen Yai" ( เส้นใหญ่ / sên yài/)
Small rice noodles "sen lek" ( เส้นเล็ก /sên lék/)
Vermicelli "sen mee" ( เส้นหมี่ /sên mìi/ ): fine round rice noodles
Yellow egg noodles "sen ba-mee" ( เส้นบะหมี่ / sên bà-mìi/ ): made from wheat flour and egg.
Glass noodles "wun sen" ( วุ้นเส้น/wún sên/ ): made from mung beans
Whatever type of noodle soup I choose to eat I always order "sen mee", my younger brother always go for "sen ba-mee", and my mom always orders "Sen Yai". It is the matter of personal choice I think:)
NOTE: You can also order noodles without noodles too! Sounds funny right? But you can do all that, it is called Gao Lao เกาเหลา /gao-lăo/. Basically, you have everything in the bowl except the noodles. Thai people commonly order Gao Lao to eat with steamed rice.
Step 3: with soup or without soup
All above noodle soup dishes can be ordered without the stock. In that case all the ingredients are cooked in the soup first, but served "dry" without the stock or the stock comes separately. This is called kuai-tiao haeng  ก๋วยเตี๋ยวแห้ง  / gŭai-dtĭao hâeng/ which literally means 'dry noodles'.
Step 4: Seasoning
Now you got a noodle soup in front of you. Next step is to season your noodle soup to your liking. At the noodles place you will always see a set of different seasoning  พวงเครื่องปรุง /puang krûeang-bprung/ available on each table which usually consist of 1) chili powder 2) sugar 3) rice vinegar with chilies 4) fish sauce
I usually add a tea spoon of chili powder and a little bit of fish sauce in my noodle soup.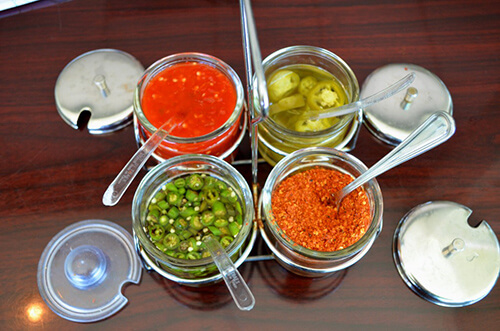 What kind of noodle soup dish do you like? 🙂
YOU MIGHT ALSO LIKE: