1. The Local by Oamthong Thai cuisine
A 70 – year old house turned into a Thai heritage restaurant. I really like the traditional Thai atmosphere with history and culture beautifully painted on the walls, and the fact that I can enjoy my meal in the comfort of rattan chairs and a Thai silk cushion. (I don't like restaurants with uncomfortable hard chairs)
The Local serves original and authentic Thai food which cannot be found easily these days. I was told that the recipe of each dish is a secret family recipe handed down over generations. I recommend you to start your meal with the Appetizer set "รวมคำอร่อย", B250 /ruam kam a-roy/ meaning the mix of tasty bites – it is the combination of 5 traditional Thai appetizer from different regions of Thailand.
I also like their special dish which originates from the King Rama V era and I have never tried it anywhere else before "แกงรัญจวนเนื้อ Gang Lun Juan Nuea", B240 – tender beef curry with shrimp paste & Thai herbs. I would like to give you a heads up that if you are not familiar with fermented Thai taste you might find this dish too spicy and pungent.
Another specialty is แกงคั่วเนื้อปลาใบส้มแป้น Spicy Home-made Yellow Curry with Fish Fillet, Coconut Milk & orange leaves , B250 which is served together with a big basket of vegetable and Thai herbs to balance the rich flavor of the curry. A small creative touch I liked to see is the way the waitress served the rice with a traditional Thai rice basket and you can choose either brown rice or white rice, it is unlimited refill.
The Local is perfect for romantic dining, corporate meetings, family gathering and special occasions. They have big four private rooms available. You might want to reserve some time after the meal to have a look at their mini museum showing ancient cookery , cookbooks etc.
Address: Soi Sukhumvit 23, Bangkok, Thailand Nearest Skytrain: Asoke Website: www.thelocalthaicuisine.com
2.     Gedhawa เก็ดถะหวา
Gedhawa is northern Thai for "gardenia". It is a small Lanna-style restaurant hidden away on the quiet Soi in the heart of Bangkok. The food is Thai with an emphasis on Northern dishes, central Thai food is also available. The decoration inside makes you feel like you are in Chiangmai. They have only ten tables with a few small tables outside for smokers which is my kind of place that I can go every week- I like it cozy.
The dish I recommend you to try is ปลาสมุนไพร /Bplaa samunprai/ deep fried fish with Thai herbs, B450. The fish is a golden brown, perfectly crispy outside but the fish stays soft & moist inside. The way to eat this dish is putting a piece of fish in a leave (there are three selection of lettuce, kale, and piperaceae leaves) then place a small amount of all the herbs, fold up into a little package, and then pop the  package into your mouth and enjoy the fresh, springy taste. I always like the DIY way of eating.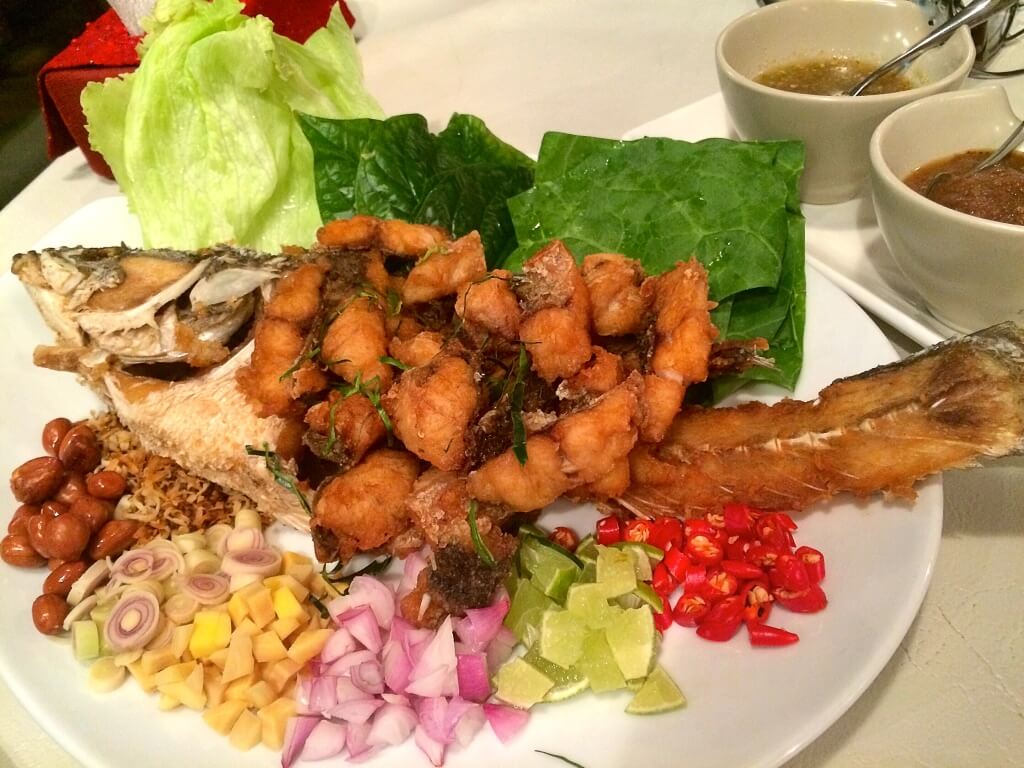 After having a bite of the fish wrap, it feels nice to follow by the soup of แกงอ่อมไก่ Gang Om Gai, B150 – spicy Lanna (northern Thai) curry with chicken and several kinds of vegetables, it does not contain any coconut milk. And if you are a vegetable eater, they have many different kind of น้ำพริก /naam prik/, B150 served with mixture of steamed vegetables. The most interesting dish in the menu is แกงผักหวาน /Gaeng Pak Waan/, B150 a northern vegetable, fish & ant egg soup. That's right! It contains "ant eggs", but this dish is seasonal due to the ant eggs are available during May-July only.
The owner, Kun Jum who also runs the dining room is very lovely, if you have questions about the food, she is informative. My dining experience here is always warm and homely.
Sukhumvit Soi 35, Bangkok, Thailand Phone:  02-662-0501 Nearest Skytrain: Phrom Phong Opening Hours: Mon-Sat 11am-2pm, 5-10pm
3.     ภัทรา Patara – Fine Thai Cuisine
Patara is the elegant Thai modern-style restaurant surrounding by a pleasant garden. It has made its way for 12 years, and have branches in Europe (the first branch was opened in London), as well as other Asian countries. Its owner is the co-founder of the popular chained restaurants in Thailand, S&P. The quality of the food can be guaranteed by many awards i.e. rated top Thai restaurant by Thailand Tatler Magazine; awarded top Thai restaurant for three consecutive years by Bangkok Dining & Entertainment Magazine.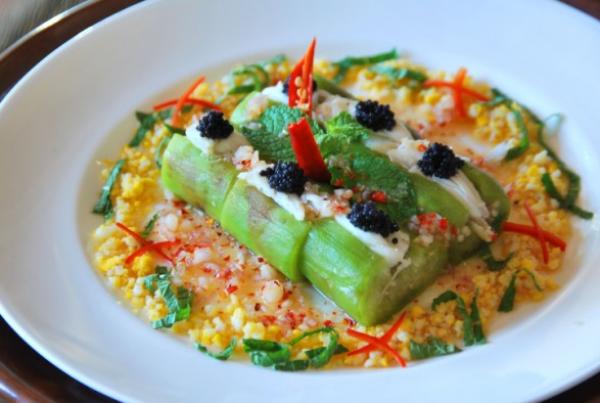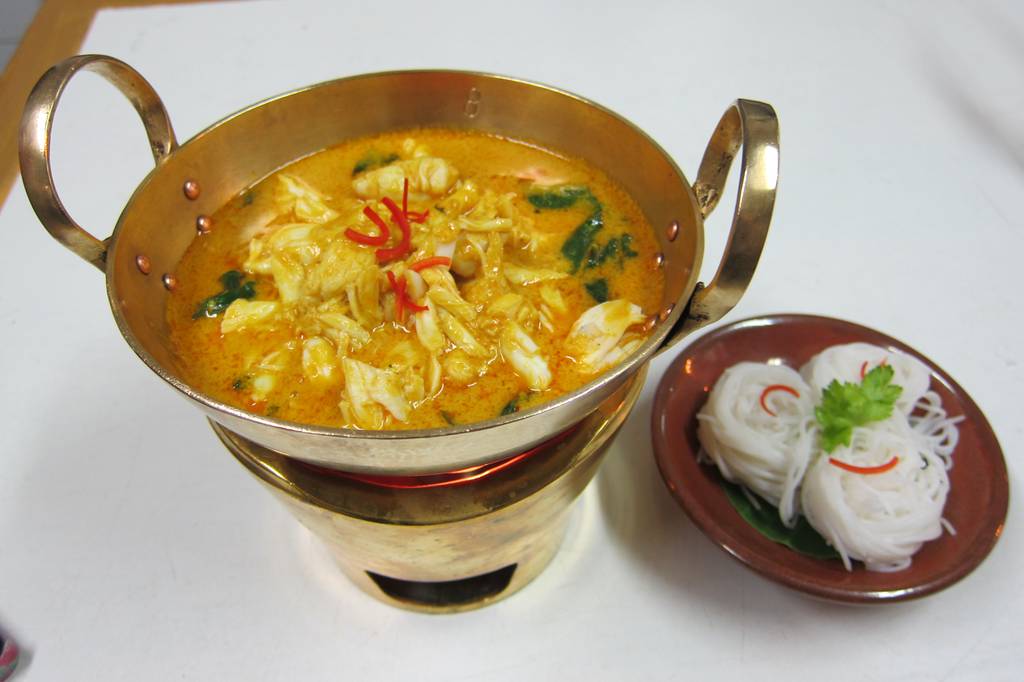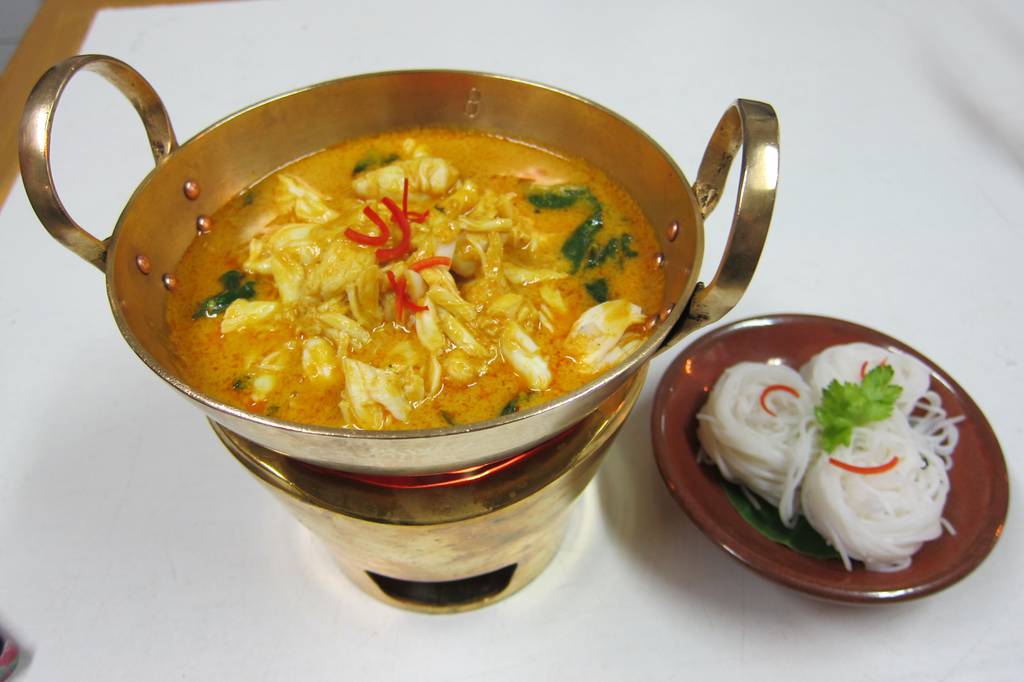 Patara has extensive menu of contemporary Thai cuisine. My favorite dish is แกงเนื้อปูใบชะพลู Tumeric scented crabmeat yellow curry with Betel leave served with traditional rice noodles, B390. You can view the full menu with pricing in their website here: http://www.patarathailand.com/thai-restaurant-bangkok-menu/menus-patara-thai-restaurant-bangkok-thailand.php
The service here is attentive and friendly, and the chefs take great care with lovely presentations. Although this place is a bit pricey than others of my pick, it is worth every Baht. (Patara offers you a complimentary ride in a Tuk-Tuk to the sky train station)
Address: Thonglor Soi 19, Bangkok, Thailand
Phone: 02-185-2960, 02-185-2961
Nearest Train: BTS Thong Lo
Website: www.patarathailand.com
4.     Soul Food Mahanakohn
A small two-story place serves authentic regional Thai food.  This place has everything I want in a restaurant – good food, tasty drinks, great staff, nice atmosphere and perfect location. I like the concept of this restaurant neatly summed up on its website: "Wholesome ingredients. Honest cooking. Serious drinks." The must-try dish that I order every time I eat there is ยำหัวปลี Yam Hua Plee (banana flower spicy salad), B130, which I had it for the first time here and I fell in love with this dish. Another healthy dish I always order is ยำมะเขือยาว Yam Makuea Yao (egg plant salad with boiled duck eggs), B140, this dish is absolutely lovely. The eggplant is fresh, juicy and tender. Usually the hard-boiled chicken egg is added to this dish, but Soul Food Mahanakohn has its creativity and replace with the duck egg.
As for the drink, I recommend the drink I ordered because I liked its name ใจเย็นเย็น"Jai Yen Yen"(which in Thai translates to "cool down/chill out"), which is a sweet and delectable blend of Gin, ginger ale, lime, passion fruit, pineapple, and cucumber.
This place is a place my friends and I like to go for good food and have a good conversation – things that are good for my soul. 🙂
Sukhumvit Soi 55 (Thonglor), Bangkok, Thailand
Phone:  085-904-2691,  02-714-7708 Nearest Skytrain: Thong Lo Website:
www.soulfoodmahanakorn.com
5.     Erawan Tea room by Grand Hyatt Erawan Bangkok
The name might sound like a place for ladies' high tea, but it is more than just a tea room. Erawan Tea room offers delicious traditional Thai dishes that never disappoint me. I also like the Thai-style ambiance and comfy chair is always a plus. The service is attentive, efficient and pleasant.
Highlight dishes are ผัดไท Pad Tai (Thai stir-fried noodles),   ต้มข่าไก่ Tom Ka Gai(chicken galangal soup), and ยำส้มโอ Yum Som-O ( Pamelo spicy salad with shrimp). I don't remember the price of each dish exactly, it starts at around B150.
I suggest you to save some room to savor the desserts, especially coconut creme brulee. Oh! and of course, you cannot miss to try their Thai iced tea (ชาเย็น cha-yen)
 2/F, Grand Hyatt Erawan, Ratchadamri Rd., Bangkok, Thailand Nearest SkyTrain: Chit Lom Website:
www.bangkok.grand.hyatt.com
6. Kram Café & Thai Kitchen (คราม)
"Kram" means indigo in Thai. I asked the owner the origin of this name, and he told a lovely story that he wanted his café to be homey and relaxing, to be a place where friends and family come to hangout and take it easy. So indigo is the color that gives that feeling so he picked the name.
KRAM is a two-stories retro white house surrounded by simple lovely garden. It is decorated with light color wooded furniture and handmade fabrics. I like the ambience of this restaurant; it feels like you are having a meal at your relative's home.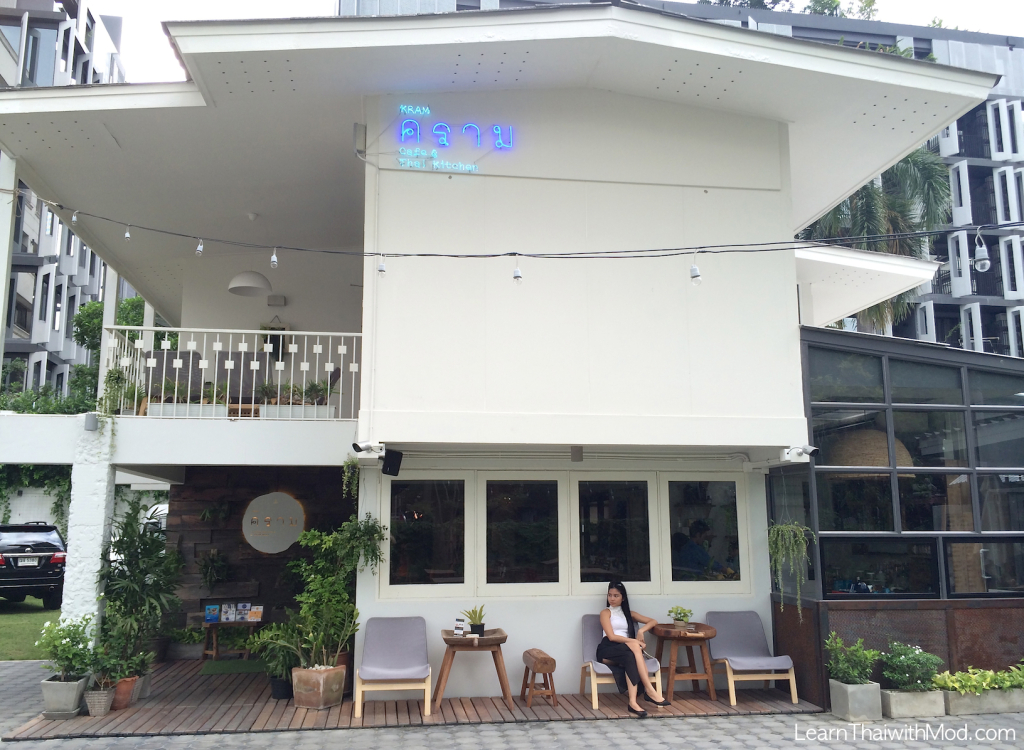 The kitchen serves classic Thai dishes. Before I went to KRAM, I had my mind fixed on แกงคั่วปูใบชะพลู Gaeng Kua Poo Bai Chaploo (curry with crabmeat and wild betel leaf) becuase I read many positive reviews of this dish in this place. I was satisfied and was not surprised when the owner told me that this curry was their best seller. I recommend you to also order ปลาสลิดทอด Plaa Salit Tord (Fried Gourami fish), the fish is perfectly crispy and compliment the curry very well.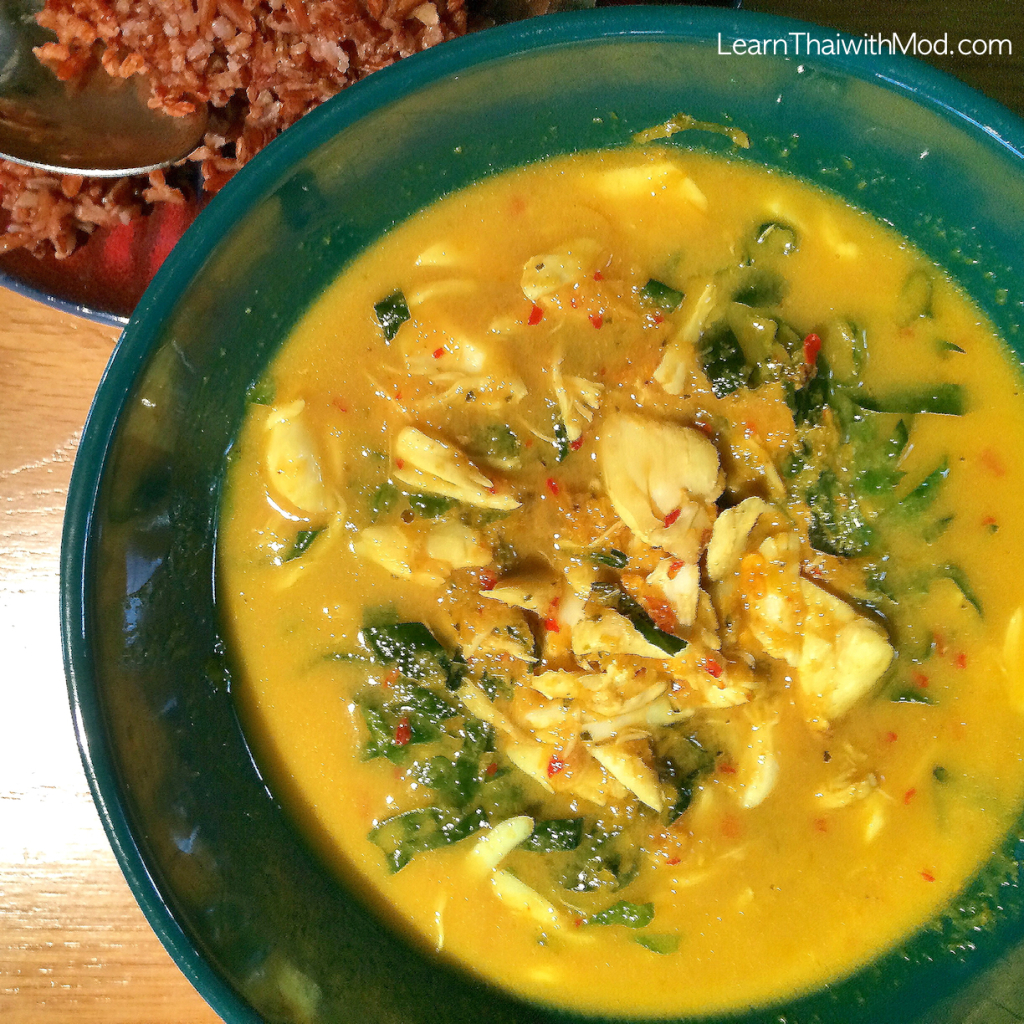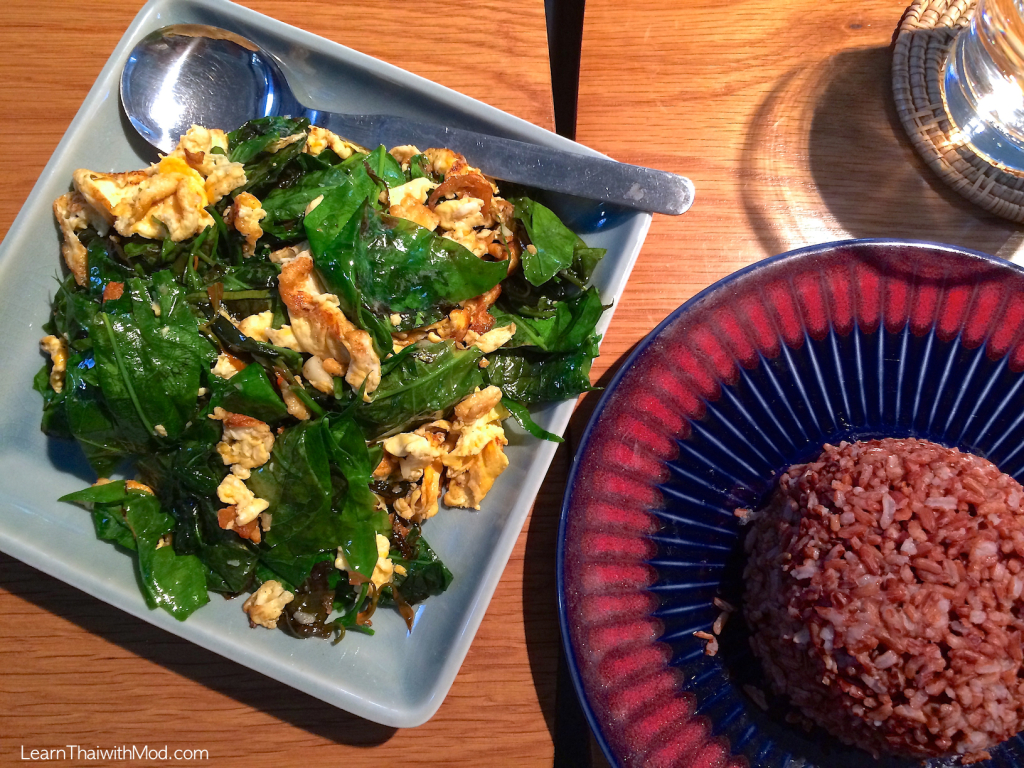 Another dish I like is ใบเหลียงผัดไข่ Bai Liang Pad Khai (Stir-fried melinjo with eggs and dried shrimps) , this vegetable is grown in Southern Thailand so it is not easy to find in Bangkok. It is quite firm and thick texture and sweet.
My favourite dessert here is their home-made Thai tea ice cream. It is rich and creamy. Delish!
The price is reasonable and the staff is friendly. Whenever I want to find a relaxing place with good Thai food, this place always come to my mind.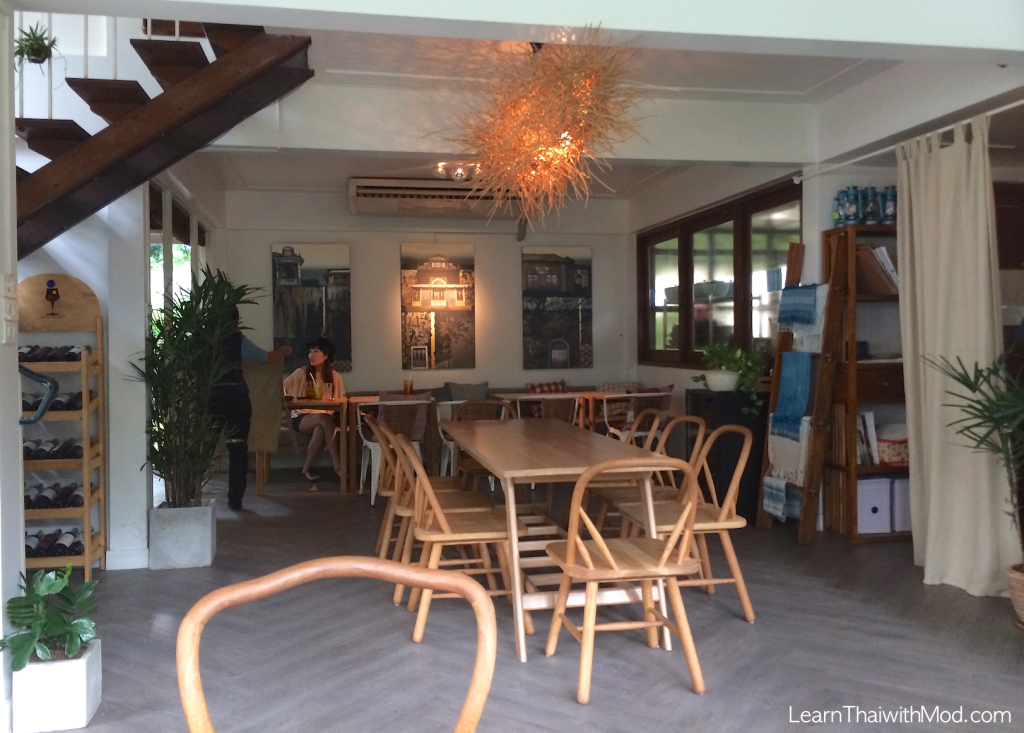 Venue: 113 Soi Pop Mhit, Sukhumvit Soi 39, Bangkok, Thailand
 Phone: 02-258-8170, 092-938-6690
Opening Hours: Tue-Fri 11:30 am-2:30 pm, 5:30-10pm; Sat-Sun 11am-11pm
7. White Flower Factory ครัวดอกไม้ขาว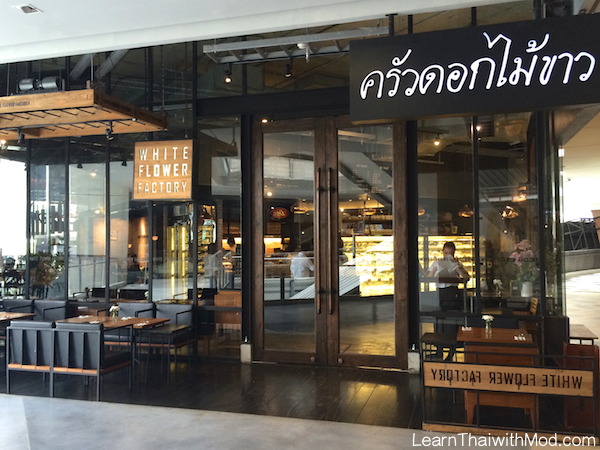 White Flower Factory offers great variety of Thai food.
The first branch of the restaurant on Bam Rung Mueang road has been operating for more than 30 years. I really wanted to visit the White Flower Factory for a love time as I was told by many of my friends that the food was very nice. I didn't have a chance because it is too far from where I live until the new branch opened next to Siam station. My first meal here was impressive and I keep going back, this place is also my choice to bring visitors from abroad to taste authentic Thai food.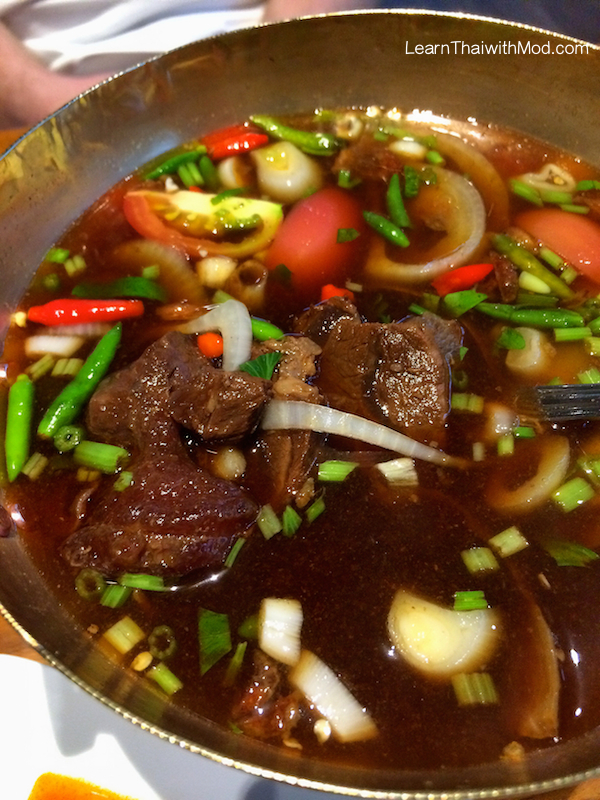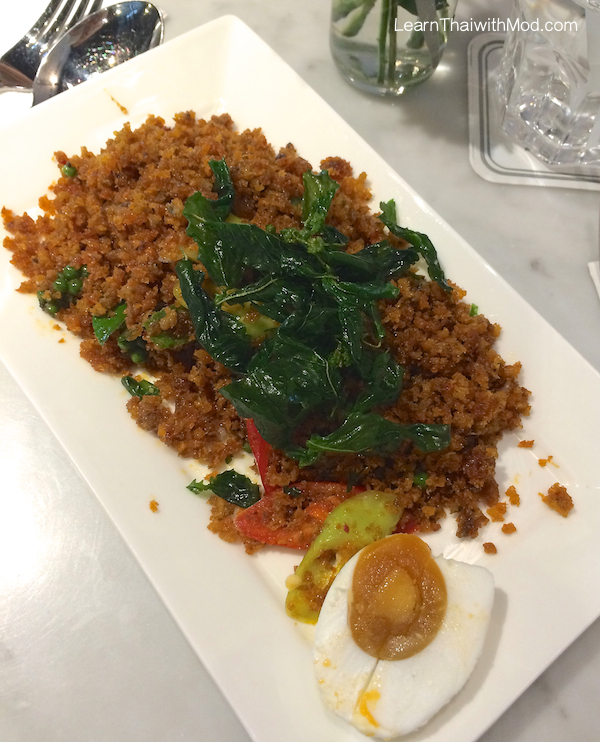 This restaurant also specializes in pastries, and a lot of people come just for that with a coffee or tea (they have a great selection of fine tea).
The atmosphere is nice. I love modern decoration and high ceiling. The service is discreet.
I would recommend you to avoid going to this place at lunch time during weekend if you don't like to wait for a long time to get a table.
Venue: 4th floor , Siam Square One building, Rama I Road (Opposite Siam Center shopping mall)
Opening Hours: Daily from 10:00 – 22:00
Tel : 02-252-2646-7
8. Khao Jao ข้าวจ้าว
Khao Jao (ข้าวเจ้า) is a Thai word  translated as Thai long grain rice.
When I first discovered Khao Jao, I thought this was a wonderful surprise! Because the food is decent and the price is pretty cheap taking its location in the midst of Thonglor where many high end restaurants are located.
It has a relaxing and laid-back atmosphere. You can go in T-shirt, shorts and flip flop like going to eat at a friend's house. It is a good place for easy lunch and dinner.
Khao Jao interior is decorated in a funky, shabby chic style. The floor and furnitures are made of reclaimed wood. The wall features various funky tchotchkes from "Hello Kitty" to grandma's tea kettles.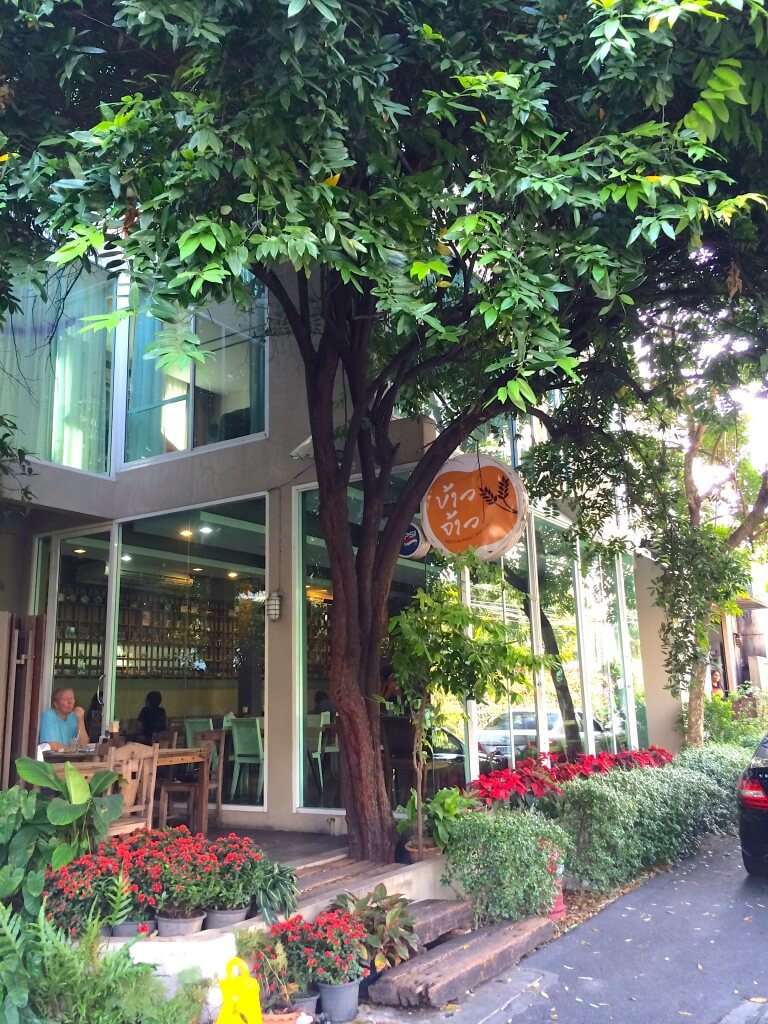 My personal favourite dish is ผัดคะน้าปลาเค็ม Phad Khana Pla Kem (chinese broccoli with salted fish) and one of my all-time favorite Thai dishes คั่วกลิ้ง  Khua Kling (herbal, stir-fried minced chicken) and a spicy แกงไตปลา Gaeng Dtai Plaa (dark stew like curry filled with carrots and yams and flavored with salty fish kidney).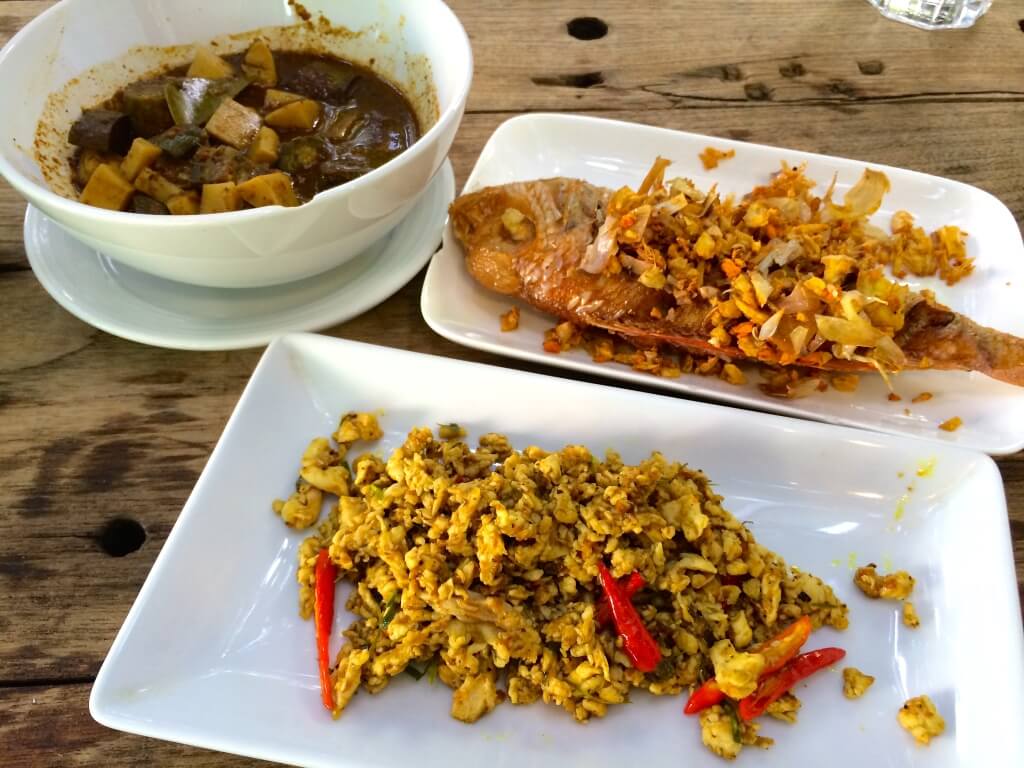 Venue: Soi Thonglor 17 , Sukhumvit 55 Road, Bangkok, Thailand
You could take a skytrain to Thonglor station, then take a taxi.
Opening Hours: daily 10am-8:30pm. Close every 3rd Sunday of the month.
Phone: 02-712-5665
 9. Supanniga Eating Room by Khunyai (ห้องทานข้าวสุพรรณิการ์ สูตรคุณยาย)
I would like to hear what your favourite Thai restaurants are, kindly share with me in the comment section.
YOU MIGHT ALSO LIKE: