I love to eat out because I am working in my home office all day long, but I don't like to spend a lot of time traveling to a place to eat so I usually go to a restaurant in Sukhumvit area where it can be reached by sky train or a short taxi ride form my home ( Asoke, Phrom Phong , Thongloe, Ekkamai ).
However, sometimes I really want to change the scenery and go out from the city center spending a relaxing afternoon by the Chaopraya river. I will go to a riverfront restaurant and enjoy good food with stunning view. 🙂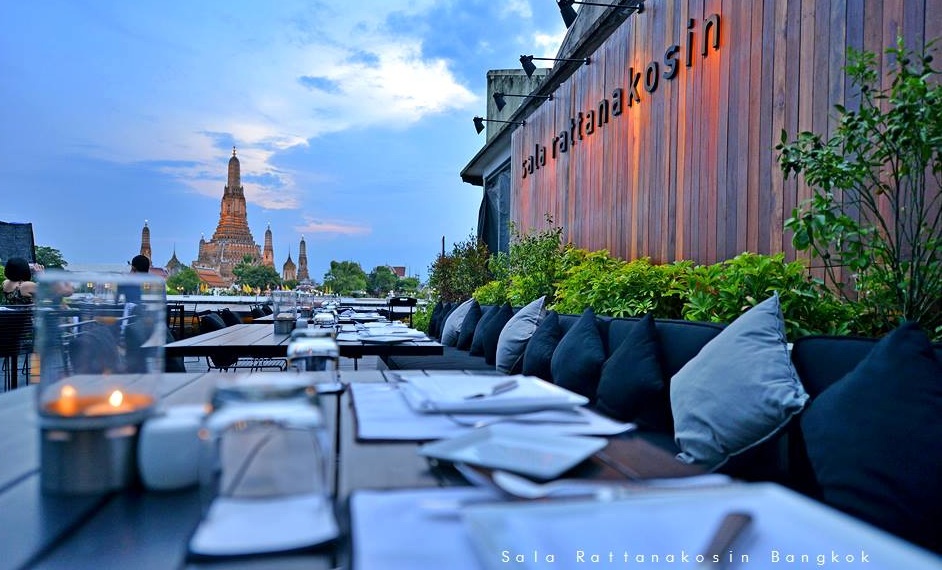 [1] SALA Rattanakosin Restaurant and Bar
I have seen beautiful pictures and read many positive reviews of Sala Rattanakosin several times. Since this place is quite far from my house, I kept this place at the back of my mind waiting for the right time to pay a visit.
Last Saturday I decided to get away from the city center. This riverfront restaurant came to my mind once again and I called to make a reservation.
SALA Rattanakosin Restaurant and Bar is in the Sala Rattanakosin hotel, a member of Sala Resorts Group, which was launched in 2013 as a boutique hotel. It is located in a small alley on Maharaj road opposite the famous Temple of the Reclining Buddha (Wat Po).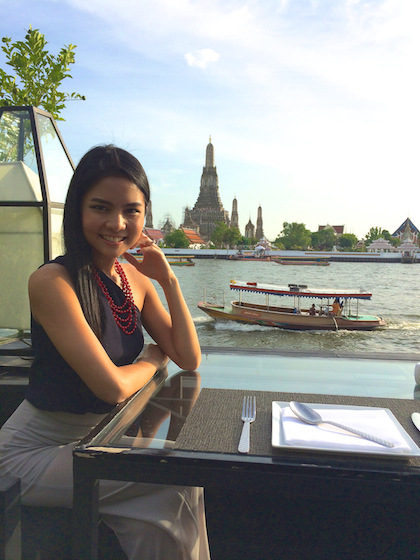 The restaurant's first WOW factor is of course the view, overlooking the Chao Phraya river and the temple of dawn (Wat Arun). Even for me a Thai, who has been living in Bangkok for more than a decade, it was a breathtaking sight, making a spectacular backdrop for dinner.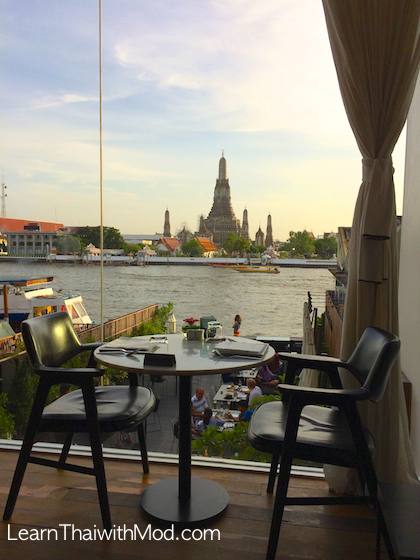 Sala also has a 360 degree rooftop bar on 5th floor (no elevator) offering an unobstructed view to not only Wat Arun, but also Wat Pho and the King's Palace.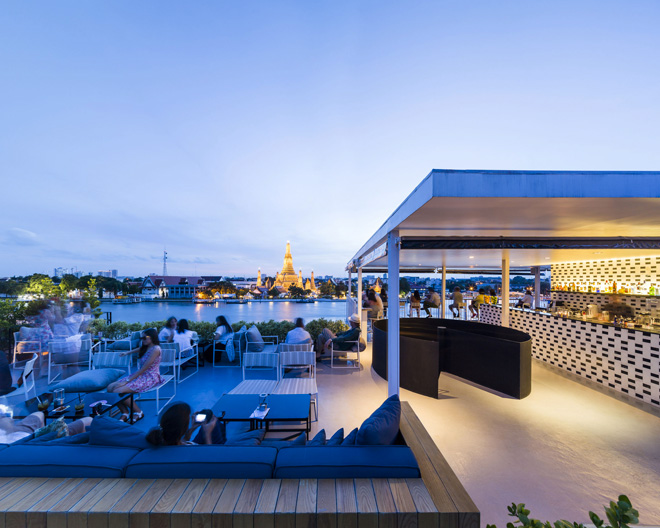 The food here is also amazing. All three dishes I ordered were excellent;
[1] ยำไก่กะทิ YAM GAI GATI (Coconut poached chicken breast with a dressing of lemongrass, mint, coriander, shallots, roast peanuts, chilli & coconut) (250 Baht). This dish came first (even before the rice). I took the first bite right away, I was blown away. It looked like a simple dish, but the taste was so delicate. I highly recommend you to oreder this one. Don't miss!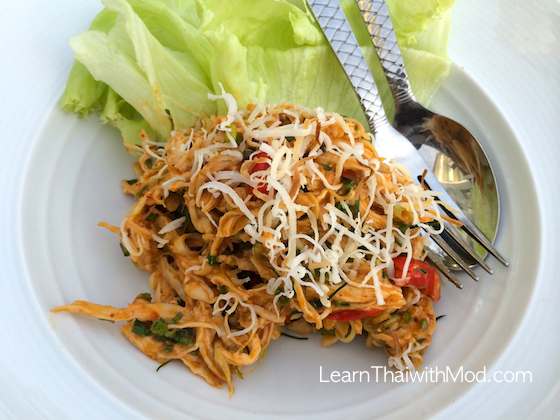 [2] ยำปูนิ่มทอดมะม่วง YAM PUU NIM TOD MAMUANG (tempura soft-shell crab and green mango salad with roasted cashews, Thai herbs, chillies and lime dressing) (290 baht). I never liked soft-shell crabs because it felt like chewing plastic. Until I had this dish here, my view of soft-shell crabs has changed. The chef cooked them so well, I gave this dish 10/10.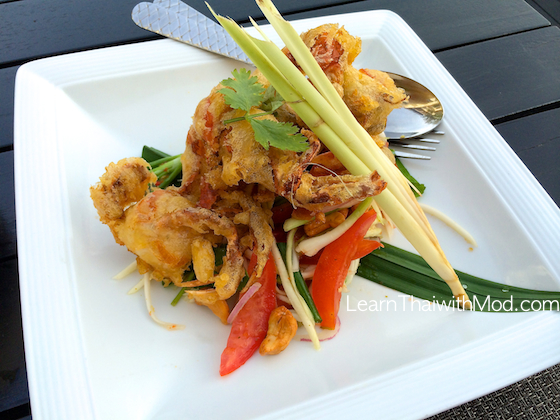 [3] ต้มยำกุ้ง TOM YUM KUNG The famous hot and sour soup with fresh prawns, galangal, lemongrass and Thai shallots. (280 Baht) The chef was generous with two big prawns. I have eaten a better Tom Yum Kung, but it was still good.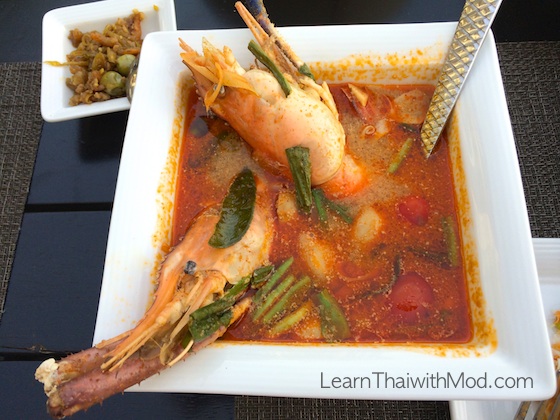 The service is also five starts! The staff were very professional and very attentive. Never an empty glass on the table.
I would highly recommend this restaurant in Bangkok if you are looking for a exquisite, romantic and gorgeous dining experience with reasonable prices.
Photo Credit : MariaNaKlaibaanTrip, ArchDaily.com
[2] Steve Café & Cuisine.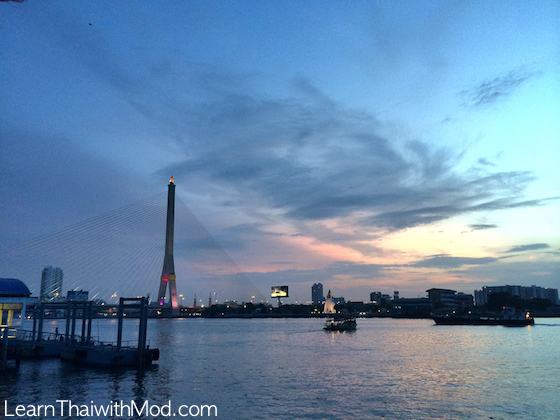 I remembered some time ago I read about a small Thai restaurant tucked away on the riverside, people said they had good food, so I decided to check out the venue called Steve Café & Cuisine.
I searched for the location and took a taxi straight from Sukhumvit area. I told the taxi driver to go to Soi Sri Ayutthaya 21, but when we got to soi Sri Ayutthaya 19, we didn't see the sign of soi 21, but we found Dewaraj Kulchon temple at the end of the street. We went in there and asked a local, and I was told to walk along the narrow path down to the riverside on the side of the temple, interesting location!
Once I found the restaurant, my first impression was that customers need to take off their shoes and put them on the shoe racks in front of the door. Just like you are entering a Thai home.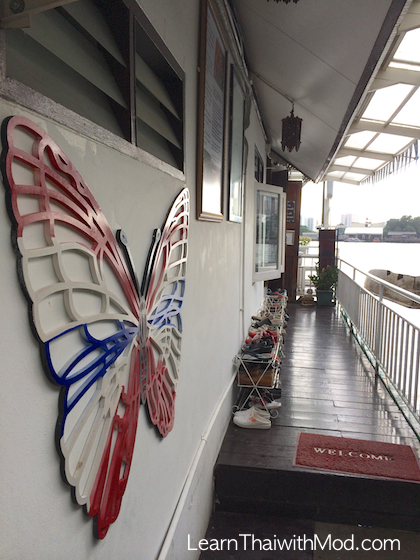 Steve Café is a charming private house converted into a restaurant with a medium-size porch by the river and two indoor dining areas that look like a living room. It has a spectacular view of Rama 8 Bridge.
I arrived the restaurant at 4 pm so there were only two groups of customers but every table had a 'reserved' sign on. I chose to go to a big table with a big sofa on the second row, instead of the last small available table by the river with small wooden chairs.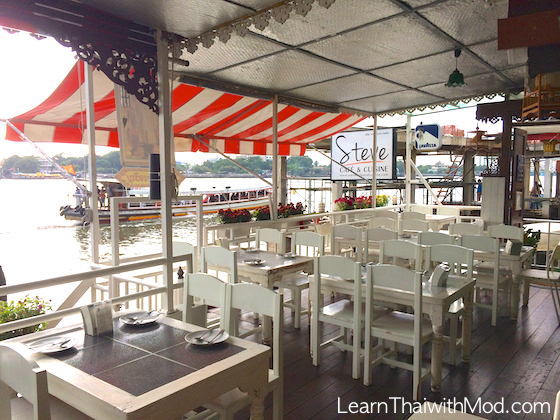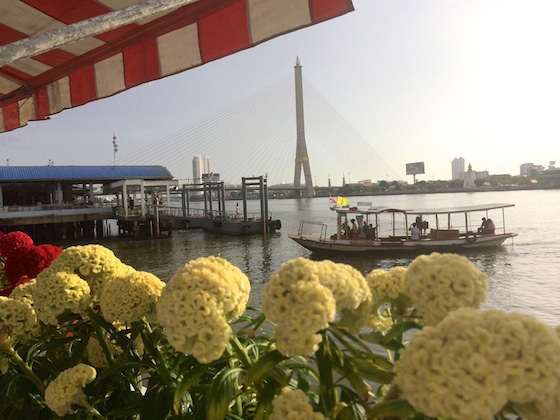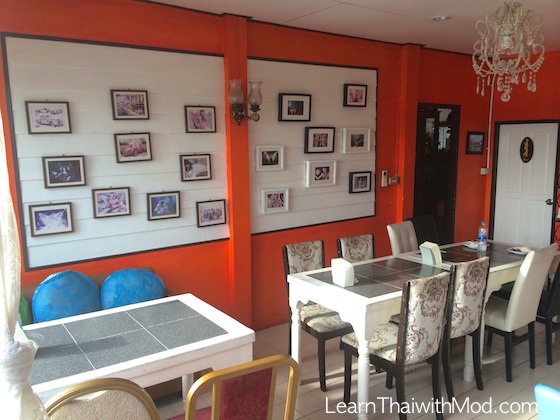 At first, I thought this place was owned by a foreigner or had a foreign chef cooking Thai food since it has English name until I read the story of the owners in the first page of the menu. Steve is the English nickname of the Thai owner who wanted his restaurant to sound international.
It was too early for dinner, but I was quite hungry so I ordered a lemongrass spicy salad for an appetizer. It was very tasty and refreshing.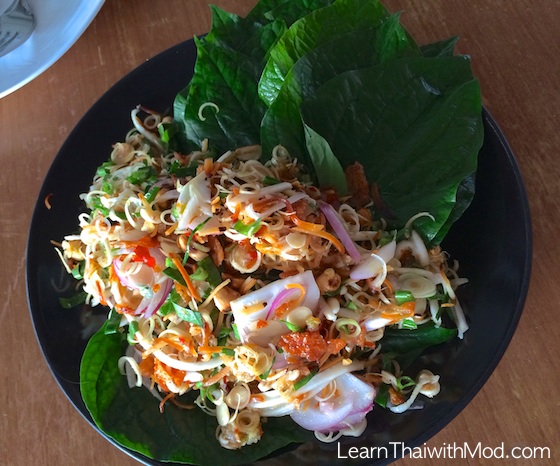 After finishing my salad and looked around the place, it felt like I came to a friend's home who has a very good cook.  I sat on my sofa overlooking the river, watching the riverboats dropping off their passengers at the Thewet pier close to the restaurant. Thousands of silver fish swimming around, every now and then there was someone at the pier feeding the fish and they all splashing water like they wanted to fly out. Bangkok suddenly seemed so relaxing.
Around 5:30 pm, more people were coming in so I decided to order my main course to avoid having to wait for a long time.  I ordered Southern fish sour curry (one of my favorite Thai dishes) and steamed fish curry (Ho Mok Pla). The sour curry was so spicy yet so good, so rich. It brought me back to my hometown in NakohnSiThammarat right away. (Warning: this curry is not for a faint-hearted)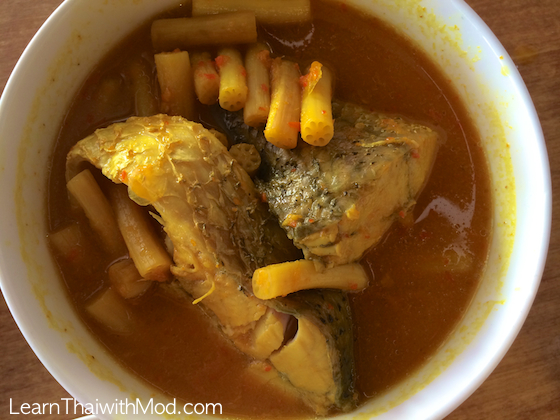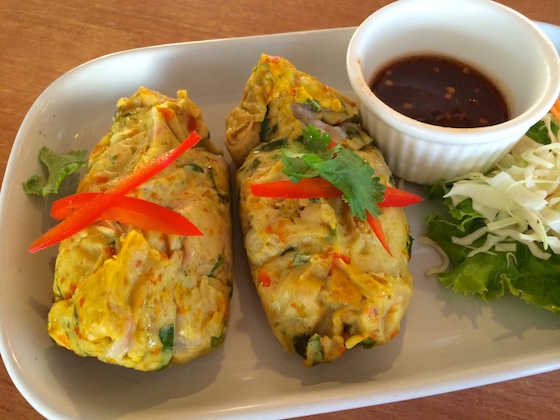 Unfortunately, the steamed fish curry came about 20 minutes after they served the curry, and it was good however not as tasty as the previous dishes. The prices are reasonable for both food and drinks.
Over all, I like this place very much. I spent my evening there for three hours. Staff are very friendly and I will go back to try other dishes when I feel like being by the riverside again.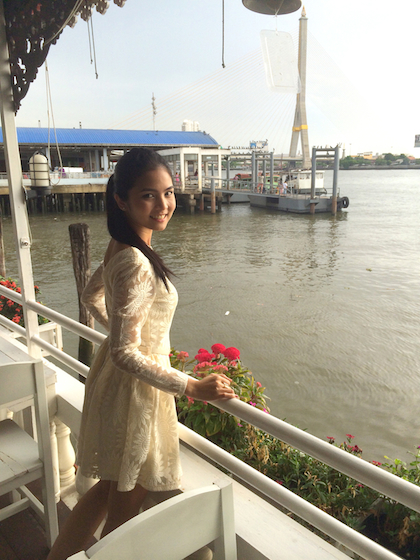 Tips:
1) Best to visit before the sunset to see both day view and night view.
2) If you want to sit on a porch where you get the best river view, should call in early to make a reservation.
Where is your favourite Thai restaurant in Thailand? I would like to follow your recommendation. 🙂
YOU MIGHT ALSO LIKE: