When my students ask me where in Thailand I am from, and I tell them "Nakhon Si Thammarat", all of them would ask "where is that?". Then I reply "not far from Samui island" or "next to Krabi", they would immediately say "Ahhhhhh….".
I thought to myself it was a shame that Nakhon Si Thammarat is such a gem, but it is often overlooked by tourists who flock to nearby Samui, Krabi and Phuket. If you have seen enough of the major famous attractions and you are looking for exploring some off-the-beaten-path in Thailand – a place that is not yet exploited by tourism, welcome to Nakhon Si Thammarat.
My hometown has plenty of natural and cultural attractions for travelers to enjoy. One place my family and I often go for a getaway is "Khanom ขนอม" – a small, quiet town with beautiful natural scenery located on the seashore in the northernmost of Nakhon Si Thammarat.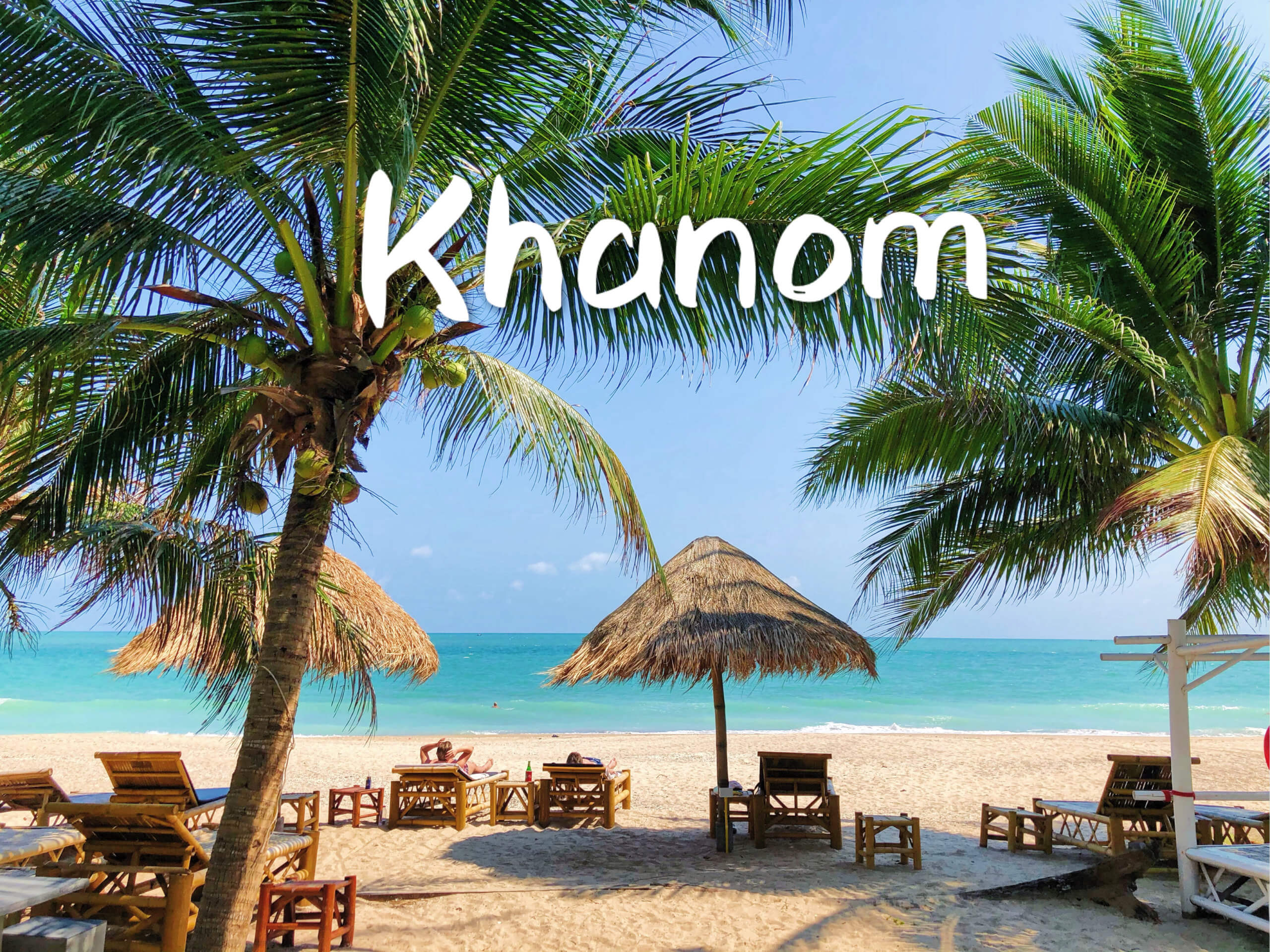 My Holiday in Khanom
In December 2019, my family I had the opportunity to stay in the newly opened Khanom Beach Resort and Spa, with its stunning new villas facing the sea. This resort is very much in tune with what Khanom is all about, utterly relaxed and run by friendly local people that will greet you with a genuine smile. Yet, no one is missing a beat when it comes to delivering a truly professional service and making your stay a memorable one.
I have stayed in a few beachfront resorts in Khanom, but I was particularly impressed with Khanom Beach Resort since I stepped my foot to their lobby and received the warm welcome from the staff. Once I entered my villa which is the first pool villa in Khanom or even in Nakhon Si Thammarat, I adore the attention to the elegant designs and the effort of improving the scene of Khanom hospitality. I can see this resort becoming a very popular place amongst honeymooners and families, who want to focus on spending quality time together without tourist buses whirring around or noisy nightlife.
If you are planning a holiday in Khanom and looking for an ideal place for a relaxing private retreat, I highly recommend you to stay a few nights here.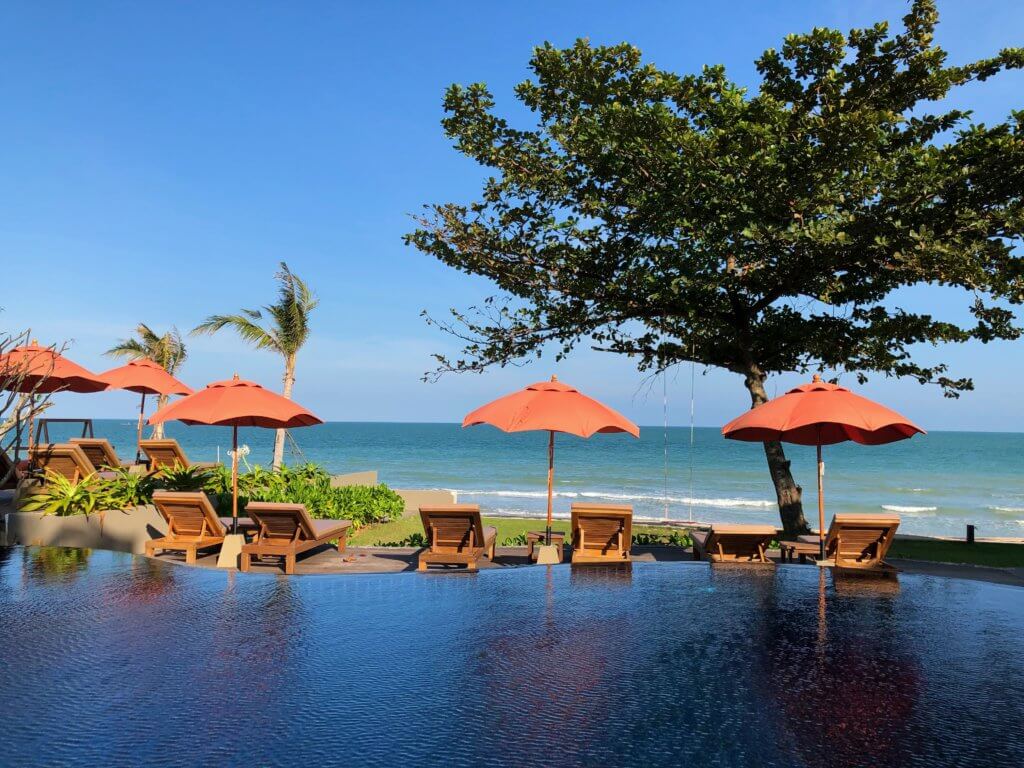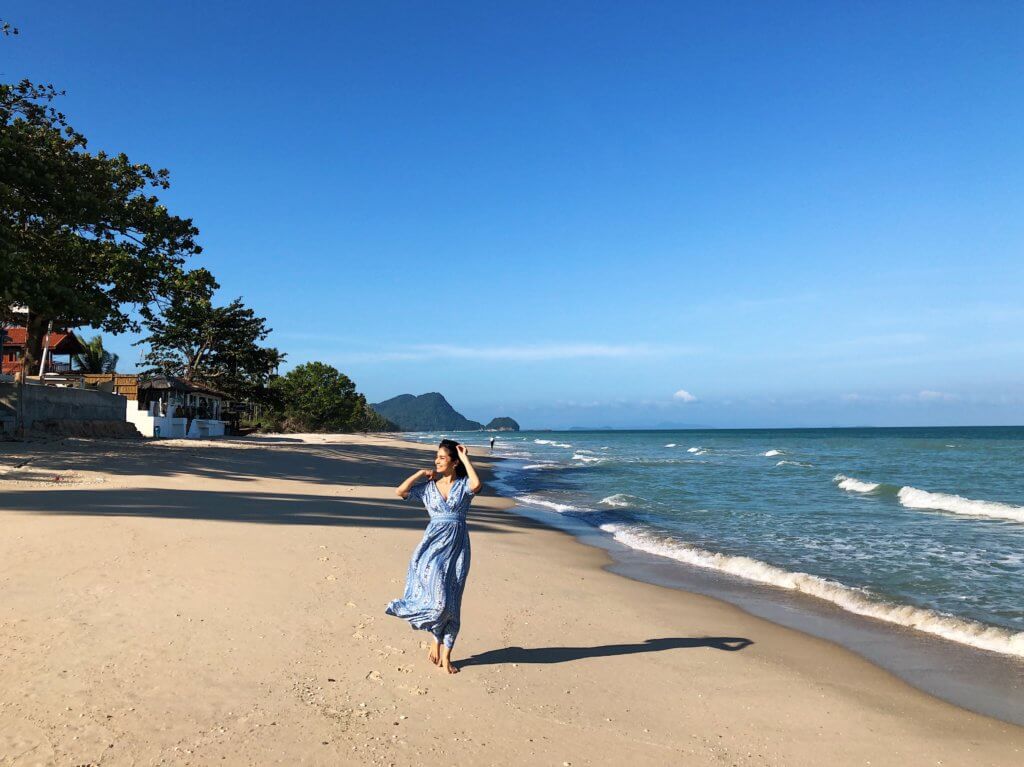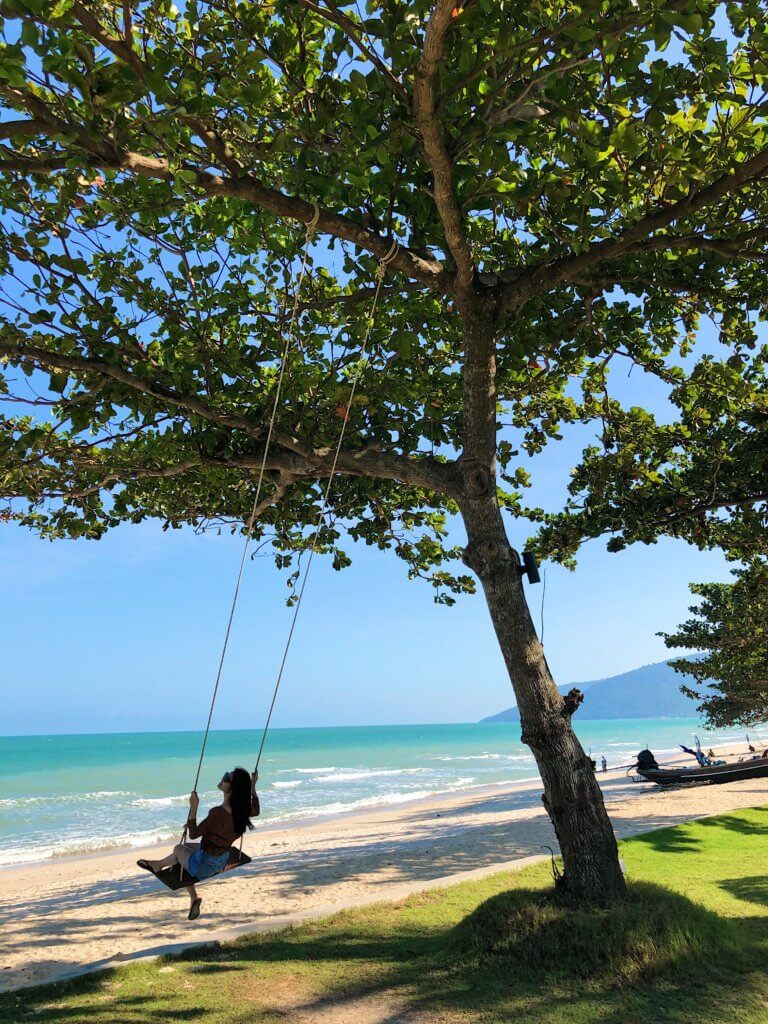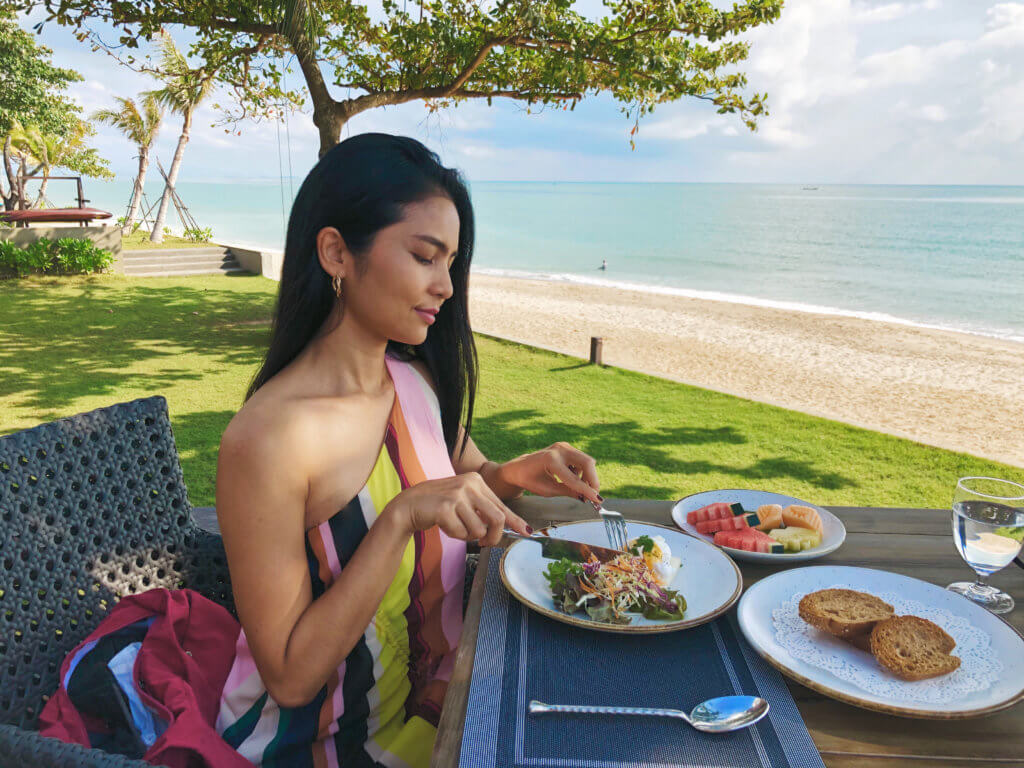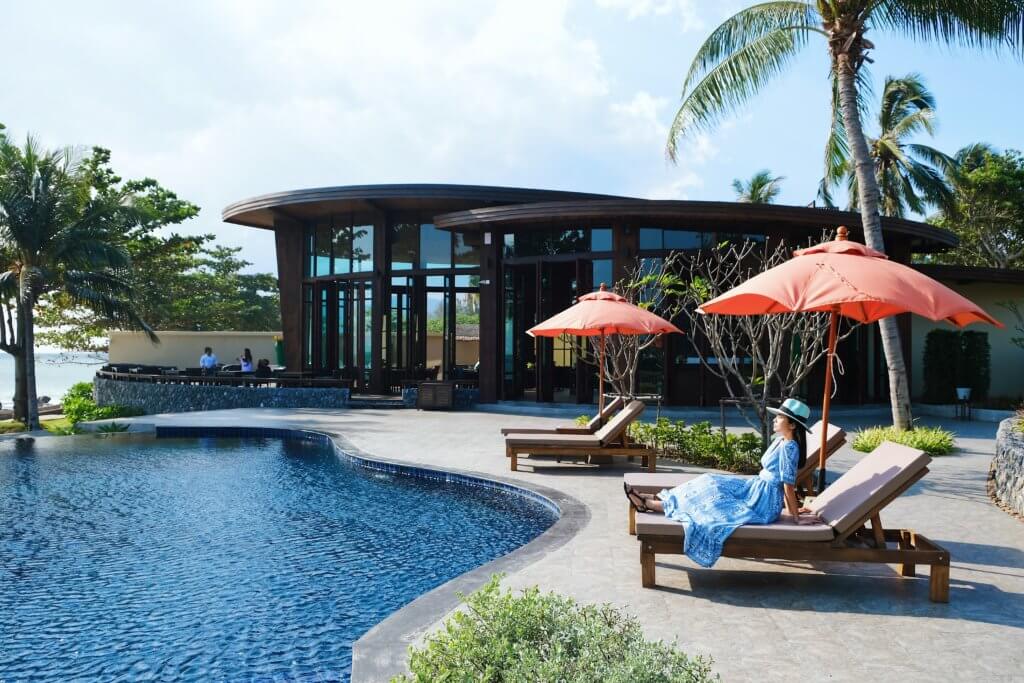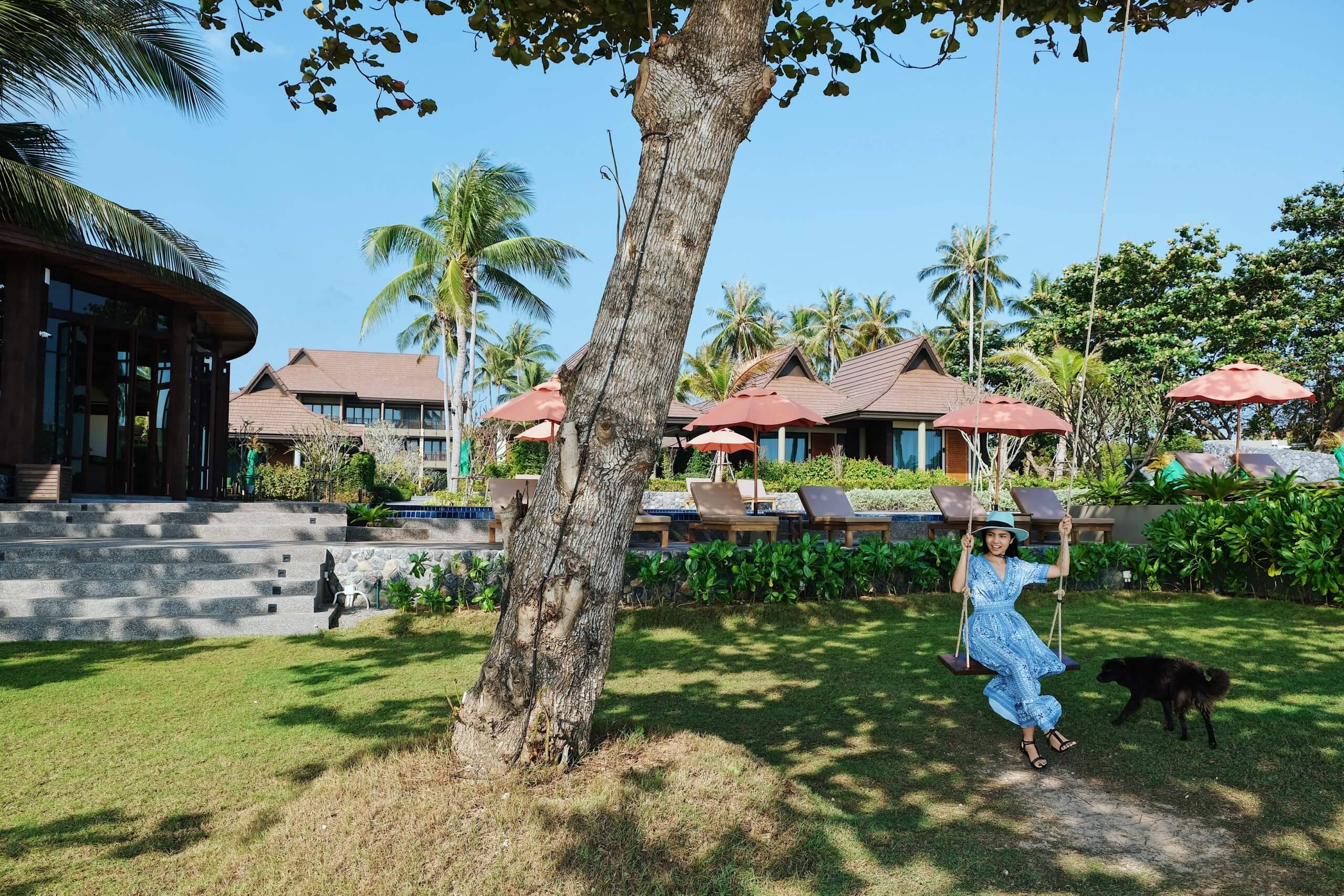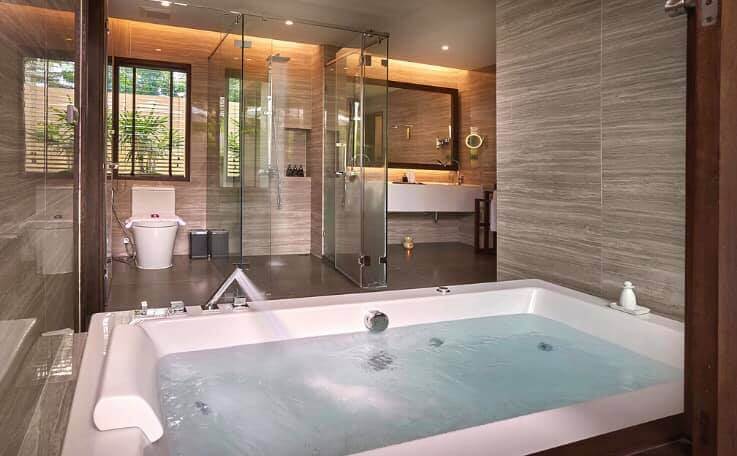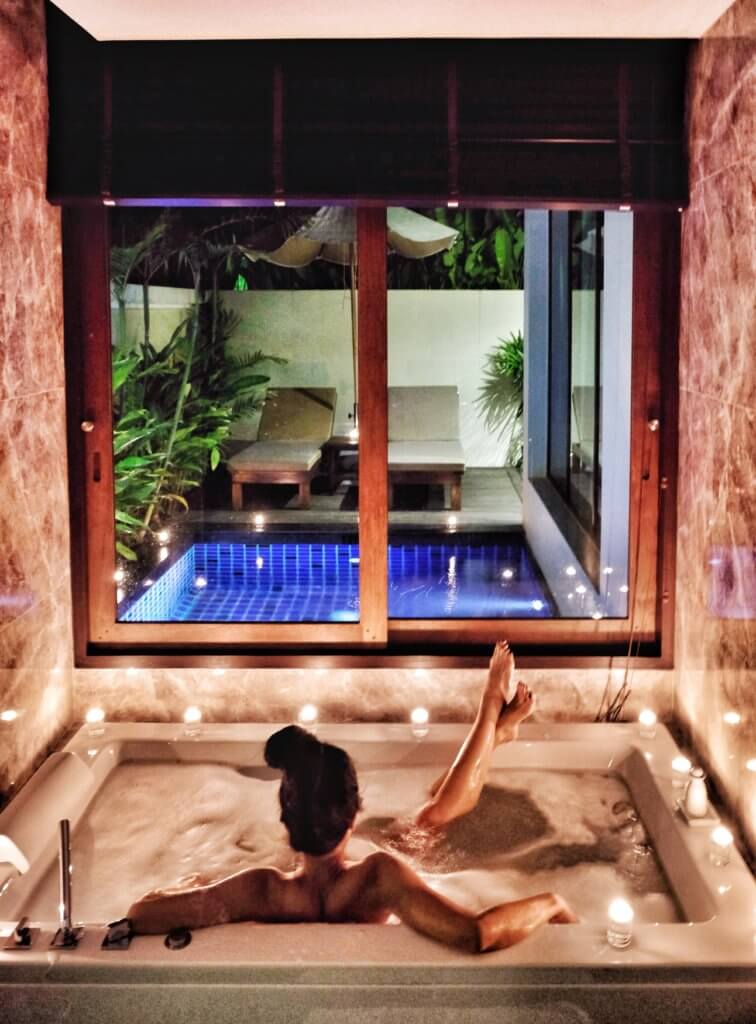 Khanom Beach Resort truly is one of those tranquil spots for people who are craving total relaxation and recharge your batteries with peace and quiet, no noise pollution of jetskis, long-tail boats or beach vendors disturbing your privacy. Just being under the shade of coconut trees , listening to the sound of sea breeze and waves crashing onto the shore. You will find this in Khanom Beach resort and spa. The only problem you'll have is finding a reason to leave.
 Things to Do in Khanom:
Even though Khanom is a calm and quiet beach destination where you can find a lot of peace and plenty of time to relax, there are also many activities to keep you busy! The town offers beaches with mountains, waterfalls, caves, rivers, rice fields, rubber plantations. Here are my personal recommendations.
Enjoy the secluded beaches
Khanom is home to long, untouched beaches. The beaches of Khanom are more than 8 miles long! There are no corals, no rocks and water is clear – all needed attributes for a perfect swimming place.
Nadan Beach หาดหน้าด่าน is 9 kilometre long! one of the longest beaches in the country! It is a peaceful beach with white sand surrounded by coconut trees.
Nai Phlao Beach หาดในเพลา is the most popular as well as the biggest of Khanom's beaches where restaurants, water sports facilities and many other services are located.
Thong Yi Bay อ่าวท้องหยี is located between two mountains. This narrow, extensive, circular beach has fine sand and picturesque rocks, and is excellent place for swimming and relaxing since it is isolate and quiet.
Thong Yang Bay อ่าวท้องยาง is a little bay in the southernmost of Khanom with a large area for swimming. It is calm and quiet place, good for relaxing.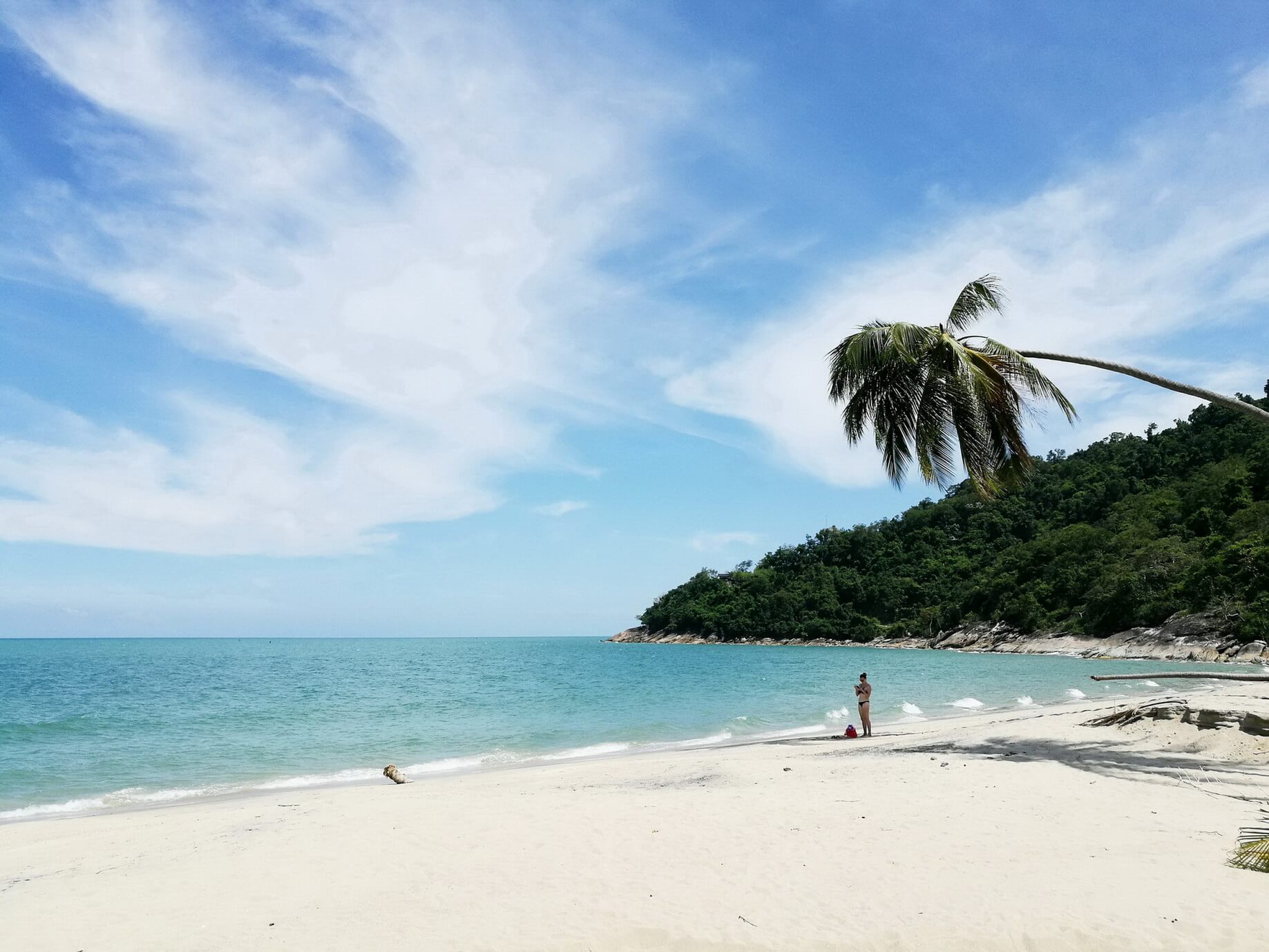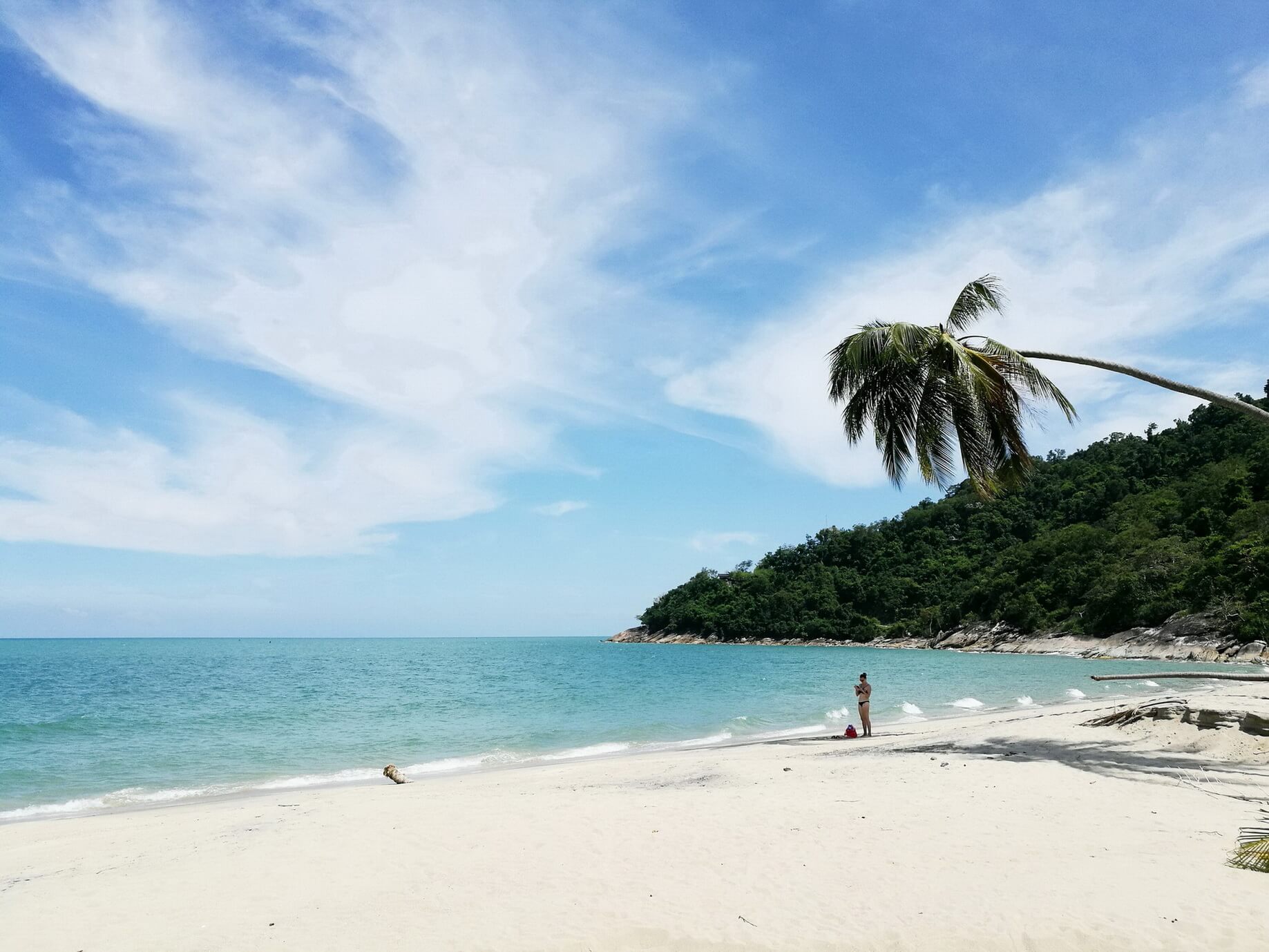 The icon attraction for Khanom is Pink dolphins (yes! they are real and rare). They live in the shallow water of the Gulf of Thailand. Seeing pink dolphins along the coastline shows that the environment is clean, with a healthy ecosystem.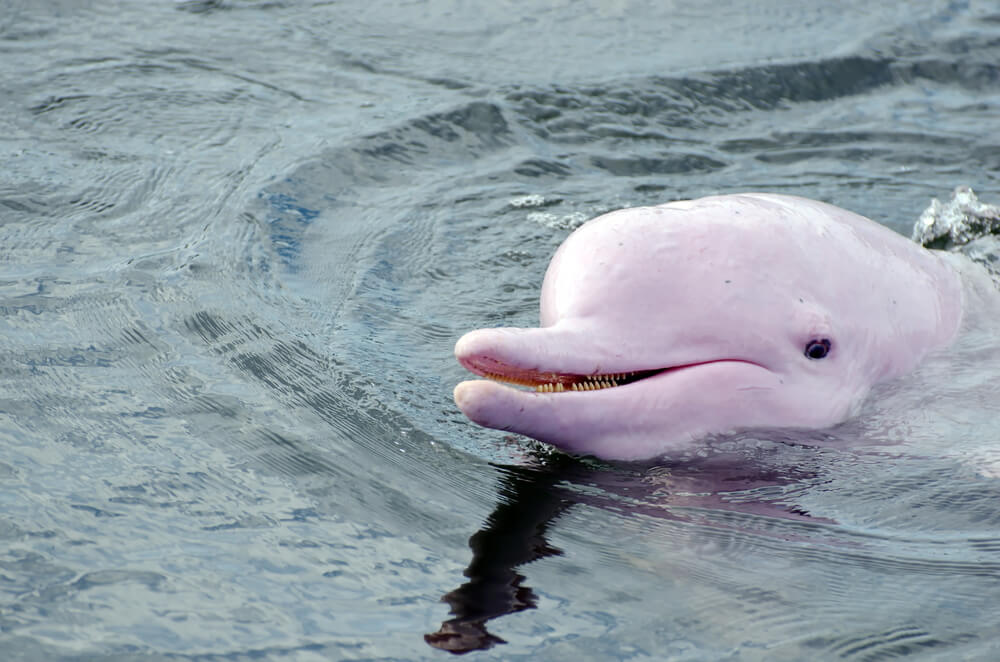 According to the Department of Marine and Coastal Resources Conservation, there are around 60 dolphins living in the area. They can swim as fast as 37 kph, and come to the surface every five minutes to breathe.
You can hire a long-tail boat at Laem Pratab pier (1,000 Baht for 7 passengers). The best time to see spot these mammals is in the morning, from around 7.30am to 9am between October and April.
On the same boat trip you can visit pancake-like rocks called 'เขาพับผ้า Khao Pabpa' that only exist in two places in the world – Thailand and New Zealand. 'พับผ้า Pabpa' in Thai means "folding clothes", True to its name, these 260-million-year-old limestone formations look like stacks of folded clothes which the rocks resemble.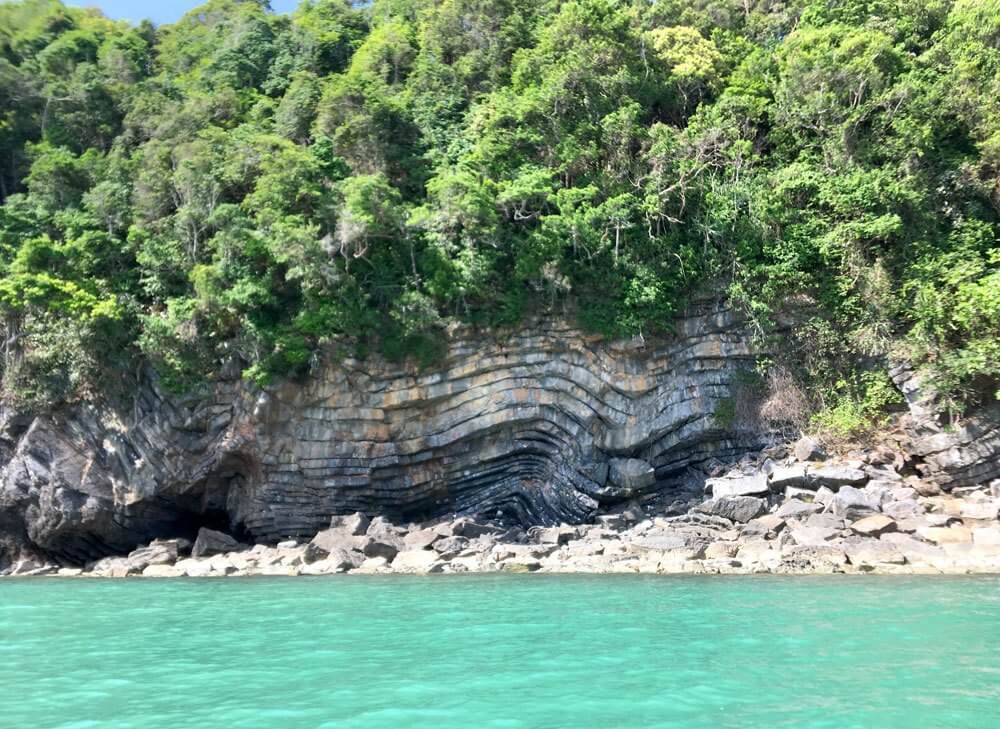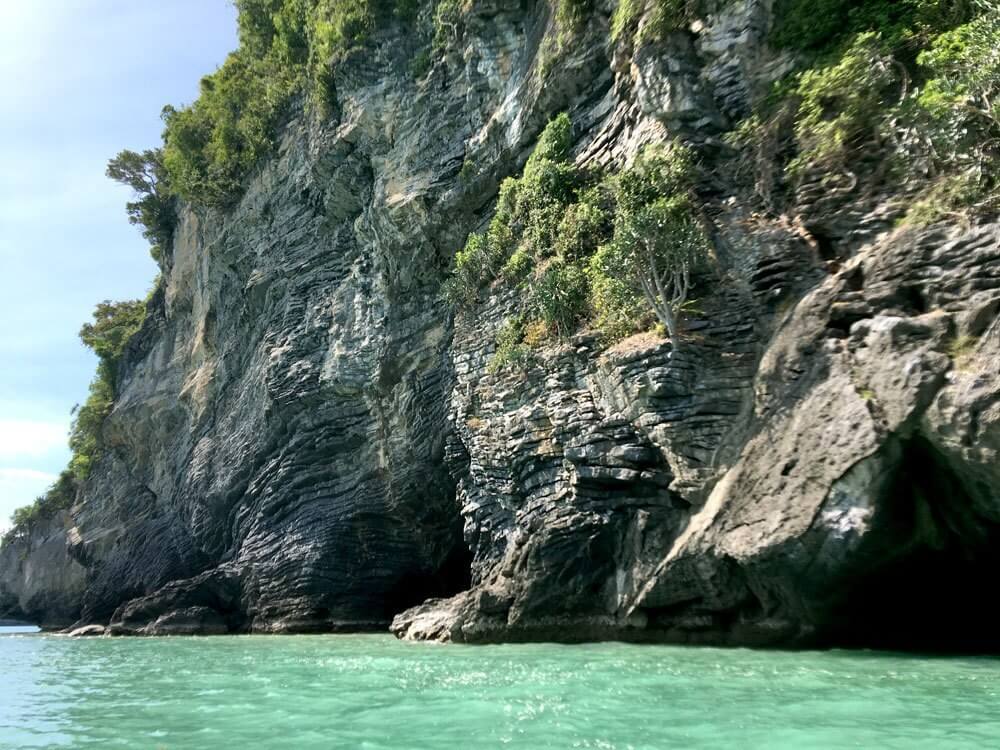 I have seen many man-made fish spas in walking streets in Bangkok and other tourist destinations in Thailand. I always like to try new things but I prefer to skip this spa as I don't like the idea of soaking my feet in a fish tank that might be full of bacteria.  When we were in Khanom, my mom told me about this natural fish spa as she visited with her friends before and she suggested I shouldn't miss this experience. I arrived and found myself walking among rubber and palm trees then the end of the premises is cool streams with wooden seats built around it for visitors. At first I found the nibbling too ticklish or slightly prickly, after a few minutes I enjoyed the sensations. The result made me feel as though I was walking on cotton. This activity is both fun and relaxing at the same time, I recommend you to give it a go. 🙂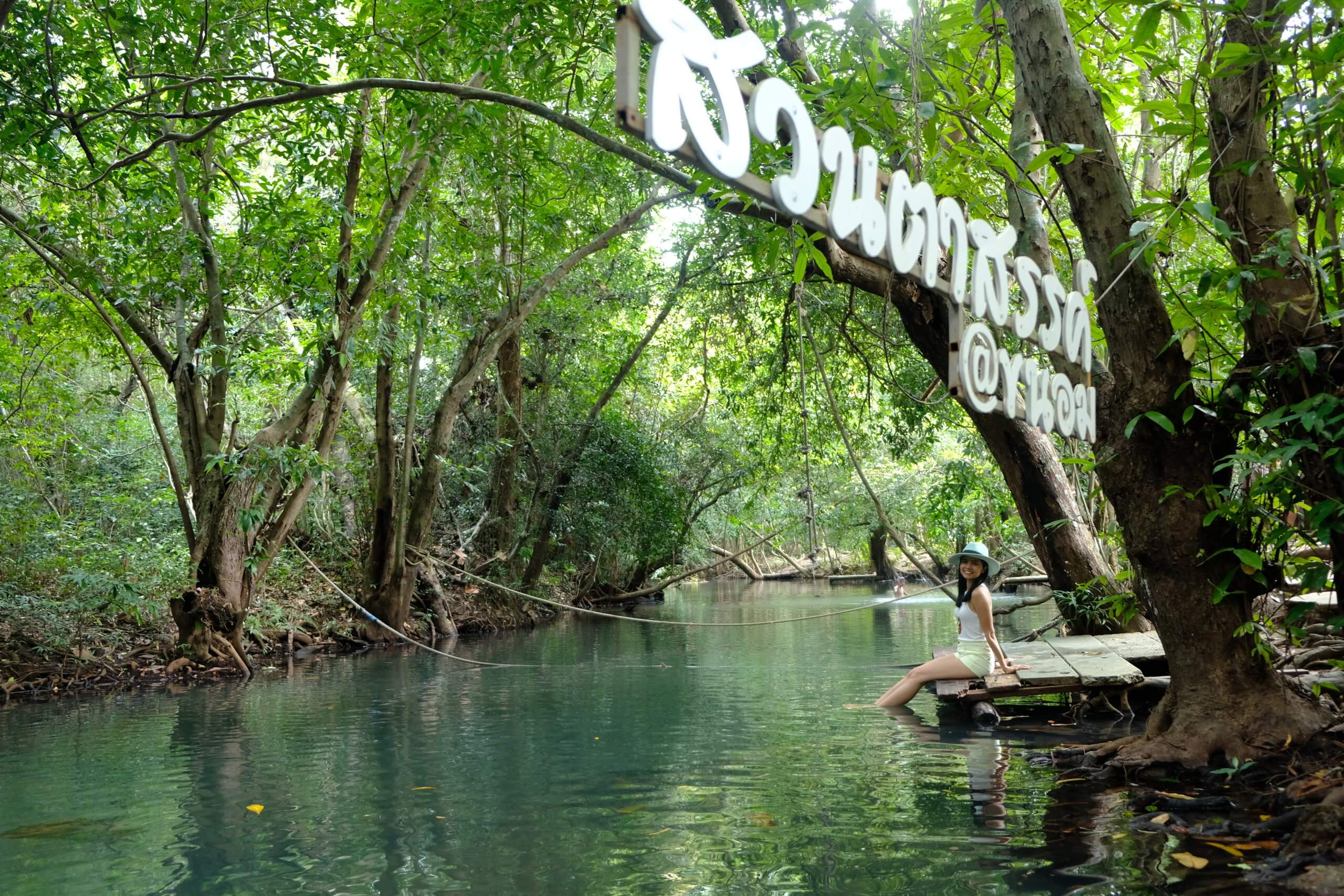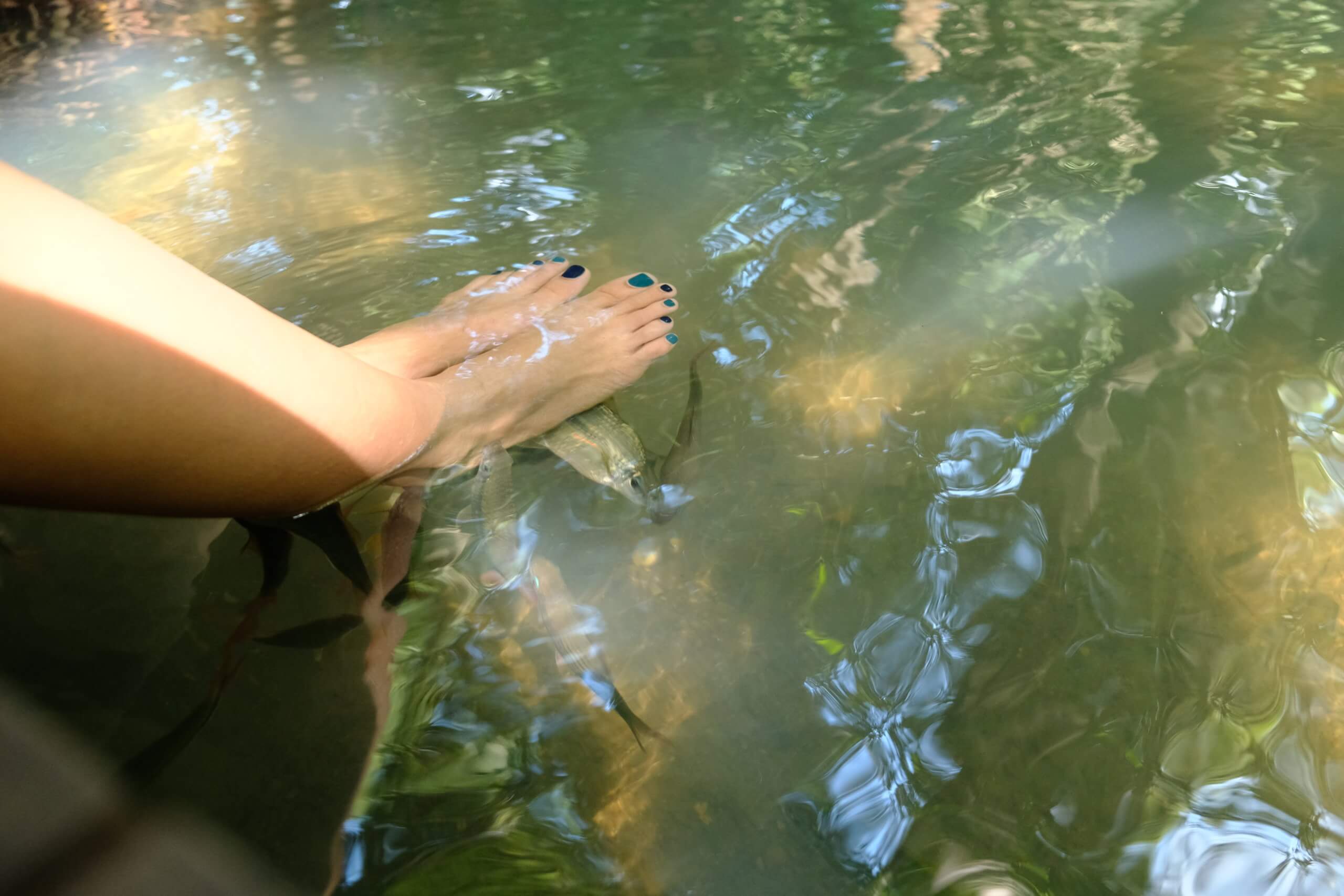 If you would like a change from saltwater and wouldn't mind a refreshing dip in the cooler water that runs down from Khanom's mountain slopes, it is worth visiting Hin Lad waterfall which is no admission fee. This attraction is suitable for lazy tourists as the road runs right to the falls.
If you are an adventurous traveler you will surely enjoy a trip to Samet Chun waterfall. It is a great way to spend a day while hiking to the waterfall and then cooling off beneath the water. The trek is pretty challenging through the jungle. I recommend if you want a fairly short but moderately difficult hike. Probably not ideal for families with small children and those wearing flip flops!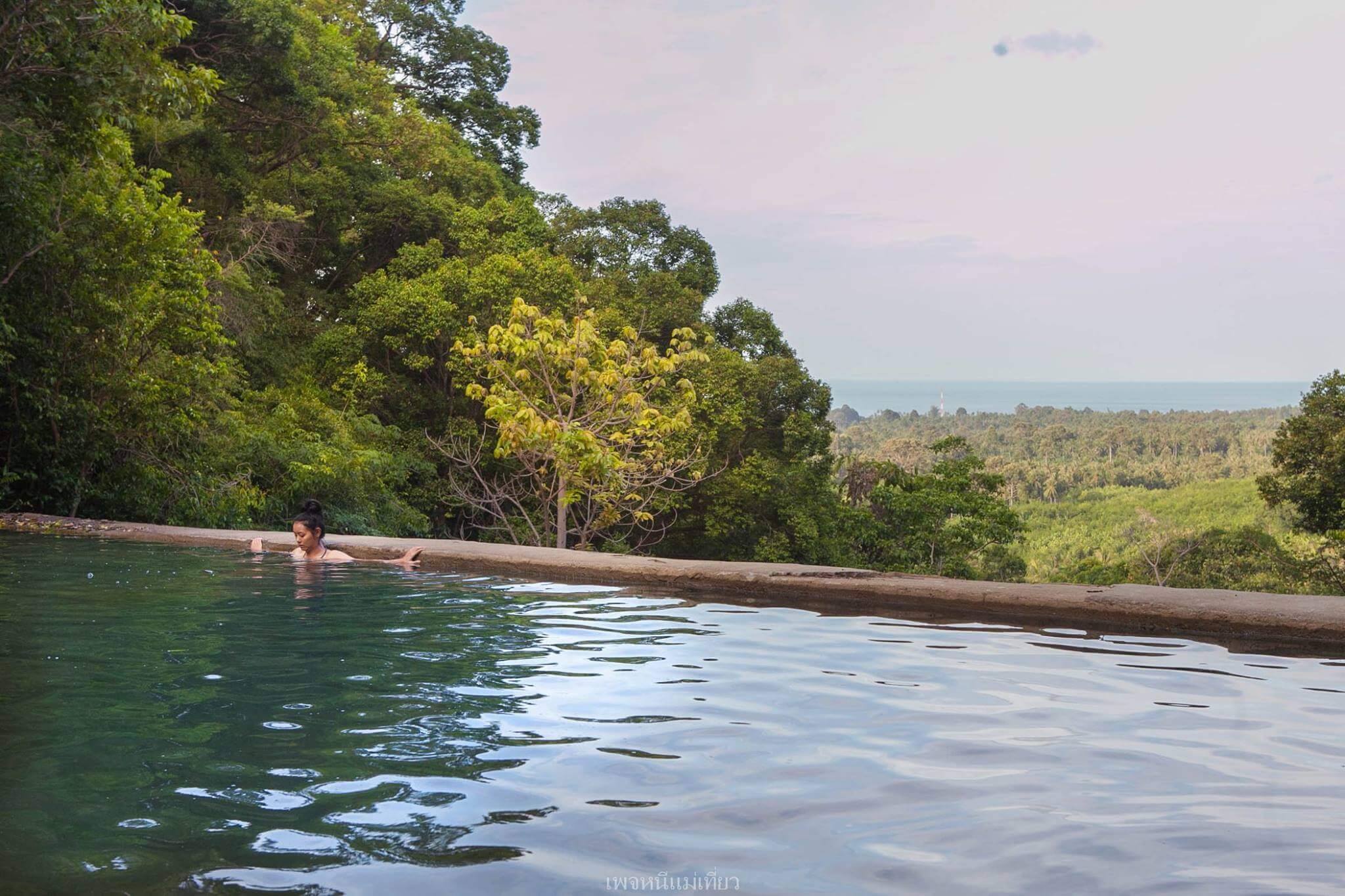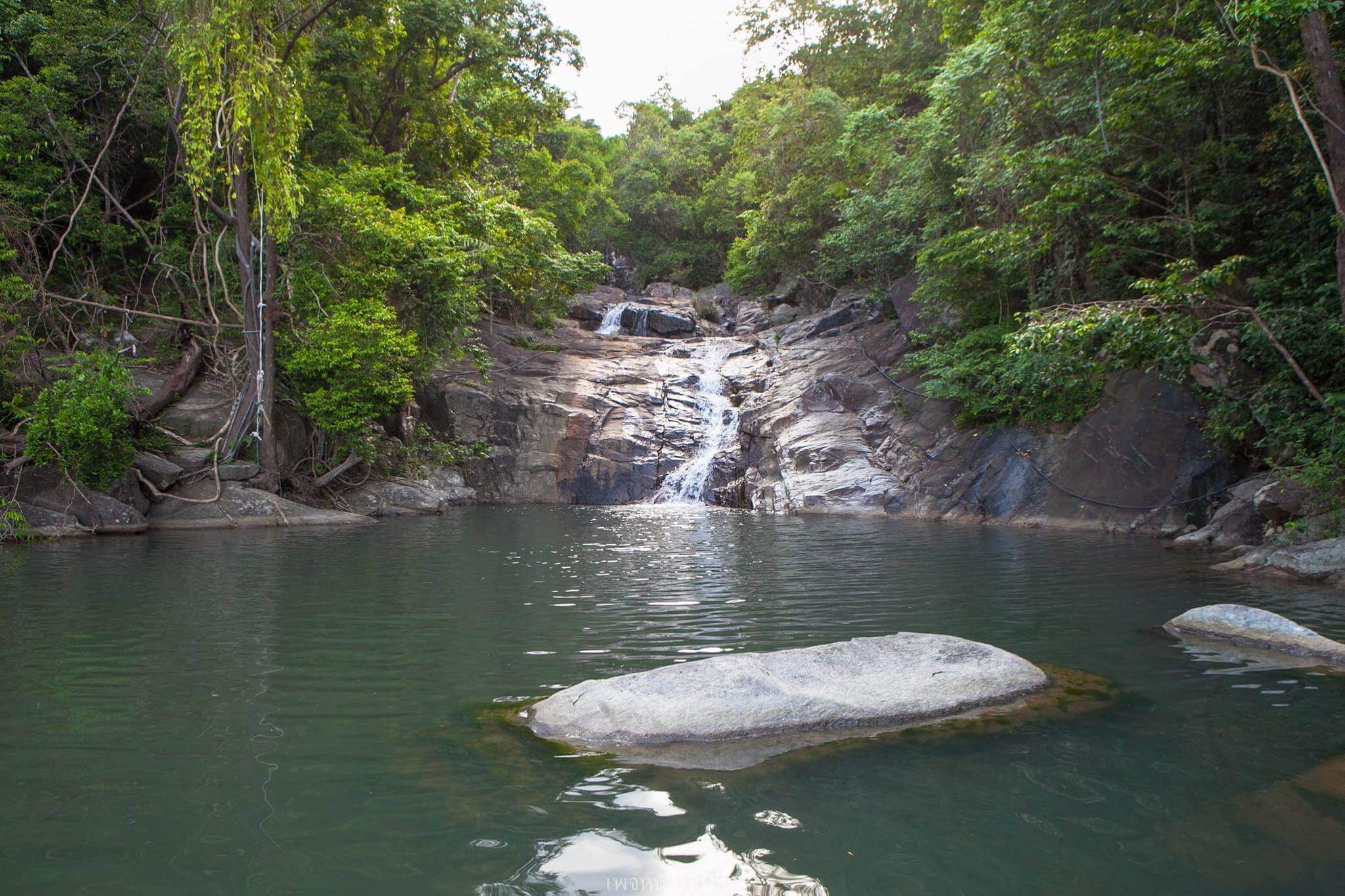 Khao Wang Thong Cave Complex
Thrill-seekers, be sure to insert this natural splendour in your Khanom itinerary. This is the fourth largest cave in Thailand and perhaps the most beautiful in Khanom. This 50-metre-long and 500-metre-deep limestone cave is filled with not just stalagmites and stalactites but also gold ore deposits. You will be greeted with a challenge, squeeze through narrow passages and crawl on all fours under the low ceiling but you will be rewarded with the fabulous view that is awaiting on the other side.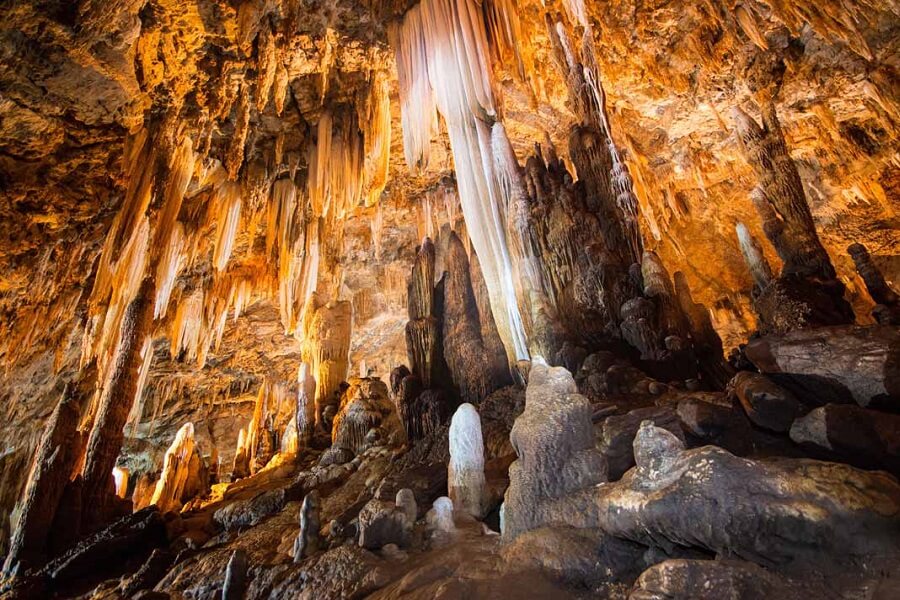 Visit the Coral Pagoda (Chedi Pakarang) เจดีย์ปะการัง
This chedi is located in Wat Chan Thattaram (วัดจันทน์ธาตุทาราม). Local people call this pagoda Chedi Khao Tat (เจดีย์เขาธาตุ).   The pagoda is located only a few kilometres from the sea, and mythology ties it to an ancient sea-pilgrimage. According to Thai legend, it was founded when pilgrims from the town of Chaiya were heading towards Nakhon Si Thammarat at the time the famous shrine in that town was being built. A sea-storm forced them to come into port for the night, and the locals then told the pilgrims that the temple in Nakhon Si Thammarat had already been completed. The pilgrims decided to donate their gold relics to a new chedi instead, and they built the Coral Pagoda on top of nearby Khao That, a small mountain.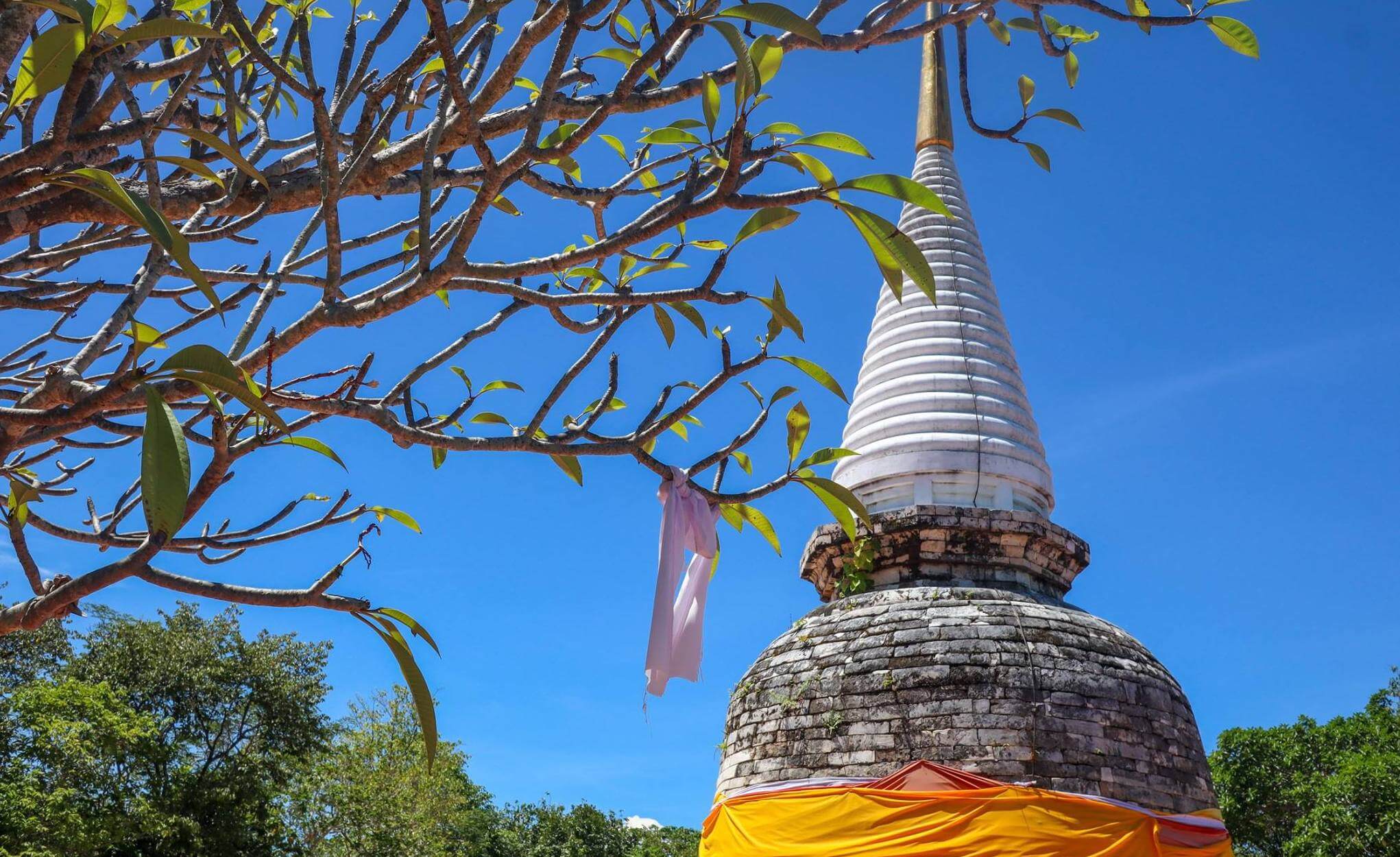 The Chedi is 7 metres tall, 5.40 meterswide and 3.60 meters in diameter. Situated at the top of the mountain on a railed terrace, with an aged frangipani tree nearby. It is surrounded on all sides by forest cover, giving the site an excellent view. It is thought that this Sri-Lankan style bell-shaped chedi dates to the Ayutthaya period, so it may probably dates to around the 15th century.
Night Life in Khanom
Khanom at night is quiet, there are not many things to see or do. That is, apart from the 'Ample Moon' party, which is held at Nadan Beach once a month for the full moon.
At lunch one afternoon, I had a chat with a Finnish couple and they told me about a beach bar not far from the resort I stayed so I checked it out on the same night. It was pleasantly small and cozy, soft music like Hotel California were being played along with the sound of the waves. I noticed around ten foreign tourists.
The Weather
Except the three or four weeks in November when the NE monsoon brings strong winds and big waves, the weather is gorgeous – sunny, with a bit of breeze, just enough so you can breathe even on the hottest days.
Getting there
Khanom is truly off the beaten track when compared to Thailand's other beach destinations, so a direct flight to Khanom is out of the question. You can, however, fly to a number of nearby airports and then arrange transportation. A 70-minute flight from Bangkok will take you to Nakhon Si Thammarat Airport (NST) and you can also whizz to Surat Thani Airport (URT) on a one-hour flight from Bangkok. Check out Air Asia and Thai Lion Air for their daily flights to both airports from Bangkok, but keep in mind you'll need to arrange ground transportation to Khanom via bus or car.
If you're coming from Koh Samui, it's a 45-minute boat ride from Nathon Pier to Don Sak pier on the mainland.
If you plan on hiring a scooter or a motorbike, make sure to rent a helmet, too. Thailand is famous for its non-existent road rules and tourist prangs, so be safe and wear decent footwear. If you plan on exploring further inland or up the beach, a car might be a better option. Budget and Avis have plenty of cars for hire from Surat Thani Airport.
Taxis are a great way to get around, but often don't have working metres, so make sure you negotiate a price before you go for a ride.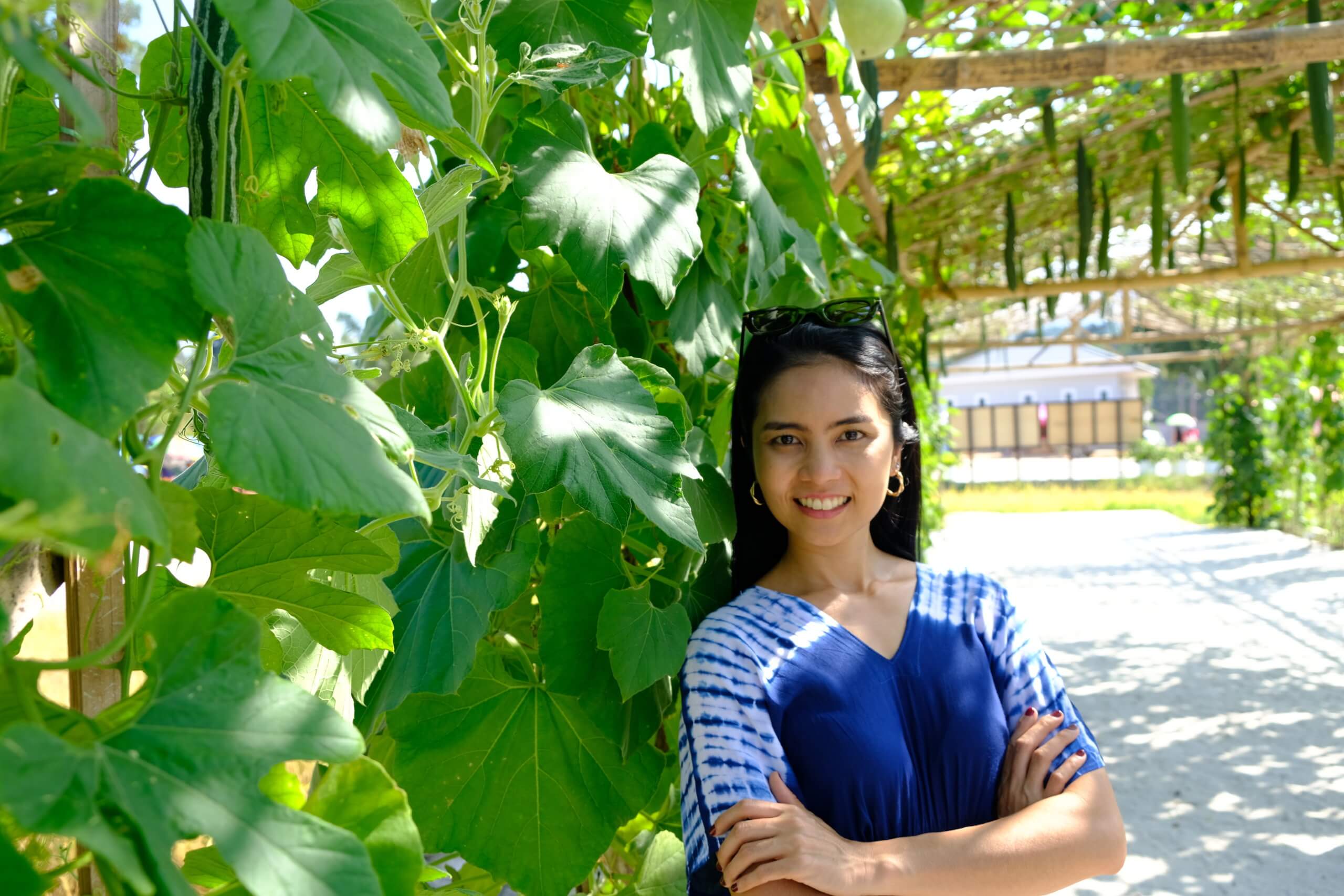 So, if you would like to experience what Thailand is like 20 years ago, Khanom will show it to you. Enough said! Make your way over to Khanom and just enjoy all the beauty this magical town can offer.
What do you think about Khanom? Please let me know in the comments.