Online Training
We deliver on-line training using the same books and material as my on-site training, except we do it through the web camera. Online Classes takes the form of 1 hour sessions.
We use a combination of books and Word files during my training. We start with a complimentary session to find out what the student wishes to achieve and how we can best work together. In the beginning of the course, we will explain the lessons in English for better understanding of the students, then I will gradually using more Thai in the class.
The courses are offered in three levels which are Beginning, Intermediate, and Advanced Thai and will include content on Thai traditions and culture. The appropriate teaching units will be tailored to each student for best results. We will continually adapt teaching lessons to suit any situation.
 Learn Thai with Mod's Team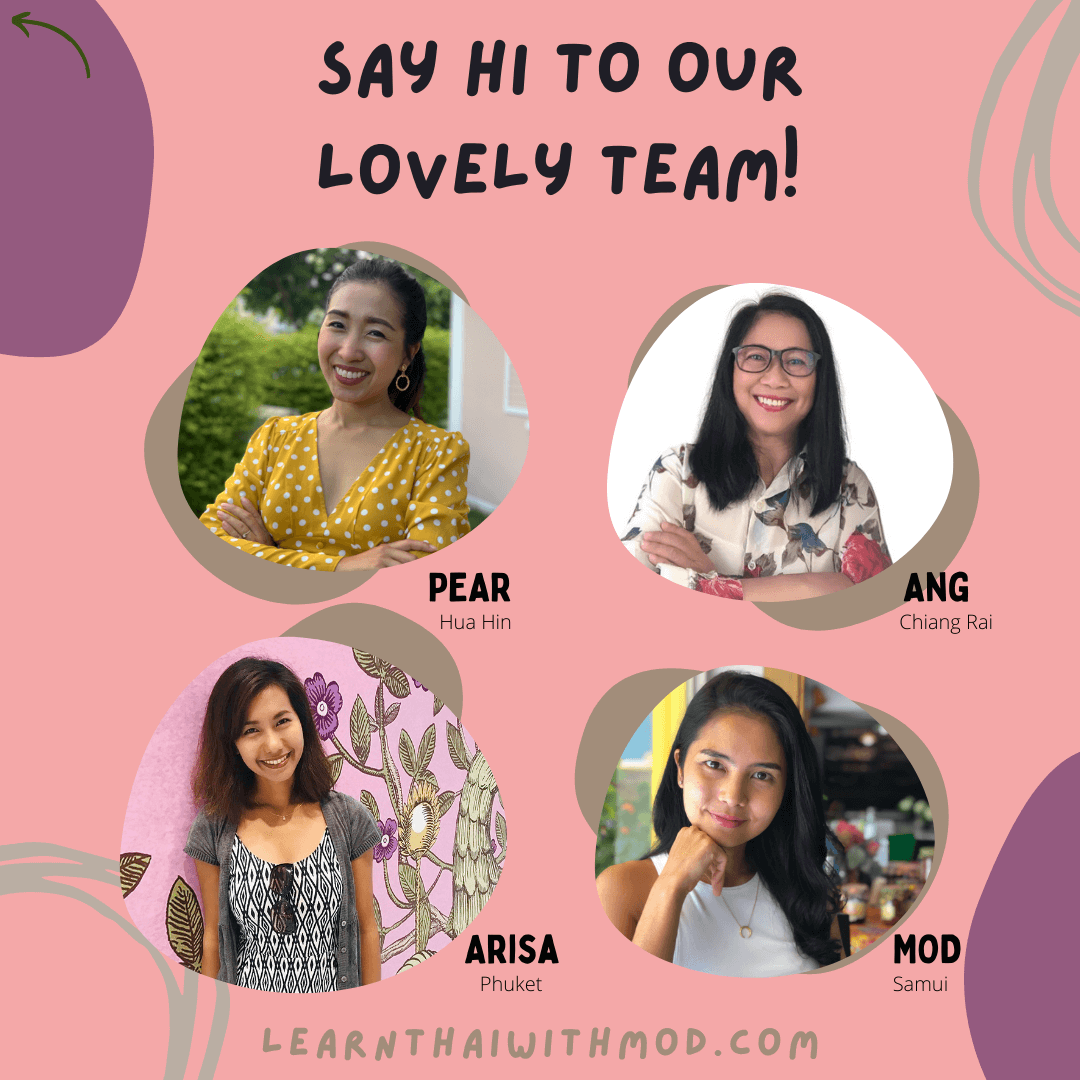 Online Lesson Pricing
Purchase a 10 hour course, and get 1 free lesson ( 9,500 Baht)
Purchase a 20 hour course, and get 2 free lessons ( 18,000 Baht)
Purchase a 30 hour course, and get 4 free lessons ( 27,000 Baht)
Purchase a 40 hour course, and get 6 free lessons ( 36,000 Baht)
Purchase a 50 hour course, and get 8 free lessons ( 45,000 Baht)
From our experience, it takes approximately 30 hours to be able to speak basic Thai.
The payment can be made via these methods;
Direct Bank Transfer (Siam Commercial Bank and Kasikorn Bank)
Contact Us
We always prefer meeting the student for a complimentary lesson to find out what the student wishes to achieve and how we can best work together. Contact us for scheduling here 🙂
Course Types
BEGINNERS COURSE:
Speaking and Listening Thai
Topics include:
Thai consonants, Thai vowels & Thai tones
Construct simple sentences
Construct & respond to simple questions
Ask Directions
Shopping & Bargaining
Ordering in a restaurant
Basic vocabulary:
Describe everyday objects, colors, locations
Giving directions, daily activities, days of week
Numbers, telling time
Holding simple conversations
Reading and Writing Thai
Thai Alphabet & Thai vowels
Thai Alphabet classes
Tone Rules
INTERMEDIATE COURSE: customized
Students will acquire more vocabulary and patterns to become more functional in Thai life, learning how to express themselves in common scenes of everyday life.
ADVANCE COURSES: customized
Learn Thai with Mod' programs are flexible, easily adapted to meet individual requirements. We are willing to provide an enriching learning experience for every student targeting individual goals and styles.