Online Training
We offer online one-to-one Thai lessons through Skype or Zoom. We use tailor made materials that is range from beginners to advance level to apply to the level of the students and their needs.
✔ The lessons are personalized for your interests and needs
✔ The schedule can be flexible
✔ You can learn at your own pace
The courses are offered in three levels which are Beginner, Intermediate, and Advanced Thai and will include content on Thai traditions and culture. The appropriate teaching units will be tailored to each student for best results. We will continually adapt teaching lessons to suit any situation.
We usually suggest students to have lessons once or twice a week. It is sufficient to learn for one hour per session. For beginners, it takes about 50-60 hours to be able to speak basic Thai.
 Learn Thai with Mod's Team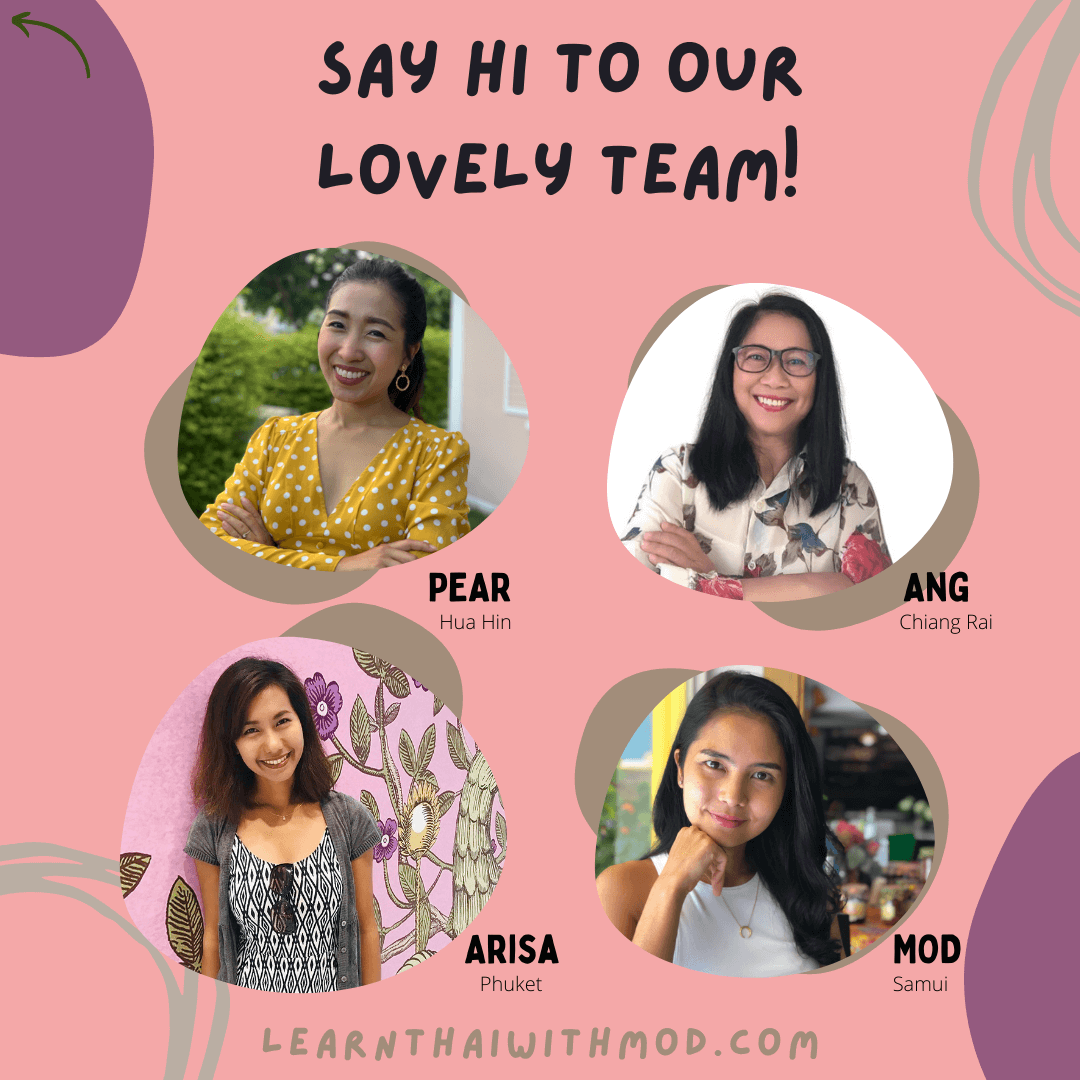 Online Lesson Pricing
▪️ Master teachers
10 hrs pack (Purchase a 10 hour course, and get 1 free lesson) 9,500 Baht
20 hrs pack (Purchase a 20 hour course, and get 2 free lessons) 18,000 Baht
30 hrs pack (Purchase a 30 hour course, and get 4 free lessons) 27,000 Baht
40 hrs pack (Purchase a 40 hour course, and get 6 free lessons) 36,000 Baht
50 hrs pack (Purchase a 50 hour course, and get 8 free lessons) 45,000 Baht
▪️ Senior teachers
10 hrs 8,000 Baht
20 hrs 15,000 Baht
30 hrs 21,600 Baht
▪️Private Group: Price for 2 students  (+150 THB/person/hr)
• 10 hrs pack 9,500 + 1,500 (฿5,500 per person)
• 20 hrs pack 18,000 + 3,000 (฿10,500 per person)
• 30 hrs pack 27,000 + 4,500 (฿14,625 per person)
• 40 hrs pack 36,000 + 6,000 (฿21,000 per person)
▪️Trial class 
• 1-hr class : 850 Baht with a master teacher
• 1-hr class: 650 Baht with a senior teacher
The payment can be made via these methods;
Direct Bank Transfer (Siam Commercial Bank and Kasikorn Bank)
Contact Us
Please let us know where you are based and your availability for the lessons by writing us at learnthaiwithmod@gmail.com.
Course Types
BEGINNERS COURSE:
Speaking and Listening Thai
Topics include:
Thai consonants, Thai vowels & Thai tones
Understand Thai sentence structures
Practice everyday conversations; basic greetings, numbers, meeting a Thai, asking and giving directions, shopping & bargaining, ordering in a restaurant, making polite requests, talking to a taxi driver etc.
Basic vocabulary:
Describe everyday objects, colors, locations
Giving directions, daily activities, days of week
Numbers, telling time
Holding simple conversations
Reading and Writing Thai
Thai Alphabet & Thai vowels
Thai Alphabet classes
Tone Rules
INTERMEDIATE COURSE: customized
Students will acquire more vocabulary and patterns to become more functional in Thai life, learning how to express themselves in common scenes of everyday life.
ADVANCE COURSES: customized
Learn Thai with Mod' programs are flexible, easily adapted to meet individual requirements. We are willing to provide an enriching learning experience for every student targeting individual goals and styles.