Lan island (Thai: เกาะล้าน) is a beautiful small island located only seven kilometers off the shore of Pattaya. On my first visit to Koh Lan few years ago I couldn't believe there was such a wonderful island next to a busy city like Pattaya. I felt like I found a rare gem, this is a perfect place for a weekend getaway.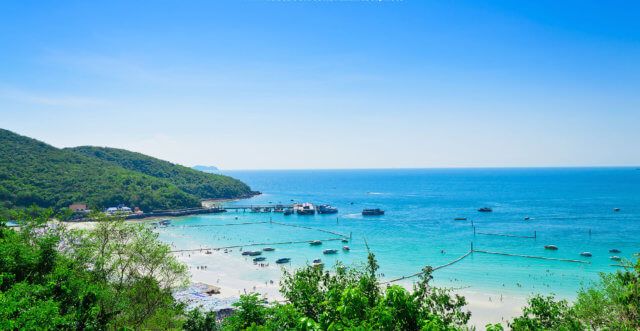 The island is 4 km in length and 2 km in width.There are approximately thousand residents living in the main village. There is also a school and a small medical facility on the island.
หาดตาแหวน Tawaen Beach is the most popular beach on Koh Larn because of full facilities. It has 750 m long white sand beach. The atmosphere of this beach is not different from Pattaya beach, where tourists can enjoy many beach activities. If you don't like the crowd and want to avoid tens of vendors tying to sell you the tourist stuff, I recommend you to select the other beaches.
 หาดทองหลาง Thong Lang Beach is 20o meters long, it is used to be popular, but now it seems to be quiet. Abundance of coral reef in this area allows tourists to explore the sea life by snorkeling.
หาดสังวาลย์ Sangwan Beach is a small beach next to Ta Waen Beach,but quieter and more private. It has white sand and clean beach.
หาดแสม Samae beach is quite a long beach, approximately 700 meters. Its atmosphere is similar to Tawaen beach because of large number of tourists. There are a lot of restaurants and some accommodation along the beach. Those who would like to watch the sunrise and sunset, this beach is a spectacular spot.
หาดนวล Nual Beach is quiet, and there are a lot of reefs in the water, makes a great spot for snorkeling.
หาดตายาย Ta Yai Beach is so small that visitors can walk from one side to the other side within five minutes. The beach is quiet as there are fewer tourists, and there is only one shop available here. The water is crystal clear. I visited this beach on my first time to Koh Lan and I was really impressed. That was when I learnt Pattaya was not so bad! It is a suitable place for a big city getaway.
7.หาดเทียน Tien Beach is is exceptionally clean and quiet.The beach is 500 meters long. Sport activities such as jet ski and banana boats are available. On a day trip to Ko Lan with my friends, we stopped at 'Tawaen Beach' first then we couldn't stand too many tourists so we came to this beach and we totally loved it!
 How to get to Koh Lan:
Getting to Koh Lan is really easy and convenient. There are two options available:
Ferry: You can take a ferry which costs only 30 Baht from Bali Hai pier. The trip takes about 45 minutes. The first ferry departs  Bali Hai pier  at 07.00 am and the last ferry departs at 06.30 pm. While the first ferry from Koh Larn to Pattaya departs at 06.30 am and the last ferry is at 06.00 pm.
2. Speed boat : if you prefer a faster and more private transportation, you may like to hire a speed boat. The cost varies from 1,500 – 2,000 Baht depending on the size of the boat. You can also join a group for 300 Baht per person per leg. It takes 15-20 minutes from Pattaya Beach or Bali Hai pier.
Getting Around Koh Larn:
If you come to the island by a ferry and plan to stay in one beach all day, taking a blue songthaew (a converted pick up truck with two benches in the back) is inexpensive, convenient and safe! From Na Ban pier, just walk to the temple which is located about 5 minutes walk and you will find the songthaew station there. Just tell a staff  your beach destination and they will point out the truck you need to get on. The fare is only 30 Baht per person.
When I went to the island with five of my friends, we hired three motor bikes to go around and see the life on the island.  If you don't want to stay in one beach and prefer to explore the island around, hiring a motorbike is a good option since it is convenient and easy to navigate. It costs only 200 Baht per day. I was surprised they did not require any ID or deposit money from me and my friends when we hired the bikes, I am not sure if they would ask those from foreign tourists like they usually do it other places.
A day trip to Koh Larn from Bangkok, you can catch an early bus from Ekamai bus station to (every half hour from 6a.m.) or hire a taxi/a car with a driver. You could get the 6pm return ferry, and still get back to Bangkok on the same day.
UPDATE: Koh Lan 2018
On 22d September, I revisited Koh Lan after haven't been back for a few years. This trip I chose "หาดเทียน Haad Tien" again. I was very happy to see that the beach was still clean and the water was crystal clear. Although this time the beach was full of groups of Chinese tourists, I still found my quiet spot to sit down and enjoyed the good seafood.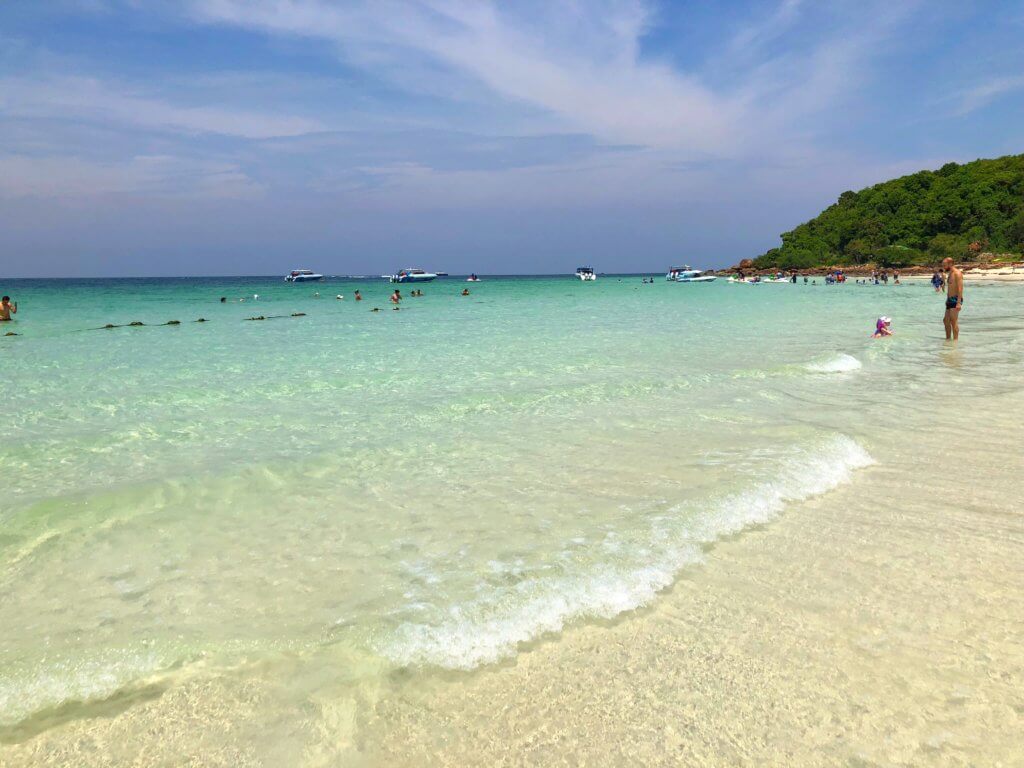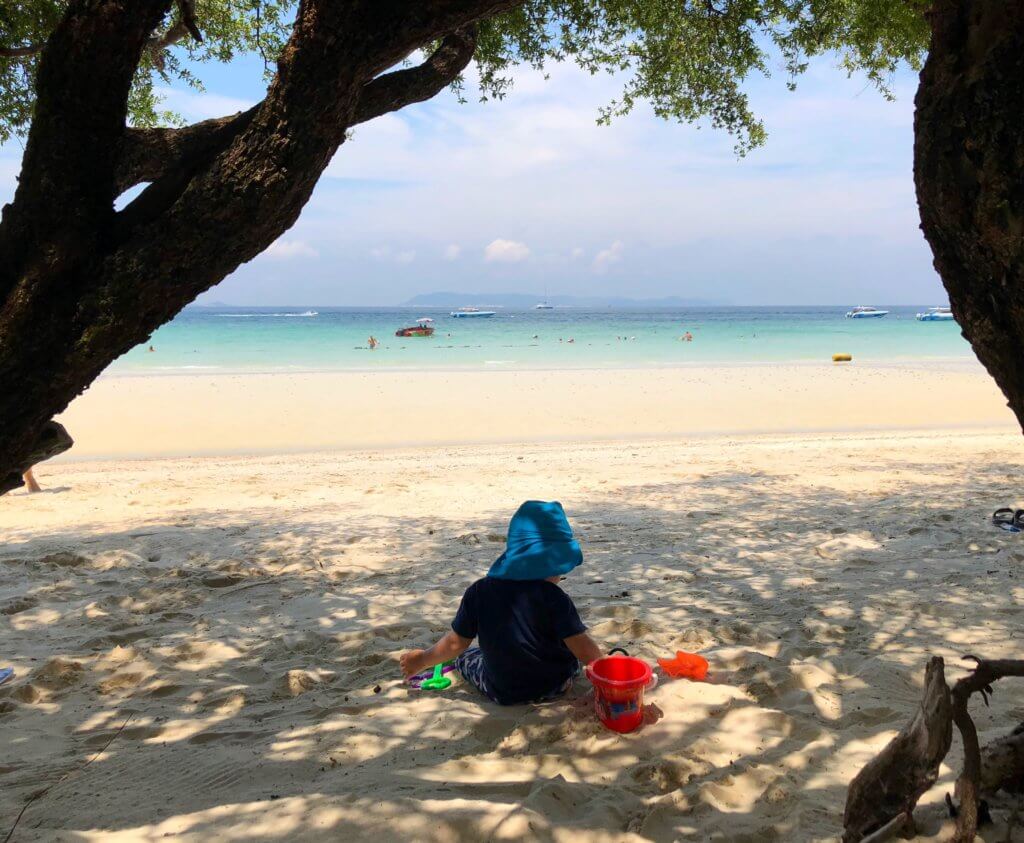 Tips:
There are shady areas under the trees on this beach, you may bring a floor mat so you don't need to rent a beach chair for 100 Baht.
You can bring your own snack, food and drinks.
Don't forget your sunglasses and hat (I did!). The sun can be scorching!
Have you been to Koh Lan before? 🙂
YOU MIGHT ALSO LIKE: