Northeastern region of Thailand or what Thai people refer to as 'อีสาน Isan also Isaan, Isarn, Esan, or Esarn' is the largest part of the country. You might hear the official term is "ภาคตะวันออกเฉียงเหนือ pàak dtà-wan-àwk-chǐang-nŭea".
The main language is Isan, which is a dialect of the Lao language. Isan belongs to the Chiang Saeng and Lao–Phutai language groups, which along with Thai are members of the Tai languages of the Tai–Kadai language family.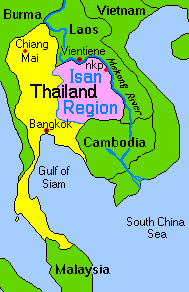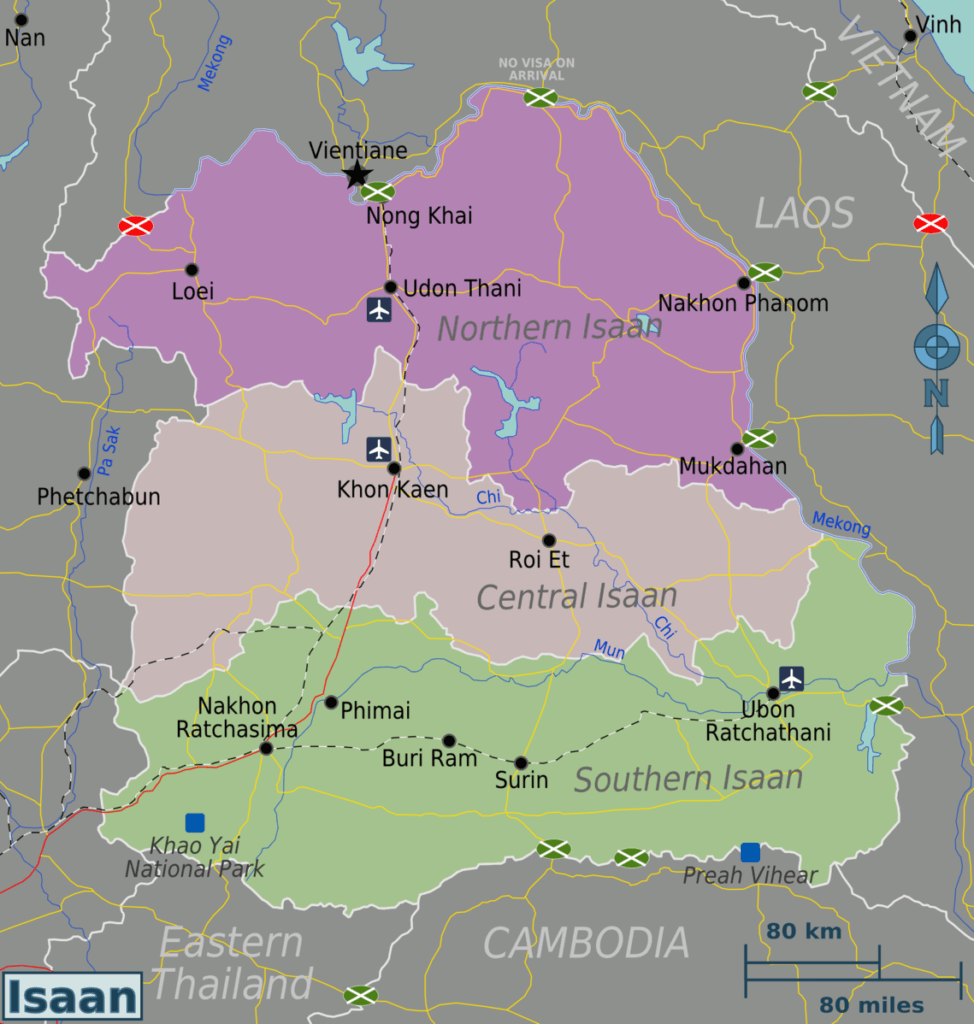 Thai is also spoken by almost everyone and is the language used in education. Khmer, the language of Cambodia, is widely spoken in areas along the Cambodian border: Buriram, Surin, and Sisaket.
(Source: Wikipedia)
Teacher Pear is from Maha Sarakham province (จังหวัดมหาสารคาม), one of the 77 provinces of Thailand, located in the northeastern region of Thailand. Neighbouring provinces are (from north clockwise) Kalasin, Roi Et, Surin, Buriram, and Khon Kaen. It is the home of Mahasarakham University, the largest university in northeast Thailand.
Most of the workers in Bangkok such as taxi drivers, servers, street sellers are from Isan region. We think if you have some basic knowledge about Isan dialect, it could be fun for you to express a small Isan conversation with people you are likely to encounter.
This lesson teacher Pear is teaching basic words, phrases and sentences from Isan dialect. If you already have basic ideas of central Thai dialect, learning Isan should be easy, you only need to learn new vocabulary while the structure of the language remains the same.
We hope you find this lesson useful and enjoyable. 🙂
Below are phrases and sentences we talk about in the video:
ข่อย /kàwi/ = I (for both male and female speakers)
เจ้า /jâo/ = you
ข่อยมักเจ้า /kàwi mák jâo/ = I like you
ข่อยฮักเจ้า /kàwi hák jâo/ = I love you
เป็นตาฮัก /bpen-dtaa-hák/ = lovely, pretty, adorable
เจ้าเป็นตาฮักแถะ /jâo bpen-dtaa-hák tàe/ = You are lovely.
แซ่บ /sâeb/ = delicious
แซ่บบักคัก /sâeb bàk-kák/ = very delicious
ขอบคุณหลายๆ /kàwp-kun lăai-lăai/ or ขอบคุณหลายๆเด้อ /kàwp-kun lăai-lăai dêr/ = thank you very much
คิดฮอด /kít-hâwd/ = miss someone
ข่อยคิดฮอดเจ้าเด้อ /kàwi kít-hâwd jâo dêr/ = I miss you
แมน /maen / = correct, right
บ่ /bàw/ = not
แมนบ่ /maen bàw/? = Is that right?
มักบ่ /mák bàw/ ? = Do you like it?
เจ้ามักอาหารไทยบ่ /jâo mák aa-hăan tai bàw/? = Do you like Thai food?
อิหยัง /ì-yăng/? = What?
อยู่ไส /yùu săi/? = Where?
จังได๋ /jang dăi/? = How?
ตอนใด๋ /dtawn dăi/? = When?
เป็นหยัง /bpen yăng/? = Why?
ไผ /păi/? = Who?
What do you like eat? = เจ้ามักกินอิหยัง /jâo mák gin ì-yăng?/
I like to eat Pad Thai. = ข่อยมักกินผัดไท /kàwi mák gin pàd-tai/
Where is your house? / Where do you live? = บ้านอยู่ไส /bâan yùu săi?/
Where are you going? = เจ้าไปไส /jâo bpai săi?/
How do you go? = ไปจังใด๋ /bpai jang dăi?/
When will you come to Thailand? = เจ้าสิมาประเทศไทยตอนใด๋ /jâo sì maa bprà-têed-tai dtawn dăi?/
สิ /sì/ = will, going to
Why don't you come? = เป็นหยังบ่มา /bpen-yăng bàw maa?/
Who did you eat with? = กินเข่ากับไผ /gin kào gàp păi?/