Songkran (Thai: สงกรานต์) is a traditional Thai New Year festival where people enjoy themselves by throwing water at each other.
In Sanskrit, the word Songkran means 'to pass' or 'move into' and indicates the passing of the sun, moon and other planets into a new zodiac orbit.
Songkran is celebrated on April 13th every year. If you are in Thailand, you would find yourself swept up in festivities for three, five or even 10 days, depending on your specific location in the country.
The original purpose of Songkran festival is to bless others through water. Water symbolizes the cleansing of bad luck and misfortune among the Thais and getting splashed signifies a brand new beginning.
Water, Water Everywhere
To state that the Thais celebrate Songkran with water is a huge understatement. If you long for the carefree days of childhood (or if you are still a kid), don't miss out on the Songkran 'water wars'. Bowls (ขัน), containers (ภาชนะ) and large buckets (ถัง) filled with water are hurled at anyone who happens to be around, and lively water fights take centre stage on the streets, which are awash with carnival-like atmosphere. Some Songkran enthusiasts even resort to using garden horses and powerful water guns. (ปืนฉีดน้ำ)
Your presence at the festival is seen as an invitation to participate, so if you don't want to get wet, stay clear! However, many welcome the refreshing feeling of cool water on their skin, especially since April is the hottest month of the year in Southeast Asia. It is easy to conclude that these water wars are just about having a good time but there is more to the splashes than meets the eye.
Where to join the festival?
Chiang Mai province in northern Thailand (one hour away from Bangkok by air), has a reputation for holding the wildest Songkran festivities.
Khonkaen province in Northeastern Thailand (one hour away from Bangkok by air) helds the festivities at Khao Niao Road.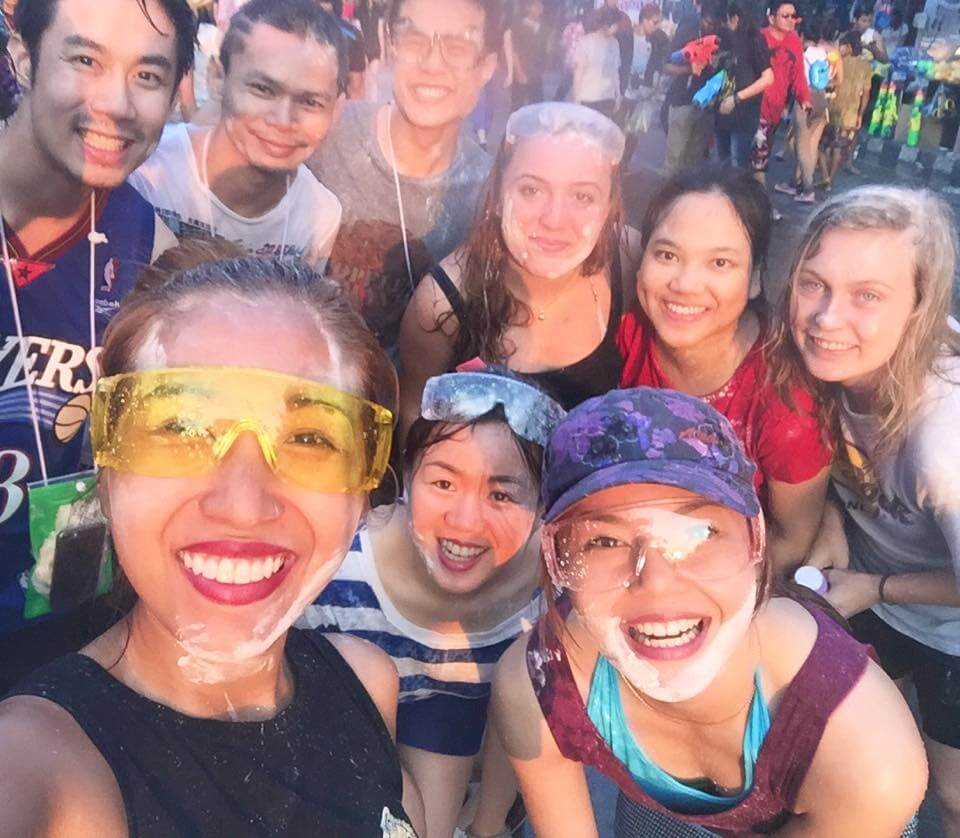 In Bangkok, Khao San Road and Silom Road are the most popular places for both local and tourists to enjoy the water fights. The road is closed for the participants for three days from 13th-15th April to celebrate the party.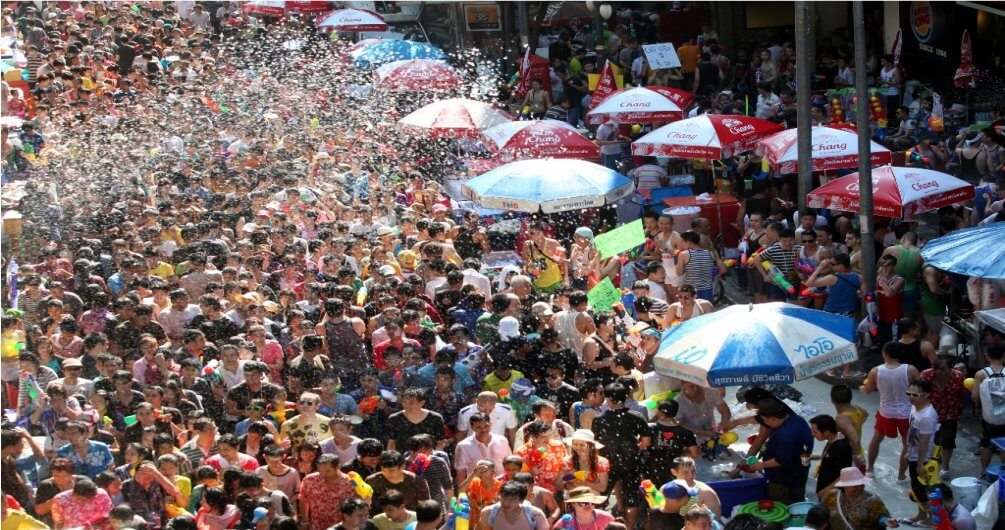 Visitors can also head to any Bangkok temple to witness the non-chaotic, traditional side of Songkran celebrations.
THAI LESSON: Before going out and have fun with water fight, take a few minutes to watch this lesson and learn some useful Thai expressions used during Songkran festival, so you can so you can start a friendly conversation with local people. 🙂
What to do during Songkran Festival besides throwing water
On the first day of Songkran (13th April), which is a day to honour the elderly, an old custom called Rod Nam Dum Hua (รดน้ำดำหัว) takes place. This ritual involves young people pouring scented water onto the palms of elders to show respect and to ask for their blessings.
The second day of Songkran (14th April) is dedicated to families and officially known as National Family Day (วันครอบครัวแห่งชาติ wan krâwp-krua hâeng châat). Families get together and spend quality time. A lot of people will travel back to their hometown to visit parents and relative.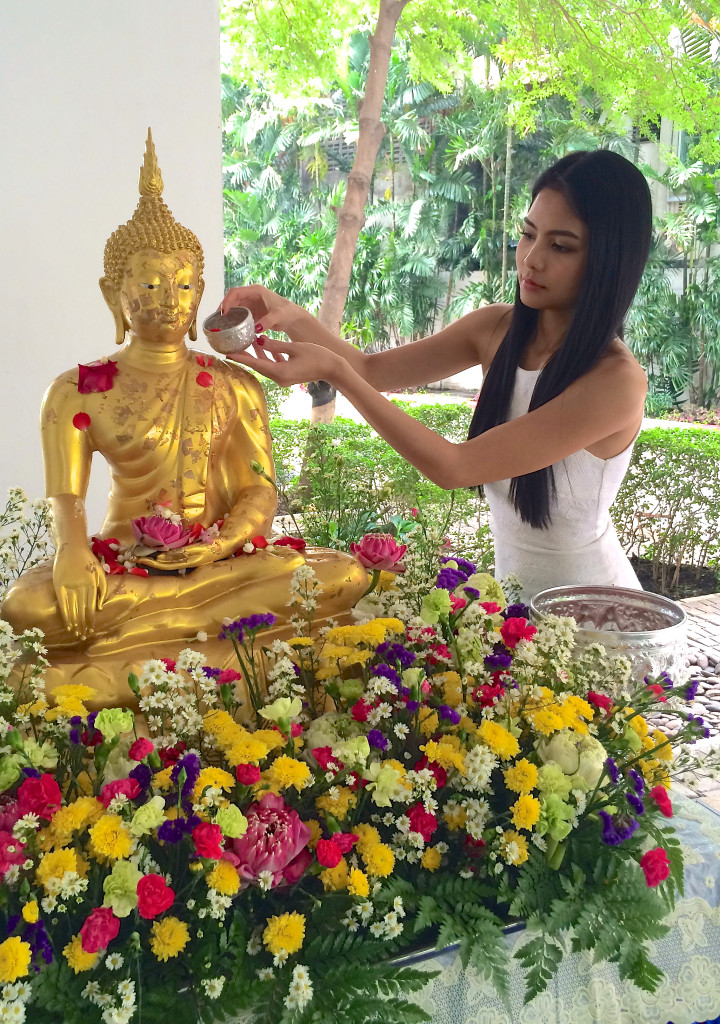 To the largely Buddhist population of Thailand, Songkran is also a time for temple visits and religious rituals. Bathing the Buddha สรงน้ำพระ (sŏng náam prá) is an essential ceremony where devout Buddhists wash statues of the Buddha (พระพุทธรูป), at home or at the temple, with fragrant water. Songkran is also seen as a day for spring cleaning and many Thais take the opportunity to get their houses spic and span for the New Year.
Tip: To purify or bath the Buddha, water should not be poured directly onto the head of the relic, rather on other parts of the statue's torso.
In many parts of Thailand, Songkran is celebrated with grand procession, beauty contests (Miss Songkran contest เทพีสงกรานต์), food fairs, boat races, cultural games and firework displays.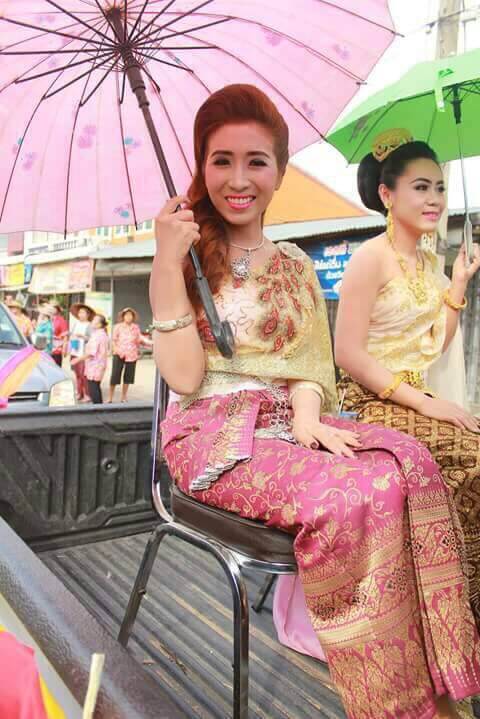 Click here to learn some simple Dos and Don'ts during Songkran festival