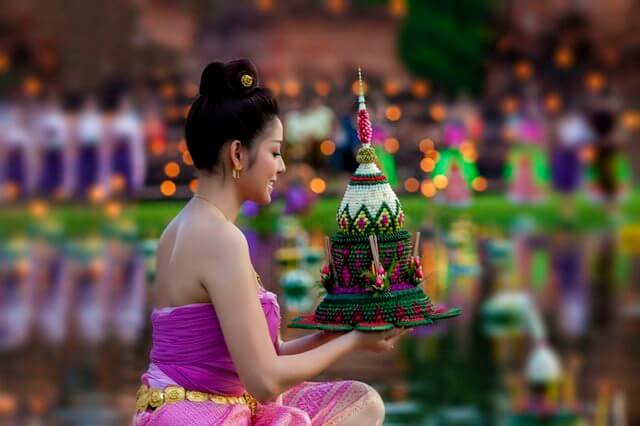 THAI NAME: วันลอยกระทง
DATE: 19th November 2021
Loi Krathong festival  (ประเพณีลอยกระทง) is celebrated throughout Thailand. It takes place on the evening of the full moon night of the 12th month in the traditional Thai lunar calendar which is a great flood season; it usually falls in November (พฤศจิกายน).
The word ลอย /loi/ means 'to float' and Krathong กระทง /grà-tong/ is a small lotus-shaped floating receptacle.It could be made from anything; traditionally it is made of banana leaves and banana trunks. Today the banana trunk core is sometimes replaced by styrofoam, paper, ice-cream cones, bread (baked into the form of a traditional krathong or a cute floating turtle). The banana trunk and bread krathongs are obviously eco-friendly, so better choices for you and your family.
The raft is decorated with flowers, a candle and an incense stick. People often leave a one-Baht coin, a lock of the hair and nail clippings in the Krathong.
FUN LOY KRATHONG FACTS
– According to a 2010 article in Manager Online, a survey by a certain condom company indicates that Loy Krathong is the festival, second to Valentine's Day, where teenagers lose their virginity.
– Strands of hair, nail clippings or even bits of clothes that one doesn't use anymore are often put into krathong according to the belief that it will get rid of the bad stuff from the past.
– Coins are added to krathong to bring wealth and as a way of making merit.
– For the romantic at heart and young couples, Loi Krathong is the time to make a wish for happiness together and success in love.
(Source:  Bangkok Post)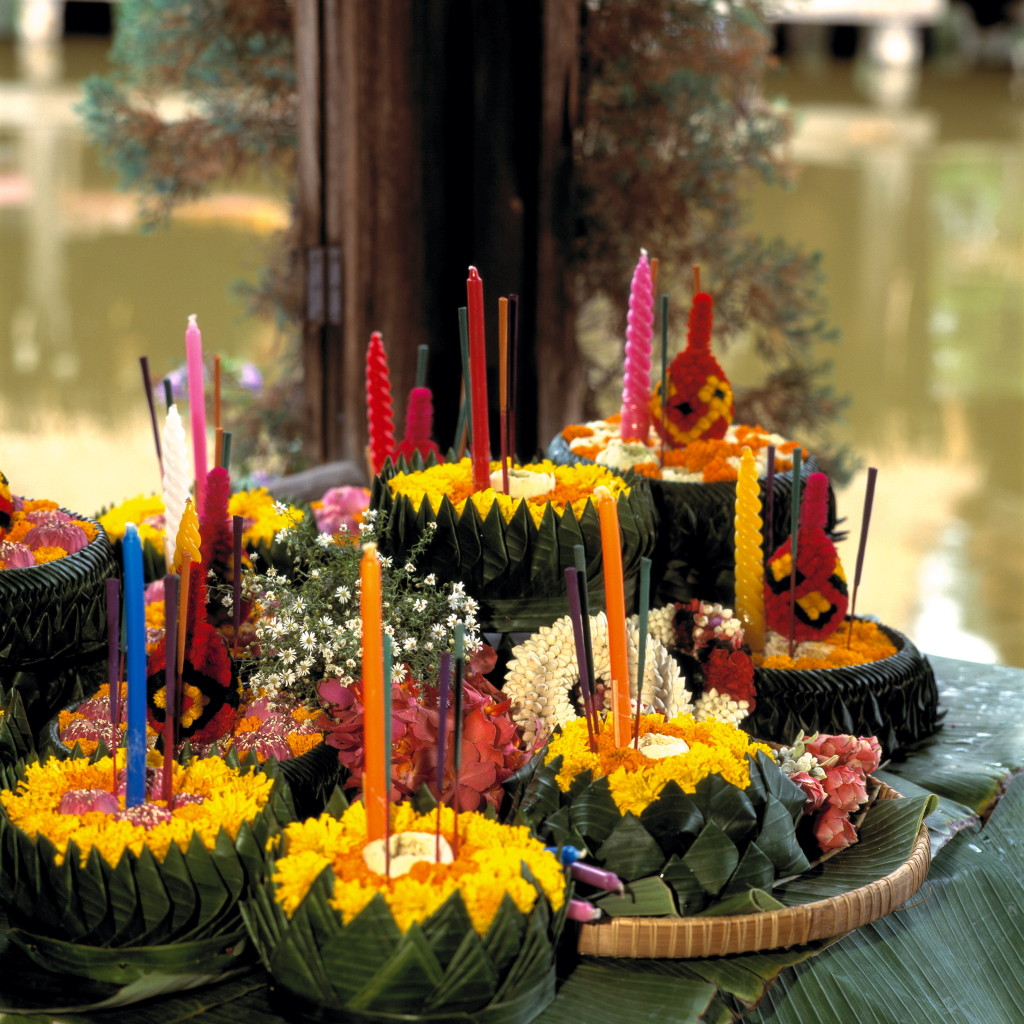 The history of Loi Krathong festival
The celebrations as we know them today date back to the 13th century reign of King Ramkamhaeng the Great of Sukhothai. The first Krathong was created by 'Nang Noppamas นางนพมาศ' a beautiful consort of the King's grandson, King Lethai.
Loi Krathong in Thailand originated as Loy Phra Pra Teip ลอยพระประทีป  or ลอยโคม Loy Khom (floating lantern). After that, Noppamas created krathong, like lotus-shaped, for floating in the river instead of floating lantern. It was used for worshipping the foot-print of Buddha at Nammathanati River beach in Thakkhinabodh district, India.
Thai people believe that the purpose of the Loi Krathong festival are:
– To ask for forgiveness "Pra Mae Khongkha พระแม่คงคา" (The goddess of water) for any misdeeds against her – we use and drink water, moreover we often throw in rubbish and pollute the water.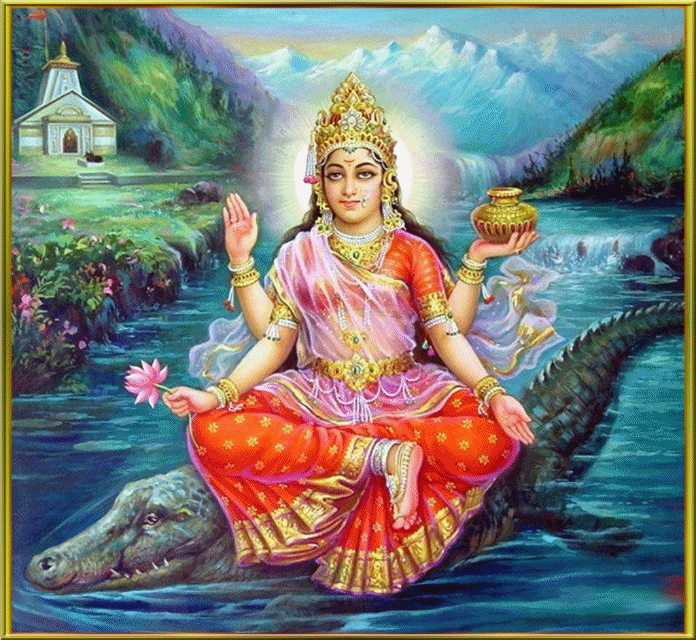 – To worship the foot-print of the Buddha on Nammathanati River beach in India.
– To fly away misfortune and bad things.
 How to float a Krathong
Before floating the Krathong down the river or in the pond , there were a few things to be done;
1. Put a strand of you hair and bits of nails in the Krathong
2. Put some money in (usually coins)
3. Light the candle and incense
4. Make wishes
5. Let the Krathong go
A snip of hair and nails is used to represent all that bad stuff and a few coins as a bribe to the great water goddesses. The candle and the joss stick are lit to make wishes or ask for good luck and forgiveness from Pra Mae Khongkha, then you can put the Krathong in the water and watch it float away.
Some people believe that if the Krathong capsizes, it means bad luck. Some young people believe that if a couple float Krathong together it could cause them to break up – I think it is just a silly belief.
In North Thailand the Loy Krathong Festival coindices with the Lanna festival called ยี่เป็ง Yee Peng or Yi Peng. ยี่ /yîi/ means "two" and  เป็ง /bpeng/ means "full moon". Yee Peng is all about lanterns. The day before Loy Krathong is called Yee Peng but during the three days you will find lanterns everywhere. Houses and temples are decorated with lanterns and on the evening of the first day there is a stunning lantern parade in Chiang Mai. The most stunning though used to be the hundreds of sky lanterns that were released. There used to be a mass release of sky lanterns near Mae Jo University. In recent years there has been a crackdown on releasing sky lanterns because of the danger to air traffic. There is no mass release anymore. Releasing sky lanterns is only allowed during set hours on the full moon night. This law is strictly enforced. There are a couple of commercial small scale sky lantern events that include a dinner.
Loi Krathong at the present
Noppamas beauty pageants contests (การประกวดนางนพมาศ) are often a feature the Loi Krathong celebrations at the temples and tourist places. There are many entertainment shows and fireworks at night.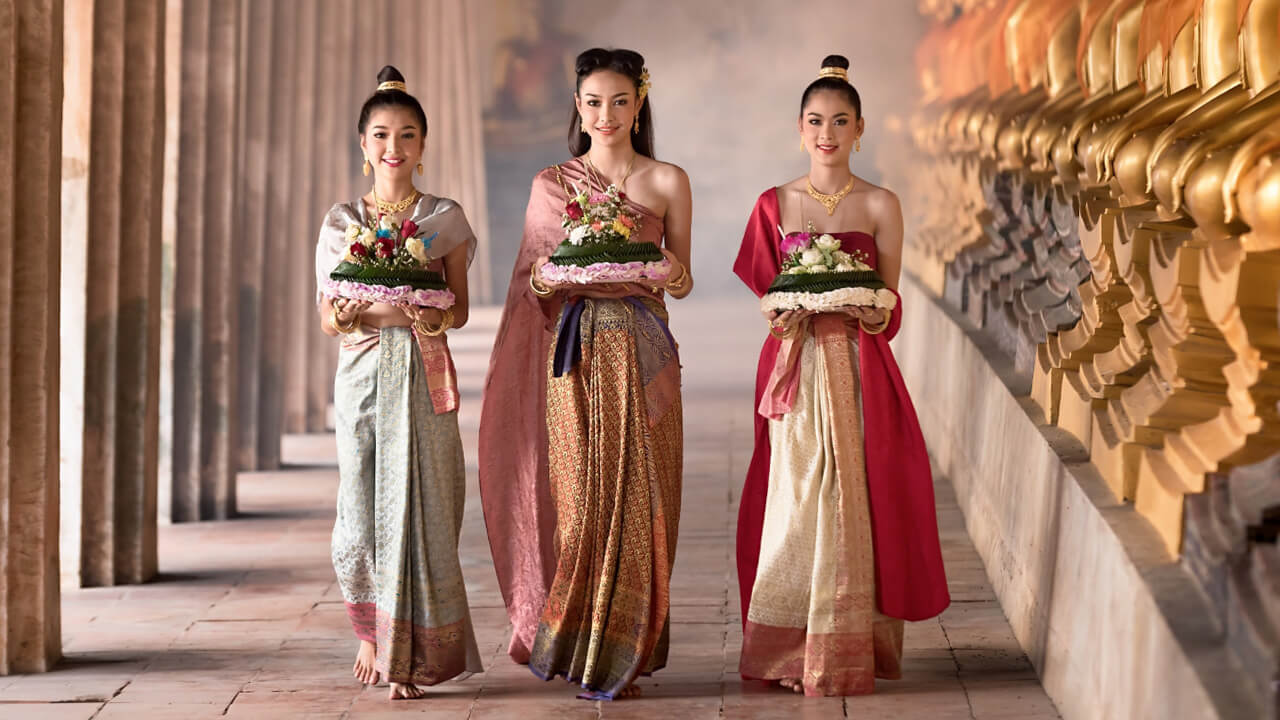 Best Places To Celebrate Loy Krathong Festival
For Bangkok's best locations for Loy Krathong Festival 
Iconsiam (Riverside): Take a skytrain to Saphan Taksin station and get a free shuttle boat to Icaonsiam
Asiatique (Riverside) : Take a skytrain to Saphan Taksin station and get a free shuttle boat to Asiatique
Wat Arun or Temple of dawn (Riverside/ Old City)
Wat Saket (Riverside/Old City)
Phra Athit Pier (Riverside/ Old City)
Maharaj Lifestyle Mall (Riverside/Old City)
Lumpini Park (Lumpini MRT station or Silom BTS station)
Benjasiri Park (Phrom Phong BTS station)
Benjakiti Park (Asoke BTS station)
Chatuchak Park (Chatuchak BTS station)
Outside Bangkok, Loi Krathong festivals will be celebrated in 5 major destinations : Chiang Mai, Sukhothai, Tak, Samut Songkhram, and Roi Et.
1. Yi Peng Festival (Lantern Festival), Chiang Mai City, 17 – 19 November 2021 to celebrates traditions and activities that are unique to the Lanna people and their culture.
2. Loi Krathong and Candle Festival, Sukhothai Historical Park, Sukhothai, 16 – 25 November 2021
3. Loi Krathong Sai and 1,000 Floating Lanterns, Sompot Krung Rattanakosin 200 Years Bridge, Tak, 18-19 November 2021
4. Lamphun River Festival 18-20 November 2021, Lamphun city Municipal building
Pattaya :Pattaya beach, Beach road
Phuket : All beaches
THAI LANGUAGE LEARNING: "Happy Loi Krathong Day"
สุขสันต์วันลอยกระทง /sùk-săn wan loi grà-tong/
Where are you going to loi Krathong this year? 🙂
YOU MIGHT ALSO LIKE: 
Thai Traditional Wedding Ceremony