Phrases for asking how someone is:
เป็นไงบ้าง /bpen ngai bâang/ – How is it going?
ชีวิตเป็นไงบ้าง /chii-wít bpen ngai bâang/- How is life?
ช่วงนี้ทำอะไร /chûang-níi tam à-rai/- What have you been up to recently?
Responses to above questions:
ก็ดีนะ /gâw dii ná/- pretty good.
ก็ไม่มีอะไรมาก /gâw mâi mii à-rai mâak/- Same old really.
ไม่ค่อยดี /mâi kôi dii/ – Not good really.
ทุกอย่างไปได้ดี /túk-yàang bpai dâai dii/- Things are going well.
ไม่มีอะไรจะบ่น/ mâi mii à-rai jà bòn/- I can't complain.
Common Phrases to ask to get to know someone
บ้านอยู่ไหน /bâan yùu năi/- Where do you live?
คุณมาจากจังหวัดอะไร /kun maa jàak jang-wàt à-rai/ – Which province do you come from?
คุณทำงานอะไร /kun tam-ngaan à-rai/ – What do you do for a living?
คุณทำอะไรเวลาว่าง /kun tam à-rai way-laa wâang/ – What do you like to do (in your free time)?
คุณมีงานอดิเรกไหม /kun mii ngaan à-dì-rèek mái/- Do you have a hobby?
คุณออกกำลังกายไหม /kun àwk-gam-lang-gaai mái/- Do you exercise?
คุณเล่นกีฬามั้ย /kun lên gii-laa mái/- Do you play sport?
เบอร์โทรศัพท์ของคุณเบอร์อะไร/ber too-rá-sàp kăwng kun ber à-rai/ – What is your phone number?
คุณมีเฟซบุคไหม/kun mii Facebook mái?/- Are you on Facebook?
คุณมีพี่น้องไหม /kun mii pîi-náwng mái/-Do you have siblings?
คุณมีแฟนไหม/mii faen mái/- Do you have a boyfriend/girlfriend?
คุณแต่งงานรึยัง /dtàeng-ngaan rúe-yang/ -Are you married?
คุณมีลูกไหม/kun mii lûuk rúe-yang/- Do you have children?
 50 Common Thai Phrases to Use in Conversation (PART 2)

Click here to read the phrases showed in part 2.
ONLINE THAI GROUP SPEAKING CLASSES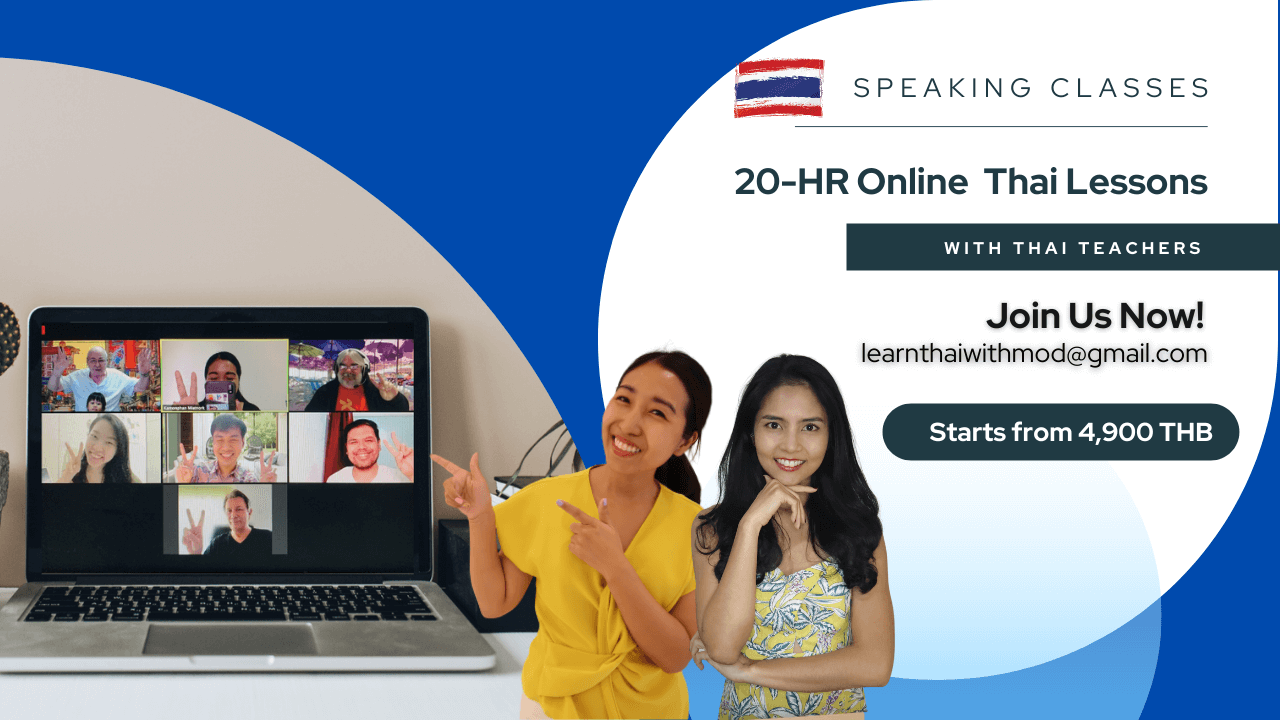 Having a few common Thai phrases up your sleeve when you are traveling or living in Thailand allows you to experience local culture and hospitality in a completely different way. 
Join our 20-hour online group speaking classes today! You will be on your way to mastering Thai language faster than you ever imagined!
Register now at learnthaiwithmod@gmail.com 
If you are not sure which group suits your Thai level, write me to get asessment test and course outline, and I will provide you with my feedback.
Check the current schedule for our online group classes, CLICK HERE.
We hope to see you in our classes! 🙂