These are ten very Thai phrases, they are used in daily conversations. If you would like to sound a little more Thai, you are welcome to use them.
No have = don't have
Actual Thai term: ไม่มี /mâi mii/
Same same but different. = similar
Actual Thai term: คล้าย /kláai/
They look similar
พวกเขาหน้าคล้ายกัน
/pûak káo nâa kláai gan/
Where where is where where
Actual Thai term: ไหนๆก็ไหนๆ
/năi năi gâw năi năi/
You might as well.
ไหนๆก็ไหนๆแล้ว ดื่มสักขวดนะ
/năi năi gâw năi năi láew, dùem sák kùad ná/
We have come this far, you might as well drink a bottle.
Up to you
Thai term: แล้วแต่คุณ /láew dtà kun/
อเมริกันแชร์ /à-may-rí-gan chae/ = Let's split the bill.
Actual Thai term: หารกัน hăan gan
Fitness = gym
เย็นนี้ผมจะไปฟิตเนส
/yen níi pŏm jà bpai fít-nèd/
เสป็ก /sà-pék/ = type pf person that you like
เสป็กของคุณเป็นยังไง
/sà-pék kăwng kun bpen yang-ngai/
What is your type?
ฟิต /fít/ = tight , it is too small, it doesn't fit but Thais say "fit".
โอเว่อร์ /oo wêr/ = overact or exaggerate
ไฮโซ /hai soo/ = luxurious
ดูผู้หญิงคนนั้นสิ เขาแต่งตัวไฮโซมาก
/duu pûu-yĭng kon nán sì, káo dtàeng-dtua hai-soo mâak/
WOULD YOU LIKE TO IMPROVE YOUR THAI CONVERSATIONAL SKILLS?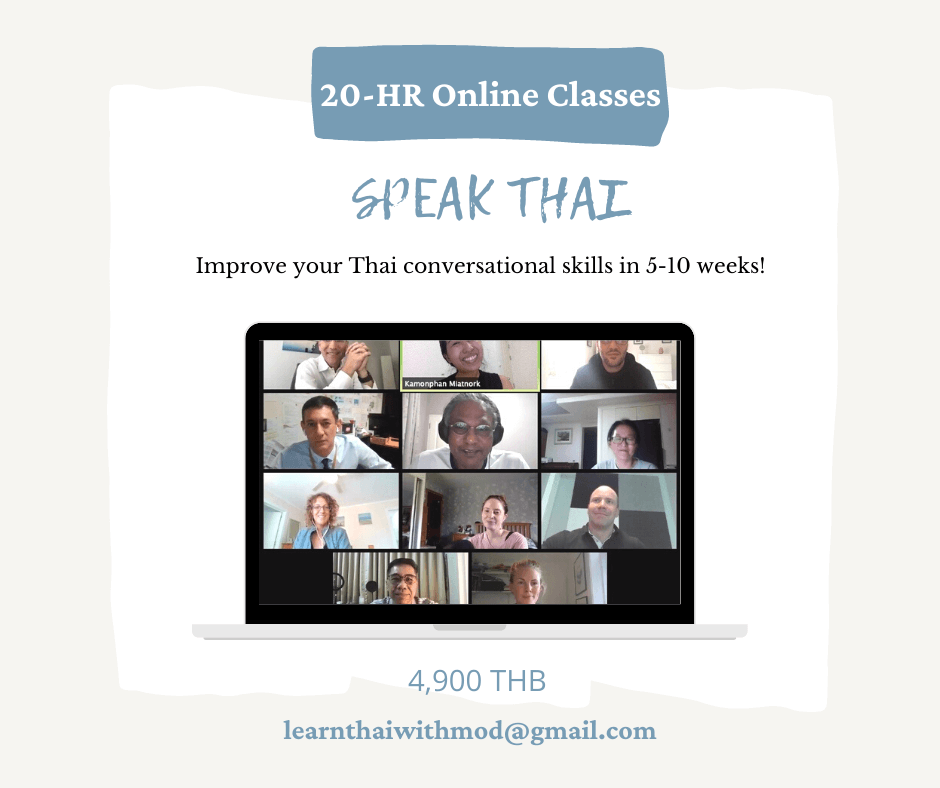 Join our 20-hour online group classes. We offer classes for all levels from complete beginners to advanced level. If you are not sure which course suits your Thai level, write us at learnthaiwithmod@gmail.com to get an assessment test.
Price: 245 Baht/hour
Find more information here.
April's Class Schedule:
 ★LEVEL 3 : PRE-INTERMEDIATE THAI
Course Duration: 21 April – 21 May 2021 (5 weeks)
Course Hours : Wed & Fri at 4:00​ – 6:00 P.M. Thailand time
★LEVEL 4 : INTERMEDIATE
Course Duration: 10 April – 9 May 2021 (5 weeks)
Course Hours : Sat & Sun at 8:00 – 10:00 A.M. Thailand time
★LEVEL 5: UPPER INTERMEDIATE
Course Duration: 10 April – 9 May 2021 ( 5 weeks)
Course Hours : Sat & Sun at 8:00 – 10:00 A.M. Thailand time
We hope to see you in our class. 🙂