Songs are great for self-study because they make your study sessions fun. Having fun while you study is a really effective way to learn, so today I chose a slow and romantic Thai song with lots of useful vocabulary words for you to learn. Turn up your speaker! 🙂
Here is the official music video of the song we are learning.

Let's begin the fun!
เธอ คือ ทุกสิ่งในความจริงในความฝัน
/ter kue túk sìng nai kwaam-jing nai kwaam făn/
You are everything in reality and in my dreams.
คือทุกอย่างเหมือนใจต้องการ
/kue túk yàang mŭean jai dtâwng-gaan/
(You) are everything like my heart desires.
เธอเป็นนิทานที่ฉันอ่านก่อนหลับตาและนอนฝัน
/ter bpen ní-taan tîi chán àan gàwn làp dtaa láe nawn făn/
You are the story that I read Before I close my eyes and dream.
เธอคือหัวใจไม่ว่าใครไม่อาจเทียมเทียบเท่าเธอ
/ter kue hŭa-jai mâi wâa krai mâi àat tiam tîab tâo ter/
You are my heart. No one can be the equal of you.
ได้มีเธอเคียงข้างกัน
/dâai mii ter kiang kâang gan/
I get to have you by my side.
คงจะมีเพียงแค่เธอทำให้โลกหยุดหมุน เพียงแค่เธอสบตาฉัน
/kong jà mii piang kâe ter tam hâi look yùt mŭn, piang kâe ter sòb dtaa chán/
There is probably you who can stop the world spinning by just looking into my eyes.
คงจะมีเพียงเธอที่หยุดหัวใจของฉันไว้ตรงนี้
/kong jà mii piang ter tîi yùt hŭa-jai chán wái dtrong-níi/
There is probably only you that I stop my heart right here.
เธอเพียงคนเดียวและเพียงเธอที่ต้องการ
/ter piang kon-diao láe piang ter tîi dtâwng-gaan/
There is only you and only you that I need.
ฉันจะทำทุกอย่าง ด้วยวิญญาณและหัวใจ
/chán jà tam túk yàang dûai win-yaan láe hŭa-jai/
I will do everything with my soul and heart.
นั่นคือฉันจะรักเธอไม่ว่าเป็นเมื่อไรสถานใด
/nân kue chán jà rák ter mâi wâa mûea-rài sà-tăan dai/
which is I will love you no matter the time or place is.
ทั้งหัวใจฉันมีเธอเพียงคนเดียว
/tang hŭa-jai chán mii ter piang kon-diao/
My whole heart has only you.
เธอคือรักจริง ฉันยอมทิ้งทุกๆอย่าง เพียงเพื่อเธอ
/ter kue rák jing, chán yawm tíng túk túk yàang, piang pûea ter/
You are my true love, I am willing to abandon everything just for you.
ดั่งฟ้าให้มาเจอ ให้เธอคู่กับฉัน
/dàng fáa hâi naa jer, hâi ter kûu gàp chán/
The sky (heaven) let me found you, brought you together with me.
ให้เราได้เดินเคียงข้างกันนับจากนี้
/hâi rao dâai dern kiang kâang gan náp jàak níi/
Let us walk side by side from now on.
จะทุกข์ หรือยามที่เธอนั้นสุขใจ
/jà túk rŭe yaam tîi ter nán sùk jai/
Either in sorrow or when you are happy,
ยามป่วยไข้หรือสุขกายสบายดี
/yam bpùai kâi rŭe sùk gaai sà-baai dii/
when you are sick or well,
ฉันอยู่ตรงนี้ และจะมีเพียงเธอทุกวินาที
/chán yùu dtring níi, láe jà mii piang ter túk wí-naa-tii/
I will be right here, and I will only have you every second,
จะอยู่ใกล้ไม่ห่างไกล จะเคียงชิดไม่ห่างไป ไม่ไปไหน..
/jà yùu glâi mâi hàang glai, jà kiang chít mâi hàang, mâi bpai năi/
I will be near, not going far away. I am not going anywhere.
VOCABULARY:
ความจริง /kwaam jing/ = reality
ความฝัน /kwaam făn/ = dream
นิทาน /ní-taan/ = tale
หลับตา /làp dtaa/ = close one's eyes
นอนฝัน /nawn făn/ = go to sleep and dream
เคียงข้าง /kiang kâang/
วิญญาณ /win yaan/ = soul, spirit
หัวใจ / hŭa-jai/ = heart
ทุกข์ /túk/ = sorrow
ป่วยไข้ /bpùai kâi/ = ill
IMPROVE YOU THAI FROM YOUR SOFA!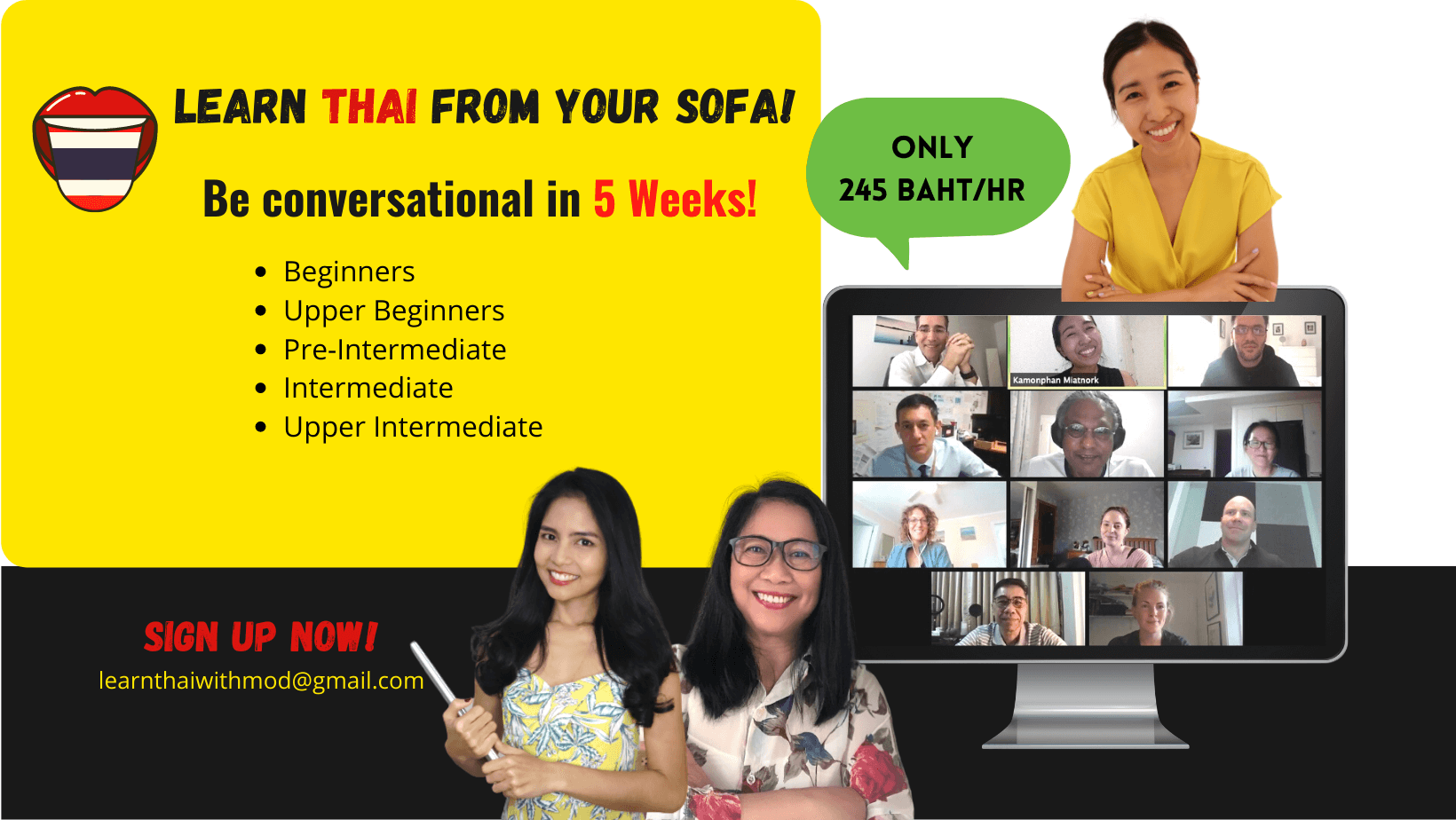 Would you like to start speaking Thai or improve your Thai speaking skills? You can do that without leaving home in 5 weeks! Join our online group classes!
Book your seat: learnthaiwithmod@gmail.com
Check the current schedule here.