This is another lesson on BUILDING THAI COMPOUND SENTENCES. You will learn to connect clauses using the conjunction – "So that"  in these examples:
-Last night, my boyfriend snored so loud that I couldn't sleep.
-She is so beautiful that I can't take my eyes off her.
The conjunction "So That" that we are talking about in this lesson is used when you want to describe that something happen to the level that there is a certain result.
The key word that we use to connect a sentence in Thai is จน /jon/ . Below is the pattern:
sentence 1 + จน /jon/ + the result
Example 1:
แฟนของฉันกรนเสียงดังมาก จน ฉันนอนไม่หลับ
/faen chán gron sĭang dang mâak, jon chán nawn mâi làp/
My boyfriend snored was so loud that I couldn't sleep:
Example 2:
เขาดื่มเหล้าจนเมา
/káo dùem lâo jon mao/
He drank so much that he got really drunk.
Example 3:
Have you ever got so drunk that you fainted?
คุณเคยเมาจนเป็นหมดสติมั้ย
/kun keoi mao jon mòi sà-dtì mái/
Example 4:
That woman is so beautiful that I can't take my eyes off her.
ผู้หญิงคนนั้นสวยมากจนผมละสายตาจากเขาไม่ได้
/Pûu- yĭng kon nán sŭai mâak jon pŏm lá săai-dtaa jàak káo mâi-dâai/
NOTE:  จน /???/ also means "poor" and "until
พวกเขาจน /pûak-káo jon/ = They are poor.
พวกเขาทำงานจนเช้า //pûak-káo tam-naan jin cháao/ = They work until morning.
TEST!
How do you say this sentence in Thai?
Studying Thai with teacher Pear is so much fun that her students want to learn Thai everyday!
Please leave your answer below the comments and I will check if you got this sentence right. 🙂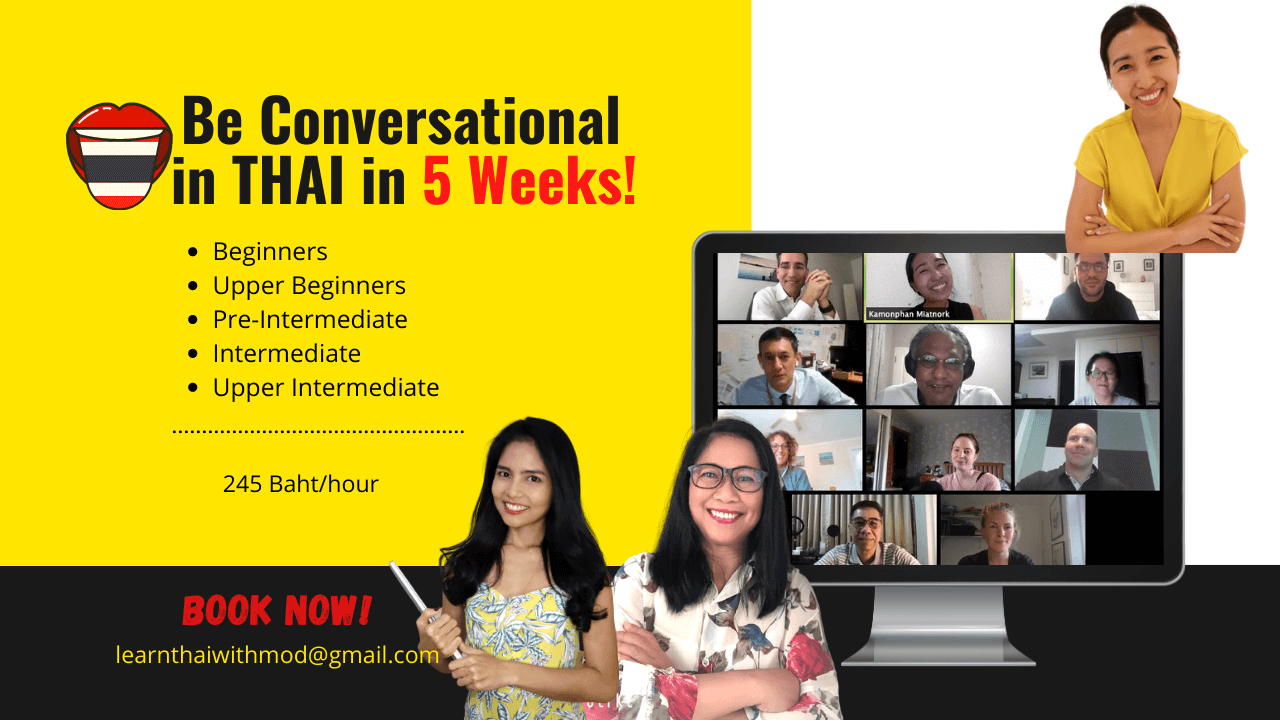 ????? ??? ???? ?? ???? ?? ??? ???? ??????? ??????? ?????
Join our online group course for Pre-Intermediate!
Course Duration: 27 Feb – 28 Mar 2021 (5 weeks)
Class Duration: 2 hours per lesson for 10 lessons
Course Hours : Sat & Sun at 8:00 – 10:00 A.M. Thailand time 
Price : 245 THB/hour
Book now or get the lesson plan: ????????????????@?????.???
Find more details and the current schedule off our group course here.