Why is pronunciation important?
If you have advanced grammar and vocabulary but your pronunciation is BAD… then local people will not understand what you say, right?
The key to improving your pronunciation in Thai is lots of practice. Remember that you are "re-training" the muscles of your lips, mouth, and tongue to make different sounds, after many years of speaking your native language.
This takes time and MANY repetitions!
We hope this  video lesson will help you reach your goal of speaking clear, correct, and confident THAI.
Which Thai word is the most difficult for yo to pronounce? Please leave your answer int he comment section below.
***
ONLINE GROUP LESSONS ON ZOOM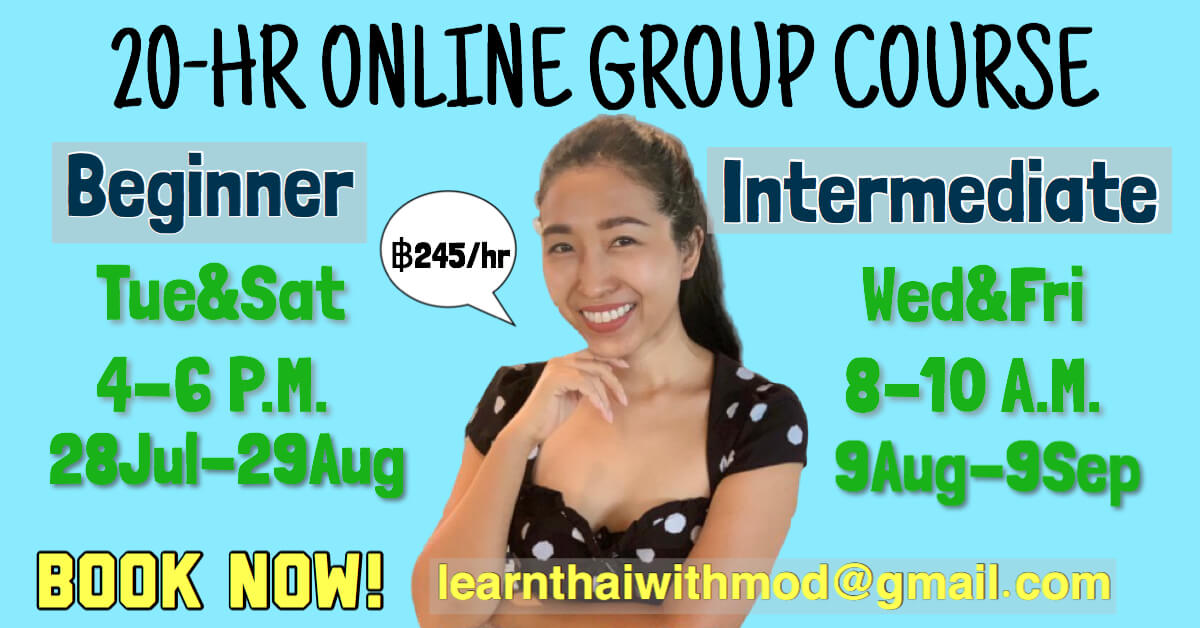 LEVEL 1 : DISCOVERY THAI
This course is designed for students who are starting out on the journey of Thai language and need to build a strong foundation to make a quick progress from basic Thai to become conversational in Thai.
Course Duration: 28 July – 29 Aug 2020
Course Hours : Tuesday & Saturday at 4:00 – 6:00 P.M. Thailand time (5 weeks)
LEVEL 2 : THAI BOOSTER
This course is designed for students who have some knowledge basic Thai language. You will gain skills and confidence that will enable you to communicate effectively with Thai speakers in daily life.
Course Duration: 14 June – 15 July 2020
Course Hours : Sunday and Wednesday at 8:00 – 10:00 A.M. Thailand time ( 5 weeks)
*The next course will be scheduled soon
LEVEL 3 : INTERMEDIATE THAI
You've outgrown your beginner-level resources. You are ready to step up your Thai speaking skills, this course will help you!
Course Duration: 9 August – 9 September 2020
Course Hours : Wednesday and Friday at 8:00 – 10:00 A.M. Thailand time ( 5 weeks)
Price: 4,900 Baht
Get lesson plan and assessment test at learnthaiwithmod@gmail.com