This lesson we are talking about words for everyday life that we often hear Thai language learners mispronounce. If you mispronounce these words, it might change the meaning to an offensive word or impolite word, so we would like you to be careful when saying these five words!
ขวา /kwăa/ = right
คอย /kawi/ = wait for , and เคย /keoi/ = ever, have done something before
หิมะ /hì má/ = snow
มวย /muai/ = boxing
นอนหลับ /nawn làp/ = sleep
Answer to the listening exercise:
1.ประเทศไทยเคยมีหิมะไหม
/bprà-têet tai keoi mii hì-má mái/
Does it ever snow in Thailand?
2. คุณคอยใครอยู่
/kun kawi krai yùp/
Who are you waiting for?
3. มีหมาอยู่ทางซ้าย มีควายอยู่ทางขวา
/mii măa yùu taang sáai, mii kwaai yùp taang kwăa/
There is a dog on the left side, there is a water buffalo on the right side.
4. ฝึกมวยไทยช่วยให้คุณนอนหลับดี
/fùek muai-tai chûai hâi kun nawn-làp dii/
Training Thai boxing helps you sleep well.
5. แฟนเขาไม่อยากหลับนอนกับเขา
/faen káo mâi yàak làp-nawn gàp káo/
His/her lover doesn't want to sleep with him/her.
ONLINE THAI GROUP CLASSES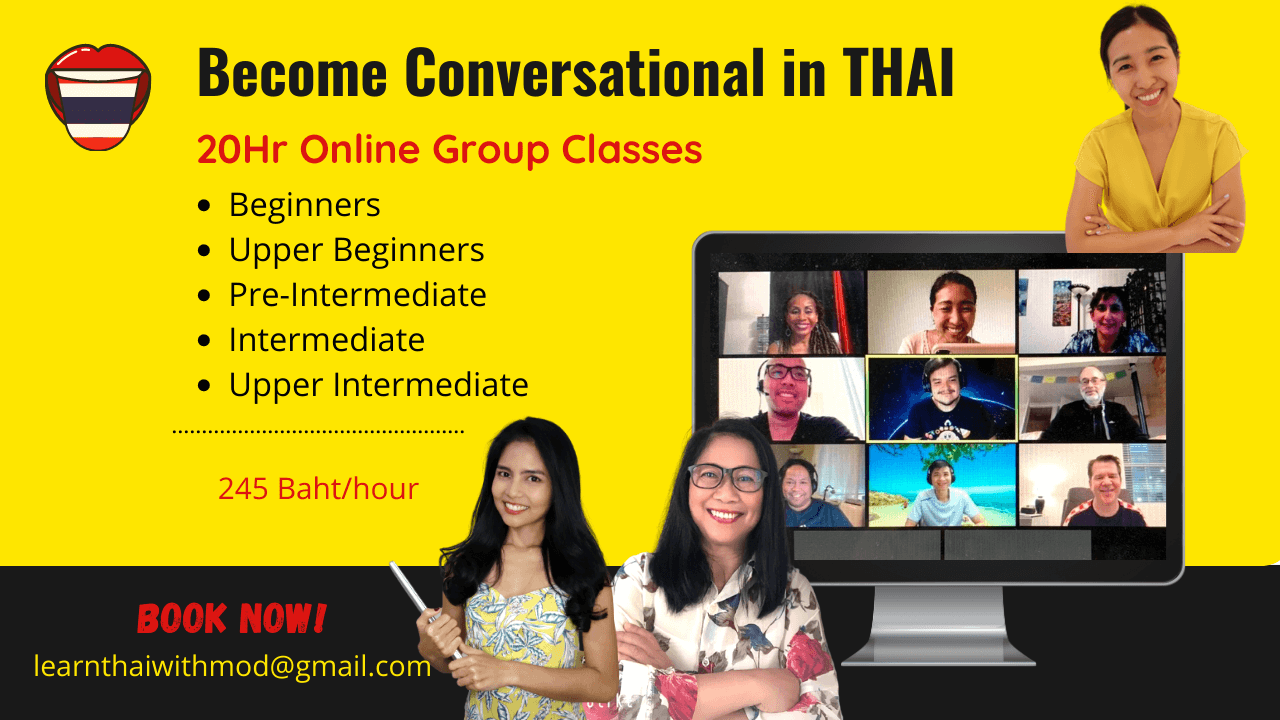 Do you want to talk Thai like a Thai? Join our online group classes today! We offer online speaking group classes for all levels.
In no time, you can take your Thai to the next level, speak more fluently, and sound exactly like a Thai!
BOOK YOUR PLACE NOW:
learnthaiwithmod@gmail.com
More info:
https://learnthaiwithmod.com/online-group-lessons/
July's Schedule:
Beginner (20 hours | 4,900 Baht)
Group 1:
Course Duration: 10 July – 8 August 2021 (5 weeks)
Class Duration: 2 hours per lesson for 10 lessons
Course Hours : Sat & Sun 8:00 – 10:00 A.M. Thailand time 
Group 2:
Course Duration: 28 July – 27 August 2021 (5 weeks)
Class Duration: 2 hours per lesson for 10 lessons
Course Hours : Wed & Fri 4:00 – 6:00 P.M. Thailand time 
Upper Beginner (20 hours | 5,900 Baht)
Course Duration: 29 July – 30 Sep (10 weeks)
Class Duration: 2 hours per lesson for 10 lessons
Course Hours : Thursday 8:00 – 10:00 A.M. Thailand time