I was one of the bridesmaids of my good friend's wedding. It was a lovely party all around. Every couple has their own how-we-met story, and we were talking about what really brought them together. I would like to share an interesting side of the love story related to Thai believe.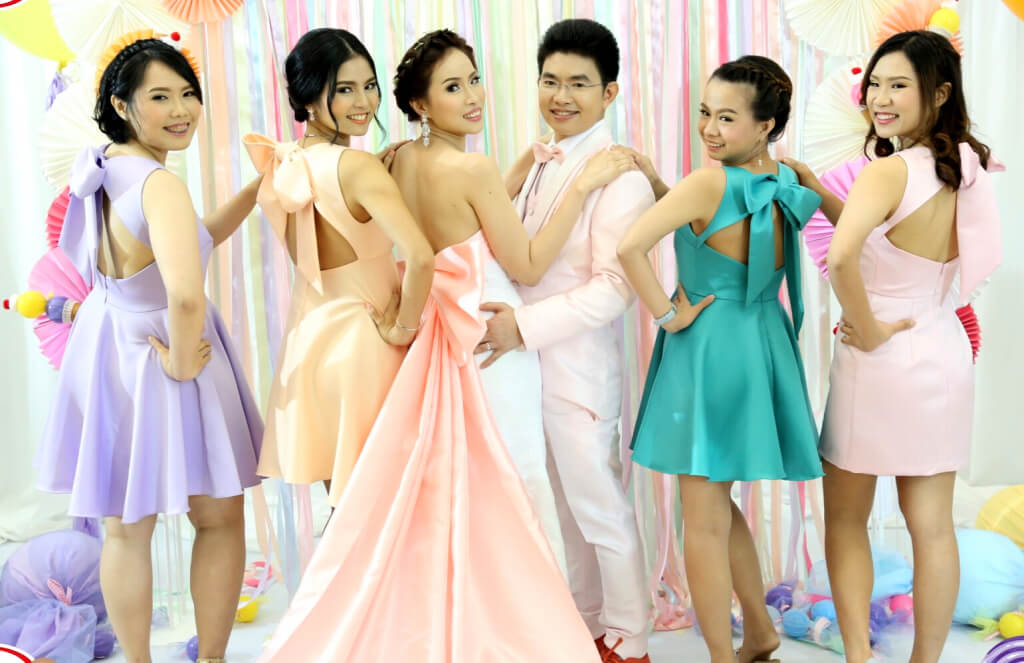 I believe many of you have been to Bangkok and have heard of the Central World shopping mall in Chitlom skytrain station. When talking about Central World one of the things Thai people will think of is the Trimurti Shrine which is known as Bangkok's Shrine of Love.
Everyone in the wedding knows the story that my friend's sister introduced my friend Sai to her groom so they started dating, but only us bridesmaids know that before she met her husband-to be, Sai went to worship Trimurti shrine (ศาลพระตรีมูรติ) and asked to meet her soulmate within three months. The god answered her wish and Sai met her boyfriend exactly three months after that. And today they are husband and wife with one adorable son.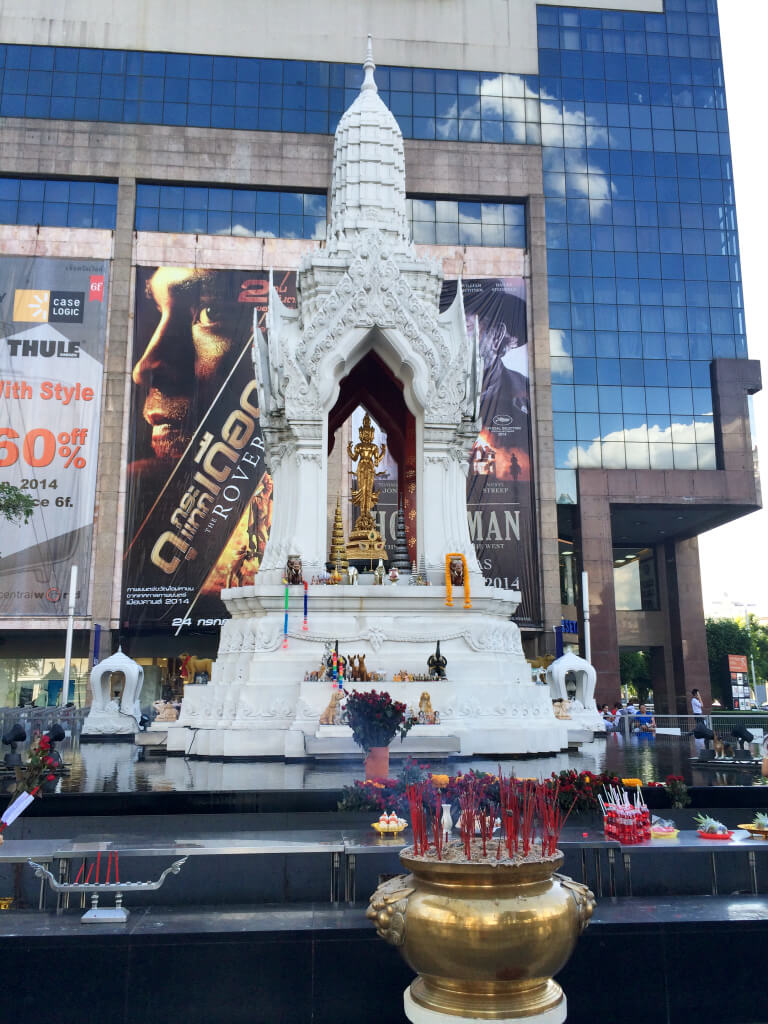 At the dining table in the wedding my friends and I were talking about how sacred the god of love really is. Surprisingly, all of us know someone who has worshiped the shrine and then tie the knot soon afterwards.
A good friend of mine who is now married to a Korean guy, and they have one son together. She also told me that she worshiped the Trimurti god a few weeks before she met her husband in the Bangkok MRT.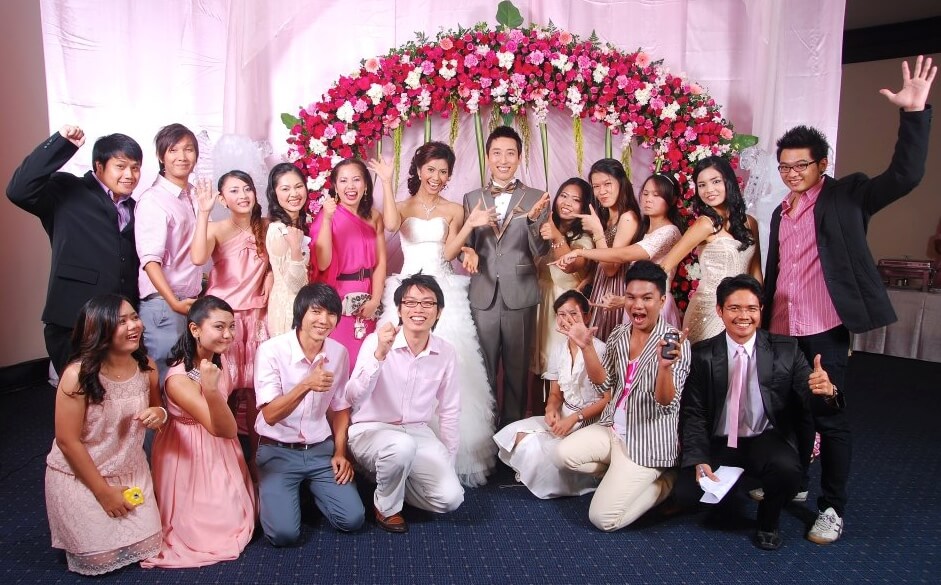 The boyfriend of my friend who was also a bridesmaid in this wedding told us that before they met, he went to make a wish from the shrine. Now they have been married for a few years and my friend just gave birth to a beautiful son.
So if you are still single and would like to welcome true love to your life, here is what you do.
Prepare 9 red roses or a rose flower garland
9 red incense sticks.
One red candle (for a single person) two red candles (for a couple who would like to tighten the relationship.)
Sit in front of the shrine and say the prayer which is written on a stone below the shrine. Then offer the roses to the god and put the candle and incense sticks in the pot.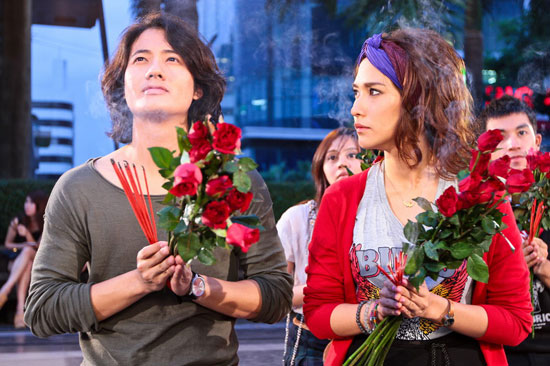 Photo Credit: horoscope.sanook.com/20213/
It is believed that the best time for asking wishes from the Trimurti shrine is Thursday 9:30 am or 9:30 pm. On Thursdays the shrine is always crowded, and you have to wait for your turn but this is such a small thing to do for love, isn't it? J
If your wishes come true you have to present the gift to the god. People usually give coconut, milk, sugar cane juice and sweets.
Many believers claim Trimurti god is especially successful in matching foreign mates with Thai lovers.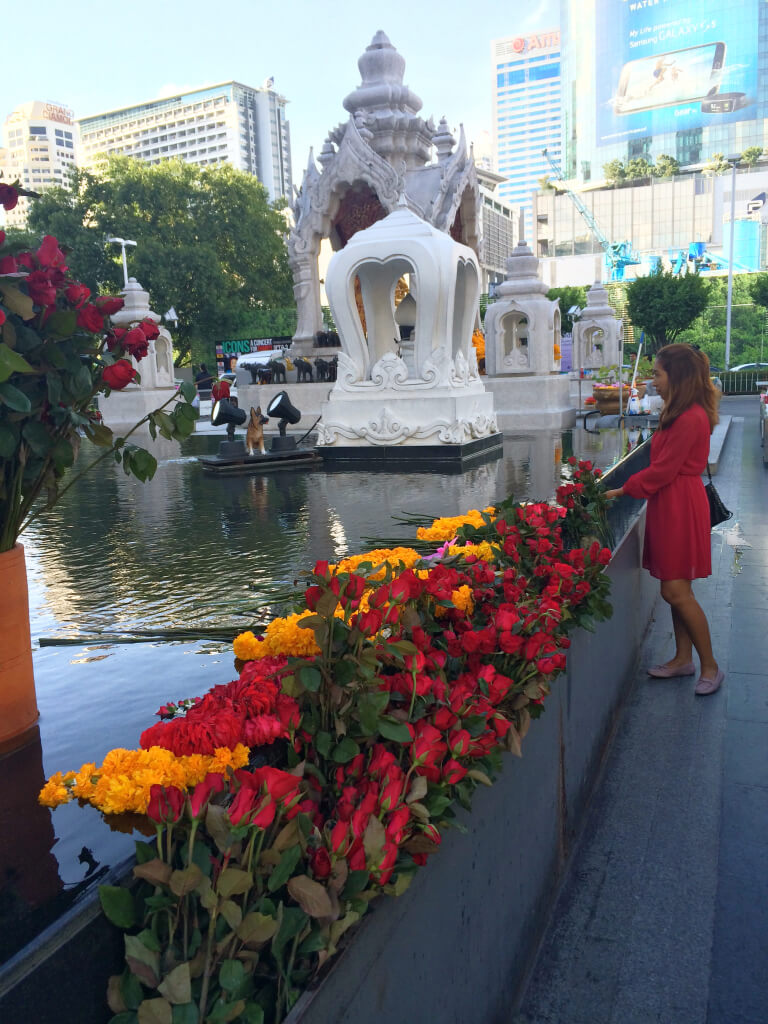 About Trimurti god:
In Hinduism, Trimurti represents the three aspects of God: Brahma (the Source/Creator), Vishnu (the Preserver) and Shiva (the Transformer or Destroyer).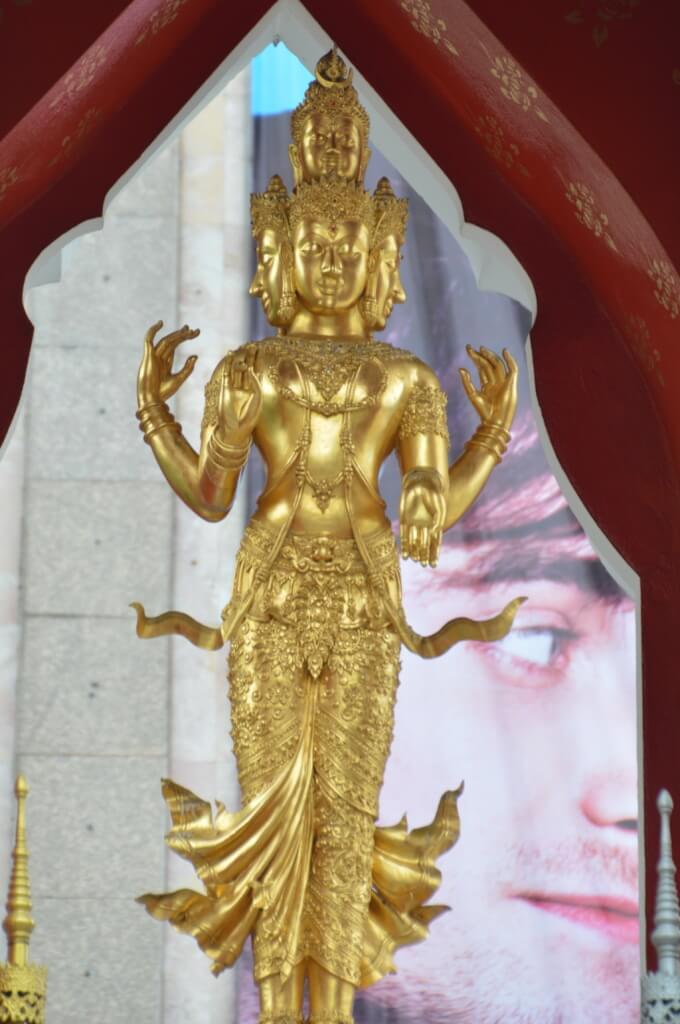 The deity is a gold statue of a human body with two heads and four arms. The heads are one on top of the other, and the lower head has four faces. Built in 1989, the Trimurti Shrine is on a raised platform, sheltered by a dome on four pillars with elaborately carved gables at the four sides. There's an open area around the shrine with a ring of seats for worshippers to sit and reflect. Crafted in classical Indian sculpture with a Thai touch, the statue is a replica of the original from Ayutthaya.
However, I have read that the Trimutri situated in front of the Central World is actually five-headed Shiva but local people call the statue Trimurti.
So, if you would like to meet your match when you are in Bangkok next time why not give it a go. Please let me know the result. 🙂
YOU MIGHT ALSO LIKE: