The short film tells a story of a beautiful young traveler named Anna who comes to visit her Thai boyfriend, but their journey takes an appetizing yet sour turn.
Anna eats like a monster, to the point she is left in a food coma suffering "jawbone syndrome" from all the delicious street food; grilled pork, fried meatballs, som tam, noodles… the list goes on.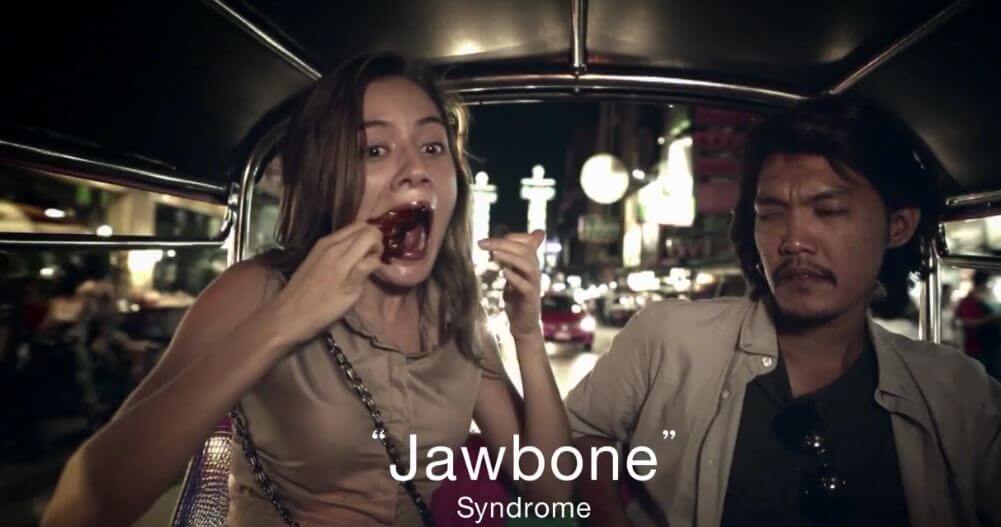 I find this video very funny and thought it is a good material for Thai language learners to practice listening skills.
Thailand's Top Adman Awards Night 2015 announced "Pray for Anna" an ad of Thailand's tourism to receive Award of Bronze of Viral Advertising in Viral Marketing , Incl. Viral Video & Other Viral. Pray for Anna is under branding of the Tourism Authority of Thailand and created by Leo Burnett Group Thailand.
Interesting sentences from the video:
นักท่องเที่ยวต่างชาติต้องเตือนสติตัวเองอยู่เสมอ
nák-tâwng-tîao dtàang-châat dtâwng dtuean sà-dtì dtua-eeng yùu sà-mĕr
Foreign tourists must be aware at all time.
อาการ Jawbone Syndrome คือ อาการ กรามค้าง
aa-gaan  Jawbone Syndrome kue aa-gaan graam káang
Jawbone Syndrome is the symptom that the jaw gets stuck.
ของกินหาง่าย อะไรก็อร่อย เปิด 24 ชั่วโมง
kăwng-gin hăa-ngâai, à-rai gâw à-ròi, bpèrd yîi-sìb-sìi chûa-moong
Food are easy to be find, everything is delicious and available 24 hours.
กินเยอะไป กรามก็ค้าง ท้องก็อืด
gin yér boai graam gâw káang, táwng gâw ùed
When you eat too much, your jaw will stuck and you will be flatulent.
กินเหมือนปอบลง
gin mŭean bpàwp long
She eats like a 'Porp' (Thai ghost Pee Prop can either go on to eat somebody else's intestines in order to survive or they eat the intestine of the body they possess until the host dies during sleep.)
ไม่เคยเจอใครกินเยอะขนาดนี้
mâi keoi jer krai gin yér kà-nàat níi
I have never met anyone who eats this much.
แอนนา หรือ อนาคอนด้า
Anna rŭe Anaconda
Anna or Anaconda.