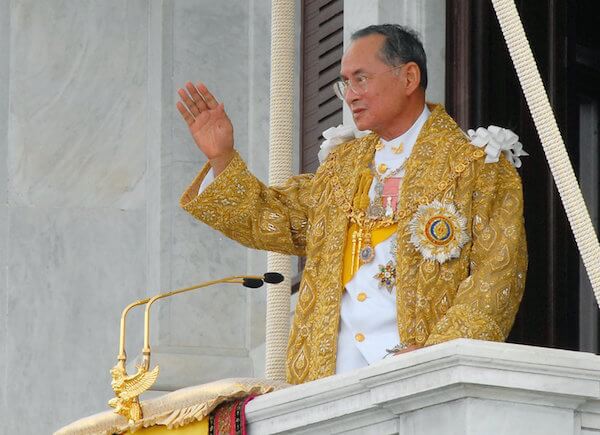 One of the most important days in Thailand is Father's day (วันพ่อแห่งชาติ, wan-pôr-hàng-châart)
It is celebrated on December 5 which is the birthday of His Majesty King Bhumibol Adulyadej (วันเฉลิมพระชนมพรรษา, wan-chà-lěrm-prá-chon-má-pan-săa), the monarch of Thailand. King's birthday is a national holiday and is celebrated all over the country.  December 5, 2015 is the King's 88th Birthday Anniversary.
His Majesty the King commands great love and respect among his subjects. His birthday is regarded as a very significant day in Thailand. Thai people throughout the country take this special opportunity to express their reverence for the King. In the evening, they will gather at main avenue in their  provinces such as the city hall and light candles also sing the song of the King to wish His Majesty many happy returns of the day and a long life.
The royal language to wish His Majesty many happy returns of the day and a long life is ทรงพระเจริญ – song-prá-jà-rern meaning 'long live the King'
All public structures and homes in Thailand are eleborately decorated with flags and lights, predominantly of yellow color. Capital Bangkok, specially Grand Palace and Ratchadamnoen Avenue areas, exude pageantry, adorned with thousands of flowers. Thai skies sparkle with elaborate fireworks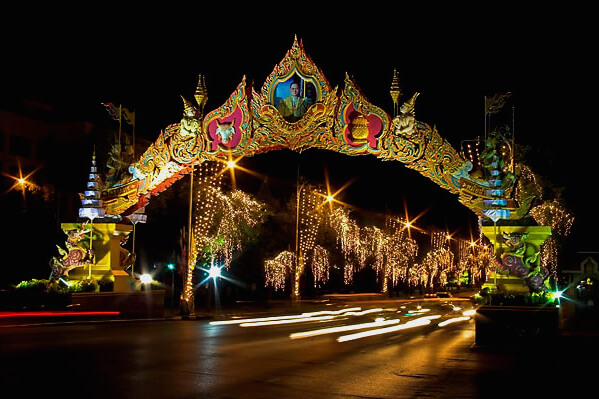 Bangkok is the best place in the country to enjoy the celebrations. Do remember that streets around Sanam Luang and Ratchadamnoen are prohibited to traffic. One can reach the area, and just stroll on the streets, traffic-free but brimming with people, watching the glittering sky and taking photograph with the beautful buildings decorated with lights.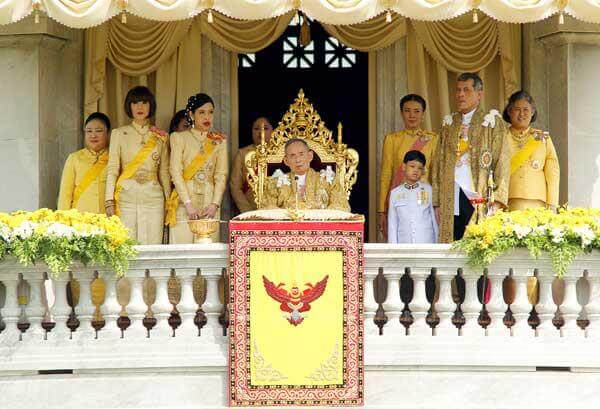 Each year, H.M. the King spoke about Thailand during his landmark birthday speech. During those speeches, the King provides opinions and reflections on the state of the nation.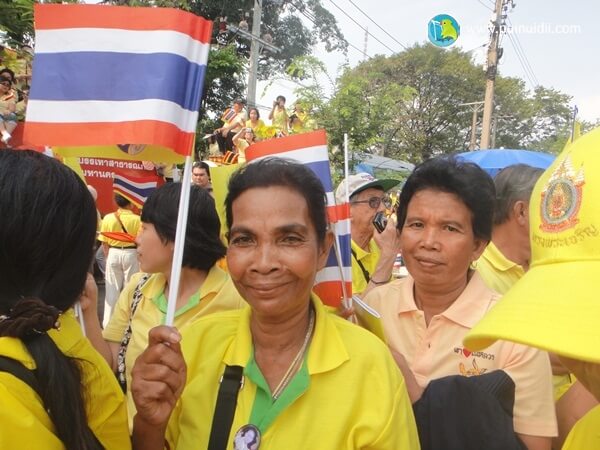 Yellow Shirts 
You will see almost every Thai person wearing yellow shirt on Dec 5. The king was born on Monday and yellow is the color of his birthday.
Yellow shirt sales are on the rise in all areas of the country. All government departments  have issued  internal circular letters seeking  cooperation from every section to have government officials, administrators and state employees wear the yellow shirt which represents the color of His Majesty's birthday in order to show respect and loyalty and to be grateful to the King.
Fun Fact
The King has one of the longest official titles in the world! His unabridged, official name is, "Phra Bat Somdet Phra Poramintharamaha Bhumibol Adulyadej Mahitalathibet Ramathibodi Chakkrinaruebodin Sayamminthrathirat Borommanatbophit" This roughly translates as "Strength of the Land".
Thai Language Learning Points
I would like to share with you the words "father/ dad/ daddy"  in Thai language:)
I am sure many of you have already known 'father' in Thai is พ่อ [pâw], but not everyone calls their father "พ่อ pâw". Let's learn other words as well.
Thai – Isan (Northeastern dialect) use the word อีพอ [e-paw]
Thai – Chinese people use the word ป๊า [bpáa] , อาป๊า [aa-bpáa] or ปะป๊า [bpà- bpáa]
Thai muslim people use the word ป๊ะ [bpá]
You might see the word บิดา[bì-daa] which is a very formal expression for father and it is only seen in written form.
 10 Thai words formed with the word "พ่อ pâw (father)"
1. พ่อ pâw + บ้าน bâan (house) = househusband
2. พ่อ pâw + สื่อ sùe (communicate) = male matchmaker
3. พ่อ pâw + เลี้ยง líang (look after) = stepfather
4. พ่อ pâw + บุญธรรม bun-tam (adopted) = adoptive father
5. พ่อ pâw + ตา dtaa (father of mom) = father of wife
6. พ่อ pâw + ครัว krua (kitchen) = male cook
7. พ่อ pâw + ค้า káa (sell) = male seller
8. พ่อ pâw + มด mót (ant) = wizard
9. พ่อ pâw + ม่าย mâai (widow) = widower
10. พ่อ pâw + ทูนหัว tuun hŭa (beloved) = godfather
The common expression Thai people say to one another in this day is สุขสันต์วันพ่อ[sùk-săn wan pâw] Happy Father's day.
Let's recap useful expressions commonly used during this significant day;
– ทรงพระเจริญ /song prá jà-reon/ = Long Live the King
– เรารักในหลวง /rao rák nai-lŭang/ = We love the king (Thai people call the king ในหลวง /nai lŭang/)
– สุขสันต์วันพ่อ /sùk-săn wan pâw/ = Happy Father's Day
– ปั่นเพื่อพ่อ /bpàn pûea pâw/ = Bike for dad