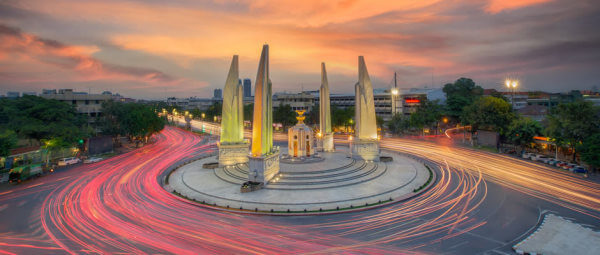 December 10th marks the Constitution Day, in Thai is "wan rat-ta-tam-ma-noon" (วันรัฐธรรมนูญ) which is held annually to commermorate the advent of the regime of Constitutional Monarchy in Thailand
At the start of the 1930s, Thailand (then called '*สยาม Siam') was suffering economically from the effects of the great depression. The king at the time was Rama VII was seen by many to not have enough experience to deal with all the issues that were affecting his country.
This led to a group of intellectuals and senior military personnel forming a group which was known as "People's Party or คณะราษฎร Khana Rasdr" was led by Luang Pradit Manudharm (Pridi Panomyong). To avoid bloodshed, King Rama VII graciously agreed to abolish absolute monarchy and handed over the country's first "Permanent" Constitution. In fact, King Rama VII (King Prajadhipok) had prepared, even before being asked, to hand over his powers to the people.
Under the new constitution, the king and monarchy remained in place with the king as head of state, head of the military and defender of all religions.
The government of Thailand was an absolute monarchy until June 24,1932. Even though the Revolution of 1932 brought an end to the centuries old absolute monarchy, the reverence of the Thai people towards their kings has not been diminished by this change.
Celebrations
on 
Constitution
Day
involve
the
people
thanking
the
monarchy
for
granting
them
a
chance
to
take
part
in
running
the
country. 
Portraits of Thai kings are displayed through out the kingdom. The entire nation is greeted with festivity. The government offices, private buildings and most highrises are decorated with national flags.
The Democracy Monument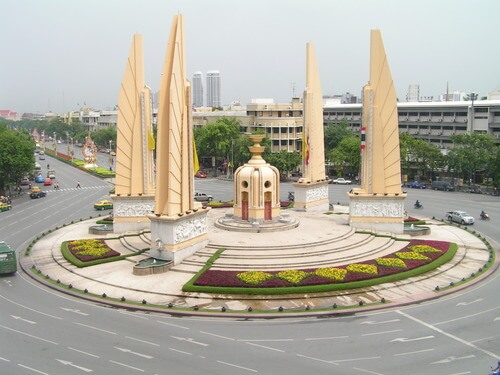 The Democracy Monument or in Thai is called 'อนุสาวรีย์ประชาธิปไตย Anusawari Prachathipatai' is a public monument in the centre of Bangkok.
The monument was commissioned in 1939 to commemorate the 1932 Siamese coup d'état (also called "Siamese Revolution of 1932" or just 1932 Revolution) which led to the establishment of a constitutional monarchy in what was then the Kingdom of Siam, by its military ruler, Field Marshal Plaek Phibunsongkhram. Phibun saw the monument as the centre of what he envisaged as a new, westernised Bangkok, "making Thanon Ratchadamnoen (Ratchadamnoen road) the Champs-Élysées and the Democracy Monument the Arc de Triomphe."
Fun fact
 *It was believed that Siam derived from the Sanskrit word syam, or "brown race", with a contemptuous signification. The country's designation as Siam by Westerners likely came from the Portuguese, the first Europeans to give a coherent account of the country.
On July 20th, 1948, the Siamese constituent assembly voted to change the name of Siam to Thailand, the change to come into effect the following year. เมืองไทย Muang Thai or ประเทศไทย Thailand means 'land of the free' and the name had been changed before, in 1939 under the fascist military dictatorship of Field Marshal Luang Phibunsongkhram.
Info & photo credit: Wikipeidia, Encyclopaedia, HistoryToday.com, Officeholidays.com