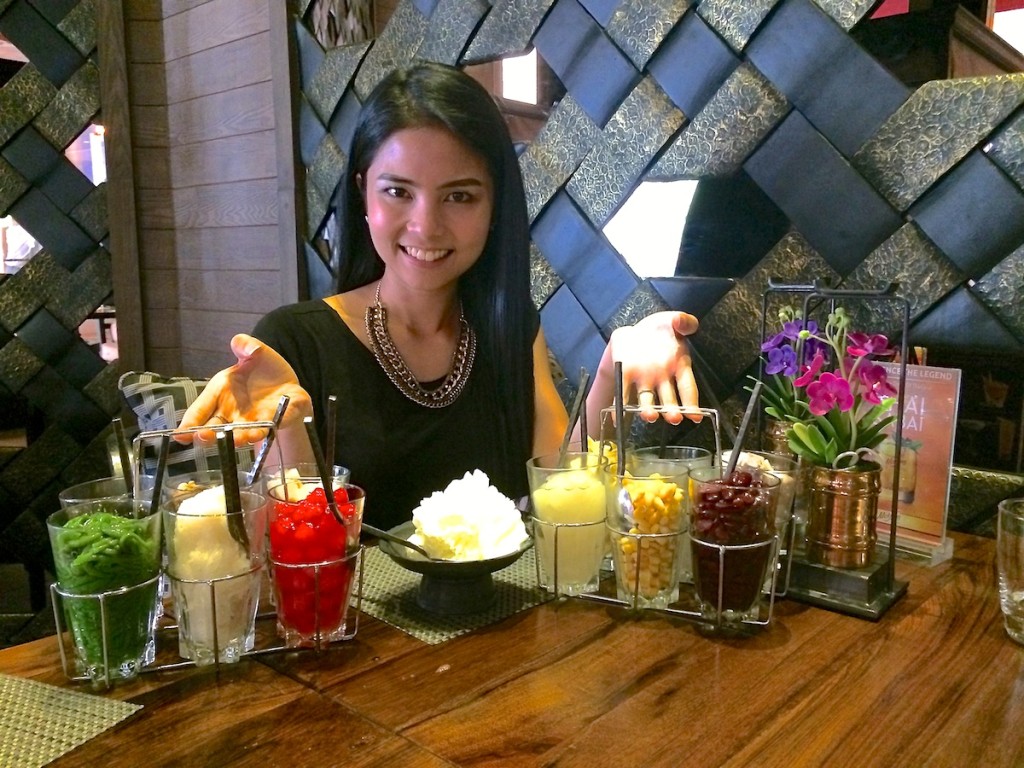 One of the best ways to beat the heat in Thailand is by eating ice-cream.
There were not a lot of dairy products in the old time, so Thai people began to make "ice cream" from coconut milk (ไอศกรีมกะทิสด /i-sà-griim gà-tí-sòt/ or ไอติมกะทิสด /i-dtim gà-tí-sòt/ ). Even now, when dairy products are available in Thailand, the ice cream made by vendors and hawkers is often made solely from coconut milk or from a combination of dairy milk and coconut milk. Although slightly different from the Western product, it is unique and flavorful.
One of the most fascinating things about Thai ice cream is the way it is served. Traditionally, Thai serve coconut ice-cream with variety Thai dessert toppings. The common toppings you will find at any Thai ice-cream carts are;
ลอดช่อง Lod Chong – green noodles made from flour and pandan leaves
ทับทิมกรอบ Tub Tim Grob – water chestnut cubes coated in tapioca flour ("Tub Tim" means "ruby" and "Grob" means "crunchy")
ลูกชิด Luk Chid – Palms seeds in syrup
ข้าวเหนียวหวาน sweet sticky rice
ถั่วลิสงคั่ว roasted peanut
สับปะรดเชื่อม Sweetened pineapple
ข้าวโพด Corn
ขนมปังหั่นลูกเต๋า Diced bread
Another Thai way to eat ice cream is an authentic ice cream sandwich, made with a real bun (ไอติมขนมปัง i-dtim kà-nŏm bpang). The bun is opened.First, you just choose your toppings (2-3 items) and they will be put in the bottom of the bun, then a few ice-cream scoops are put in a row. The ice cream and bun are then eaten like a hot-dog!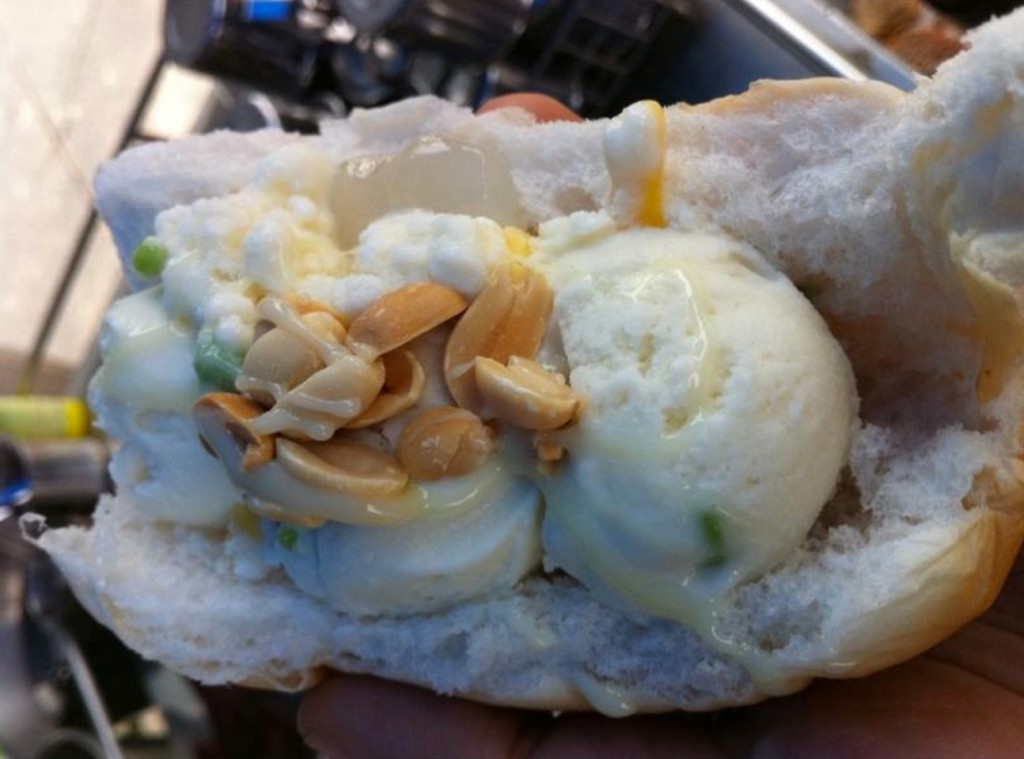 From high quality expensive ice cream parlors to cheap street served ice cream from bicycles carts, you'll enjoy eating a frozen sweet treat on a hot day in Bangkok. So, next time you visit Thailand, be sure to grab yourself an authentic Thai style ice cream.
Venues:
[1] street vendors serving ice-cream are commonly found throughout the country.
[2] Nara :  7th floor of Central World shopping mall
[3] Apinara : 2nd floor of Groove @ CentralWorld  shopping mall