Sawatdee ka,
Yesterday, I went for  lunch at a Thai restaurant in Silom road, and they served customers complimentary Miang Kam. I was very happy because I  haven't had Miang Kam for a very long time. I used to eat it a lot when I was a kid.
เมี่ยงคำ Miang Kam is a traditional Thai snack. In the old times it was served only among members of the royal family. The reason was that the ingredients for Miang Kam had to be delicately prepared – ginger had to be equally cut into a dice , shallots to be finely thin sliced, lime to be cut into small squares with a very thin peel, and dried shrimps selected the same size. These days you can easily find Miang Kam from street vendors.
Miang Kam can be eaten all the time, but it is most popular during the rainy  season  because there are a lot of  young leaves (ใบชะพลู piperaceae leaves) that  are most tasty and delicious. These leaves have  very high nutritional value. It helps  your digestion, and the leaves are full of vitamin C, iron and calcium.
There are three main elements to make Miang Kam [1] piperaceae leaves [2] filling [3] sauce
Fillings are: roasted grated coconut, finely diced ginger, finely diced  shallots, unsalted roasted peanuts, small dried shrimps,  finely diced  lime, and chopped green bird's-eye chilies.
Sauce is made from shrimp paste, shallots, galangal, ginger, grated  coconut, unsalted peanuts, and palm sugar.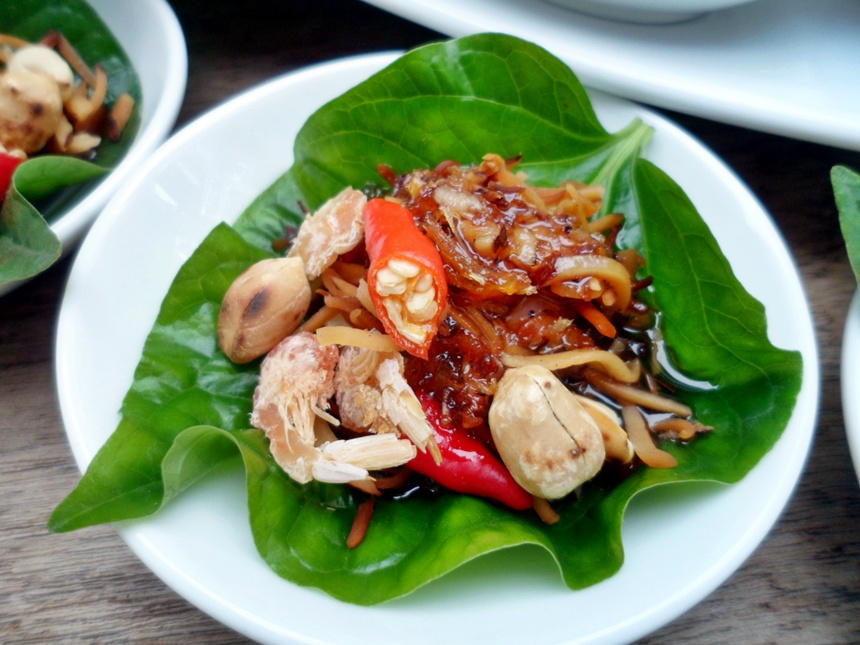 How to eat Miang Kam
Take a leaf and place a small amount of each of the filling ingredients in the  middle, top with a spoonful of sauce, and fold up into a little package. Pop the  package into your mouth and enjoy the fresh, springy taste.
Ahh.. I think I have to go and get more Miang Kam today.
Have you tried Miang Kam before? How do you like it?
Mod