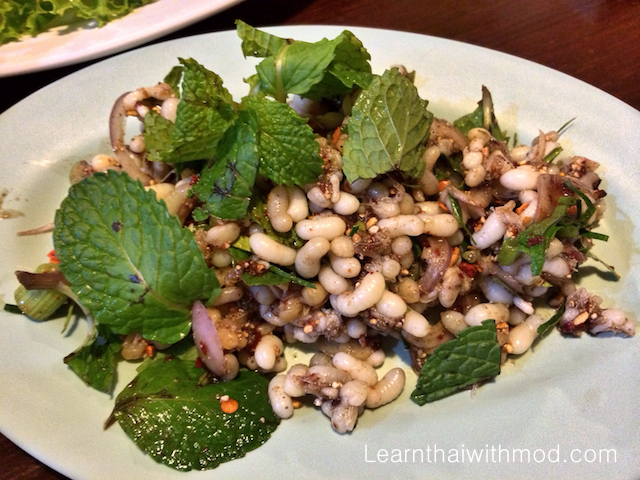 I am from Southern Thailand, but I love to eat Isan food (Northeastern Thai food), I believe all Thai do. Northeastern Thai street vendors or restaurants are in every corner of Thailand.
The food of Isan is very hot and flavored with pungent herbs and seasonings. The common Isan dishes you perhaps have tried or heard of are ส้มตำ Som Tam (Shredded green papaya, tomatoes, hot red chillies salad) , ลาบ Larb (Spicy Minced Meat Salad), น้ำตก Nam Dtok (a dish similar to Larb but using bite-size pieces of meat rather than minced meat) . The Isan dish is usually served with sticky rice (ข้าวเหนียว Kaao Niao) and a plate of fresh herbs and vegetables.
Yesterday, I was craving for some spicy Isan cuisine so I headed to my favourite Isan restaurant in soi Sukhumvit 31 called บ้านอีสานเมืองยศ Baan E-San Muang Yos. I finished the usual orders and my stomach was not satisfied so I looked for more food in the menu. Then I saw 'recommended dishes' on a board on their wall, and one of them was ก้อยไข่มดแดง Koi Khai Mot Dang ( Spicy Raw Ant Eggs Salad). "ก้อย Koi is another similar dish to Larb, but using raw meat as the main ingredient.
Ant eggs are common food for people in Thailand's northeast. The eggs of red ants are good material to cook. They are clean and high of protein nutrients. Red ants eat mango leaves so their bodies taste like a squirt of lime, but their fresh eggs are fatty and sweet, they resemble the soft fluffy ends of mini barley grains, or soft 'rice bubbles' and have a delicate taste, soft appealing texture and a slightly tart edge.
I talked to my friend who is from Kalasin province in the Northeast. She said ant eggs are her family's favorite food. A big smile was suddenly shown on her face when talking about it. She also told me about red ant eggs' hunting;
"Big red ants live in mango trees in a nest, sometimes on the very top. We need a basket tied to one end of a long stick and a bucket full of water. We poke the ant nest until the eggs fall into the basket. When we bring it down to the ground it's covered with very upset red adult ants! We put the whole basket into a large bucket of water and use the stick to stir the water, the eggs sink down to the bottom and the ants climb up on the stick and we just shake them off."
I told her that I tried Koi Khai Mot Dang ( Spicy Raw Ant Eggs Salad) for the first time yesterday. I was afraid to eat it, my brain was imagining all sorts of unusual stuff, but I closed my eyes and had one bite because I wanted to know what it tasted like. It was so spicy that I couldn't taste the eggs, I only felt juice came out when I chew them.
She told me that Ant Eggs are also used in dishes like "แกงผักหวานไข่มดแดง Gaeng Pak Wan Kai Mot Daeng" (Red Ant Egg Soup with Sweet vegetable), or added to an omelet "ไข่เจียวไข่มด kai Jiow Kai Mot.
Ant Eggs are seasonal food. They are available only in summer, from the end of February until June. As for as I remember I have seen dishes with ant eggs at Gedhawa, my favourite Northern restaurant, Nahm in Metropolitan hotel, and Huan Phen in Chiang Mai. I am sure they are available at other restaurants that serve Isan dishes as well. 🙂
Ingredients for Spicy Raw Ant Eggs Salad:
 1 Tbsp. Fish sauce
 1 Tbsp. Roasted rice
1 Tbsp. Spring onion
2 Tsp. Chopped coriander
 7-10 Mint leaves
 2 Tsp. Grounded pepper
 1/2 Tbsp. Lime juice
 Vegetables
1. Knead all ingredients together gently.
2. Put the seasoning. Then add the remaining vegetables, stir until well combined. Serve with fresh vegetables.
Another most adventurous dish I've eaten was cow's brain. If you would like to try, see HERE where I tasted it.
Have you tried ant eegs or other exotic  Thai dishes ? I'd love your comments or suggestion. 🙂
YOU MIGHT ALSO LIKE: