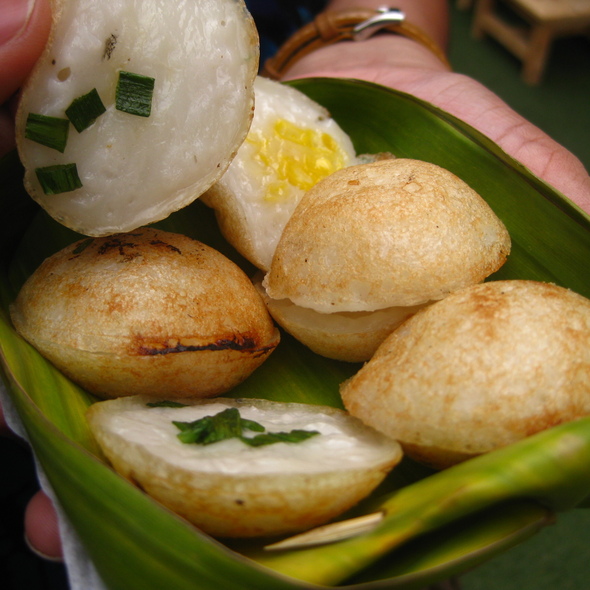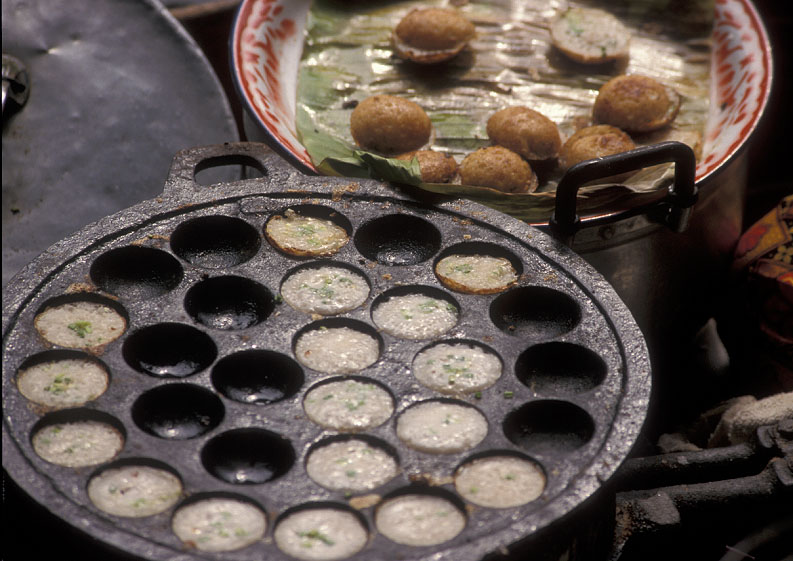 Kanom Krok is Thai sweet and savory dessert commonly found on streetside throughout Thailand.
Kanom Krok is prepared in a cast iron pan with small round indents in it (กระทะขนมครก gra-ta kanom krok). Usually the pan is placed directly over charcoal in a round clay oven.
Kanom krok has two layers; bottom layer and the topping. When the first rice flour mix is cooked, then the sweet coconut milk topping will follow. After the cakes are cooked, the hemispheres are usually placed on top of each other to make little spheres.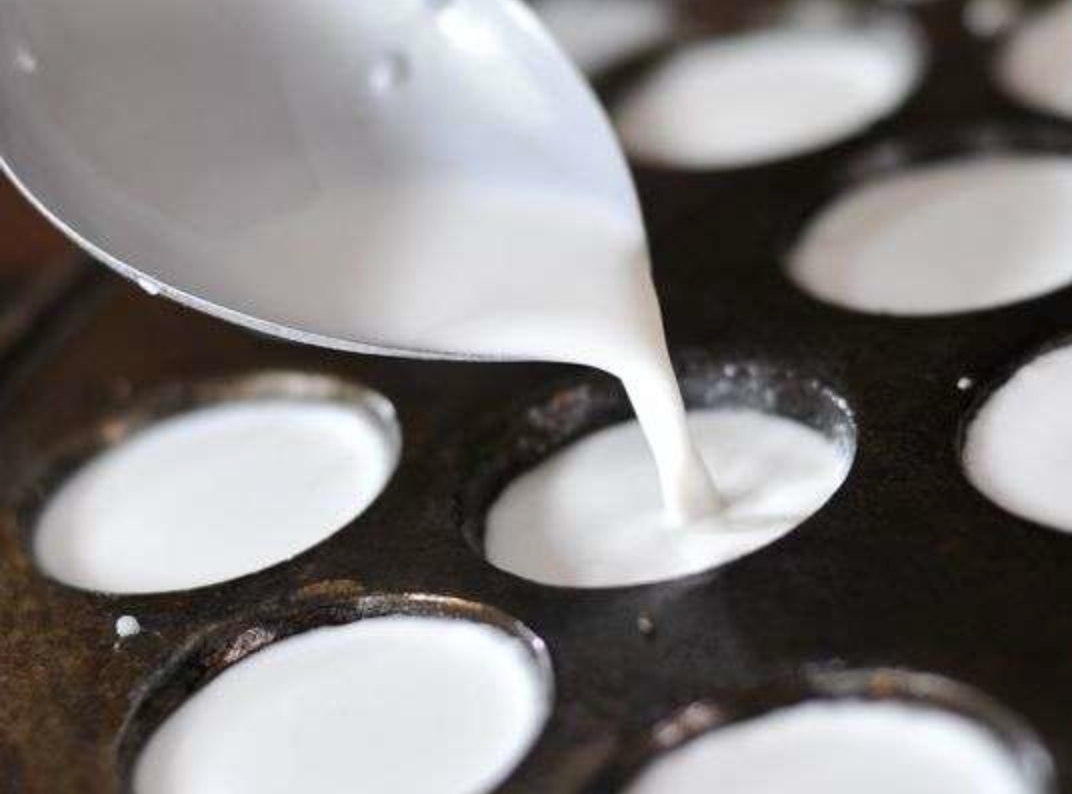 ขนม Kanom means snack, ครก Krok in Thai means  'mortar', but Kanom Krok has nothing to do with mortar. I was wondering then why it is called such name so I searched and fond this interesting love story;
Long time ago in a village, there was a man named Gati (in Thai means 'coconut cream'), he fell in love with the most beautiful girl of the village named Pang (in Thai means 'flour') who was the only daughter of the village headman. They met on Loy Kratong Day, and made a promise in front of the moon that they will love each other forever despite any barrier.
Gati was working hard to save money for getting married to his girl, but the father rejected him because of his poverty. One day he was hurt by a group of men sent by the village headman, but it didn't make him give up for his love. He was willing to go back to negotiate with the father until he approved.
 Unfortunately, the village headman made his daughter married a deputy from Bangkok. Gati heard about this bad news and he was going to stop the wedding. The night before the wedding day, Pang found out about his father's evil plan that he made a trapping pit on the way from Gati's home to Pang's premises to hurt him, so she sneaked out of her house to let him know. It was a dark night and Gati was on his way to see Pang as well. They saw each other from far away, with so much joy Pang ran to Gati and fell in to the pit. Gati jumped in there trying to help her. The village headmand' lackies saw only Gati falling in the pit, they buried him right away.
The next morning, the village headman dig the ground wanting to see that his plan was successful, but what he saw was Gati and Pang died in each other arms.
The villagers knew about this sad news, to remember Pang and Gati's love they made Thai dessert that were made of coconut cream and flour and cooked in cast iron pan with small round indents in it. Then putting one on top of the another making a whole as a symbol of two of them will be together forever.
They named this sweet ขนมแห่งความรัก Kanom Haeng Kwaam Rak meaning Dessert of Love, or ขนมคนรักกัน Kanom Kon Rak Gan and later it is called in short ขนม ค-ร-ก Kanom Krok (ครก in Thai is read KROK).
Sad story for very lovely dessert. Anyway, have you tried Kanom Krok before?