If you are familiar with the Thai culture or have Thai friends, I am sure you know that all Thai people are grown up with superstitious beliefs and taboos. Some are still believed to be true, and some are now used to tease friends. Although I don't really believe in any superstitions, I think these are worth sharing.
1. ห้ามตัดผมวันพุธ Do not cut the hair on Wednesday. I have a post about this superstition in detail here.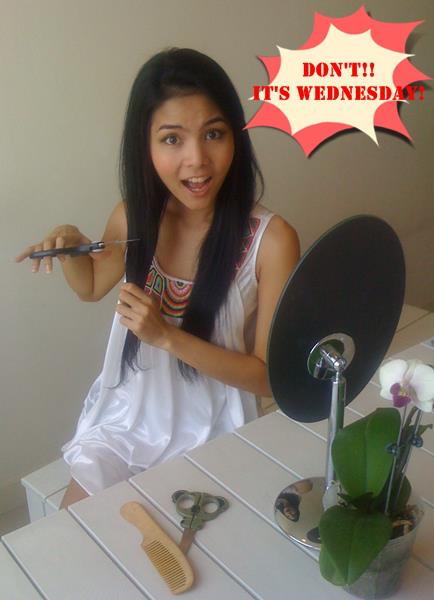 2. ชิ้นสุดท้ายแฟนหล่อ Lucky person finish the last piece
If you get to eat the last piece of food in the plate when sharing with your friends , you will get a handsome boyfriend or good looking girlfriend.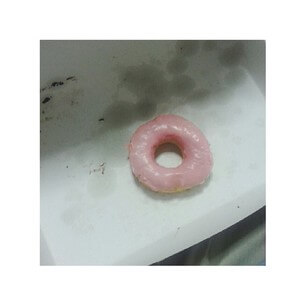 3. จิ้งจกทัก ห้ามออกจากบ้าน Don't leave home if you hear a gecko!
If you hear a gecko before you leave your home, it is a sign that you will experience bad incident. The lizard is warning you that something bad will happen to you, so you should stay inside.
Credit photo: mythland.org
4.  ฝันว่างูรัดจะเจอเนื้อคู่  If you dream of a snake, you will meet your soul mate.
If you dream about snakes wrapping itself around your body that means your soul mate is on his/her way! In the case you already have a girlfriend, boyfriend, or are already married and you dreamt that you found a snake, someone is having a crush on you!
5. เขม่นตา ขวาร้าย ซ้ายดี if you right eye twitches it means something bad is going to happen to you, but if it is the left eye you will have good luck.
6. ห้ามร้องเพลงขณะกินข้าว To single ladies: do not sing while cooking or eating, or you will end up with an old husband! This taboo came from the fact that the rice will be burnt (rice cookers didn't exist in the old time, and people had to use coal) or you will accidently cut yourself with the kitchen knife if you don't pay attention while cooking. This taboo was used to scare ladies working in the kitchen, as ladies at that time usually feared getting old husbands.
7. บีบแตรผ่านหน้าศาลหรือโค้งร้อยศพ  Honk when driving pass the shrine or curve
Thai drivers believe that when driving pass a shrine or a curve that had many accidents, you should honk to show respect to the souls living in that area. This belief actually just makes people alert when driving through a dangerous curve.
8. มองลอดขาจะเห็นผี You will see a ghost if you bend down and look between your legs. ( I have never tried to do this myself, I am too scared! )
9. อย่าชมว่าเด็กน่ารัก Never say a baby is cute because a ghost will come and take it away, so Thai people will compliment a cute baby with the expression "น่ารักน่าชัง nâa-rák nâa-chang" (adorable and unpleasant)
10. อย่าชี้รุ้งกินน้ำ Your finger will fall off if you point at a rainbow.
11. ถ้าจามแปลว่ามีคนคิดถึง If you sneeze, it means someone is missing you or someone is talking about you.
12. If you are talking about someone and suddenly he/she shows up or hear from him/her, it means that person will live long. Thai people say ตายยาก /dtaai yâak/ like in English expression that says 'speaking of the devil'.
13. Always consult the monk or fortune teller to get the good date (in Thai is called ฤกษ์ rêrk) for wedding or taking a new car out of the showroom , prior to installing the foundation pile for a new house, and arrange house warming party. Some new-generation Thai might not believe in the above superstitions, but most Thai sees this practice very important.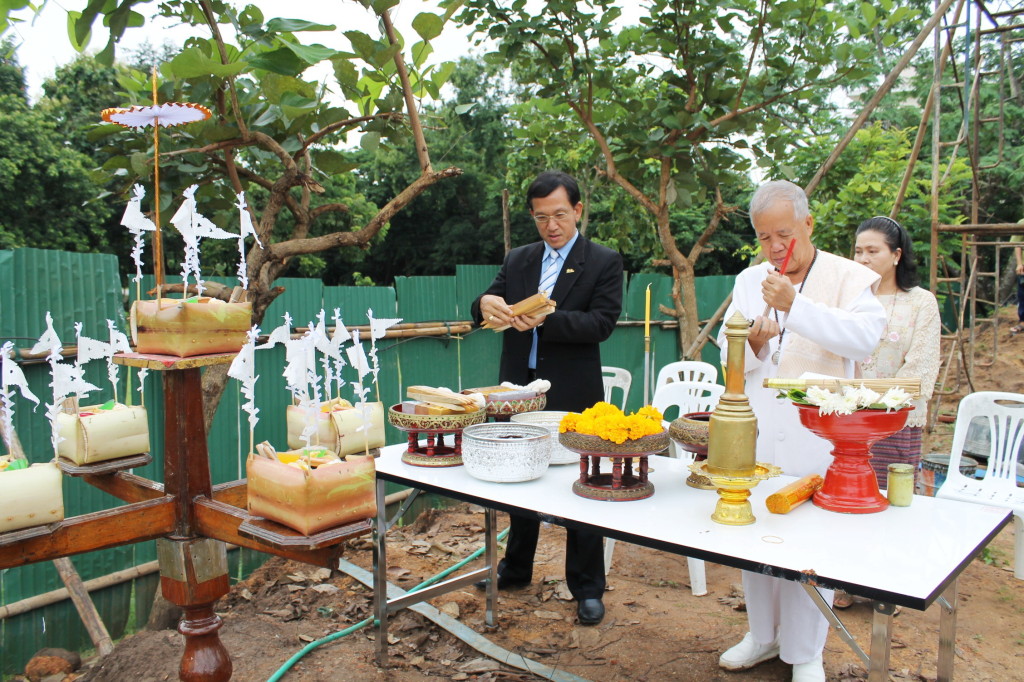 Credit photo: hs.cru.in.th
My friend's family strongly believes this kind of thing, they even have a family's fortune teller who tells if a person is suitable to be a son or daughter-in-law of the family. My friend had to stop seeing her boyfriend because their fortunes didn't match.
14. It's raining cats and dogs
Some believe that virgin women have a special power to prevent rain from pouring!  If you don't want to have a rainy day , you can give a virgin lady a lemongrass and ask her to stick it onto the ground (This ritual is called ปักตะไคร้ bpàk dtà-krái). The sun will shine all day (and you can also check if one is virgin) Amazing no?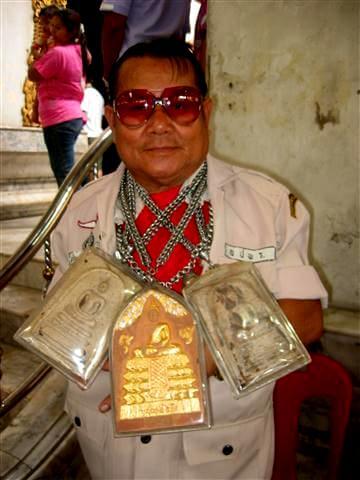 15. Most visitors to Thailand might have noticed that many Thai people wear amulets (พระเครื่อง prá-krûeang). Amulets are special Buddha images, often gold-plated or silver plated and worn around the neck. They are believed to possess a variety of sacred powers such as the ability to protect the wearer from accident or illness.
Do you have similar belief in your culture? I am interested to know. 🙂