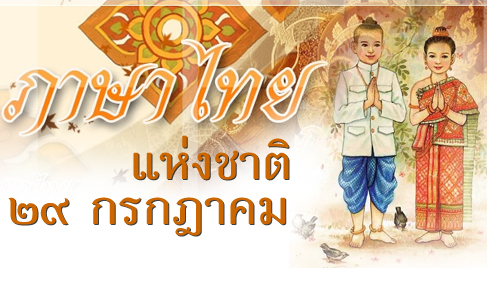 July 29th every year is observed as National Thai Language Day วันภาษาไทยแห่งชาติ /wan paa-săa tai hàeng châad/
On 29 July 1962, the King Bhumibol Adulyadej (King Rama 9) visited the Faculty of Arts of Chulalongkorn University, the oldest university in Thailand to join experts on the Thai language in a discussion on problems with using Thai words.
During the discussion, His Majesty urged people to be aware of the proper use of the Thai language. His participation in the discussion reflected his interest in the preservation of Thai cultural heritage. He also gave advice on the preservation of the language. He emphasized the importance of using correct pronunciations and local dialects.
Below is a part of his speech;
"…เรามีโชคดีที่มีภาษาของตนเองแต่โบราณกาล จึงสมควรอย่างยิ่งที่จะรักษาไว้ ควรจะใช้คำเก่าๆ ที่เรามีอยู่แล้ว ไม่ควรจะมาตั้งศัพท์ใหม่ให้ยุ่งยาก…" ปัญหาเฉพาะในด้านรักษาภาษาก็มีหลายประการ อย่างหนึ่งต้องรักษาให้บริสุทธิ์ในทางออกเสียง คือให้ออกเสียงให้ถูกต้องชัดเจน อีกอย่างหนึ่งต้องรักษาให้บริสุทธิ์ในวิธีใช้ หมายความว่าวิธีใช้คำมาประกอบประโยค นับเป็นปัญหาที่สำคัญ ปัญหาที่สามคือความร่ำรวยในคำของภาษาไทย ซึ่งพวกเรานึกว่าไม่ร่ำรวยพอ จึงต้องมีการบัญญัติศัพท์ใหม่มาใช้ … สำหรับคำใหม่ที่ตั้งขึ้นมีความจำเป็นในทางวิชาการไม่น้อย แต่บางคำที่ง่ายๆ ก็ควรจะมี
The students and lecturers were delighted having His Majesty as a discussant in the talks.
In year 1999, Ministry of University Affairs. Chulalongkorn University submitted the proposal to the Government to appoint July 29 National Thai Language Day to to honor His Majesty the King on the occasion of his 72nd birthday celebrations, and shows awareness of the importance and value of the Thai language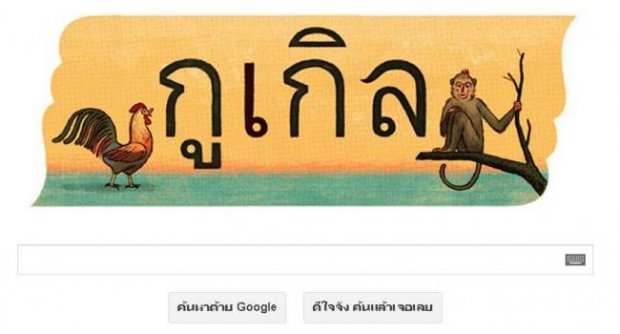 A poll in year 2012 showed that 85.3% of people surveyed in Bangkok and its neighbouring provinces were not aware of Thai language day. The survey also revealed some shocking results. According to the poll, 84.9% of people surveyed said they didn't know how many vowels existed in the Thai language. A number didn't know how to express the sound of each Thai syllable properly.
The Abac survey showed that the demographic group with the biggest problem using Thai is teenagers (at 80.6 per cent). Many youngsters are led to believe, by their peers and others, that it is cool to speak incorrect or slang Thai. They have seen radio and TV hosts using such language – and have heard these celebrity hosts mix up Thai with English.
(poll info from www.kat.ac.th)
Let's learn to speak Thai properly and correctly : )