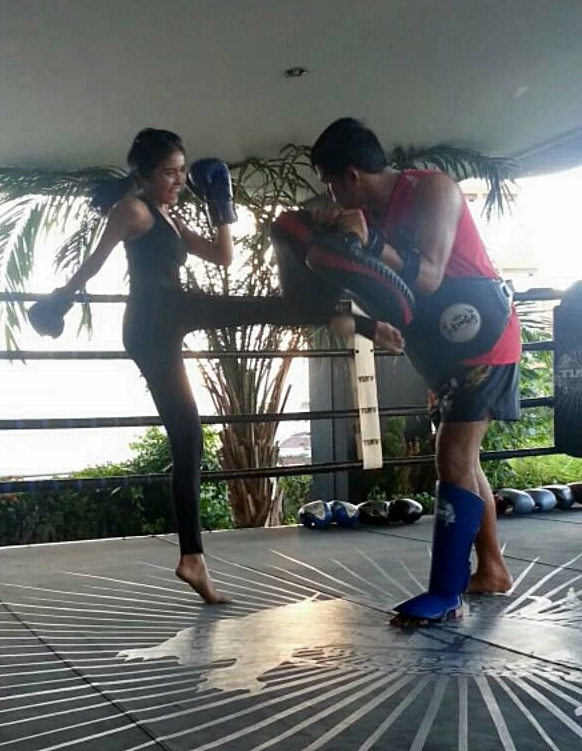 I started Thai boxing aka Muay Thai (มวยไทย) training recently. It is the best sport I have tried so far. It doesn't only give positive results the physical aspects; it also helps to gain a sense of inner strength, emotional balance, and creates a strong mind.
Muay Thai is a form of hard martial art practiced in large parts of the world, including Thailand and other Southeast Asian countries. Traditional Muay Thai practiced today varies significantly from the ancient art muay boran (มวยโบราณ) and uses kicks and punches in a ring with gloves similar to those used in Western boxing.
Muay Thai is referred to as "The Art of the Eight Limbs", as fists, elbows, knees, shins and feet are all used extensively in this art.
Main Technique
punch ต่อย /dtòi/
jab แย็บ /yáeb/
elbow ตีศอก /dtii sàwk/
kick เตะ /dte/
foot jab ถีบ /tìib/
Benefits of Muay Thai Training for Fitness
– You can improve your health and have a physically fit body by getting into Muay Thai training fitness programs, You may build stronger and more defined arms, stomach and legs.
– Muay Thai workouts allow you to burn out 350 to 500 calories or more in just an hour.
– It helps maintaining the heart rate at 75 percent to 85 percent regular beat.
– Muay Thai training improves your speed, resistance, and strength.
– Flexibility and the reflexes of the muscles are also enhanced. Repetitive motion on arms by hitting pads, punching heavy bags, and sparring helps your arms, stomach and legs gain strength and power.
– You will be able to learn more about self defense skills, which you may use in case of an emergency. You will also feel the satisfaction when you punch, kick, knee or elbow. Relaxation and self-motivation is also developed.
– You will feel a sigh of relief and feel that you are released from stressed. You may feel lightness into your body and peace of mind as well.
– It also helps you to gain a sense of inner strength and emotional balance.
(source:http://ocmuaythai.com)
Where to Learn Thai Boxing in Bangkok
[1] Tuff Camp (this is where I am training)
Location: 6th floor, Peter's Mansion, Ekamai Soi 2, Sukhumvit 63
More info: http://www.tuffcamp.in.th/
[2] RSM Academy (this is where many Thai celebrities go to workout)
Location: 3rd floor Seenspace, Thonglor Soi 13,  Sukhumvit 55
More info: http://rsm-academy.com/
[3] Kru Dam Gym ( Dam Srichan is a SEA games gold medalist in 5 categories of Martial Arts; Muaythai, Boxing, Kick Boxing, Karate -Do, and Taekwondo.)
Location: Soi Sukhumvit 24, behind Exporium shoping mall
More info: https://www.facebook.com/Dam.Srichan.MuayThai
When I was a kid I didn't like Thai boxing at all because I thought it was violent and not fun to watch. Now I am falling in love with this martial art.
Have you tried Muay Thai before? What do you think?