Sawatdee ka,
My mom bought me a box of  souvenirs when she came to visit me a few weeks ago.
When I opened the box I saw these strange looking things.
They are ไข่เค็ม /kài kem/ or salty eggs from Surat Thani's Chaiya district where they are famed for their distinctly red yolks and having the right balance of saltiness.   ไข่เค็ม /kài kem/ are traditionally made with  duck eggs because they are slightly larger than chicken eggs, and they have a bigger yolk.
The text printed on the box  is  the information that specifies the date until which the eggs can be fried, after which they are recommended to be boiled only. When you rinse the soil harvested from termite mounds (ดินจอมปลวก din jom bpluak) off you will see the beautiful clean white eggs inside.
My favorite salty egg dishes are 'salty egg spicy salad' ยำไข่เค็ม [Yam Kai Kem],  and 'Somtam with salty eggs' ส้มตำไข่เค็ม [Som Tam Kai Kem]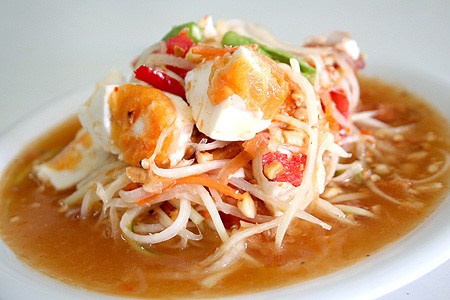 Do you like Kai Kem?
🙂
Mod