There were 37 Thai athletes participating in the 2012 Summer Olympics in London and three of them brought medals back home. Here are our winners;
1. Pimsiri Sirikaew, 22 won silver medal in women's weightlifting.
2. Chanatip Sonkham , 21 won bronze medal  in women's taekwondo 49kg.
3. Kaew Pongprayoon, 32  won silver medal in men's Light Flyweight Boxing 49 kg.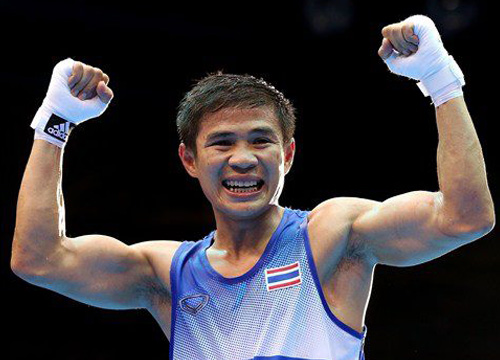 During Olympics I wrote a post teaching words of encouragement which can be used in everyday life too:)
Learn Thai with Mod's VOCAB
กีฬา [gii-laa]                             sport
เหรียญ [rĭan]                             medal
เหรียญทอง [rĭan tong]           gold medal
เหรียญเงิน [rĭan ngern]          silver medal
เหรียญทองแดง [rĭan tong-daeng]                 bronze medal
ชนะ [chá-ná]                             win
แพ้ [páe]                                      lose
ยินดีด้วยนะ[yin-dii dûai ná]  Congratulation!
Did you watch the Olympics and support Thailand?
🙂
Mod