The word ไว้/wái/ is hard to translate because there is no equivalent in English.
Thai people add the word ไว้/wái/ AFTER a verb of action, or verb phrase, to convey the idea that the action is being done for future use or reference.
It implies the meaning of "FOR LATER".
The structure is Verb + ไว้/wái/
Example 1:
แม่ทำของโปรดไว้ให้แล้ว
/mâe tam kăwng bpròod wái hâi láew/
Mom has made your favorite dish for you.
ไว้/wái/ describes that mom cooked food sometime in the past and she left the food for me to eat later.
Example 2:
A: คุณว่างไหมเย็นนี้
/kun wâang mái yen níi/
Are you free this evening?
B: ไม่ว่าง นัดเพื่อนไว้แล้ว
/mâi wâang, nát pûean wái láew/
I am not. I have agreed to meet up my friends.
ไว้ /wái/ is added after a verb to describe that "you have scheduled a meet up with your friends int he past and you will see her later".
Example 3:
You are planning to visit Thailand sometime in the future, and your Thai friend made a below suggestion to you;
คุณน่าจะเรียนพูดภาษาไทยไว้นะ
/kun nâa jà rian pûud paa săa tai wái ná/
This means "you should take Thai speaking lessons". It implies that you will not use the Thai language right away, but you may need to use it LATER in the future when you are actually in Thailand.
ONLINE THAI GROUP CLASSES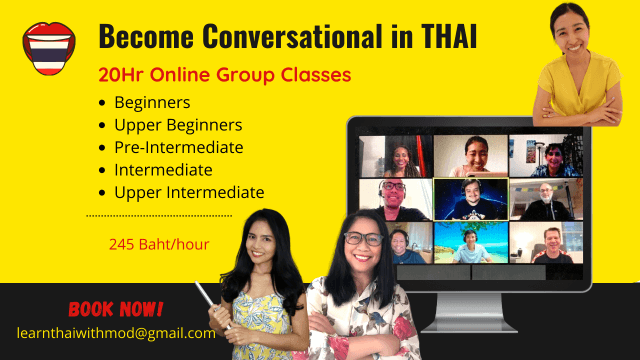 WOULD YOU LIKE TO IMPROVE YOUR THAI CONVERSATIONAL SKILLS?
Join our 20-hour online group classes. We offer classes for all levels from complete beginners to advanced level. If you are not sure which course suits your Thai level, write us at learnthaiwithmod@gmail.com to get an assessment test.
Price: 245 Baht/hour
Find more information here.
April's Class Schedule:
 ★LEVEL 3 : PRE-INTERMEDIATE THAI
Course Duration: 21 April – 21 May 2021 (5 weeks)
Course Hours : Wed & Fri at 4:00​ – 6:00 P.M. Thailand time
★LEVEL 4 : INTERMEDIATE
Course Duration: 10 April – 9 May 2021 (5 weeks)
Course Hours : Sat & Sun at 8:00 – 10:00 A.M. Thailand time
★LEVEL 5: UPPER INTERMEDIATE
Course Duration: 10 April – 9 May 2021 ( 5 weeks)
Course Hours : Sat & Sun at 8:00 – 10:00 A.M. Thailand time
We hope to see you in our class. 🙂