Speaking Thai is a performance.
It's not just what you say, but how you say it.
By copying the words, facial expressions and gestures of native Thai speakers, you are teaching yourself to communicate in the most natural way.
 Discover there is a confident Thai speaker in you!
Today we are going to talk about the most important 20 sentences in Thai, at least according to me! and because you use these sentences a lot, all the time in daily conversation. It is a great opportunity to practice using them naturally and pronouncing them correctly. And that's what we're going to do today.
Your challenge today is to try to IMITATE and REPEAT exactly what I say.  I don't care where you are, at work, in the train, on the bus, IT IS YOUR JOB TO SPEAK OUTLOUD to use those pronunciation muscles to the fullest.
เป็นไงบ้าง /bpen ngai bâang/ How's it going?
ก็ดี /gâw dii/ = pretty good
ก็เรื่อยๆ /gâw rûeai-rûeai/ = not much
กินข้าวยัง /gin kâao yang/ = Have you eaten?
กินแล้ว /gin láew/ = I ate already
ยังไม่กิน /yang mâi gin/ = I haven't eaten yet.
กินอะไรดี /gin à-rai dii/ = What should we eat?
อะไรก็ได้ /à-rai gâw dâai/ =  anyting is fine.
ไม่รู้ /mâi rúu/  I don't know.
ไม่แน่ใจอ่ะ /mâi nâe-jai/  I'm not sure.
บ้านอยู่ไหน /bâan yùu năi/ = Where do you live?
ขอบคุณที่ช่วยนะ /kàwp kun tîi chûai ná/ = Thanks for your help.
ไม่ต้องห่วงนะ /mâi dtâwng hùang ná/ = Don't worry about it. It is used when you want to tell someone to not worry about a problem.
คิดว่ายังไงบ้าง /kít wâa yang-ngai bâang/ = What do you think?
ฟังดูดี /fang du dii/ =  That sounds great!
หมายความว่ายังไง /măai kwaam wâa yang-ngai/ = What do you mean?
ก็แล้วแต่ /gâw láew dtàe/ = up to you
ช่างมันเถอะ /châng man tèr/ = forget it
จริงเหรอ? /jing rĕr/ = Really? When someone tells you something surprising!
โชคดีนะ /chôok dii ná/ = Good luck!
น่าเสียดาย /nâa sĭa daai/ = That's too bad! That's a shame!
Do something + ให้สนุก /hâi sà-nùk/  = Have fun!
กินให้อร่อย /gin hâi à-ròi/= Enjoy your meal!
ไปก่อนนะ /bpai gàwn ná/ =  I have to go.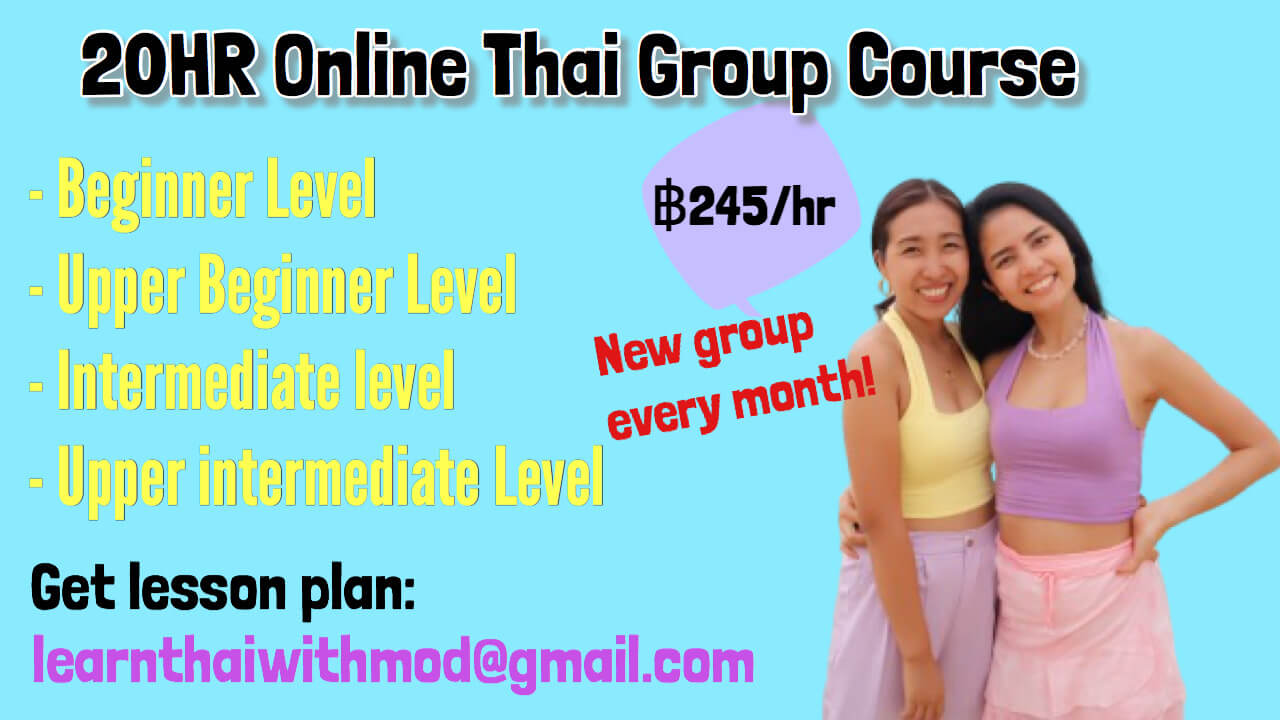 ONLINE GROUP THAI LESSONS
Do you want to improve your Thai speaking skills without leaving home? Join our 20hour online group course on Zoom. Your Thai will be improved in just 5-10 weeks!
We have different courses for different levels:
BEGINNER
UPPER BEGINNER
PRE-INTERMEDIATE
KEEP UP YOUR THAI
Schedule (January 2021)
★LEVEL 1 : BEGINNERS
This course is designed for students who are starting out on the journey of Thai language and need to build a strong foundation to make a quick progress from basic Thai to become conversational in Thai.
Course Duration: 12 Jan – 16 Mar 2021
Course Hours : Tuesday at 4:00 – 6:00 P.M. Thailand time (10weeks)
★LEVEL 2 : UPPER BEGINNERS
This course is designed for students who have some knowledge basic Thai language. You will gain skills and confidence that will enable you to communicate effectively with Thai speakers in daily life. Course Duration: 19 Dec 2020 – 24 Jan 2021
Course Hours : Saturday & Sunday at 8:00 – 10:00 A.M. Thailand time (5 weeks)
★ LEVEL 3 : PRE-INTERMEDIATE THAI
You've outgrown your beginner-level resources. You are ready to step up your Thai speaking skills, this course will help you!
Group 1:
Course Duration: 9 Jan – 7 Feb 2021
Course Hours : Sat & Sun at 8:00 – 10:00 A.M. Thailand time (5 weeks)
Group 2:
Course Duration: 13 Jan – 12 Feb 2021
Course Hours : Wed & Fri at 4:00 – 6:00 P.M. Thailand time (5 weeks)
★ LEVEL 4 : KEEPING UP YOUR THAI
This course will focus on conversation and discussing opinions, making the course interactive and dynamic.
Course Duration: 14 Jan – 18 Mar 2021
Course Hours : Thursday at 4:00 – 6:00 P.M. Thailand time ( 10 weeks)
Price: 4,900 Baht (Only 245 Baht per hour)
Get free assessment test at learnthaiwithmod@gmail.com