ONLINE PRIVATE LESSONS WITH TEACHER ANG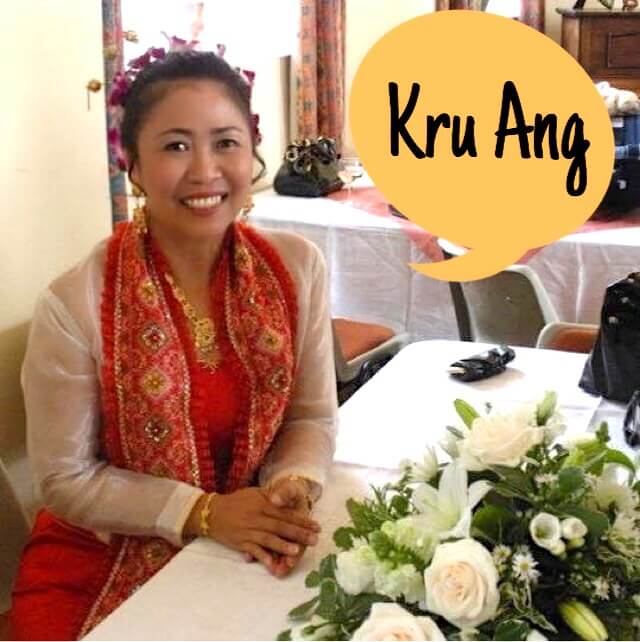 I am happy to announce that I just welcomed a new member teacher Ang (ครูอ่าง) to my team.
Kru Ang is from Chiang Rai in Northern Thailand. Previously she lived in Chester in the UK for 14 years before moving back to her hometown in Thoeng district, Chiang Rai earlier this year.
Kru Ang has been teaching Thai language online for more than 10 years which is a strong credential for her teaching work.
Beyond vocabulary and grammar rules, Kru Ang also teaches Thai culture in her language classes, she also can offer insight into Northern Thai culture or even giving lessons on Northern Thai dialect.
Kru Ang is available for private online lessons via Skype and Google Hangouts for students of any age, including children which is something she is very experienced with. She can help you master all fours Thai language skills: speaking, reading, writing and reading weather you are brand new to the language or looking to reach native-like fluency.
If you are interested to have private online lessons with Kru Ang, we are happy to schedule a free trial lesson for you and her at adjima_t@hotmail.com
Online Lessons Pricing
Purchase a 10 hour course, and get 1 free lesson ( 9,000 Baht)
Purchase a 20 hour course, and get 2 free lessons ( 16,000 Baht)
Purchase a 30 hour course, and get 4 free lessons ( 24,000 Baht)
Purchase a 40 hour course, and get 5 free lessons ( 32,000 Baht)